A Virtual, Abstract Experience at the New Museum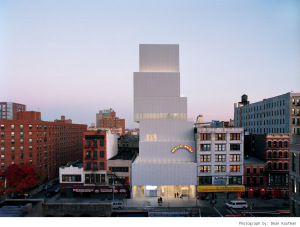 By Diana Riazi
Located on Bowery in Soho, The New Museum is devoted to presenting contemporary art from under-recognized artists around the world. The museum buys and sells their art work periodically; thus, it has no permanent collection, living up to its name. In Surround Audience Triennial, its most recent exhibition (now through May 24), 51 artists from over 25 countries explore and respond to our present's distraction-injected society. Their visual art and poetry give insight to the many mind-numbing abstractions of today through the subjects of virtual reality, drones, avatars and advertising. In particular, New York based artist Juliana Huxtable offers the viewer four panels of her poetry and avatar-like images through fantastical colors in, "Universal Crop Tops For All The Self Canonized Saints of Becoming."
Moreover, one should most definitely visit the seventh floor for the Sky Room to get a 360 degree view of Soho as well as surrounding neighborhoods — an incredible, breath-taking experience that left me speechless.
Also, I highly recommend taking a tour. Not only does the tour explain works within the museum, but also, it examines the Bowery's history, including gentrification of the area has been occurring since the 1990s. There is also discussion of the artists in the vicinity of the museum as well. Thus, some works displayed emerge from the very surroundings of the museum itself, another unique aspect of this institution.
While many museums focus on maintaining the tradition of displaying the art of yesterday, the New Museum aims to show the work of the present's artists in order to explore the issues of now. Thus, I found myself contemplating issues that I myself am experiencing, that is the evident reliance of technology, the dominance of social media. When experiencing any art form, you expect a thought provoking experience. This experience is here at the New Museum and it takes one's mind to the struggles of a 21st century individual, specifically in regards to the digitized, watchful world.