Fordham Overpowers Temple, Defeating Major Opponent for First Time Since 1954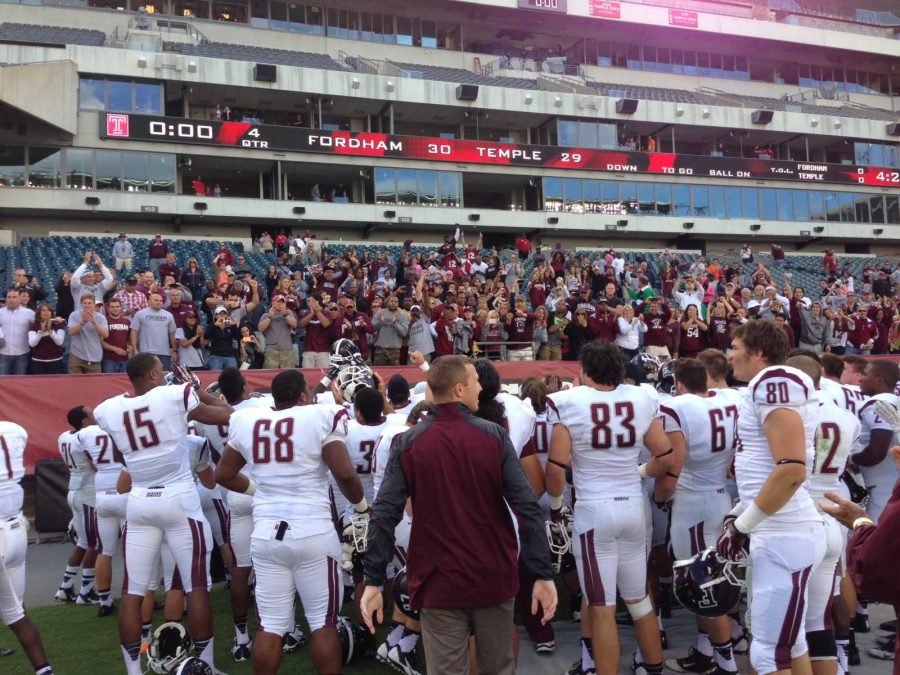 By DAN GARTLAND
EXECUTIVE SPORTS EDITOR
In the long history of Fordham football, there may not be a win more unlikely than the one the Rams came away with in Philadelphia on Saturday afternoon, as Fordham outlasted Temple, 30-29.
Temple, an FBS program that plays in the American Athletic Conference (a conference with an automatic BCS bowl berth), actually paid Fordham to come play the game in hopes of securing an easy victory. The exact figure isn't clear, but FCS teams are usually paid around $300,000 to play such games. Of course, FBS teams are usually paying for the right to embarrass a lesser opponent. But that was not the case Saturday.
Michael Nebrich's desperate 29-yard touchdown pass to Sam Ajala with four seconds left tied the game at 29 and Michael Marando converted the extra point to put Fordham ahead. It was the first time Fordham had beaten a major college football team since 1954.
"It's a tremendous accomplishment for our kids and our coaches and our school," Fordham head coach Joe Moorhead said. "We told them to expect success this week. They came out and they fought."
The Rams held a 13-7 lead at halftime. According to Moorhead, his team handled their success in stride.
"The thing about halftime, when we went into the locker room, was that you would expect — or at least I was expecting — that the kids would be jumping around, all fired up, all excited, bouncing off the walls because we had a lead over a BCS team," Moorhead said. "They were just very calm, very reserved. They sat down in their lockers. As a coaching staff, we made the corrections. We told them we were going to go out and do the same thing in the second half, and it was 30 minutes for the rest of our lives."
Temple made a quarterback change to begin the second half, replacing Clinton "Juice" Granger with PJ Walker. Granger was ineffective, completing only 6 of 15 passes. Walker played only two series before being replaced by Connor Reilly, the usual starter who was nursing a knee injury and was originally thought to only be available in case of an emergency. Reilly turned the tide for Temple, leading the Owls on three touchdown-scoring drives.
"That Reilly kid's a good quarterback," Moorhead said. "You can see why he was named the starter. He throws the ball very well, operates the system, and he even ran the ball on some scrambles and a designed run on the last touchdown."
Reilly's performance forced Fordham to have to come from behind in the final minutes. On their final drive, the Rams converted two fourth downs (both on runs by Nebrich). Then, with time running dangerously low, Nebrich scrambled out of the pocket and found Sam Ajala on the right edge of the end zone. Ajala jumped and caught the ball high above his head, before coming down with it. He was by himself for a brief second, but was quickly mobbed by his teammates.
"As I was rolling, I saw Sam chilling at the goal line, with [his defender] stacked on top of him," Nebrich said. "Then, out of the corner of my eye, I see [Brian] Wetzel running the end line. So I said, 'Hey, I'm going to throw this thing up and either Sam is going to make a great catch or Wetzel will be right behind him with it.'"
According to Moorhead, Nebrich was just doing what he has done all season long.
"The original play call was four verticals," Moorhead said. "There was 13 seconds left and we needed to get something down near the end zone. Michael did kind of what he does:  the play broke down, he scrambled around, and as he's done throughout this season and particularly this game, he found a way to make a play."
Soon after arriving back on campus, the team gathered in front of the Rose Hill Gym to ring Fordham's traditional victory bell.
[youtube=http://www.youtube.com/watch?v=NsmAbPkm6Io&w=420&h=315]