Senior Profile: Kevin Anderson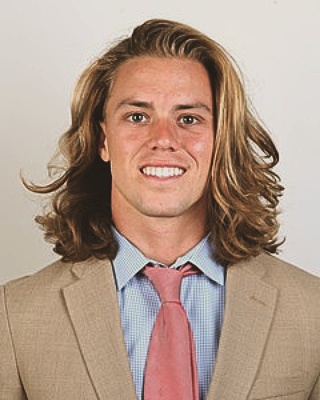 By Jack McLoone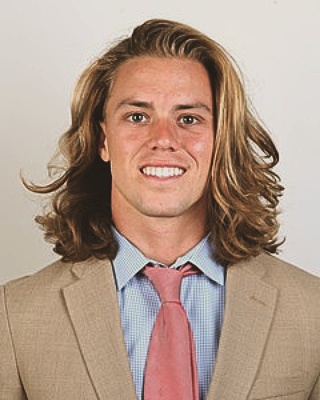 Kevin Anderson, a business administration major in the Gabelli School of Business from Boca Raton, Florida, was handed the reins of the Fordham Football offense last season and has been incredibly impressive as its starting quarterback. Last season, he was named the Fordham Offensive Player of the Year after leading the Patriot League in passing touchdowns with 32 (good for third in the FCS) and completion percentage with 67 percent completed.
This season, he is trying to lead the Rams back to the top of the Patriot League after falling short last season. The Rams are currently 2-1. Anderson's season numbers through the three games are 62-106 (58.5 percent) for 758 yards with six touchdowns and two interceptions.
He sat down with The Fordham Ram to discuss his journey to this point, his game preparation and the story behind his famous hair.
The Fordham Ram: When did you start playing football?
Kevin Anderson: I played my whole life with my dad and brothers in the street. But I didn't play organized tackle football until seventh grade.
TFR: Did you want to play before that?
KA: I always wanted to play. My dad played his whole life. My dad was a Division I athlete in college basketball. He made it that me and my brother weren't allowed to play football until seventh grade because he wanted us to mature and not take as many shots to the head. When you're playing at a young level, it's just for the experience and the camaraderie, because schematically, when it comes to skill and technique, when you're a pee wee you're just running around with your head cut off. You don't actually know what's going on.
TFR: You spent your freshman year at Marshall. Can you describe why you chose to transfer to Fordham, and what that transition was like?
KA: Honestly, it wasn't great. I was in a dark place at Marshall. I had never really been hurt, I didn't really play that much. Back home, I was highly recruited and highly touted as one of the better quarterbacks in the area. I shattered my collarbone my senior year in week three and our team didn't win another game the rest of the year and we were projected to be 'the team' that year. It was our year. I had never had a winning season in high school, had no high school success, and that was our year. So that was rough.
I graduated early and then went to Marshall. I was hurt still, so I was put in the position where I was just coming off of injury, didn't really rehab it the right way — I didn't get a chance to train with my quarterback coach back home, teach myself how to throw again — so I was just in a spot where I wasn't playing well, wasn't doing well. The guy that recruited me left when I got there that first semester and my quarterback coach also left. So a new coach came in and we just didn't mesh as well. He liked different guys better than I did, and I wasn't playing to the standard that I have for myself.
It was a really scary place for me, and I was just like 'Alright, I don't really know what's going to happen with my future with sports. I am down on myself, and I had always had confidence in myself. So I want to go somewhere where I can get the best education football will give me.'
So I reached out to all the Ivy League and Patriot League schools, sent out my release from my scholarship — the compliance at Marshall, I gave them a list and they sent it to other compliance members at the schools. Within the first week, I reached out to Fordham as a follow-up because they had emailed me. I got on the phone with Coach Breiner, he was the OC and quarterbacks coach, and we talked for about an hour and a half and then he invited me up for that weekend to visit. I came on the visit and it was great because my family is very religious. My grandma is die-hard Catholic, I went to a Catholic middle school. I came up here and really liked the atmosphere. Where I was at in my life spiritually and being down in confidence, it felt like everything was gravitating me towards coming here. I was in a situation where [Marshall] didn't want me really. I wasn't playing well.
So then you have a coach like Coach Breiner tell you that they had four senior quarterbacks. That I would have to come in a year, learn the system, sit out and then they would build the program around me. That's what he told me and literally that's what has happened and it's the best feeling ever. To have people back you and give you that kind of confidence in a big city, great academics, great religious atmosphere, is everything I wanted. I committed a week after. I was still moving stuff from West Virginia back to Florida. I didn't go on any other visits, talk to anybody else. It was a perfect situation.
TFR: What has it been like transitioning to Coach Breiner as a head coach in your senior season?
KA: It's been great. It hasn't been hard because he was someone that I dealt with on an every day, every second basis. If I'm not in, say it's not my turn to take the reps at practice, I'm on the sideline with him. He's talking to me. He was my personal coach. Him becoming the head coach was the easiest transition for me out of everyone. Now it honestly just makes it better for me, because now the guy calling the plays is literally the guy I've learned everything from. We have a great rapport, great relationship. We butt heads, we both have super similar personalities, but we always at the end of the day love each other and work hard together and we just want to make this thing work.
TFR: Running an offense is something that many people don't realize is incredibly difficult. What is your process during the week to prepare for games?
KA: It's almost more of a gradual thing. I don't exactly have to teach myself how to play football every week. We have camp for four weeks straight where we install so many variations of plays, and we have eleven guys doing a ton of different things, that it's endless combinations and possibilities. Getting all eleven guys in sync and one motion is something that takes a lot of time. For a week-to-week basis for me is just practice as hard as I can, watch film, take coaching and then after practice when I'm home by myself I have to study the opponent. We're given a test by our coaches — about four or five pages long and takes about two hours — at the end of the week to explain all the knowledge that we know, that we need to know. Honestly if it were a class, it would be a six-credit class. It's the hardest class for sure for me. That's all it really is, just watching film and applying it to practice.
TFR: You and Chase [Edmonds, junior running back] are the focal points of the offense. Can you talk a little bit about your relationship?
KA: Chase is one of my best friends. He's a brother of mine. He's somebody that's going to be in my life for the rest of my life. He was my roommate last year, he's going to be my roommate next year. We didn't room together this year. He's a very close friend of mine, someone that I respect highly. He works his butt off non-stop — one of the best football players I've ever played with and a great dude. He's just a great person. He has a deep faith with God. I'm close with his family. He's just my brother, there's nothing else really to say.
TFR: What are your post-Fordham plans, looking down the road?
KA: I'm not sure. I'm trying to see if this football thing will work out. I'm trying to get as much recognition from the NFL and see if I have a shot. If I keep having success, hopefully that will happen, we'll see. If not, I plan to go to law school. Maybe even Fordham, or end up back in Miami, I would like to go to the University of Miami Law School as well. But down the road, I don't really know. There's a lot I want to get into. It's kind of weird now, transitioning. I only have so much time left. When you're an athlete, it's been part of my life my whole life. It's all my family talks about, all the people back home know me for. So it's like I'm going to have post-traumatic stress for sure. I don't know what I'm going to do with myself. I am excited to see other things. I really like photography, I really like law, I really just want to travel. So there are things I definitely want to dabble with, I just don't really know yet. But law is the main focus.
TFR: I kind of do have to ask: When did you decide to grow out the hair?
KA: My hair? [Laughs] It was a gradual thing. I just kind of got annoyed getting haircuts, I got lazy. I actually had short hair when I first got here. My ID picture is way different. Everyone sees that and they laugh. There was no rhyme or reason. It just kind of started getting longer and I didn't cut it, and I was like, 'Let me just see how long this can go,' and I didn't cut it for an entire year. Not a trim, nothing. My sisters liked it, my girlfriend at the time liked it and my mom hated it, so it was kind of the perfect complexity really.