Senior Profile: Turner Block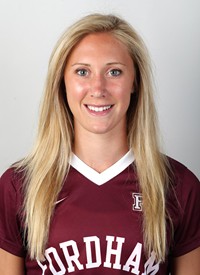 By Pat Costello
Turner Block, a psychology major at Fordham College Rose Hill, was named one of three captains before the 2016 soccer season. However, she is far from prototypical. She has only appeared in four games this season, starting only once on Senior Day, netting a single goal early in the season and accumulating 84 total minutes of playing time, yet none of that seems to matter to Block. Her desire for the team to succeed exceeds her desire for personal glory. In fact, it is difficult to get her to talk about herself for more than a few seconds, as she would rather talk about the team. Block is easily one of the most team oriented people you could ever imagine, which is part of what makes her such an interesting individual.
Block and the Rams now sport a 9-4-4 record and are 4-1-3 in the Atlantic 10 after a recent win over Richmond on Senior Day. She talked to The Fordham Ram about adversity, leadership and the potential of this year's team.
The Fordham Ram: You tore your ACL in high school. What happened and how tough was it to not play your senior season because of it?
Turner Block: It's something that is definitely never easy to deal with. The recovery was six months and the rehab was so intense. It was definitely hard because you always look forward to your senior year. I did it right before summer so I had time to think about it and realized that my senior year wouldn't be what I hope it would. I had to figure out how to still make it a memorable year and still support the team. I was a captain and it was difficult to lead and support while injured, but I learned from it. It went the best that it could have gone.
TFR: Did that affect the recruiting process at all?
TB: I had already committed to Fordham a few weeks before I tore my ACL. Coaches know that the injury is part of the sport and are, unfortunately, really common. A lot of players go through them. It really didn't end up effecting my arrival at Fordham.
TFR: This year you were named one of the captains for Fordham. Did you expect that?
TB: No, I didn't expect it. Leading up to senior year all I had on my mind was whatever I could do to help the team. Whatever extra work or what I could do during practices to put my team in the best place they could be. It was easy because as a team, we're a family. A lot of teams say "oh yeah we're a family" and preach it, but we really are one, so it's easy to have that type of mentality.
TFR: Your class is an incredibly connected group of seniors. What is it that makes your group so special?
TB: We're definitely connected as a senior class, but that speaks to us as a whole. We're really close, and it's easy to be when we're all on the same page. With how we want to win, with what that takes and how we're all willing to sacrifice and play for one another, we're just all on the same page with what we want to do and how we want to do it.
TFR: You're an atypical captain in that you don't necessarily play as much as the other captains (defenders Ally Doyle and Nicole Bates), yet you're still the loudest person on the field. What lead you to become a vocal leader on the sidelines?
TB: I don't even think of it as vocal leading, I just think of it as doing whatever I can to help my team on the field. I know hearing encouragement and hearing your teammates having your back always helped me, so I just want to do what I can for them.
TFR: You guys just had you Senior Day the other day. What were your emotions like after the game when you realized it would be your last home game?
TB: Oh my gosh. I don't know if it's really going to hit us until a week goes by and we realize we don't have any more games at home. Honestly, it couldn't have been a more perfect day with three seniors scoring and not just any three seniors, but with Bates and Doyle from defense and Nicol [Natale, forward] who has been so great up top getting another goal. Ally scored her first career goal. It's one of those senior games where you say "if that happened it would be perfect" and then the fact that it really did happen was really awesome.
TFR: Based on her reaction, Ally Doyle seemed like she surprised herself.
TB: [Laughing] She definitely did. She always said that she really wanted to get a goal from that spot and the fact that it worked out on senior day was so perfect. After Bates got her goal in the first half, I said to her during halftime, "Ally, it's your turn, you're getting a goal," and she was sort of like, "yeah okay," but then she did. It was amazing.
TFR: You guys are 9-4-4 and 4-1-3 in the league. How do you feel about the rest of the season?
TB: Right now, we're in a great place. Not only did we win the past game, but we played great too. We capitalized and finished. It hasn't been an easy road coming here, but I think that's part of what will make us successful. We've been challenged, we've gone through these challenges and we know what we have to do to get to the A-10 Tournament. We know what we have to work on. More than anything it's come to a point where we know that battling from start to finish is what it takes and I think we're ready to do that.