What Do The Mets Have To Lose?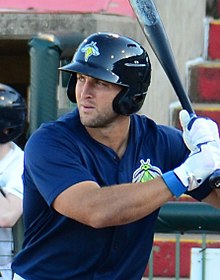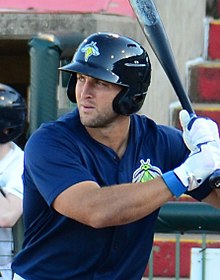 By Peter Valentino
Deep in the throes of one of the worst drop off seasons in franchise history, the Mets are sitting on a media gold mine, as Tim Tebow stumbles into the offseason and into the college football announcing circuit. The Mets are destined for a top-10 pick in next year's draft, and attendance has been dwindling since midseason. So why not call up Tim Tebow?
Everywhere Tebow has gone in the minors, he has brought in the big bucks from Columbia to St. Lucie.  Revenue generated from parking to tickets is significantly higher at home games for these two teams, and equally at away games where Columbia and St. Lucie are the visitor. Sandy Alderson hinted a few months ago that Tebow's signing was purely for media attention, and the ploy has worked so far. There tends to be an idea that if he is not called up this month, that he will never be called up, especially if the Mets are competitive next year, which they expect to be.  As of right now, if the team wants to focus in on the future, then it needs all the money it can get, which would be easy if they just call up Tebow. That extra money could go towards a free agent that the team needs badly, similar to how the extra cash from the Indians' World Series run went towards signing Edwin Encarnacion.  It's almost like cheating to get more money for a team that's run like a small market team.  Many of my friends who are Mets fans, and even fans of other teams, tell me that if the Mets call up Tebow, they'll be at Citi Field for his debut.  There's one more home-stand starting this Friday with the Nationals and the Braves, and it's an easy way to get more people in the seats and to get a little extra cash.
As far as evaluating the young guys on the Mets, the eye test says Amed Rosario looks for real, as does Dom Smith, although Rosario looks farther along. The development of the reliever prospects that the Mets traded for this summer will be vital in the team's ability to compete next year. Baseball is slowly turning into a "Bombs and Bullpen" type league, having a slugging lineup along with a bullpen that holds onto leads, which has helped small market teams stay competitive instead of outright tanking. It's obvious that any good team can be hindered by a bad bullpen, so this gives teams an extra incentive to spend more money on relievers rather than breaking the bank on an ace. If the Mets starters can be healthy and the newfound bullpen guys (Ramos, Rhame and Callahan) can play well, the team could have top tier pitching in 2018.  The other side of the coin, however, is what they will get from their lineup.  Dumping Bruce, Walker, and Duda, replacing them with Nimmo, Lagares, Taijeron, Rosario and Smith.  It isn't ideal, but the experience coming from this will help the team in the long run.
The Mets are at an interesting spot right now. While the team expects to compete next year, it also wants to cut payroll and keep unproven guys in the lineup. Regardless of what Alderson says, the team is a long way from being in the playoff conversation for 2018. And if they want to use Tebow to get extra cash for free agents, they might as well do it now.