Students Aid Victims of Hurricanes Harvey and Irma
By Kathryn Roberts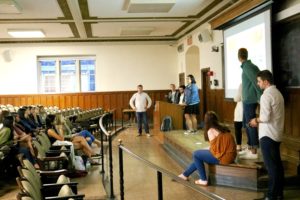 Hurricanes Harvey and Irma have devastated the lives of those in the Caribbean, Texas and Florida, but a group of Fordham students are taking action and helping the victims.
Hope for Houston was created by Fordham students in the aftermath of Hurricane Harvey, which hit Houston, Texas on Aug. 25.
But after Hurricane Irma, which destroyed parts of the Caribbean and Florida only days after Harvey made landfall, Hope for Houston is starting to expand its efforts to help those affected.
The initial goal of the group was to provide monetary relief to those affected by Harvey. But since Irma, the group is determined to grow in number in order to help all hurricane victims, according to group organizer Cate Carrejo, FCRH '17.
"These victims are exhausted and they're grieving and now they have to rebuild their lives on top of that," said Houston native Madison Shyer, FCRH '20.
Shyer fled Harvey right before the category four storm struck her hometown. When her mother was able to find her a last minute flight, she packed her bags in only several hours and headed to New York.
Luckily, Shyer's house was safe from most of the storm, having only slight external damage. Her neighbors and friends were not so lucky though, as some have up to four feet of water in their homes.
Shyer said that she and those she has met on campus from the hurricane affected areas all feel guilty in the sense that they cannot be there to help their struggling families and friends.
"It's so surreal to see these houses that I would spend so much time in now have water up to their countertops and debris floating around," she said.
Cate Carrejo said that Hope for Houston has collected $800 of their $2,000 monthly goal and that Fordham University's campus ministry has spent the past three weeks at masses taking donations for hurricane relief.
In their expansions as a group, Hope for Houston is in the works of creating a mission trip for Fordham students to travel to Houston in January to help with damages.
Hope for Houston members are also in the process of connecting with smaller organizations in the hurricane areas who can help give to those in need.
"There's just remnants of people's lives piled up on the sides of streets. And they're getting things like water and food, but what they also really need is clothing and cleaning supplies, because everything, everything they had is gone," said Shyer.
According to AccuWeather, the damages from Harvey and Irma can cost up to $290 billion, which the United States has never experienced before. This year is the first time in history that two category four hurricanes have hit the U.S. within the same year.
A report from USA Today revealed that there have already been 26 casualties from Hurricane Irma, and at least 82 from Hurricane Harvey. However, it can take a matter of weeks to determine the actual casualty total.
In Florida and the Caribbean, tourism and agricultural businesses suffered heavily. In Southern Florida, 50-70 percent of the state's citrus crop was destroyed.
And in Houston, America's fourth largest city, there have been road closures on most of its major freeway systems and it is in the process of trying to get its energy and chemical industries back into operation.