Researching Cancer and its Psychological Affects on Children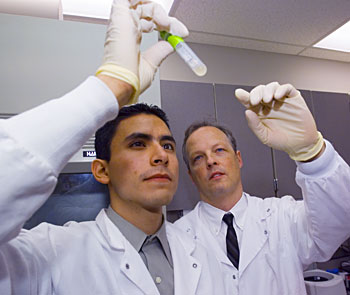 Hang on for a minute...we're trying to find some more stories you might like.
By Hannah Gonzalez
Cancer is a life-changing disease for any individual, but when paired with the unique challenges of young adults in particular, the course and narrative of one's life can be defined by the diagnosis. So reflects the findings of a new study led by Mary Procidano, P.h.D., associate professor of psychology, and Research Assistant Cailee Tallon, FCRH'18. Entitled "The Nature of Self-Defining Memories in Young-Adult Cancer Survivors' Personal Narratives," this project examines the ways cancer influences the life stories of survivors at this developmentally crucial age.
Procidano first presented papers on this topic in 2012. Past Fordham graduate student Stefanie Vuotto helped to design the project, reaching out to The Samfund, an organization that supports cancer survivors across the country. Through their network of survivors, 92 young adults volunteered to speak about their personal experiences with the illness. A series of hour-long interviews and questionnaires provided the basis of the research for analysis.
Since joining the project as a freshman, psychology major Cailee Tallon has transcribed many of the interviews. "People have very moving stories," she said, recalling how she had to take a break after watching several emotional videos in a row.
The project is part of an area of psychology focusing on personal narratives. "When people are young adults, they begin to construct life stories," said Procidano.
A cancer diagnosis between the ages of 18 and 30 deeply affects this process. "They're trying to figure out what it means to grow up with an illness, and how it influences their lives."
The researchers looked at vivid memories, spiritual experiences and future considerations of the patients, in addition to feelings of support and non-support from those close to them. Additionally, researchers coded and defined terms for analysis.
Specifically, survivors were asked for a high point, low point and turning point of their experiences. But instead of the physical changes that were expected to dominate conversations about cancer, the researchers were surprised to find emotion to be the most influential element shared in the personal narratives.
"A lot of the turning points are internal, personal things," said Procidano. "The nature of the change was overwhelmingly psychological."
"People are unique, but had very similar ways of dealing with things," said Tallon.
This ties back into the idea of "resilient development" examined by Procidano and Tallon. Rather than losing hope, survivors often were able to find personal meaning and strength in the diagnosis and treatment of the disease.
"It adds a depth to their lives," said Tallon. "You learn more about yourself, and also how you relate to other people."
Procidano agreed that survivors often adapted to the illness and its aftermath in psychologically healthy ways. "There were very few negative responses."
Out of the 92 interviews, Tallon estimated about 75 to have reflected positive turning points.
"Our research isn't super accepted, because we looked at interviews," said Tallon. "But I think it's really important, because we're getting the raw emotion and personal stories."
Procidano agreed that, as opposed to qualitative analysis, quantitative analysis is often overemphasized. Though researchers looked at both in their project, much of their analysis focused on the emotional experiences of the patients throughout their illness.
"Some felt like real human beings during their treatment, while others felt objectified due to a lack of empathy," said Procidano.
"One of the practical questions is, 'How do you work better with the people in oncology?'" added Tallon. The study's findings have implications for how healthcare providers might better support young adult cancer patients, both physically and emotionally.
Currently, the team is working on papers to present to the American Psychological Association (APA). They hope to present their research at the APA convention in August of next year.