Senior Profile: Carlie Wagner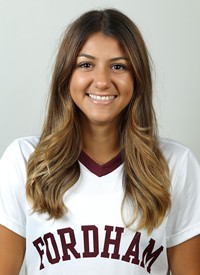 By Charlie Maisano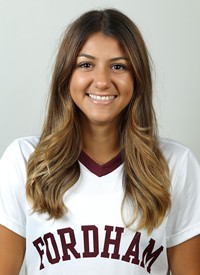 Although the Fordham University women's soccer team did not make the Atlantic 10 tournament, senior midfielder Carlie Wagner had a phenomenal season. Wagner appeared in every game this season for the Rams and led the team in goals with four. Wagner scored her last goal of her Rams career on Senior Day, which helped Fordham beat the second-best team in the A-10, Saint Louis, 2-0. She has also been named to the A-10 Commissioner's Honor Roll each of the past two years. In light of the Ram's close to the season, The Fordham Ram sat down with the Paradise Valley native.
TFR: When did you first start playing soccer?
CW: I first started playing recreational soccer when I was about five and I started playing competitively when I was eight years old. I played on a team probably coached by someone's dad in the neighborhood, and it was both young boys and girls playing on the same team. So, I did that until around eight years old, when I began to play on a competitive "travel" team that was just girls. This was more organized and we had a real coach and would travel to nearby states like California or Nevada for tournaments.
TFR: What was your first impression of New York when you arrived at Fordham considering you are from Arizona?
CW: Well, I grew up in Arizona but I was born in New York and have family here and in Connecticut, so I was always coming back east to see my family. I loved growing up in Arizona but every time my family and I would come to New York City, I was so amazed by it and knew that I eventually wanted to end up here. I only looked at East Coast schools when applying for college and fell in love with Fordham the first time I visited.
TFR: How was your adjustment to being so far away from home when you were a freshman?
CW: The first few weeks of pre-season my freshman year were definitely tough for me, because I was missing home, my family and my friends. On top of that, getting adjusted to the speed and physicality of the college game was also a big challenge. I was calling home a lot and not adjusting as well as I had hoped, but once school started and I got into a routine, phone calls home became less and less frequent! I actually ended up crying when freshman year was over and it was time to go back home for summer break, because I loved the year I had so much.
TFR: How do you think your game has changed or improved throughout your four years at Fordham?
CW: My game has definitely improved throughout my four years at Fordham. Clearly, I am never the biggest one out there, and playing at the collegiate level is so much about strength on the ball, so I had come up with more creative ways to beat defenders by using my speed instead of strength. I developed a lot as a player and as a leader here, and I am forever grateful for the opportunity I got to play here at Fordham.
TFR: How would you describe your relationship with both Coach Clinton and your fellow seniors on the team?
CW: Nat, Rach and I have always been really close friends because we were such a small incoming class and always got along really well. Since freshman year we have all lived together, and they are definitely going to be life-long friends. My relationship with Jess has been a learning relationship for sure. She taught me a lot about the game and also about myself.
TFR: What is your fondest memory on the field as a Division I collegiate athlete?
CW: This is a really hard question, because I have so many amazing memories on the field, but if I were to pick just one it would probably be from my sophomore year, a game we played against Vermont in the postseason. I assisted one of our seniors Katie, and that was the first time I really felt a part of something so much bigger than myself. As a freshman I didn't get much playing time, so when this happened I felt like I was really contributing, and it was an awesome feeling I will never forget.
TFR: What advice do you have for your fellow teammates for next season and beyond once this season is over?
CW: Enjoy it. Time goes by really fast, and it's hard to find the moments to stop and appreciate everything, but as I am nearing the end of my last soccer season, I really wish I could turn back the clock a few years and do it all over again.
TFR: What are you going to miss the most about Fordham when you graduate?
CW: I am going to miss the people that I have met here the most. After college everybody gets jobs and moves away from each other, so I am trying my best to cherish these last months with my friends and all of the awesome people I have met here along the way.
TFR: What are your plans after graduation?
CW: Right after graduation, I plan on traveling a bit with my friends. I am never going to get this much time off again in my life so I really want to enjoy my summer. I have also had a few really good internships in the fashion industry, so I am hoping after graduation I will have a job lined up in this field as well!
TFR: Why was Fordham the right choice for you four years ago?
CW: A lot of people make the wrong choice for college because it is such a big decision to make at such a young age, when you don't really know what you want. I am so happy and can say confidently that Fordham was the perfect school for me. It has been a perfect fit academically and athletically. I love the school and more importantly all of the amazing friendships that I have made here.