Rowing Strong Across the Board at Murphy Cup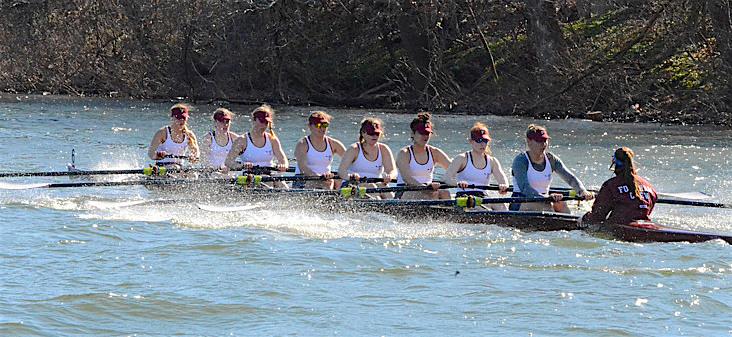 By Maria Trivelpiece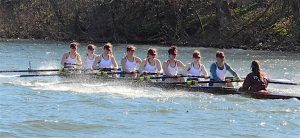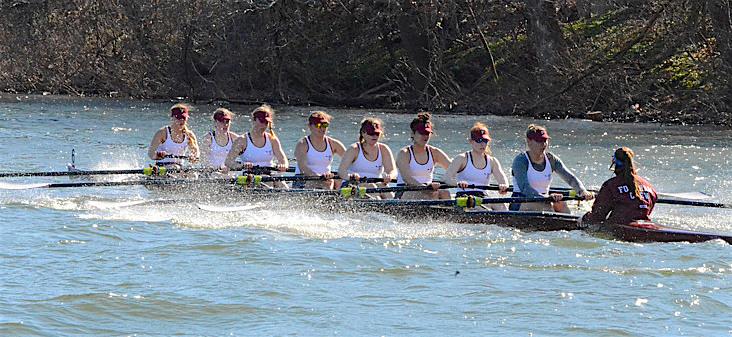 The Fordham University women's rowing team was back in action for the first time this spring when they headed to Philadelphia for the Murphy Cup Regatta. After a great spring training trip back in January and weeks of rigorous training in the Lombardi Center at Fordham University, the Rams recorded a very impressive outing.
The Rams had to overcome a lot of adversity in the form of a broken boat. One fell off their trailer on their trip down to Florida for a training trip. However, the Rams lucked out by replacing the broken boat with two brand-new ones.
The Varsity 8+ included senior Kat Napoli, juniors Erin Parker, Cynthia Luz and Carly Roncisnke, sophomores Danae Ohresser-Joumard and Erin McGreevey and freshmen Olivia Herman, Aleska Bjornson and Anna Peterson. The Rams' JV 8+ consisted of seniors Kristen Shuman, Ariene Merkle and Katie Dillon, junior Sarah White, sophomores Julia Comerford, Erica Selakowski and Brikena Prendaj and freshman Sophia Singh. Finally, the Novice 8+ team consisted of junior Emma Spoldi, sophomore Olivia Ciraulo and freshman Debrea Chieco, Kylie Elwood, Gabriella Gugliemi, Danielle Moynihan, Lidya Ozcelik, Stephanie Peralata and Elizabeth Berejka.
The Varsity 8+ crew placed second in their heat with a time of 6:54.97, just behind Temple University. They went on to advance to the grand final. Although the weather was not ideal, Fordham still finished in fifth place with a time of 7:34.23. Not only did the Varsity 8+ perform well, but both the JV 8+ and the Novice 8+ also represented well. The JV 8+ finished third in their heat with a time of 7:03.42 and advanced to the petite final. In the final round, they finished second. The Nov 8+ finished 2nd in their first round, and 3rd in the final round.
The Fordham University women's rowing team is looking to capture an Atlantic-10 Title at the end of the season after falling just short last year. After this weekend, it looks like these student-athletes are most definitely on the right track. This Sunday, the Rams will travel to Cooper River, New Jersey where they will race in the Cooper Cup Invitational. Every race gives these Rams an opportunity to improve, and it will be exciting to watch as they progress with every competition.