Football, Conlin Open With 34-10 Loss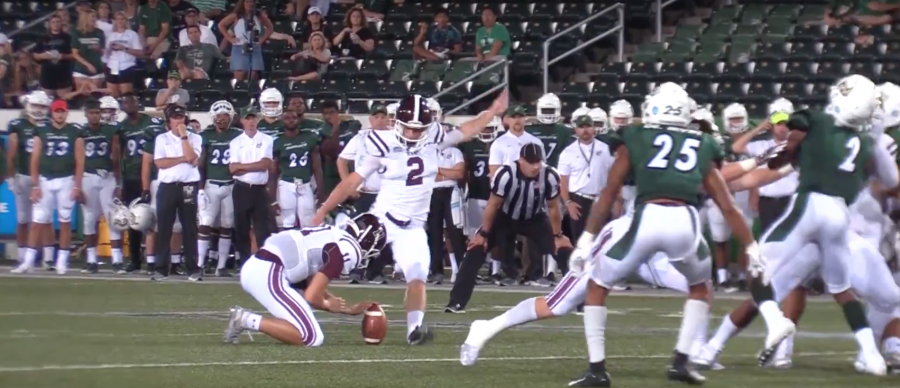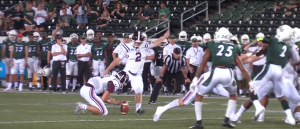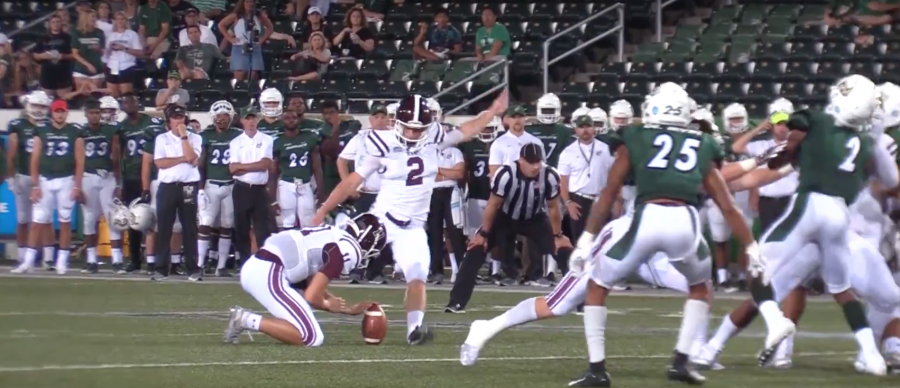 By Jimmy Sullivan
"Short answer: everything."
That's what Fordham Football head coach Joe Conlin said when asked about what the team needs to improve on in advance of next week's game against Richmond. The Rams dropped their season opener against the University of North Carolina at Charlotte 49ers. That quote could also apply to everything that went wrong for the Rams from the moment they left Fordham's campus en route to North Carolina.
The team's flight, which was scheduled to leave at 2:35 p.m. on Friday afternoon, missed that mark completely. After leaving shortly after 4:00, American Airlines Flight 1893 was unable to land in Charlotte due to weather concerns and was forced to land in Raleigh and refuel. After departing Raleigh in what can best be described as not exactly the shortest order, the plane landed at Charlotte Douglas International Airport around 9:00, only to get stuck on the runway for another hour because no gates were available to allow passengers to get off. The experience was a fatiguing one for the Rams, and it would not be the only delay they suffered in their brief time in the Queen City.
Kickoff between Fordham and Charlotte was scheduled for 6:04 p.m. In case you haven't yet noticed the theme, that did not happen. The game did not start until 7:14 due to lightning within an eight-mile radius of Jerry Richardson Stadium. Once the game did start, both offenses struggled, and three of the first four drives of the night ended in punts. The only one that didn't was Fordham's first possession, which advanced to the Charlotte 32-yard line. On fourth down and seven, Conlin, in his first career game as a college football head coach, decided to go for it. The move did not pay off, as senior quarterback Luke Medlock failed to connect with junior wideout Joe Ferraro.
After two more punts, the 49ers broke through with the first big play of the evening, as running back Benny LeMay took a short pass for 71 yards and would have scored, were it not for a touchdown-saving open-field tackle by senior Dylan Mabin. That tackle turned out to be worth four points for the Rams, as Charlotte ended up having to settle for a Jonathan Cruz 24-yard field goal. After another Fordham punt by sophomoe Andrew Mevis, Charlotte kept the momentum going with a 10-play, 30-yard drive that started from their own 48. However, they were once more forced to settle for a Cruz field goal; this one, which was converted from 39 yards out, gave the 49ers a 6-0 lead early in the second quarter.
Fordham's next drive came down to a third-and-five on its own 30-yard line. Medlock dropped back and completed a rainbow deep ball to senior receiver Austin Longi for a 70-yard touchdown to put the Rams in front. Longi stepped up in a big way for a Rams team that was missing fellow senior wide receiver Corey Caddle, who was out for the game for undisclosed reasons. Longi finished the night with eight catches and 113 of the team's 296 receiving yards.
For a Rams team that had question marks on offense, however, Longi's long score would be the team's only trip to the end zone.
Charlotte followed up Fordham's score with a big play of their own, as LeMay broke off a 58-yard run to Fordham's two-yard line before punching it in to make it a 13-7 game. Three more punts ensued before Charlotte went on a 10-play, 75-yard drive that lasted the better part of five minutes. When they stalled ten yards short of pay dirt, though, Cruz missed what appeared to be a relatively easy 28-yard field goal. Fordham's attempt to muster a late first-half score went by the wayside, and the 49ers' kept their 13-7 lead heading into the locker room.
And then the lightning returned.
Shortly before both teams were supposed to restart the game, a fairly stationary thunderstorm planted its roots just outside of Jerry Richardson Stadium. The delay that ensued lasted for nearly another hour. It was after 10:00 before both teams were allowed to come out of their respective locker rooms. The game, which had been scheduled to start shortly after 6 p.m., had entered its fourth hour with only 30 minutes of game action having elapsed.
Once the teams finally did reach the field, the 49ers put a thumping on Conlin's squad.
The Rams were given a golden opportunity to take the lead after recovering a muffed punt at Charlotte's 19-yard line at the beginning of the second half. But the offense only mustered four yards on three plays and the Rams were forced to cut their losses and trim the lead in half on a 32-yard field goal by Mevis. After dodging the bullet, Charlotte took full advantage with LeMay's second rushing touchdown of the evening, which came after a 60-yard pass from quarterback Chris Reynolds to wide receiver Victor Tucker. (Interesting side note: Charlotte and head coach Brad Lambert did not announce their starting quarterback until the start of the game.)
With the score now 20-10, Fordham was forced to send out Mevis for his sixth punt of the night, which led a backbreaking drive from Charlotte.
The 49ers were able to push past an excellent punt from Mevis that pinned them inside their own five, drive 97 yards down the field for a touchdown and take over eight minutes off the clock in the process. The 14-play drive ended with a 12-yard touchdown by Tucker, and Charlotte grabbed a 27-10 lead early in the fourth quarter that essentially put the game out of reach.
The game of wacky occurrences seemed to be complete. The operative word in that sentence is "seemed."
Shortly after Tucker's touchdown, the lights behind Fordham's sideline went out. What seemed to be the only mishap that had not yet occurred was coming to fruition, but despite the possible dangers of playing in the dark, there were no delays and the game went on as planned.
The 49ers would get one more score before the end of the night, when Juwan Foggie picked off Luke Medlock with 4:34 to play and took it to the house. That was where the game would end, with the hosts from Conference USA matching their 2017 win total and starting the season with a 34-10 victory.
One would think that the American Airlines and weather mishaps would have hindered Fordham's ability to play at a high level. Conlin is not making that excuse.
"They had the same delays we had," he said. "We didn't execute, [we] shot ourselves in the foot too often, we made some big plays, we had some opportunities… the attention to detail wasn't anywhere close to where it needs to be for us to win football games."
The team struggled with its blocking all evening, as Medlock was sacked four times and running backs Zach Davis and D'Angelo Palladino combined for just 29 rushing yards in ten attempts. Luke Medlock had a productive but efficient night, going 22-47 for 296 yards with a touchdown and an interception. Fordham's offense was a far cry from the days of Chase Edmonds and Kevin Anderson, and the Rams' defense was on the field for over 37 minutes on the night, which almost certainly contributed to that unit's struggles in the second half. All in all, it was a frustrating Saturday evening for the Rams, and it wasn't just because of their poor performance; Dylan Mabin left the game in the fourth quarter with a right knee injury and missed the rest of the night. It remains to be seen what Mabin's status will be for Saturday evening's game against Richmond.
The Rams haven't gotten off to a great start in 2018. They'll get to Richmond by bus, which means that there will be no runway snafus or delays to find a gate. But if the team's opener taught us anything, it's that the unexpected is only a motion away. The Rams can't change the cards they're given, but they'll spend this week working on how they can play their hand, regardless of lighting or lightning.