The Cardiac Rams Take Two in the Midwest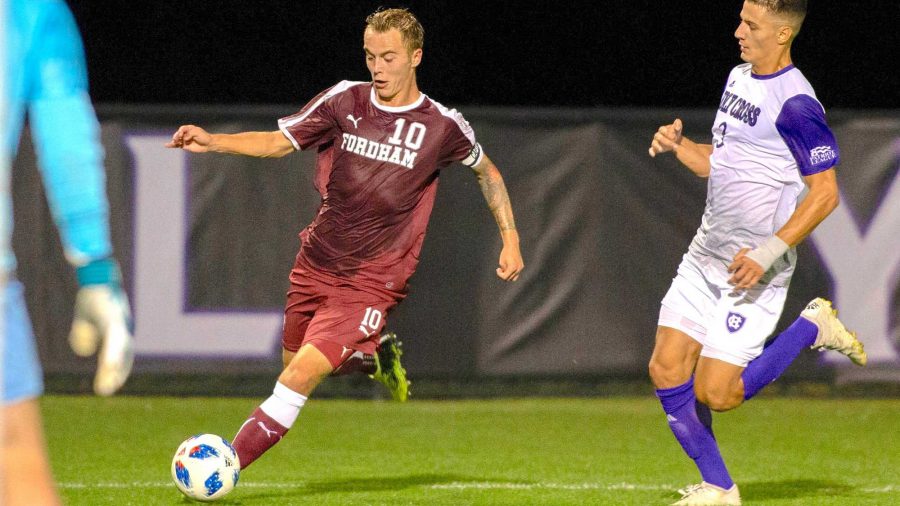 By Andrew Posadas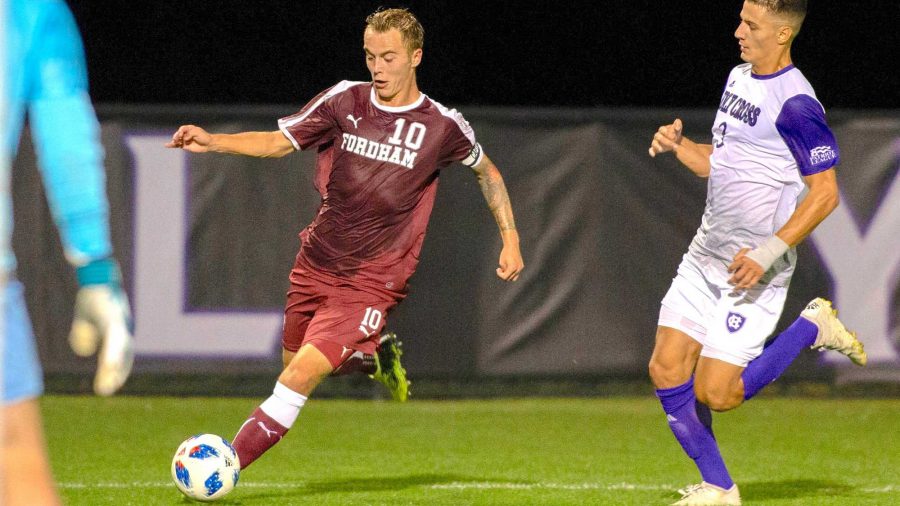 Here's the truth: no beat writers can physically watch all of their team's games. Luckily, every game can be streamed online for your viewing pleasure. As for me, there is one particular way I enjoy keeping up with Fordham men's soccer's away games:
Twitter.
Specifically, the Twitter account for the men's soccer team (if you don't already know it, please follow @FordhamSoccer).
Labor Day weekend saw Fordham Road's finest on the road for games against Wisconsin and Northwestern. The Rams would collect more than just cheese, handing both Big Ten teams losses in overtime via exciting fashion.
This past Saturday, Fordham took its three-game winning streak to Rhode Island for a matchup against the Bryant University Bulldogs.
As customary, I turned the notifications on for @FordhamSoccer (more advertisement!), ensuring that I would be informed of every important play on the pitch. Although my attention was diverted to the controversy surrounding Serena Williams in her US Open final against Naomi Osaka, something would usually bring me back to the soccer game.
Every four or five minutes, my phone buzzed and a new tweet would pop up about the status of the game. It was almost as if I were being secretly given the gameplay commentary, thus adding the element of surprise. I could not predict what I would see next. The game remained scoreless down the stretch, but my gut feeling was the next tweet would be a late goal for either team.
At 5:48 p.m., I got the news: "Bryant scores with just over six minutes left in regulation- 1-0 Bulldogs- 84'".
Anxiety started to sink in. The Rams were in another close, grind-it-out game and had six minutes to make magic happen again. I figured there could only be two or three more tweets before the final whistle. Could Fordham make magic happen again?
5:56 p.m. came along and my iPhone vibrated. I read the following notification:
"GOOAALLL!!! The Rams will not go away! Oland with his second of the season, knots the game at 1!" I let out a huge sigh of relief in my living room knowing this game would be heading for overtime. Four minutes later regulation ended, bringing about another intriguing tweet from men's soccer Twitter account. I read the hashtag #CardiacRams in the tweet, prompting me to dive into deeper thought.
From the beginning of last year to present day, coach McElderry's squad has played in a total of 27 games. Of those 27 games, 24 were decided by two goals or less. The team's record? 16-5-3.
What does it all mean? Simply put, 85 percent of the Rams' games go down to the wire. In those situations, we have seen this team come back and produce late game moment after late game moment. Not only are the players comfortable in closely competitive matches, Fordham embraces the matches and has a winning record to back it up.
Those Cardiac Rams are now ranked 11th in the country, lifting them to the position of "most exciting team on campus" in my opinion. The men's soccer program is going through a golden age right now, where every bounce (no pun intended) seems to go their way.
With the season still young, history says we will see Fordham in plenty more barn-burners moving forward. You want something compelling and thrilling? Look no further, Fordham men's soccer is here to entertain.