Fordham Drops Homecoming Game 24-13 to Central Connecticut State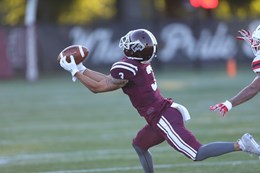 Hang on for a minute...we're trying to find some more stories you might like.
By Jimmy Sullivan
Fordham's homecoming did not turn out to be a festive occasion for the school's football team.
The Rams lost their fourth game in a row by a score of 24-13 to Central Connecticut State University. The loss drops the Rams to 0-4 as they head into a much-needed bye week before Patriot League play starts on Oct. 6. The main headline heading into the afternoon was whether or not the Rams would start freshman quarterback Tim DeMorat in place of struggling senior Luke Medlock. Fordham head coach Joe Conlin answered in the affirmative, and DeMorat would start Fordham's annual homecoming game.
The game started with Zach Davis getting two carries for 20 yards on the game's first two offensive plays. Davis played in his first game since sustaining an injury in the first game of the season against Charlotte, and he made an immediate impact. However, two straight throws from Tim DeMorat fell incomplete, and the Rams were forced to punt.
Central Connecticut State's first drive was more successful, as the Jake Dolegala-led offense walked all over the Fordham defense for five plays and 72 yards. The drive ended on a touchdown when Arthur Gilmore broke wide open on play action after a Fordham defender fell down. After just three minutes and 46 seconds, Fordham was trailing 7-0 after their second slow start in as many weeks.
Fordham's next drive was promising; DeMorat hit Isaiah Searight for a 17-yard gain up the seam and got another first down running the ball. But a read option play from the Central Connecticut State 32-yard-line went rather poorly, as DeMorat and Davis miscommunicated on a read option play, and the Blue Devils' Mike Mushaw ran it back to Fordham's 40. Once Central Connecticut State got the ball back, they drove to Fordham's 10 and were faced with a fourth down and one. The 6'6", 235-pound Dolegala snuck it up the middle and got four yards over the left guard for a first, but the Blue Devils were stopped on 3rd-and-goal from the 11 when Dylan Mabin broke up a pass to the end zone (Mabin missed the last two games with a knee injury). Francis Cole converted a field goal opportunity from 28 yards away and Central Connecticut took a 10-0 lead with 2:25 to play in the first quarter.
DeMorat converted a third down on a quarterback keeper on the next drive, but the Rams were once again forced to punt. Then, on the Blue Devils' next drive, Dolegala threw an interception to Antonio Jackson at the Fordham 20-yard-line. Jackson broke several tackles and his electrifying return ended at the CCSU 19. Two plays later, DeMorat hit Searight over the middle for the tight end's first touchdown of the season. Despite another missed extra point from Andrew Mevis, the Rams took back the momentum and the lead was down to 10-6.
The Blue Devils' next drive fizzled out with only one penalty-induced first down. Fordham took its next possession to the CCSU 39, but DeMorat missed an open Searight on 3rd down and the Rams were forced to punt it away. DeMorat couldn't get anything done with the next drive, and the Rams lost yardage due to a holding penalty. Mevis' punt was blocked and the Blue Devils got possession at the Fordham 30 with just under a minute left. After a Noah Fitzgerald personal foul, Arthur Gilmore hauled in his second touchdown of the afternoon. Central Connecticut State took a 17-6 lead into the locker room.
After getting a stop on their first defensive possession of the second half, Fordham moved quickly downfield. After grinding out a first down with three runs from Davis, Fordham got a nine-yard scamper from DeMorat, a 24-yard gain on a slant route from Austin Longi, and a 25-yard touchdown run from Davis. After scoring just 13 points in their past two games, the Rams reached that number with 11:11 to go in the third quarter.
Another punt from CCSU gave possession back to the Rams at their own 16. On the first play of the ensuing drive, Grant Ibeh jumped a short pass from DeMorat and ran it back 19 yards to the end zone to make it 24-13 Blue Devils.
"We made too many mistakes in the first half, and then the pick-six in the second half was critical," Conlin said.
The next six possessions resulted in punts, and Fordham needed a score with possession and just under six minutes to go. On a fourth-and-10 play, DeMorat found Corey Caddle short of the sticks and he was not able to get the first down. Fordham got one more possession on the afternoon, but it ended with DeMorat taking a fourth down sack.
Other than the pick-six, DeMorat had a solid afternoon. He finished 17-of-27 for 181 yards and a touchdown. At times, the true freshman looked like a polished quarterback. At other times, he looked like a true freshman.
"I thought Timmy played tough," Conlin said. "We just gave them the ball one more time than they gave it to us."
There were positives to take away from this game for the Rams. The defense held CCSU to just 265 yards of total offense and 168 passing yards. If you take out the pick-six and the blocked punt near the end of the first half, the Rams' defense only should have allowed 10 points.
"Those guys, they play their hearts out," Conlin said. "They did a great job against the run, they gave up 265 [total] yards."
Another positive for Fordham was the return of running back Zach Davis and cornerback Dylan Mabin from injuries they suffered in the first game of the year against Charlotte. Both made their presence felt; Mabin had four tackles and a pass deflection while Davis ran for 69 yards and caught for another 23. The Rams will need both to be healthy and performing at a high level if they want to have any success in Patriot League play.
Isaiah Searight also had his best game of the season, as he caught four passes for 76 yards and a touchdown. DeMorat targeted him early and often, and it is clear that the freshman feels comfortable throwing to a 6'4", 250-pound target.
Fordham is off next week, and that is almost certainly for the better. The team is 0-4 and has now been outscored 138-36 in those games. Granted, they are playing some very talented opponents. But for the first time all season, the Rams got themselves into a winnable game against an opponent they have beaten in years past. They simply weren't able to get it done.
Two weeks from now, Fordham will take on Georgetown. After that, they go back on the road to face Lehigh. Joe Conlin's team is going into its bye week at 0-4.
The Rams need answers, and they need them now.