Junior's Passion Motivates Her Involvement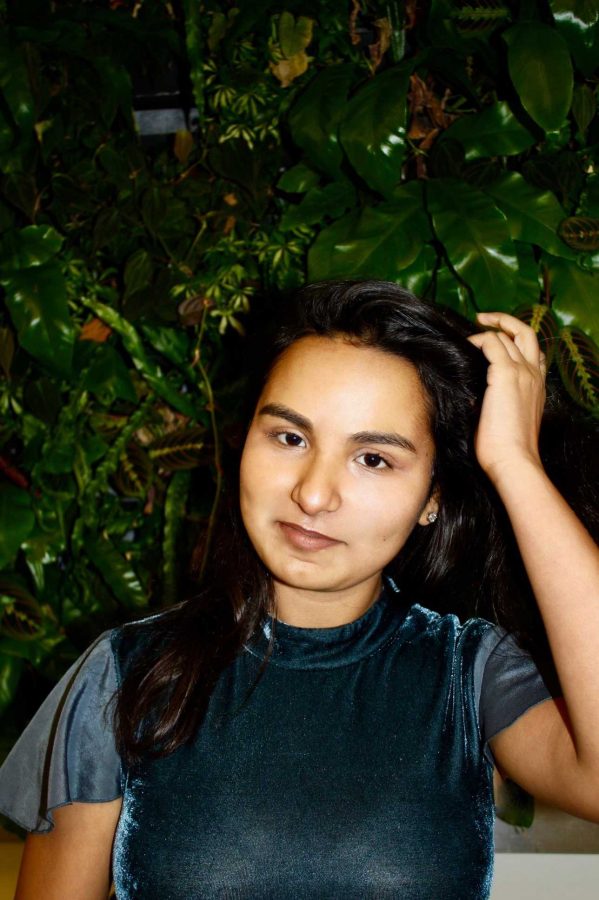 By Hannah Gonzalez
If you want to get to know Ashley Qamar, GSB '20, you might start with her emails.
In her natural habitat, Qamar can usually be found tapping away on her laptop.
She estimates that she sends around 50 emails a day, and her signature reveals why.
She is Vice President of Student Life on USG, Co-Chair of the Diversity Action Coalition, a marketing team member for the Social Innovation Collaboratory and fashion editor of MODE Magazine.
She is also treasurer and blog editor for Fashion for Philanthropy and finally, she is a member of College Access in the Dorothy Day Center.
It is an impressive list to say the least, but what if we peel back the layers of what it really means to be this involved? Why would anyone do this to herself?
Let us begin with the basics. Qamar is no stranger to New York City.
She was born and raised in Queens and attended high school in the Bronx.
After a year and half in FCRH, she transferred into the Gabelli School of Business to become a business administration major with a concentration in marketing and a minor in political science.
Between classes, she squeezes in meetings and events for all her different positions on campus. You might have seen her working at Keating Steps two weeks ago in her capacity as VP of Student Life.
As co-chair of the Diversity Action Coalition, she meets with students and groups on campus to discuss race, inclusion, activism and more.
"As a woman of color coming into Fordham, I was hesitant because I didn't know what campus culture was like," said Qamar.
"To find groups of people who are passionate about the same things that I am and to try and spread that message across Fordham's campus is, I think, a great thing."
For Qamar, involvement on campus is much more than a resume builder. It is the outgrowth of her passions.
For example, one of her biggest goals has been to open Fordham to the surrounding community.
"It's always saddening to me when I talk to my friends who live in the area, or I meet new people who live in the area, and they ask me, 'So what is Fordham actually like? What does it look like?'" said Qamar.
"They might have been living here for 20, 30 years and they've never been on campus."
Qamar has tackled this issue through her involvement in College Access, a group now under the newly-formed Center for Community Engaged Learning (CCEL).
The group invites local middle school and high school students on tours to learn what it is like to go to school on a college campus.
"I think that one way we can break down that barrier is by bringing more kids onto campus to show them, hey, this is Fordham, this is what we look like, this is what we stand for and this is where you could end up going to school one day," said Qamar.
She believes that opening the campus in this way will end up being "a huge factor in how the Fordham community changes over the next ten years."
As I talked to her, it became clear to me that everything Qamar does on campus is with an eye to the future.
She is not involved merely to occupy her time while she is a student; she is constantly thinking about what Fordham will look like two, 10 and 20 years down the road.
Her involvement in discussions about the new McGinley Center are particularly telling of this.
As Vice President of Student Life, she has been discussing how the center will meet the needs of Fordham students, and she hopes to guide underclassmen so that they become advocates for those future generations.
"In two years, I won't be here anymore," she said.
"So, to be teaching, and having people who are younger than me be just as passionate, is something that's really important because, when it comes time for that, they're going to be the ones who are directly advocating."
She sees projects such as McGinley that are currently in the works as opportunities for the student body to grow and to have conversations about what is important to Fordham as a community.
Her involvement across all these projects goes back to the big question that I (and I am sure many others) have for Qamar: how does she balance everything?
"So, I'm a Starbucks gold card member," she said with a laugh. "But, in actuality, I have really great people who support me a lot, and I really appreciate them."
Her support system includes her friends, committee members and the administrators who have helped guide her.
Additionally, her personal life philosophies of open communication and honest emotion have directed her path.
Qamar's story reveals that, at its best, involvement is more than a line in an email signature.
It is about passion. It is about community. It is about future generations and building something now that will make a world of difference down the line. Qamar is working toward a better Fordham, one email at a time.