Stephanie Gaitley Earns 150th Fordham Win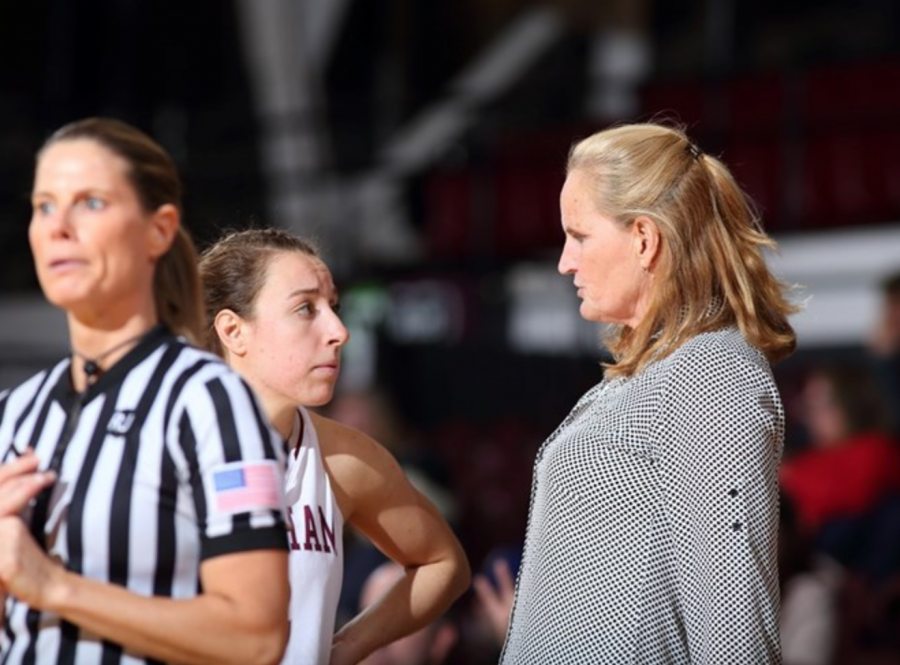 By Jack McLoone
Fordham Women's Basketball secured head coach Stephanie Gaitley's 150th at the school in a dominating performance against the Columbia Lions, never trailing in a 68-49 victory. The Rams are now 6-5.
"150 means I'm old!" said Gaitley in an email. "Seriously it means I've had a great staff and players – total team effort!!!"
After freshman forward Kaitlyn Downey scored to open the game, Janiya Clemons for Columbia tied things up at two. On the Rams' next trip down the court, senior forward Mary Goulding hit a three, putting the Rams up 5-2 with 8:30 left to play in the opening quarter. The score was never so much as tied ever again. In fact, when Downey hit a three on the Rams' next possession to put them up six, the difference was never any smaller.
The Rams have struggled with shooting efficiency this season, never averaging better than 43 percent from the field, and that was in their opener against Wagner. Coming into this game, the Rams were shooting just 37 percent from the field, including a dreadful 28.9 percent from behind the arc.
That changed against Columbia, but Gaitley did not praise things like shot selection or offensive tempo.
"I think we were locked in on defense and therefore we were more efficient on offense," she said. "We tell the kids all the time that offense is a bonus. Defense will keep us in games."
Going into my fourth season covering this team in some capacity, and second writing about it for The Fordham Ram, I can confirm that Gaitley not only says this a lot, but it is true of whenever her teams are successful.
While the Rams only forced 12 turnovers, they converted almost all of them into buckets, scoring 21 from turnovers. They also held Columbia to just 38 percent shooting from the field, including just three made three-pointers on 18 attempts (16.7 percent).
And, as Gaitley preaches, the offense followed the defense. The team hit a season-high 53.8 percent of its field goals, including 35.3 percent from deep.
Part of the inefficiency problem for the Rams had been scoring leader, sophomore guard Bre Cavanaugh, and team leader, senior guard Lauren Holden. Both set season highs in field goal percentages this game with 60 percent and 66.6 percent, respectively. Cavanaugh tied with Columbia's Sienna Durr to lead all scorers with 19 points.
Besides the defense, Gaitley credited extra shooting reps in practice for Cavanaugh and Holden's success.
Holden, in particular, had been struggling mightily. While Cavanaugh's inefficiency woes were slightly masked by her usual high-volume scoring—she is averaging 19.1 points per game—Holden has never been a big scorer, averaging just 8.5 points per game for her career. While that had taken a slight dip to 7.5 so far this season, her shooting percentage had plummeted to just 27.6 percent, almost 10 percentage points lower than last season's career-best 36.7 percent. Gaitley hopes her big night against Columbia—which also included making both of her three-point attempts—is the start of an upward trend.
"I talked to Lauren about the slump I went through at Villanova and you just have to shoot your way out of it," said Gaitley. Much like defense begetting offense, this story is another famous Gaitley-ism that generally gets results. It makes sense that Gaitley has developed some go-to stories and lessons after collecting over 600 career wins.
The Rams will get to spend 11 days on a winner's high, with their next game not scheduled until Friday, Dec. 21, when they will travel to Iona. While the break will not be a true "break," it will allow for the team to recharge and take care of any aches and pains from the start of the season. Those "aches and pains" are also metaphorical.
"We need to work on knowing details on defense and getting better on offense," said Gaitley. "The time off will benefit our minds and bodies!"