Fordham Men's Basketball Blows Double-Digit Lead in Loss to LIU Brooklyn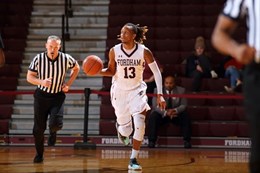 Hang on for a minute...we're trying to find some more stories you might like.
By Andrew Posadas
Fordham Men's Basketball concluded the non-conference portion of its schedule this past Sunday against LIU Brooklyn, an NCAA Tournament team last year from the NEC. The Rams have already matched last season's win total of nine with a chance for their 10th win before the new year.
Both teams did not shoot particularly well from the field to start. Despite the rust, solid defense and good ball movement on offense made way for an early Ram lead, 12-5. LIU Brooklyn didn't back down, staying true to its Blackbird name in clawing and hanging around on the scoreboard. At the five minute mark, LIU Brooklyn tied the score at 17-17.
Junior guard Antwon Portley was the lone bright spot for the Rams' offense. Portley dropped 16 points in the first half alone, including a trio of three-pointers in the last two minutes before half. Standout freshman Nick Honor's three-pointer at the buzzer capped off a 19-9 Fordham run, earning the Rams a 36-26 lead at halftime.
LIU Brooklyn responded quickly by going on a 7-0 run in the first two minutes of the second half. Fordham regained a double-digit lead once more at the 16 minute mark before its offense began sputtering. LIU Brooklyn began throwing size and length at Honor and Portley, making shots even more difficult for Fordham's best offensive weapons.
The Blackbirds saw their fair share of woes on offense, yet continued cutting into Fordham's lead by getting to the free throw line. LIU Brooklyn shot more free throw attempts (20) than the team did field goal attempts (14) in the second half. With each passing minute, Fordham's stagnant play left the door wide open for the Blackbirds to battle back. A massive three-pointer by LIU Brooklyn tied the game at 55-55 with a little over two minutes in regulation.
An Ivan Raut layup put Fordham up one last time, 57-55. The Rams went scoreless in the final 1:54, while the Blackbirds found themselves taking full advantage of Fordham's superfluous fouling. Despite the inconsistency on offense, the Rams still found themselves in position to win. A layup by senior Jesse Bunting with 41 seconds left rimmed out and would have put Fordham up one.
Two missed free throws from Bunting and a potential game-tying three-pointer missed by Portley sealed Fordham's fate, giving LIU Brooklyn a comeback win on the road, 60-57. Fordham was held to just 10 points in the final 15 minutes of action. After making seven three-pointers in the first half, Fordham went 0-9 from beyond the arc, something that cannot happen for a team that has made the trifecta its calling card. The Rams will certainly have a sour taste in their mouths knowing they only turned the ball over five times, yet still came away with a loss.
Head coach Jeff Neubauer praised his team postgame for valuing the ball, saying the players gave themselves plenty of opportunities to score. In summing up the game, he said, "The problem was we just couldn't find a bucket. We went 20-61 from the field."
The Rams now fall to 9-4 heading into conference play. However, they are tied for the best record in the Atlantic-10, ultimately making their play in non-conference an absolute success. Fordham Men's Basketball tips off A-10 conference play this Saturday afternoon against VCU at Rose Hill Gym.