Carlo Acquista Tabbed as Fordham Men's Soccer Coach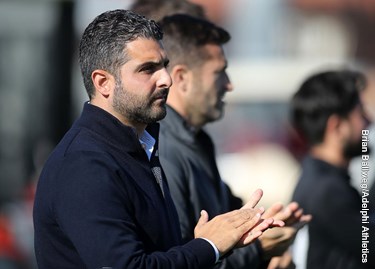 By Jimmy Sullivan
Fordham Men's Soccer has found Jim McElderry's replacement.
53 days after the former coach left to take the same job at Rutgers University, Carlo Acquista has been named as his official replacement. Acquista comes to the Bronx with 16 years of experience as a college head coach with Adelphi University and St. Francis University in Brooklyn. He spent the past 11 months as a scout for the New York Red Bulls, who recently selected Fordham forward Janos Loebe and goalie Rashid Nuhu in the Major League Soccer (MLS) SuperDraft earlier this month.
"I am humbled and honored for this fantastic opportunity that has been presented to me here at Fordham University," Acquista told Fordham Athletics. "My family and I could not be more thrilled to become part of the Rams family."
Acquista won just 11 games in five seasons from 2002-2006 as the head coach at St. Francis. However, he found far more success at Adelphi, where he won over 62 percent of his games in 11 seasons. In his final two seasons at the helm, Acquista led the Panthers to three straight NCAA Division II soccer tournaments, highlighted by a 2016 season that saw Adelphi reached the quarterfinals and post a 19-win season.
"We are thrilled to bring on Carlo Acquista to lead the men's soccer program," Fordham Athletic Director Dave Roach told Fordham Athletics. "Carlo has extensive background in finding outstanding talent and bringing it to New York, whether it was for the Red Bulls, Adelphi, or St. Francis, and then develop that talent into winning programs."
In addition to being a perennial winner at Adelphi, Acquista was also a winner as a player. He graduated from St. John's University in 2000 and went to four NCAA Tournaments in as many years with the Red Storm. In his freshman year, the Red Storm won the national championship. He inherits a Fordham roster that, despite suffering some losses to graduation — Nuhu, Loebe and Matt Miller among them — still hopes to compete in the Atlantic 10. Last year, the Rams missed out on the NCAA Tournament for the first time since 2015, and Fordham was bounced in the first round of the A-10 Tournament by Rhode Island last season.
Getting Fordham back to the NCAA Tournament is the challenge that awaits Acquista. He appears to be ready for it.
"As a native New Yorker, I understand the history of Fordham University and the men's soccer program," Acquista told Fordham Athletics. "I will work diligently to recruit the talented student-athlete who will compete in the ultra-competitive Atlantic 10, as well as meeting and engaging our proud alumni, campus community, and fans." Acquista also cited the importance of integrating academics and athletics within a Jesuit institution like Fordham.
Carlo Acquista is just the fifth head coach in the history of Fordham Men's Soccer. He follows in the footsteps of one of the most successful Fordham coaches, in any sport, in recent memory.
He has big shoes to fill, but the Westbury, N.Y. native is back in his stomping grounds, hoping to lead the Rams back to the top of the Atlantic 10.