Special Olympics Fordham Hosts Fourth Annual Red Out Fashion Show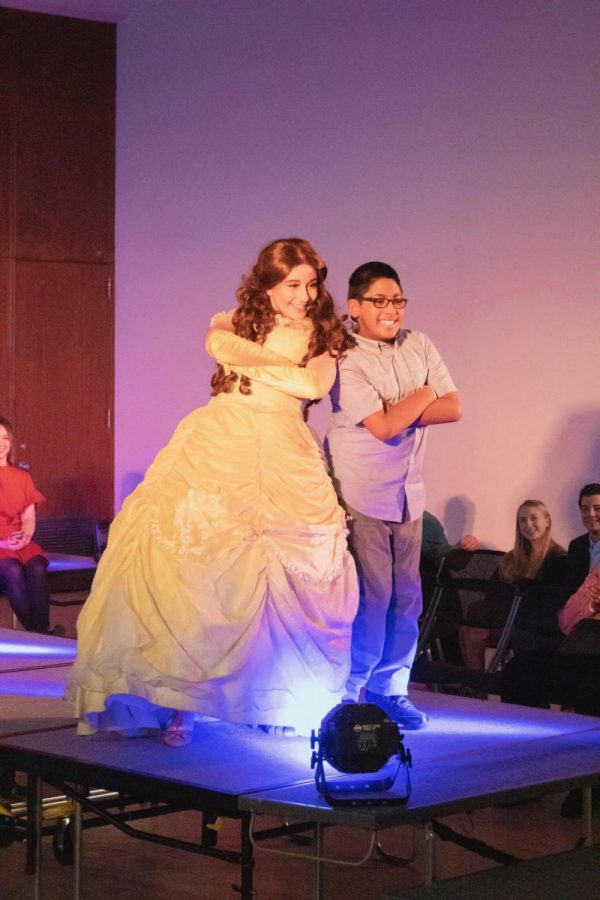 By Sarah Huffman
On Sunday, March 3, the Special Olympics Club at Fordham (SO Fordham) hosted their fourth annual Red Out Fashion Show in the McGinley ballroom.
The fashion show was a red out to raise awareness and bring communities together, said SO Fordham President, Katelyn Sommers, GSB '19. To celebrate the red-out, club members wore red and the venue was decorated with red tablecloths, streamers, balloons and even red raffle tickets and red velvet cake.
The first hour of the event was a reception and silent auction and raffle. Some silent auction items included NYC ballet tickets, Yankees tickets, an unlimited monthly membership to Rent the Runway and a $100 Amazon gift card.
Some raffle items included two tickets to Live with Kelly and Ryan, a love pie date and a Pugsley's t-shirt and hat and a $40 gift card to Ann and Tony's. Raffle and Silent auction winners were announced later in the evening throughout the fashion show.
The actual fashion show occurred during the second half of the event. Special Olympics athletes and Fordham athletes walked the runway together, modeling uniform outfits, casual outfits and formal outfits.
The Special Olympians that walked the runway included Alicia Melendez, Peter Thomas, Erica "Louise" Razor, Shannon Menzzasalma, Christopher Greif and Rodney Hankins.
Cheerleader Corinne Vient, FCRH '21, said she is on the Student Athlete Advisory Council (SAAC) and that SO Fordham reached out and asked for athletes to walk in the fashion show.
"I heard of it in the beginning of the year and I knew it was something I wanted to do, so I signed up through that [SAAC]," said Vient. "A friend of mine is on the e-board and really passionate about it. It just felt like it was a good thing to do to make that connection between this club and athletics."
SO Fordham was supported by various other Fordham clubs. The B-Sides and the Ramblers performed during the fashion show and some of the Moment of Magic characters were present. Belle even walked the runway with one of the Special Olympians.
SO Fordham e-board member, Olivia Kililea, FCRH '20, said that the fashion show is really cute, and it's great to see how excited the athletes are. She said It feels like a real fashion show but it's low stress and a fun time.
Sommers said the money raised during the event goes to Special Olympics New York or Special Olympics Club at Fordham.
Sommers said the Red Out Fashion show was the kickoff event for SO Fordham when the club started four years ago. She said it is a national Special Olympics event and Fordham's club decided to take it on – it has grown bigger and bigger every year since then.
According to Sommers, the mission of the event is to fundraise and to host something for Special Olympics and Fordham athletes.
"It's really a way to bring local Special Olympics athletes and the Fordham community together," said Sommers. "The Special Olympics athletes love it. They have so much fun on stage, and seeing the smiles on their faces is why I wanted to run this event and this organization."
Sommers said they start planning the event around January and use the planning time to train their new executive board. She said the planning includes organizing lighting, ordering food and reaching out to Fordham athletics and Special Olympics community.
Special Olympics is about inclusion in athletics. The organization provides Olympic style sports training and athletic competition for people with special needs and disabilities. The special olympics club at Fordham seeks to engage the Fordham community in Special Olympics events throughout New York City and spread its value of acceptance, respect, support and compassion around campus.
"I think it's really important for the Fordham community to have a bond with the local community in general and the Special Olympics athletes especially want to feel like they're on an even playing field with people their own age," said Sommers.
Sommers said SO Fordham has a lot of college-age Special Olympics athletes at their event. She said it's awesome for people to see Special Olympics athletes and Fordham athletes walking together and seeing that they are one and the same.