Men's Tennis Come Back at Home Against Boston University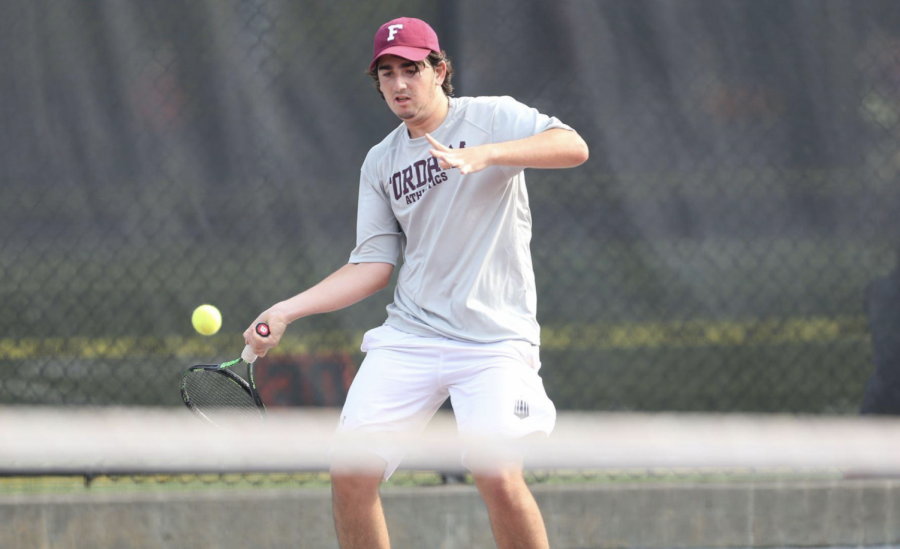 By Dylan Balsamo
Fordham Men's Tennis has a long way to go before next month's Atlantic 10 Tournament in Orlando. For now, their priority for improvement continues to be consistency as a team. Now at 7-3 after this weekend, the squad has not seen two straight wins since mid-February, with wins at home over Sacred Heart and Hofstra, which were separated by 12 days of rest. Staying on track remains an issue on the court.
This week found the team back on their home campus, facing the Boston University Terriers on Saturday, and the results were enough to keep prospects high in the dog days of tennis season.
The afternoon did not start off strong for the Rams as they quickly dropped the doubles point. Sophomore Max Green and junior Finn Kemper lost their bout with Owen Lu and David Bogatin 6-3, and sophomore Alex Makatsaria and junior Allen Thornes were defeated by Ethan Kolsky and Max Stehling 6-2, leaving junior Fabian Hansch Mauritzson and sophomore Lutwin de Macar's match with J.P. Avila and Mar Hartenstein unfinished and giving BU the early lead.
The Terriers made that lead 2-0 after Lu took down Mauritzson 6-4, 6-0 in first singles. From there, Fordham took control.
Second singles saw Green beat David Bogatin 6-3, 7(7)-6(4). After that, Kemper took three sets to take down Pete Siozios 6-2, 0-6, 6-4, de Macar held off Stehling 6-3, 7(7)-6(3), and Makatsaria beat Mar Martenstein 6-3, 7(7)-6(5). Junior Jeremy Chung was defeated in sixth singles by Pedro Gutierrez 6-1, 6-3, but nevertheless, the Rams walked off of the court with a win over BU 4-3.
"We were quite slow out of the gates and lost the doubles point after an underwhelming performance," said Mauritzson, losing in doubles himself. "However, we managed to come out strong in the singles and got an early set lead on all but one court. This removed a lot of pressure, and with that, we could play more relaxed and win quite comfortably in the end."
The Rams will have had 13 days off the time by they play again, that next meet being another one at home on March 22, this time against Duquesne. Fordham has another win under its belt. The next question is whether or not it can keep going.