Under the Tent Goes Over the Rainbow for 2019 Event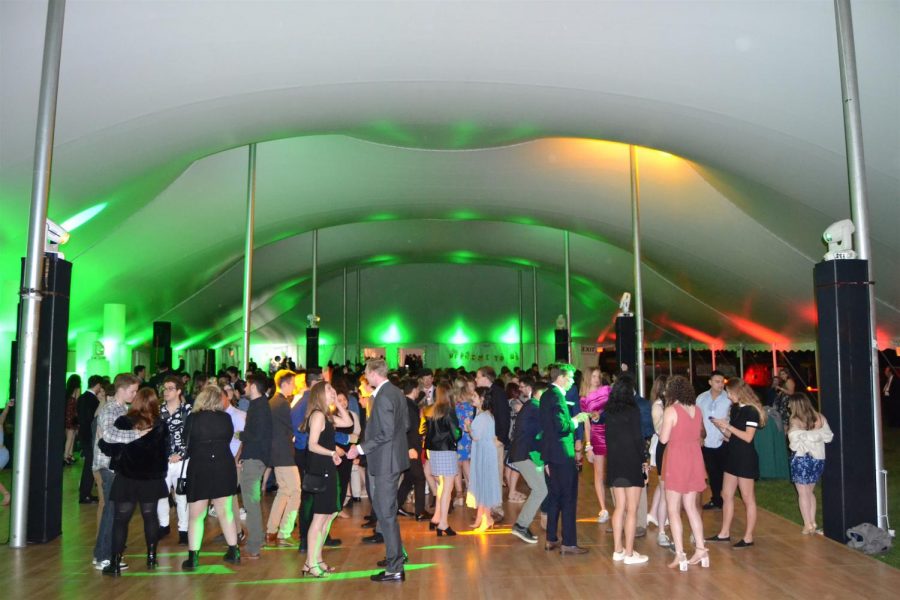 By Patricia Whyte
The annual Under the Tent dance took place Saturday, April 27. Each year, Fordham Residence Hall Association (RHA) organizes the event on Martyrs' Lawn.
The theme for this year's dance was A Night in the Emerald City, which called for many "The Wizard of Oz" themed decorations and lights, including an Emerald City backdrop and balloon banner which read "Welcome To Oz".
Each year, the RHA Executive and General Boards vote on the theme for the dance. As 2019 is the 80th anniversary of "The Wizard of Oz," board members decided A Night in the Emerald City would be all the more suitable for this year's event.
From there, Executive President of RHA Robert Ylagan and Executive Programmer Connor Cunniff did much of the event planning. The two worked with hall programmers and other General Board members who wanted to help plan the decorations, food, and other aspects of the event.
"So many people took inspiration for their outfits from the many characters portrayed in 'The Wizard of Oz,'" Ylagan said.
The event was semi-formal, in alignment with years past. The dance had a DJ, dance floor, seating areas and refreshment stations. There was also a separate tent for students 21 and older, which served alcohol.
For Emma Paolini, FCRH '21, the DJ was the highlight of the event.
"They played all the classic jams, it was so fun to dance and sing along. Also, it was cool seeing people dress to the theme. I saw a Glinda, Tin Man and a Dorothy, and lots of people were wearing green," Paoloni said.
This year was the first time ticket sales were available online. Instead of waiting in that notoriously long line outside the McGinley Center like in years past, students were able to purchase tickets at separate times depending on their grade level through University Tickets.
For Kimona Dussard, Executive Vice President of RHA, online tickets sales proved to be a huge undertaking, as there was some confusion among the student body.
"The turnout was still great. Online ticket sales did not go as smoothly as planned but the dance floor was still packed all night long," Dussard said. RHA hopes to work out the kinks of online ticketing for future events.
In addition to the event's festivities, the new Executive Board for RHA was announced for 2019-2020. Collette Campbell, FCRH '22, the incoming Executive Vice President for RHA felt a bond with the previous board as mentors.
"The old E-Board and new E-Board members were huddled around together and then 'Livin' on a Prayer' came on, and we all started singing while crying because we knew we had done great things this past year," Campbell said.
Stephanie Guerrera, Assistant Director for Leadership Development and Training in the Office of Residential Life, advises RHA on the event. RHA also worked closely with the Office of Student Involvement in planning the event.