CAB Hosts First Spring Weekend Carnival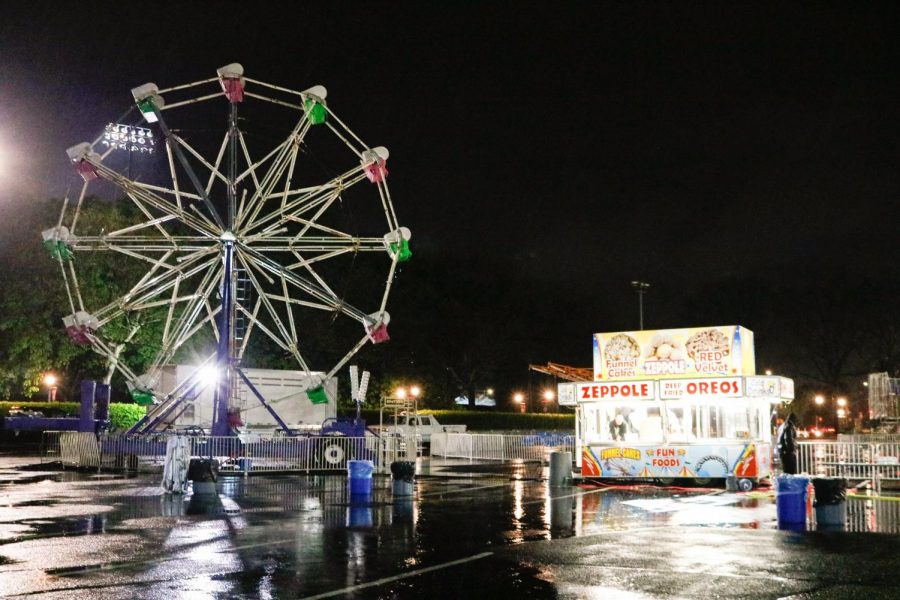 By Sarah Huffman
Campus Activities Board (CAB) hosted its first carnival on Friday, April 26 for Spring Weekend. The event was supposed to run from 7:00 p.m. to 11 p.m. but closed early at around 9:00 p.m. due to lightning during the storm on Friday night.
The event featured a Ferris wheel, a set of swings and a 'roundup' ride, but these were not able to run at all during the carnival because of weather conditions.
In addition to rides, there were vendors giving out funnel cake, cotton candy and popcorn. There were games including inflatable skee-ball, a 'high striker' and a booth with two carnival toss games.
The CAB general board provided sand art, tie-dye stations and a ring toss game. Maddie Rizzo, FCRH '20, drew caricatures and Charlie Grass, GSB '21, performed walk-around magic.
Sean Rilley, FCRH '20, CAB special events co-chair, said he and his co-chair decided to hold a carnival this year instead of the usual DJ event because attendance has been very low the past few years. Rilley and his co-chair Maddie Bria, FCRH '19, decided that a carnival would be a solid replacement.
"While we had both been to events at Fordham with large inflatables, we noted that we had never seen full-scale carnival rides on campus," said Rilley. "We thought that would be something the student community would be interested in."
He said they believed the fact that the DJ event was held inside also contributed to its low attendance, so they wanted their event to be outside.
He said they also decided early in the planning process to end the carnival event earlier than the DJ event typically ended in the past because they noticed that very few students remained at the event past 11:00 p.m. He said they also believed that if the event started earlier, more students would attend.
Rilley said he and Bria had weekly meetings starting in January with CAB advisor Francesa Leite to plan the event. They also reached out to CAB General Board and Cultural Affairs committee for ideas. Once they decided the details of the event, they reached out to vendors to arrange for them to come to campus.
CAB's Cultural Affairs Committee held its Spring Weekend raffle at the event. The committee usually charges a small fee to its raffle winners to keep the raffles going, but this one was free because it was the last raffle of the year and of Spring Weekend. The committee raffled off tickets to the Tony Award-winning musical "Dear Evan Hansen" and passes for a helicopter ride over NYC.
The Cultural Affairs committee is run by two co-chairs, Bridget McCabe and Andrew Brann. They aim to provide students access to the culture of New York City at an affordable and discounted cost by programming monthly raffles where students can enter and win tickets to events throughout the city.
In regards to the weather, Rilley said he, Bria and Liete kept a close eye on the changing weather reports for the day of the carnival throughout the week. He said the three of them, Dean Arcuri and CAB's President, Kathryn Teaney, GSB '19, met in A-Lot to discuss whether or not to keep the event outside or move it to the Lombardi Center.
"Ultimately, because it would be impossible to move the rides or food inside and we thought that students would be less inclined to come to a downgraded version of the event in the Lombardi Center," he said. "We opted to remain in A-Lot, get as many extra pop-up tents as possible and hope for as much good weather as we could get."
He said the rain and wind ruined some of the decorations and made OSI decide that the rides would not be safe to run, even in the hour period at the beginning when the rain had stopped.
"It was pouring, but the CAB instagram had posted that it would be happening rain or shine, and we had umbrellas, so we didn't care," said Emma Paolini, FCRH '21. "We were bummed that the rides would be shut down, especially because I was looking forward to riding the ferris wheel, but we were still excited for some free carnival food."
Ultimately, the carnival ended earlier than intended. A nearby lightning strike forced Public Safety to shut the event down.
"The rain threw a wrench in our plans on the day of the event, but we adapted as well as we could," Rilly said. "It may not sound like a lot, but we spent hours going over big and small details to give the students the best event we could, and I think we did that."
Despite the rain, Rilley said the carnival had much higher attendance than the DJ event in years past. He said they are proud of the attendance, given the weather conditions.
"Maddie and I believe that the carnival was a strong addition to Spring Weekend and has potential for the coming years," he explained. "With good weather, we believe attendance would be even bigger!"
He said they would love to get some more games and attractions to fill out the space and give students a landmark event that they look forward to every year.
"Ultimately, we are very proud of the event that we created, and we are grateful to the Office of Student Involvement for taking this chance with us and to the students for coming out, even in the rain," he said. "We hope that the Friday night event will once again become a key part of every student's Spring Weekend experience, and we are looking forward to what the Special Events co-chairs will do next!"