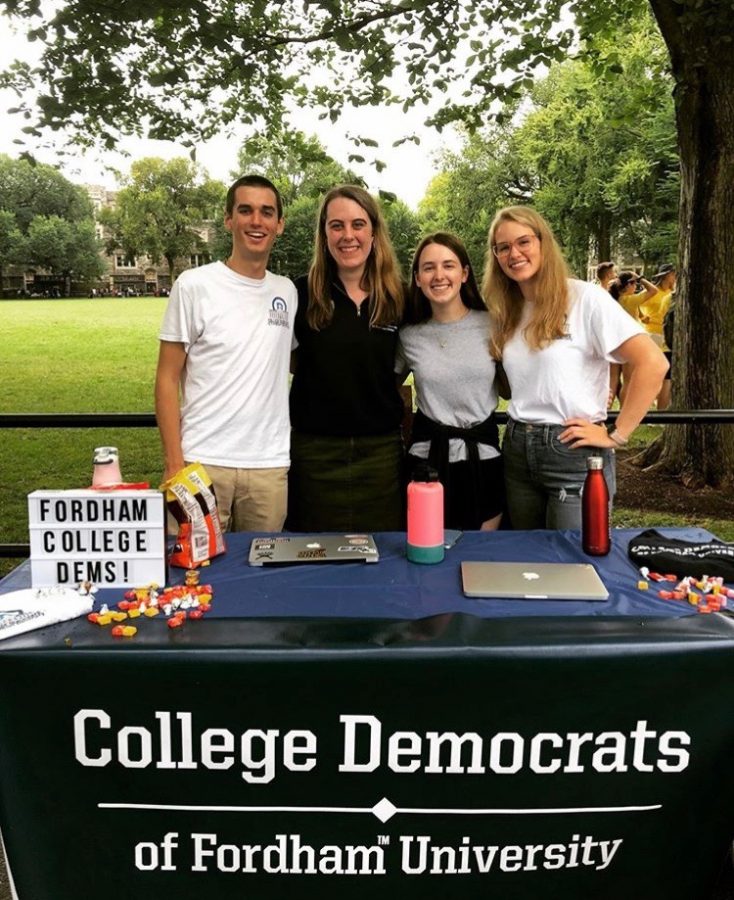 As Democratic primary anticipation builds, president of the College Democrats at Rose Hill, Mike Fissinger, FCRH '21, said for Fordham students it seems that climate change and student debt are key issues this election cycle.
"I think two issues that students really care about are climate change and student debt," he said. "Climate change is arguably the preeminent threat of our generation, and immediate action is required if we want to have any hope of curbing its effects."
Fissinger said many Republicans fail to recognize the legitimacy of climate change, while Democrats understand the burden that this generation and future generations will carry if nothing is done about it.
Regarding student debt, Fissinger spoke of the many students taking out loans to afford tuition at Fordham. He imagined them paying attention to candidates who propose plans to tackle the issue.
Similarly, Treasurer of College Democrats Claire McDonnell, FCRH '21, cited gun control and reproductive rights as issues important to students in the democratic primary.
After the 2016 cycle, in which some Democrats were surprised by the victory of President Donald Trump, McDonnell said the Democratic party would need unity in order to take the White House in 2020. She thought a lack of unity was a contributing factor in the loss of Democratic candidate Hillary Clinton in the 2016 election. During the Democratic primary, the party saw division as the more progressive Bernie Sanders drew support from establishment candidate Hillary Clinton. It took over a month after Clinton cinched the nomination for Sanders to endorse her.
"I think that coming together as a party is incredibly important in the 2020 election," said McDonnell.
In addition to lining up the views of voters and the party platform, voter registration and participation is key, according to Fissinger. To this end, the club is encouraging voter registration and participation among students, along with several non-partisan organizations on campus continue to encourage Fordham students to register.
Lesley A. Massiah-Arthur, associate vice president and special assistant to the president for government relations at the university, sent an email to the Fordham community on Monday, Sept. 9, urging students to register.
"Exercising your right to vote on Election Day is an important duty, too important to ignore or neglect," she wrote. "As Fordham men and women for others, we have a responsibility to be citizens engaged in the civic life of our local, state and national communities."
In addition to providing online services, Massiah-Arthur said students could pick up voter registration forms at the Office of the Dean of Students at the Lincoln Center, Rose Hill and Westchester campuses.
McDonnell said in addition to registering; there are many ways to get involved in politics such as getting involved with a campaign or College Democrats.
Fissinger and members of the club are locally engaged and regularly correspond with City Councilman Ritchie Torres' office and Bronx community Board Six.
"We always try to keep our club members updated on different opportunities to get involved with community partners," he said.
Fissinger said it was too early to predict primary results, and the club is refraining from endorsing any candidates. However, with 10 front-runners debating on ABC, Thursday, Sept. 12; Fissinger said he expects heightened student interest.