Women's Tennis Struggles at Cissie Leary Invitational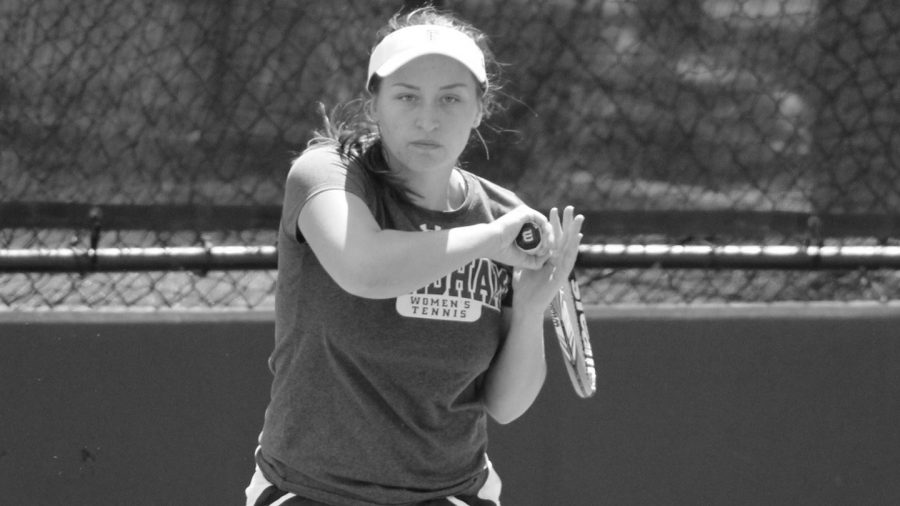 Matt West, Contributing Writer
September 25, 2019
The Fordham women's tennis team competed in the 22nd annual Cissie Leary Invitational this weekend at the University of Pennsylvania. In 1996, the head women's tennis coach at Penn, Cissie Leary, passed away after a long battle with scleroderma. Leary coached the Quakers to 16 winning seasons, compiling a career record of 229–119 from 1977 -1996. In her final season in 1995, her team was 16–7 overall, 6–1 in the Ivy League, and progressed to the NCAA East Regional. Beginning in 1997, this tournament has been held every year to honor her legacy.
The Rams opened the tournament with Valeriya Deminova and Avery Aude teaming up in doubles play with a 6–2 loss to Penn's Luliia Bryzgalova and Marija Curnic. With the loss they moved on to the consolation bracket where they found their rhythm and scored a 6–3 victory over Penn State's Olivia Ryan and Shannon Hanley. With the victory the pair advanced to take on William and Mary duo Natalie Perry and Charlotte Madson in which they defeated 6–2.  Aude and Deminova advanced to the finals where they ran out of gas and loss to Penn's Ashley Zhu and Gibson Thomas 6–3.
In singles play the duo of Deminova and Aude struggled without each other. Deminova opened play with a 6–6, 7–5 win over Delaware's Jojo Bach before struggling in her second-round defeat to Shivani Amineni from Columbia, 6–4, 7–5. Deminova continued her up and down performance as she moved to the consulation bracket where she posted a 7–5, 6–4 win before dropping a 6–1, 2–6 , 10–6 match to Caragh Courtney from Delaware.
Deminova's Partner Avery Aude had similar struggles throughout her singles matches. In her first match Aude had a hard time finding her stride, which created a deep hole that she could not get out of, losing 6–4, 7–6. In her next match things would get even worse for her with a 6–2, 6–3 loss to Drexel's Salma Ziouti. In her final match she entered the lose-lose draw where she defeated Temple's Oleksandra Doroshenko 6–2, 6–2.
Nicole Li competed in Flight B singles matches of the invitational where she faced off against Delaware's Sarah Whitted. Li got off to a fast start defeating Whitted  6–3, 6–3, and then in the second round matchup defeating Temple's Cecilia Castelli 6–2, 6–3. In the semi-final's Li struggled to keep up with Michelle Xu of Colombia and lost 6–2, 6–1.
Rochelle Yang competed in Flight B singles where she struggled to keep up with her opponents just like her teammates. Yang received a first-round bye before falling to Penn's Jennifer Richards, 6–3, 6–3. In her next match Yang fell 7–6, 6–1 decision to Viva Lass of Delaware in the win-lose draw.
Li and Yang also played in the A flight doubles, defeating Mila Saric and Elisa Van Meeteren from William & Mary in the first match, 6–3, before falling to Columbia's Christie Wan and Melissa Sakar 6–4.
The Rams will go back to the drawing board this week and clean up the mistakes they made that cost them to have such an inconsistent weekend. They have a quick turnaround as they head up to West Point, NY to play in the Eastern Championships.