Brooklyn Historical Society's "Muslims in Brooklyn": Supporting Diversity in the Wake of Islamophobia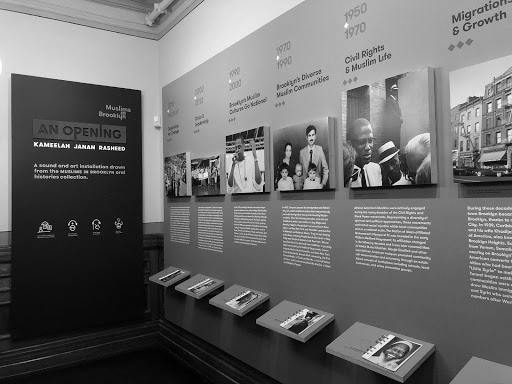 Tereza Shkurtaj, Contributing Writer
October 2, 2019
Hang on for a minute...we're trying to find some more stories you might like.
For over a century, Brooklyn has been home to one of New York City's largest growing Muslim populations — a place where people from a variety of identities, who share the same religion, can come together as one. Muslim Brooklynites are composed of varying ethnicities, cultures and nationalities. They have created businesses, built mosques and altered school curriculums to include Muslim histories. It is this diversity of personal stories that has helped mold life in Brooklyn.
Kameelah Janan Rasheed shares one of these stories through her audio and visual installation — "An Opening." On Saturday, Sept. 7, she welcomed visitors into the multifaceted world of Muslim Brooklynites.
Rasheed's artwork was inspired by the Brooklyn Historical Society's (BHS) "Muslims In Brooklyn" project, initially launched in 2017. With the collection of over 50 oral histories, Zaheer Ali, the project's director, sought to preserve and document the histories of Muslims in Brooklyn.
In collaboration with Ali and other project members, Rasheed was able to select 11 unique narratives that would inspire her artwork. Rasheed's installation is ultimately an artistic response to the oral histories collected by BHS historians.
Showcased in a singular room, Rasheed's artwork stands out against the bright blue painted walls. Visitors are provided with a headphone set and an iPod Touch which helps guide them through the exhibition. The iPod recognizes the artwork in front of the individual and easily fades in and out of the respective artworks' narratives, making the experience less formal and more experimental in nature.
"I really like how Rasheed only utilizes black and white colors in her art," Edona Dauti, FCRH '21, said. "It helps draw focus to the meaning of her work, especially with the usage of few words."
Sporadically placed between her artwork are words, phrases and sentences glued onto the walls. Fragments taken from the artist's childhood books, textbooks and pamphlets make the entire room feel like part of the installation.
"A large part of my practice is sort of going through, creating my own texts or looking for a particular word in another text that can be used because it has a different typeface or appearance," said Rasheed. "That sort of creates some texture for the exhibit."
As visitors silently navigate through the room, they are, in a way, challenged to listen closely and watch mindfully. Almost all of Rasheed's pieces are accompanied by a particular narration meant to add a sense of intimacy to the visual display.
"We're messy…some of us don't practice, some of us practice, some of us eat bacon…And some of us have complicated relationships with Islam, some of us fast, some of us don't…"
In the case of her piece, "Manage History," Mohammed Fayaz's narrative perfectly compliments Rasheed's artwork — alluding to the incredibly complex expressions of faith that can be found within the lives of different individuals practicing the same religion.
Faisal Elali, FCRH '21, a residential student from Brooklyn said, "Not only did the accompanying audio bring back past, happy moments of my life when I was with my family. It reminded me that, though I may not practice Islam strictly, I still find myself spiritually attached to its culture."
With the often narrow conception of Muslim identity, Elali said Rasheed's artwork is highly relevant for its time — highlighting the many ethnicities, cultures, and nationalities encompassed by Muslims around the world.
"Islam is not a box that you put people in. It is a box that people stand on," said Ali in an interview with BKLYNER.
Rasheed's "An Opening" is an artistic conversation on religious diversity using oral histories indicative of those Muslims experienced in the Brooklyn borough.