Beyond the Scoreboard: Celebrating Black History in Fordham Athletics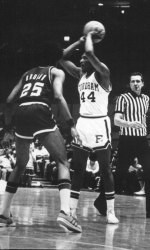 Andrew Posadas, Managing Editor
March 4, 2020
Considering that we here at The Fordham Ram did not print for the final week of February, I felt it was imperative to use this edition of Beyond the Scoreboard to highlight Black History Month, specifically in Fordham Athletics. In this issue, I want to highlight one of the most successful athletes to have played at Fordham , former Fordham Men's Basketball star guard Kenneth Charles, FCRH '73.
Known by coaches, teammates and people around Rose Hill as "K.C.," Charles played on the hardwood for the Rams from 1970-73. It is universally agreed upon by longtime Fordham fans that the 1970-71 men's basketball team is undoubtedly the best squad ever seen at the historic Rose Hill Gymnasium. Charles was a sophomore in that season which saw the Rams finish with a 26-3 overall record, rank as high as seventh in the nation and earn a trip to the NCAA Tournament.
Led by rookie head coach Richard "Digger" Phelps and a starting lineup that featured just one player over 6'5", Charles finished as the second leading scorer on the team. He averaged 15 points per game, along with five rebounds in just his first year starting for the varsity team. On Feb. 18 of 1971, the squad had its biggest win of the regular season when Fordham beat 14th-ranked University of Notre Dame in front of a sold out crowd at the newly-built Madison Square Garden.
The win propelled Fordham into the top 20 at No. 18, with the momentum carrying over into the NCAA tournament. Ultimately, the Rams would fall to Villanova University 85-75 in the East Regional Semifinal.
The team finished out the season by defeating the University of South Carolina 100-90 in the East Regional Third Place game, tying a bow on the most successful season in the program's history. For context, no Fordham men's basketball team has won more than 26 games in a season since, with the closest being the 1990-91 team which won 25 games that year.
When talking about that team, Charles described it as a once-in-a-lifetime experience while adding, "What made that team was the camarderie. It was incredible. Just incredible."
Charles would play two more seasons at Fordham, averaging over 20 points in both years, on his way to becoming a two-time team captain. In the 1972-73 campaign, Charles set the school record for most points in a season with 679 in his senior year. Charles finished his senior season averaging 24.3 points per game, the fourth best all-time in school history.
Accumulating 1,697 points in his collegiate career, Charles graduated as Fordham's third all-time leading scorer and currently ranks seventh on the list. From there, Charles was selected in the second round of the National Basketball Association (NBA) draft by the Buffalo Braves. He played in Buffalo for three seasons before going to Atlanta to play on the Hawks for two seasons.
Charles' production in the NBA was not as statistically impressive as his numbers were at Fordham. Charles averaged 8.5 points and 2.5 assists over five seasons, and notably led all NBA guards in blocked shots during the 1975-76 season.
However, his story does not end there. Charles earned a bachelor's degree in political science upon graduation. His career post-basketball included becoming an NBA analyst for ESPN and going back to college, ultimately obtaining a law degree.
Charles would also give back to the game that helped him become just the second black athlete drafted to the NBA from Fordham and the first Afro-Trinidadian born player to do so. Charles became a head coach of the Brooklyn Kings of the United States Basketball league from 1999 to 2007, earning Coach of the Year honors in 2005. In 2011, Charles was inducted into the New York City Basketball Hall of Fame, along with the likes of former New York Knicks president Donnie Walsh and former George Mason University men's basketball coach Jim Larranaga.
On February 23 of last year, Charles would finally have his no. 44 jersey retired and hung in the rafters of Rose Hill gym, something long-awaited considering he was inducted into the Fordham Athletics Hall of Fame back in 1980 and was the third black athlete to be inducted at that time.
Now, at age 68, Charles works for the New York City Department of Social Services, where he is a special advisor for Intergovernmental and Legislative Affairs in the Human Resources Administration and the Department of Homeless Services. His love for the empire state runs deep, and Charles focuses a majority of his time helping those less fortunate throughout the five boroughs.
As someone who grew up in Brooklyn, Charles believes it is his duty to give back to the city that welcomed him and his family when they immigrated from Trinidad and Tobago to Brooklyn when he was a young child. Charles does not plan on slowing down anytime soon, keeping the passion and desire he developed on the basketball court and utilizing it in his life today.