Beyond the Scoreboard: Fordham Athletics' Plan to Address Racism Within Its Community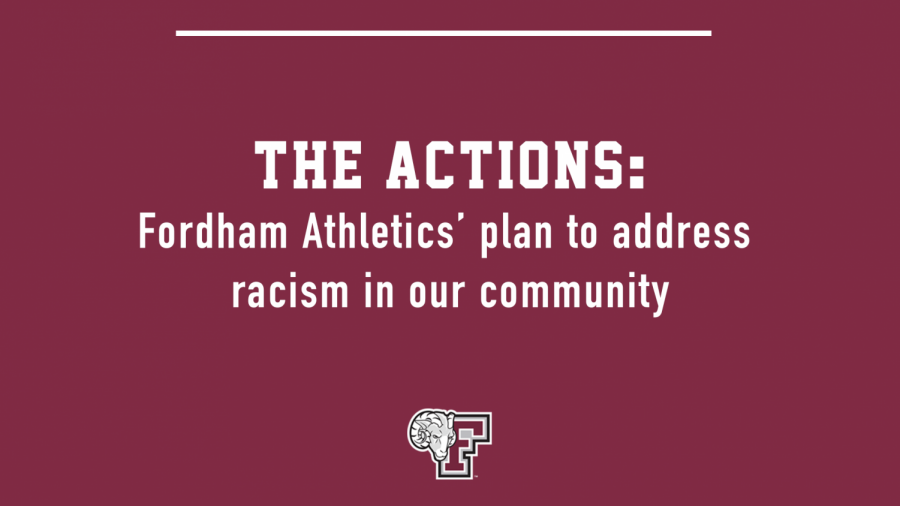 Andrew Posadas, Managing Editor
August 25, 2020
It is difficult to ignore the constant racial injustices happening around the country and throughout the world. But, it is impossible to avoid racism when it occurs within our community at Fordham. We have seen the university's administration release its anti-racism action plan, with the same actions also being taken by Fordham Athletics in promoting racial and social justice.
On June 18, Fordham Athletics set its plan into place after weeks of honest discussions with the student-athlete community. Those conversations conclusively led Fordham Athletics to establish a task force, initially comprised of administrators, in its pursuit of "creating a community devoted to ending racism."
Edward Kull, the director of Athletics, fully understands as he navigates the department's commitment in having zero tolerance for bigotry of any kind. Kull maintains confidence this strategic plan will do just that, saying, "I believe with the leadership of our student-athletes, we have established the start of a 19-part plan that will hold us accountable and responsible, as well as, challenge us to create a culture and environment we all want to be a part of for years to come."
Fordham Athletics will report bi-yearly on Jan. 15 and July 15 on the impact and progress of the plan, along with any future action steps. Every year following the July 15 report, Fordham Athletics plans to outline action steps for the upcoming academic year to continue the fight for racial equality in the Fordham Athletics community. Fordham Athletics' full action plan will be released in the coming week as student-athletes and members of the athletic department return back to campus.
In regards to what we can expect from the plan, Kull states that one of the goals is to ensure student-athletes have an avenue for open conversations to help erase the stigma around mental health and vulnerability in sport. "Our task force has partnered with SAAC and a few other student-athlete leaders to create Connect, a student-led space for our student-athletes to connect and engage in dynamic conversations with one another monthly."
Since its inception back in June, the Fordham Athletics Social Justice Task Force has indeed expanded to include student-athletes, coaches and department members alongside administrators. There are currently 12 members, including Kull, who comprise the task force and meet weekly to confer on initiatives Fordham Athletics can implement to create "a more culturally inclusive and racially equitable environment." The task force is also collaborating with other university departments like the Diversity Office and Student Affairs in partnering for substantial change.
One of those members is David Bernard Santana, FCRH '18, who now serves as the assistant director for digital media and video technology at Fordham Athletics. "As a recent Fordham grad, I understand the frustration that many of the student-athletes are facing," explained Santana. "This task force wants change and understands that change will be student driven." Santana also mentioned that the hashtag #Ramily is used at the end of most Fordham Athletics' social media posts to represent the entire community, and now is the time to give meaning to that mindset of treating everyone at Fordham as you would your own family.
Jessica Clinton, who leads the Fordham women's soccer team, has the distinction of being the lone head coach on the task force. Clinton credits Kull and Senior Associate Athletic Director/Senior Woman Administrator Djenane Paul in leading the task force, adding that, "No topics are off of the table with Ed and Djenane." Clinton tells her players all the time to "leave the jersey better than you found it," and when this moment presented itself, she knew it was a way to assist in creating tangible change.
Clinton would go on to say, "To me, this is a human rights issue and it hits close to home with the women's soccer players and Fordham student-athletes being affected. I want our BIPOC students to be seen, heard, treated fairly and justly. I see this as an opportunity for me to act as an agent for change."
And I couldn't agree more with Clinton's sentiments. At the end of the day, Fordham Athletics has a responsibility to cultivate an environment that includes the best interests of its BIPOC student-athletes. We cannot turn a blind eye to the troubling reality that racism has and continues to exist in our community at Fordham. Social media accounts like @blackatfordham on Instagram have opened our eyes to anonymous stories that not only talk about racial insensitivity towards regular BIPOC students, but against Fordham's student-athletes who proudly represent this university every time they put on the maroon and white colors.
So, now the most important question left to answer is: How do the BIPOC student-athletes feel about Fordham Athletics' strategic plan? Sophomore Danielle Etienne, a midfielder for the women's soccer team under Clinton, admitted she was both "excited and nervous." The uncertainty of long-term sustainability initially gave Etienne trepidation, but after conversing with members of the athletic department and her team, she feels optimistic that "this wouldn't just be a passing idea, but a serious goal to make change."
Senior running back Zach Davis on the football team says that while he feels this should have been addressed a long time ago, he is pleased to see that Fordham Athletics has publicly announced a plan moving forward. However, Davis believes that actions speak louder than words, saying, "We are all judged upon our actions, so these next few months will be crucial for both the athletic department and the University when it comes to combating inequalities amongst the Fordham community." Nevertheless, Davis knows it will take everybody's voice and not just those of the BIPOC at Fordham in order to keep the plan's momentum going forward.
Davis' teammate, junior defensive back Cam Blair, says the plan to encourage conversations about racism within the community will promote solidarity in hopes of shaping a better future. As for what he would like to see implemented in the fall, Blair suggests that having guest speakers come talk to teams can "spark conversation and educate everyone on how our society has ingrained racism."
Ultimately, this full action plan will be judged by how much palpable success manifests itself from the various initiatives created by the task force. The goal must be to not only eradicate racism in the short-term, but to create a foundation that will continue promoting racial and social justice for years to come. Racism at Fordham can no longer be tolerated, and Fordham Athletics has made it abundantly clear that there is only one side to root for.