By Nicole Horton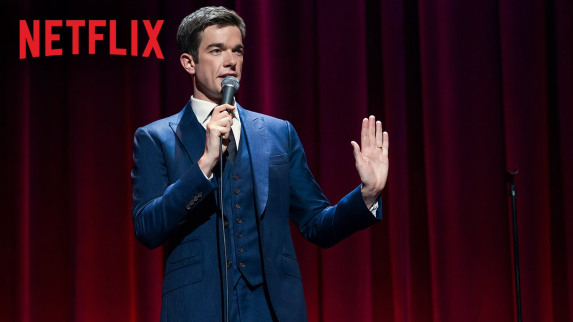 John Mulaney brings his brand of observational comedy to his second Netflix special "The Comeback Kid," following "New In Town" in 2012. The former "Saturday Night Live" writer hones his ability as a storyteller, talking about his childhood, married life and French bulldog, Petunia, who dethroned him as the alpha in his household. Even more than other comedians, he presumably goes through his day jotting down notes for stand-up material. He is self-deprecating in his attitude and delivery, so you cannot help but laugh with him.
You may be wondering: does Mulaney view this as his stand-up comeback? After all, his Fox sitcom "Mulaney" — a semi-autobiographical take on his life in an attempt to embody "Seinfeld" — was cancelled following subpar reviews. However, the special references Bill Clinton's 1992 election slogan "The Comeback Kid." One of the funniest parts of the show is when Mulaney tells how he donned his best communion suit to meet Clinton at his mother's law school alumni benefit.
If you prefer dark or politically incorrect humor, this is not the comedy special for you. Although Mulaney is known for using personal anecdotes as the basis of his routine, this special was missing his sarcastic popular culture commentary.
For instance, in "New In Town" he detailed how Ice-T approached every case on "Law & Order: SVU" like he was new to the unit, and how the crime show can get away with saying just about anything. He also did a surprisingly spot-on Def Jam comic impression. The closest he comes to observational humor in "The Comeback Kid" is recounting how while working as a temp, his boss said that he was not a duckling, but a duck, and quacked. Although it is humorous to see someone quack, an outlandish older man does not compare.
With that being said, Mulaney's personal anecdotes are by definition unique to him. His observations and knack for self-deprecation are true to his comedic style, which will make his "SNL" fans happy.