Grace Jones Discusses New Film at Lincoln Center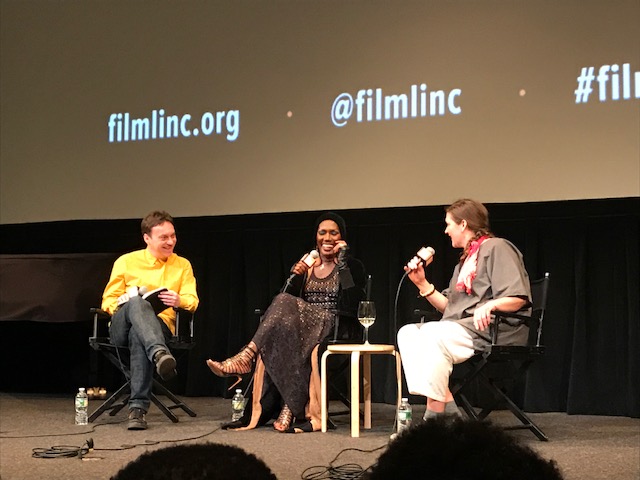 By Ryan Di Corpo
"Ladies and Gentlemen, Miss Grace Jones."
Director Sophie Fiennes and her film subject Grace Jones sat down for a conversation moderated by NPR's Piotr Orlov on April 14 at the Film Society of Lincoln Center. The discussion took place following a screening of Fiennes' new semi-concert documentary, Grace Jones: Bloodlight and Bami.
The Jamaican-born Jones, now 69, embodies what remains of the vibrant, strobing flamboyance of the 1980s in New York City. She is that inimitable pop personage, Studio 54 incarnate, once dubbed "Queen of the Gay Discos."
She is that electric creativity unfettered, unrestricted and unafraid who pushed and then redefined and then pushed again the boundaries of music and on-stage performance.
She is high art, high fashion and high heels standing in the public square, in your dreams, in your nightmares and assuring you "I'm just playing around, baby."
Jones might be playing around, but people are still taking notes. It is important to note that what is written and what is said about Grace Jones can never truly be characterized as hyperbole, for Jones is hyperbole perfected.
Her work in the 1970s with fashion designers Claude Montana and Yves St. Laurent, and now longstanding professional relationship with photographer Jean-Paul Goude, established her as "a muse to channel fearlessness, androgyny, and raw sex appeal," according to Vogue.
Her most well-known albums — Warm Leatherette (1980), Nightclubbing (1981) and Slave to the Rhythm (1985) — identified Jones as a musical innovator combining elements of disco, new wave and electric funk.
Yet, Fiennes' new documentary, which is half-concert and half-personal travelogue, does not focus on the Jones of 40 years ago. It focuses on the Jones of today.
Grace Jones is not a film of talking heads who sit diagonal to the camera and obey the rule of thirds and speak in prepared, measured statements about the creation of Jones' albums and her "artistic process."
Grace Jones is a film which takes a few minutes to kill the audio and present us with Jones dancing at a wild party while the club lights flash and the image seems fit to explode.
The film is intensely intimate in humanizing a woman who for so long has been viewed as an unapproachable work of art, a sculpture recherché. In the words of Jones, who brought her own glass of white wine to the after-film discussion, "People think I really come from another planet."
Yet Fiennes was interested in the person behind the image.
"What kind of a woman is that?" asked a young Fiennes after her first glimpse of the cover art for Island Life, Jones' 1985 compilation album. The album's cover, created by Goude, portrays Jones in an arabesque stance which ignores what is anatomically possible.
This image immediately piqued Fiennes' curiosity: who is she?
Fiennes first met Jones around 2003, with Jones stating that Fiennes quickly became "part of the family." The production of the film did not follow a strict process, documenting events as they happened.
Jones stressed her desire to simply film her life as it occurred instead of trying to construct a narrative out of pre-determined scenes. Fiennes described Jones as "pure cinema," due to her "fantastic presence" both on stage and on screen.
The film is striking in its dichotomy, fluctuating between glossy, expertly-shot concert cinematography and low-resolution, handheld camerawork documenting Jones' private moments and her visit to her family in Jamaica.
We see Jones at the airport, Jones sitting around a dinner table featuring fish and bottles of Pepsi with her family, Jones sitting on the floor playing jacks.
Fiennes was given unprecedented access to bring to the screen a quality never associated with Jones: a stunning normality.
The film also documents Jones in Paris, concert preparations, in-studio recording sessions and a contentious argument over the phone with her longtime musical collaborator and bassist Robbie Shakespeare.
But the most intimate moments stem from Jones' startling candor regarding the abuse she and her siblings endured at the hands her of stepfather, a man referred to as "Mas P."
Jones recounts being forced to read passages from Scripture while being whipped by Mas P. In one conversation, Jones explains her "scary" on-stage persona as her performance of the man who tormented her and her family.
"I'm human, man! I'm human," yells Jones during an argument in the film.
Despite such serious subject matter, the film is anything but solemn. It is imbued with a unique, infectious energy produced by Jones' dynamic live performances and quotes such as, "Disco was really like going to church."
In all, Grace Jones is an uncommon document which not only furthers public interest in Jones, but helps to complete her singular image.