Janos Loebe and Rashid Nuhu Drafted By New York Red Bulls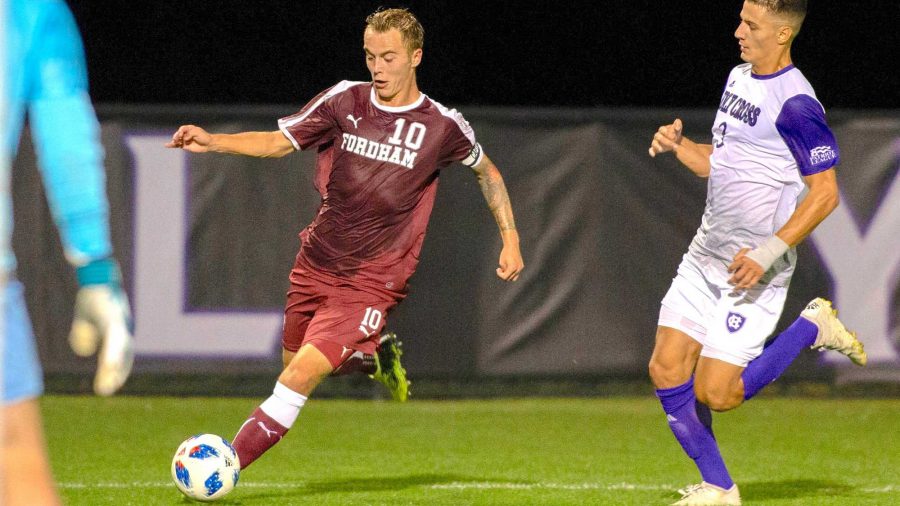 By Jimmy Sullivan
Fordham Soccer's Janos Loebe and Rashid Nuhu won't have to go very far to play professional soccer next season.
Loebe, the two-time Atlantic 10 Offensive Player of the Year and offensive standout, was taken with the 22nd pick in the Major League Soccer SuperDraft by the New York Red Bulls on Friday. Loebe finished his Fordham career with 26 goals and 31 assists, the latter putting him second on the all-time list at Fordham. Additionally, Loebe is one of just three players to ever win the A-10 Offensive Player of the Year award twice and one of two men to be named to the all-Atlantic 10 first team all four years of their collegiate careers.
Loebe and Nuhu became the second and third Fordham players to be drafted or signed by an MLS club in the last two years. In 2018, defenseman Matt Lewis was signed by Sporting Kansas City before being waived in June. Lewis and Loebe were both instrumental in Fordham's run to the NCAA Tournament's Elite 8 in 2017.
The third and fourth rounds of the MLS SuperDraft were held on Monday via conference call. And, with the 22nd pick in the third round, the Red Bulls decided to get two Rams for the price of one.
With that selection, the local team took senior goaltender Rashid Nuhu. Nuhu was a three-time all-Atlantic 10 selection and was named the Most Outstanding Player of the 2016 Atlantic 10 Conference Championship. And coming from him, being able to play in Major League Soccer is a dream years in the making.
"This day means a lot to me. I have been waiting for this day for so long," Nuhu said in an interview with Fordham Athletics. "I just want to thank my mom for all the sacrifices she has made for me to be where I am. To all my past coaches and teammates – thank you all for being there for me."
As for Loebe, he is also happy to be playing soccer at the next level.
"I couldn't be more excited to play for this great team," he told Fordham Athletics. "I'm really looking forward to working with these great people and play in front of great fans. Can't wait to get started."
Janos Loebe and Rashid Nuhu were two essential pieces of a Fordham soccer run that will never be forgotten. Now both men are off to play professionally, but they won't have to go far to do so.