Men's Tennis Wins Four Matches on Week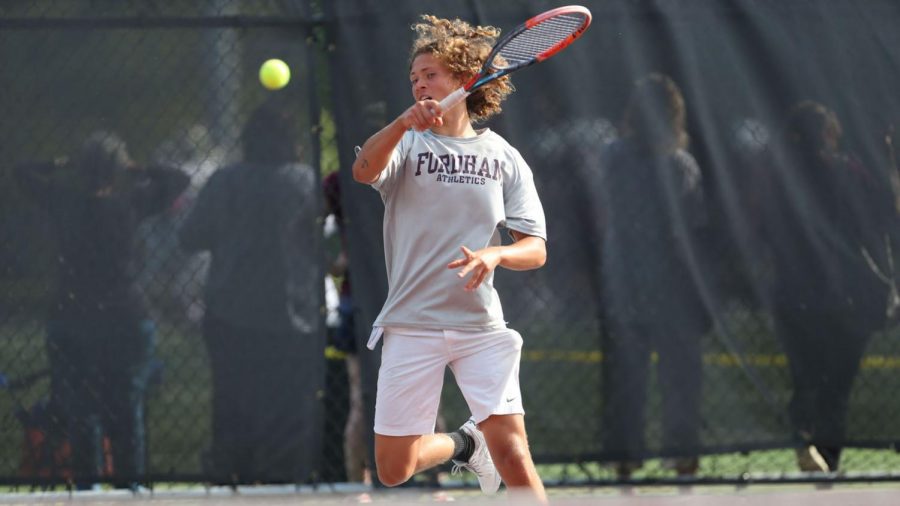 By Dylan Balsamo
Fordham Men's Tennis has been a good team all year. The only thing that was keeping them from being a great team was maintaining their level of play. It seemed as if each success this season had come with a downside. That is, until this past week.
Between Wednesday and Sunday, the squad had four matchups and came out successful in each one, including a Saturday conference win against Saint Joseph's.
The success began on Wednesday in the Bronx against Yeshiva with a shutout 7-0 victory. A 6-2 win by junior Steven Duka and freshman Jofre Segarra over Ezra Rudansky and Mikey Ozery helped the Rams win all the doubles matches and take the doubles point. Fordham was 6-0 on the day thereafter, including 6-0, 6-0 wins from Duka over Alexander Kaib and from junior Gabriel Mashaal in defeat of Samuel Edery.
On Saturday, the stakes were significantly higher for Fordham when they travelled to Philadelphia to face off against Saint Joseph's, a matchup that had conference significance. Unlike on Wednesday, this matchup was much closer, but the Rams again came out on top.
The Rams won the doubles point by winning two of the three matches, those victories coming from the pairs of juniors Fabian Hansch Mauritzson and Allen Thornes along with sophomore Max Green and junior Finn Kemper. This point ended up being the decisive victory, as Fordham went 3-3 in singles. With a 6-3, 6-3 win by Lutwin de Macar over Dan Tan and 6-3, 6-1 decision won by sophomore Alex Makatsaria against Eshan Kanetkar, the Fordham fate for the day was decided by Kemper, who came out on top of Johnnie Massart 6-2, 4-6, 6-0. This was an important win.
The victory against Saint Joseph's was the primary objective of the week for the Rams and, in their eyes, the most important takeaway. "After last week's defeat, we put in an extra amount of work in practices and conditioning," said Kemper. "Beating Saint Joseph's is obviously great for our seeding in the conference tournament, but it also shows that we are doing the right thing in practices."
Next for Fordham was a trip to Adelphi University for a Sunday date with St. Francis Brooklyn and then back to the Bronx to play Baruch. Again they owned the day, but this time with double the stature.
Against SFB, the Rams wrapped up the doubles point quickly with a 6-0 shutout win for Mauritzson and Thornes over Stefan Gmijovic and Pablo Blasco-Torres and a 7-5 victory for Green and Kemper against Dirube and Couso. Makatsaria and de Macar's match was left unfinished. After that, Fordham not only dominated singles play as a whole but individually, including a 6-1, 6-1 de Macar win against Gmijovic, a 6-1, 6-0 victory for Makatsaria against Blasco-Torres and 6-0, 6-2 decision for Seggarra on top of Grant Louis. It was another 7-0 win.
The matchup against Baruch was a similar story. The closest Fordham came to losing a match during doubles was a 6-3 win for Mauritzson and Thornes against Abhinav Srivastava and Leonard Margolis. The Rams had another early lead. By singles play, it was clear that Baruch was trying to tame the untamable as Fordham swept these matches again and even saw a 6-0, 6-0 sweep for Duka against Hudson Kaylie. The Rams had themselves another 7-0 victory, their third of the week.
Fordham has three more matchups in their regular season, including a conference date with St. Bonaventure on the road on Sunday. After that comes the A-10 Conference Championships in Orlando. They say the key to winning is getting hot at the right time, and as the temperature begin to heat up in the Bronx, it looks like these Rams are doing just the same.