BronxArtSpace's "Systems of Injustice" Walks Down the Halls of America's Racist History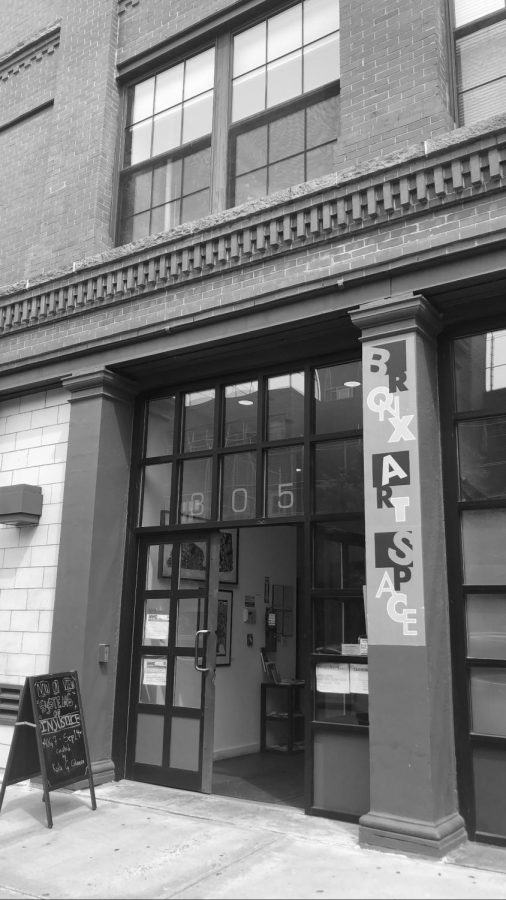 Sara Tsugranis, Contributing Writer
September 11, 2019
When most people think of New York City, they immediately associate it as the financial center of the world, as well as an art, fashion and theatre mecca. All of these attractions are associated with Manhattan and give no thought to other boroughs such as the Bronx.
Tourists from around the world pencil in The MET or MOMA on their itineraries and oftentimes actively avoid the Bronx. Upon informing people that I attend Fordham University at Rose Hill, I am reminded of the borough's reputation; they ask me, "isn't it so dangerous?" The Bronx has just as much culture as Manhattan. One place affectively making art accessible in the borough is BronxArtSpace.
As I entered the newly built red brick structure, I was greeted with a warm smile by Kayla Coleman, the director of BronxArtSpace and the curator of the current exhibit, Systems of Injustice. Coleman has created a space in which everyone is welcome to experience fine art in the South Bronx. BronxArtSpace is located in Mott Haven, a neighborhood positioned to replace Brooklyn as the new hipster haven. The museum serves to highlight injustices pertinent to the area.
The current exhibit, Systems of Injustice, according to the gallery's website, "seeks to examine how the structural, disciplinary, hegemonic, and interpersonal realms of domination intersect to create systemic oppression for people of color."
Clarissa Sligh's screen prints, "Mississippi is America: We Knew They Might Be Killed," highlight inequalities in the criminal justice system. Sligh has experienced racial injustice in the system herself; alive during the Jim Crow era, she was the lead plaintiff in "Thompson v. County School Board of Arlington County," a suit aiming to desegregate schools in Virginia after the state's government resisted "Brown v. Board of Education."
The screen prints depict missing FBI photos of two white men, Michael Schwerner and Andrew Goodman, and one black man, James Chaney, who were killed by Ku Klux Klan members for helping African Americans register to vote.
Injustice in the criminal justice system continues today. Carol Jacobsen displays images of women who were sentenced to life in prison. The criminal trials failed to explore the abuse these women endured making the sentences too extreme.
As I continued to explore the exhibit, I came across "Vestige" and "Never Make Fun of a Millionaire" by Mark King, who is currently a resident of the Bronx. In a short interview with The Fordham Ram, he said that his work examines the "shady dealings" of the business world.
I first thought that "Vestige" was a bulletproof vest, but after speaking with King, I learned that it was only a thin linen tank top with Bear Stearn playing cards. King said that he wanted to examine the question of "how our biases play out when given freedom." This question is represented in the Bear Stearn playing cards in "Vestige," which showcase the shady biases of former Bear Stern Chairman Ace Greenberg, who was an amateur magician and played bridge. However, King encourages viewers to have their own vision for "Vestige."
He said that his love of art is rooted in the idea that everyone can have their own perspective. Various perspectives will benefit Mott Haven in rebuilding a community that can fight against looming gentrification. King believes that "advocacy should be centered around art," and BronxArtSpace is an example of this advocacy.
Philip Robinson's work, "What has been seen can never be UNDONE," further connects to the heart of the community by addressing racism in the fashion industry. He hopes that visitors can see the art as something made by their peers to help overcome the "gap between what you feel is achievable, versus what is acceptable." He wants his art to be a reminder to remember injustices and to continue to overcome them.
"Art history has you believe only a certain kind of person can make art," Kayla Coleman said to me. The artists in the exhibit present work that connects to the South Bronx community, while also accomplishing something that could be classified as "fine art." Art is for everyone, and BronxArtSpace is clearly sending that message.
See "Systems of Injustice" before it closes on Sept. 14.