Women's Tennis Competes at Columbia Invitational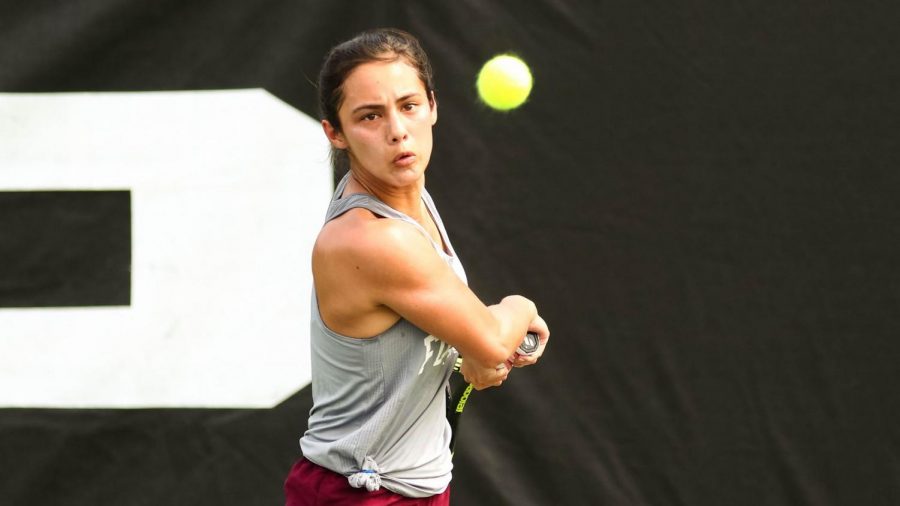 Matt West, Contributing Writer
September 18, 2019
The Fordham women's tennis team looks to improve off last year's campaign in which it finished 11–11, which was good for eighth in the Atlantic 10 Conference. The Rams kicked off their 2019-20 season competing at the Columbia Invitational, where senior Maia Balce led the way for the team by winning the Nassau Draw. She started off the competition strong with a 6–1, 6–3 victory over Katerina Atallah from Colgate. Balce then went on to defeat Columbia's Yekaterina Alferova and continued her dominance, storming her way to the championship round. There, she won the draw with a decisive 6–4, 7–3 win over Columbia's Ari Pollack, capturing the championship.
In the Westchester Draw, Rachelle Yang came out victorious in the consolation final. She began the tournament with a disappointing 6–3, 6–4 loss to LIU's Ekaterine Jorjoliani. In her next match against Rebecca Wolf from Colgate she won in a hard-fought tiebreaker 7–5, 7–6, 11–9, and then defeated Briana Omar from NJIT in the consolation final 6–3, 7–5, 11–9.
In the Bronx draw, Avery Aude faced off against LIU's Victoria Erechtchenko in a 6–1, 7–5 victory. However, she could not repeat her success from the first game in her second-round matchup, where Aude lost to Harvard's Sophia Ho 6–1, 7–5. She then advanced to the third round, but the match was not played due to unknown circumstances.
Junior Arina Taluyenko returned from an outstanding sophomore season where she was named first team All-Atlantic 10 and got off to a fast start in the Brooklyn Draw with a 6–3, 6–4 win over Alejandra Ruffini of Hofstra.  Taluyenko headed into a second-round battle with Akanksha Bhan from Columbia where she lost 6–0, 7–6. However, she was able to bounce back in her third-place matchup where she showed off her incredible her power which propelled her to victory over NJIT's Joleta Budiman, 6–2, 7–5 to finish in third place.
In the Manhattan Draw, Valeria Deminova followed Taluyenko with a 6-2, 6-0 win over Hofstra's Jasmine King.  Deminova then went into a tough second round matchup against Harvard's Mihaela Marculescu but lost 6–3, 7–6. In her third and final game Deminova found herself in a hole early, losing the first set to Oceane Garibal of St. Johns. Despite this, her resiliency was put on full display, as she managed to win the second set 7–5, and the tiebreaker 10–4 to secure a third-place finish.
Sophomore Genevieve Quenville got off to a shaky start, dropping the first set 6–3 to NJIT's Shamika Dhar, but bounced back by winning the second set 6–3. Dhar took the tiebreaker 12–10. In Quenville's second match she came out victorious against Columbia's Melissa Sakar, winning 7–6, 2–6, 11–9. In the consolation final Quenville came up short against Camila Ordonez of St. John's 6–3, 6–2 to finish in third place.
With some success this past weekend the team looks to capitalize on the momentum and carry it into the next tournament. The Rams are back to business this Friday, Sept. 20 as they begin play at the Cassie Leary Invitational at the University of Pennsylvania.