Women Stay Perfect, Men Struggle for Swimming and Diving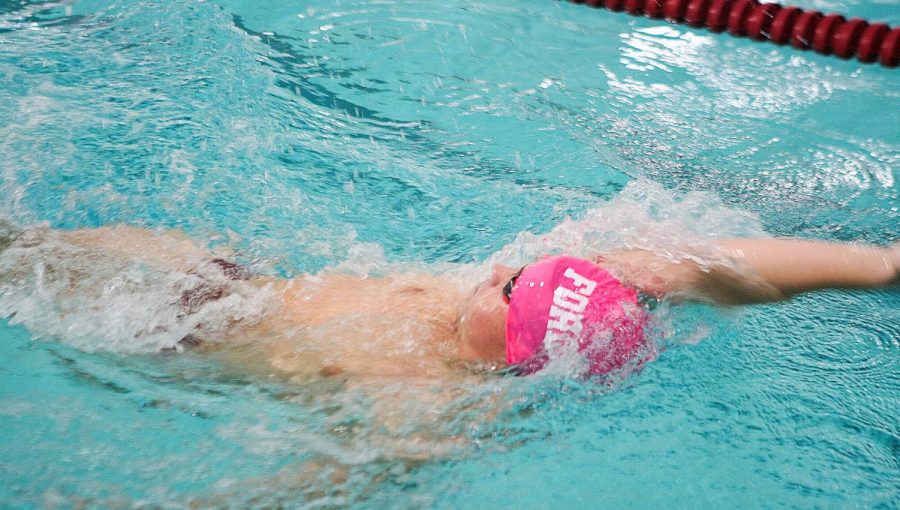 Jack Roche, Contributing Writer
October 30, 2019
The Fordham swimming and diving team opened up the second week of the season with two road trips. The women started off with a commanding 156–85 victory at Marist College and handed the Boston University Terriers a crushing 194–106 loss to remain a perfect 3–0 on the year. The men were not able to replicate that same success, dropping both meets (144–95 vs. Marist, 154.5–125.5 vs. Boston University).
The women's team made a statement in Poughkeepsie on Thursday night against the Marist Red Foxes, collecting the top times in all swimming events. Senior Paulina Watson posted two victories in the 200 freestyle (1:55.34) and 200 backstroke (2:04.81). Senior Amelia Bullock (200 butterfly, 200 breastroke) and freshman Clare Culver (200 individual medley, 100 freestyle) joined Watson as the three multi-event winners.
They were able to maintain this success as they traveled to Boston to defeat the Terriers during their second meet in just three days. Bullock, who did not compete last season, headlined the group of three double winners with victories in the 100 (54.98) and 200 fly (2:02.04).
In relays, the Fordham 200 medley of junior Michelle Martin, Bullock, sophomore Kiara Norris and senior Theresa Mullen won with a time of 1:44.72, while the B team followed in second place with senior Naima Mackrel, junior Vaula Vekkeli, junior Hannah McGee and senior Samantha McDonald.
As for the men, strong outings from sophomores Josh Stegen (first in 200 freestyle, second in 100 freestyle) and Connor Wright (first in 200 backstroke) were not enough to propel Fordham to victory over Marist on Thursday.
The men would put together a stronger performance on Saturday against Boston University behind a trio of multi-event winners: junior Patrick Wilson, Stegen and Diego Perez. Perez, the sophomore from Tampa, Fla., won both the 1M (219.85) and 3M (224.10) diving events.
The 200 free relay of Wilson, Stegen, senior Kevin Berry, and Bryce Bollesen, tied for first in 1:24.78. Bollesen, a junior from Palo Alto, Calif., also touched first in the 50 free (21.35) and third in the 100 free (48.23).
Despite not obtaining their desired result, senior Casey Sawyer believes that the team made key adjustments between the two events.
"The short turnaround in between meets was helpful for the team because we were able to sort out and remember any mistakes from the first meet and be ready for the second one," Sawyer said. "Marist and BU were both big meets and unfortunately, the men's team didn't win either, but we came close to beating BU because we corrected some mistakes we had made earlier in the week."
The men will attempt to continue to make improvements as they fall to 1–2 on the season.
Looking ahead, Fordham travels to Washington, D.C. to take on Georgetown University as they aim to deliver the Hoyas their first loss as a program this season on Saturday, Nov. 9 at 10 a.m.