Squash Takes Two of Three to Close November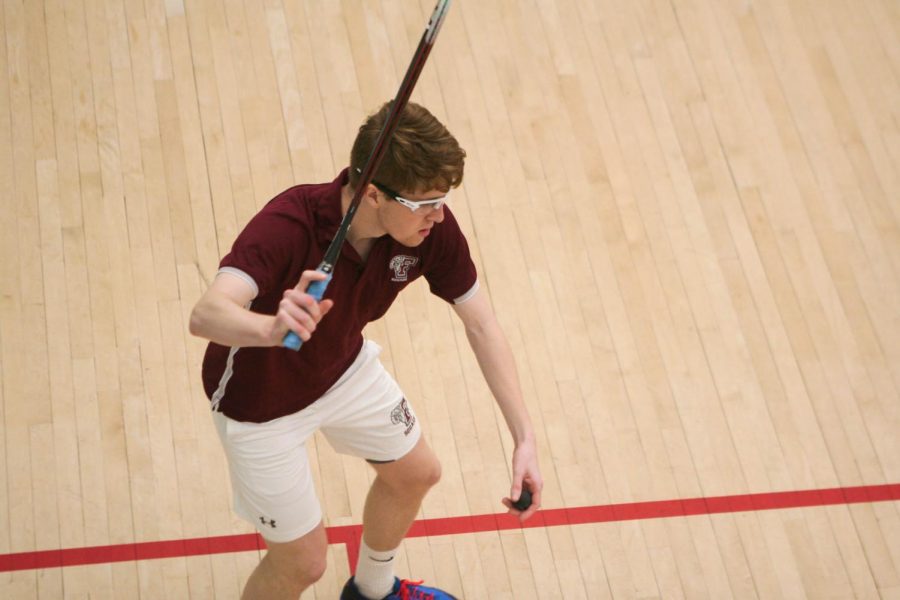 Jimmy Sullivan, Sports Editor
December 4, 2019
Fordham Squash entered a weekend home series in late-November with one goal in mind: to maintain its early-season momentum. Fordham entered at 9–3 with some impressive wins early on.
Fordham was able to keep that momentum rolling, winning two of its three matches on the Lombardi Squash Courts on Nov. 23 and 24.
The Rams started with two matches on Friday, Nov. 23 against Washington University of St. Louis and Bard College. The first match, against Washington, started bright and early at 9 a.m., but Fordham avoided the early-morning doldrums. Junior Griffin Fitzgerald kicked off the proceedings with a four-set victory over Washington's Russell Scharf and the Rams followed his lead. Fordham's only loss over two matches on the day was junior Tommy White's loss to Washington's Ryan Wiersbitzky in five sets. Besides that, Fordham made quick work of Washington, as sophomore Patrick Rodden, junior Justin Deckoff, sophomore Dylan Panichello and freshman Caleb Schumacher all cruised to straight-set victories en route to Fordham's 8–1 victory over Washington.
The Rams clamped down even more in the second match of the day against Bard. Fitzgerald, Rodden and White all swept their opponents in three sets to open the match and, once more, set the tone. Sophomore Jack Reed beat Bard's Martin Graham in four sets, and freshman Justin George clinched the victory with a win over Connor Browder in five sets. Fordham didn't concede any of its individual matches against Bard en route to a 9–0 win that pushed the Rams to 11–4 on the season. Awaiting Fordham on Sunday was its toughest test of the weekend: New York University.
The match did not look to be an easy task for Fordham coming in, and it lived up to that throughout. Unfortunately for the Rams, they started the match by digging themselves into a hole that turned out to be insurmountable. After Fitzgerald's match-opening victory over Hamaad Jafry, the combination of Rodden, White and Reed failed to win any of its individual contests and Fordham was down 3–1. George won a thrilling come-from-behind match with Kenneth Nakamura in five sets, but Fordham could never quite draw even with the Violets. The teams traded individual triumphs for the rest of the match, and NYU came away with the victory.
With the defeat, the Rams were unable to claim a weekend sweep, but the most recent outcomes have pushed Fordham to an impressive 11–5 record to start the season. Fordham and head coach Sahel Anwar will take that, and more than anything, the early-season performance has also shown that Fordham is capable of the same season-long consistency it displayed all of last season en route to a Chaffee Cup title.
The Rams are in action this Saturday with a vigorous tripleheader against Denison, Boston College and Swarthmore. Saturday's three home matches are Fordham's last of the calendar year, as the team will not compete again until Jan. 17, 2020.