Baseball Swept by FIU to Start Season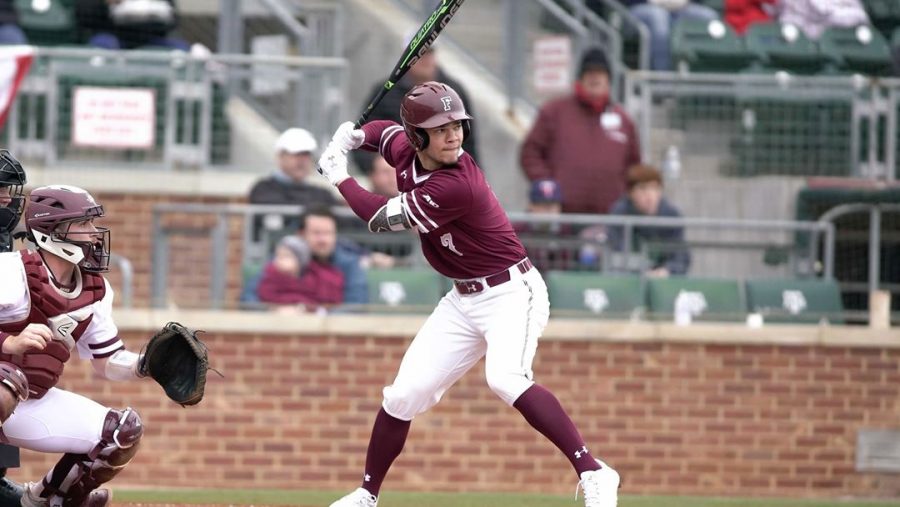 Jimmy Sullivan, Sports Editor
February 19, 2020
Fordham Baseball is coming off of one of its best seasons ever, with an Atlantic 10 title and a trip to the NCAA Tournament serving as the highlights. The team played its best baseball toward the end of the season despite a challenging start against top-notch competition.
That is what this year's Fordham baseball team is trying to repeat, and, so far, things are off to a difficult start.
The Rams visited Florida International University this weekend for a three-game series. In Miami, the host Panthers ran Fordham out of the building, outscoring Kevin Leighton's team 46-9 en route to a three-game sweep.
To be fair to Fordham, the Rams are at an inherent disadvantage this time of year; teams like Florida International, which play in a warm climate, have the luxury of practicing outdoors all year round while teams like Fordham, in colder climates, do not have this working in their favor.
The series kicked off Friday night with a commanding 20-7 victory from FIU.
The Panthers led 10-1 after three innings and cruised to a victory after scoring at least once each inning. Fordham's starter, junior pitcher Matt Mikulski, conceded eight runs in two innings of work, but just two of those runs were earned.
The defense behind Mikulski was largely responsible for an absolute mess in the second inning; Fordham committed three errors as six unearned runs came home for FIU. The game was 2-1 after Fordham junior infielder Jake MacKenzie's home run in the top of the second, but the bottom of the inning doomed Fordham for the rest of the night.
The Rams' fortunes did not change for the rest of the weekend.
On Saturday evening, Fordham's bats couldn't get going as the specter of rain hung over Infinity Insurance Park all evening. Junior and defending A-10 Pitcher of the Year John Stankiewicz kept Fordham in it, allowing two runs — one earned — over four innings of work.
However, FIU was able to get to Fordham's bullpen as sophomore pitcher Gabe Karslo allowed two runs in the next two innings and freshman pitcher and infielder Jack Popolizio allowed four runs in the seventh inning while only managing to get one out. With the Panthers up 8-0 after seven innings, the skies opened, and the rest of the game was called off. Because it was already an official game, FIU earned a victory and moved one step closer to a season-opening sweep.
On Sunday, that became a reality. FIU jumped all over Fordham junior pitcher Joseph Quintal in the first inning, tagging him for seven runs before he left with two outs in the bottom frame. Fordham's relief options did not fare overly well either; senior pitcher Brian Weissert gave up three runs in 3.1 innings, sophomore pitcher Cory Wall allowed four runs in two innings and sophomore pitcher Garrett Crowley did the same.
Despite the lopsided numbers and consecutive losses, Fordham can take some positives from the weekend. Senior outfielder Jake Baker went 4-8 from the plate while MacKenzie and sophomore infielder and outfielder Jason Coules each hit a home run. Stankiewicz showed signs that he can stay at the enormously high level with which he finished 2019.
Most importantly, the season has just started; Fordham has plenty of time to work out its kinks. Seasons are not decided in the first weekend of play, and Fordham should be thankful they are not. This is not time to panic for the Rams, but Fordham does have plenty to work on as out-of-conference play continues.
Next up for Fordham is its first home game of the season against Long Island University Wednesday at 2 p.m. at Houlihan Park. After their midweek contest, Fordham will take on Cal State Northridge for two games this Friday and Saturday.