Alanis Returns with Introspective 'Such Pretty Forks in The Roads'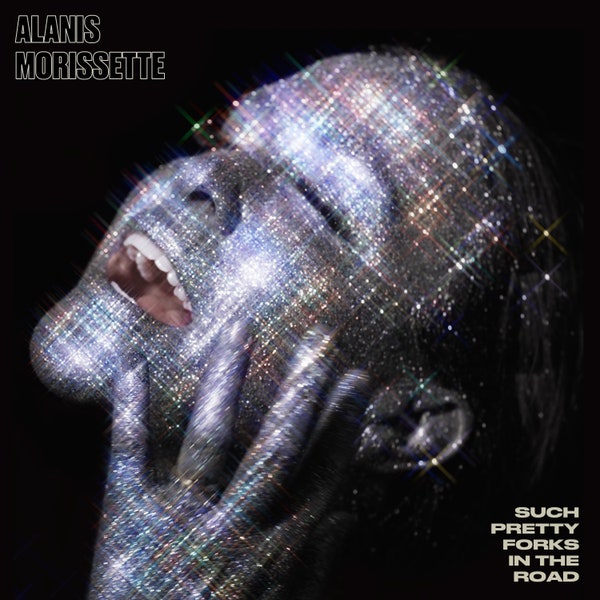 Noah Osborne, Staff Writer
September 9, 2020
Comparable to a "big bang" in the music universe, the '90s marked a musical renaissance. In this "big bang" would arrive the creation of a star no one could ever prepare for — a star so bright, raw and enigmatic that she would command the era of the '90s and etch her name emphatically in the constellations of what it meant to be an icon.
A mother, mindfulness advocate and still-compelling artist, Alanis Morissette has graced us with a new album, and it is a supernova of astronomical proportions. 
"Such Pretty Forks in the Road" sets itself apart from Morissette's early works like the brazen "Jagged Little Pill." On this album, she fearlessly approaches her own forks in the road.
While these challenges certainly were not pretty, the artist's introspective approach offers the work a beautiful quality. 
In an 11-track album, Morissette explores the consequences of fame as a young woman in a male-dominated music industry, dealing with alcoholism, insomnia, mental health, emotional instability and the imminent fear of losing one's luster as the tides of time crash over an artist.
To commence her pilgrimage of pondering, she opens with the ironically named track, "Smiling." Almost hauntingly, Morissette sings, "This is a life of extremes / Both sides are slippery and enticing / These are my places off the rails / And this, my loose recollection of a falling / I barely remember who I failed / I was just trying to keep it together." These lyrics, married to the light yet powerful strumming of an electric guitar, convey to the listener that Alanis Morissette is no longer the wildfire woman she was, but a star who uses her faults to tell stories unfathomable. This is the approach she takes as she swings and solidly strikes down her inhibitions. 
The track "Reasons I Drink" epitomizes Morisette's self-reflection. It oscillates between an upbeat piano tune and Morisette's banshee voice that holds a bite sharp enough to pierce listeners' hearts. Delving into why she has taken to the bottle, she sings a verse acknowledging her struggle with alcoholism and how it affects other people besides herself: "These are the reasons I don't even think I would quit / These are the reasons I can't even see straight / And these are the ones whom I know it so deeply affects / And I am left wondering how I would function without it."
The subsequent track "Diagnosis" takes a similar trajectory with a much more piano-grounded approach. Serving as a commentary on depression, Morissette acknowledges that no one can truly comprehend the caliber of what depression takes from someone indiscriminate of who they are.
With lyrics like, "Call it what you want / 'Cause I don't even care anymore / Call it what you need to / To make yourself comfortable," Alanis Morissette boldly confronts the detractors of depression, as she exclaims that labels do not matter when facing mental suffering; all people are capable of falling victim to mental illness, and such an acknowledgement could not be truer with present circumstances.
However, surely to be a personal favorite for many listeners is "Losing the Plot," an epic musical composition that ostensibly lulls listeners into a sense of solemn comfort, only to pick up with guitars blaring. It is this track where Morissette truly seems to be in her element, as she attacks headfirst the demons of insomnia and the fear of being forgotten.
After singing "with my relevance in dust," Morrissette not only harkens back to the chorus but does so with an amplified sense of conviction as electric guitars play a searing symphony. With songs this masterfully crafted, it is quite ironic that Morrissette would be afraid of being forgotten at all.
"Such Pretty Forks in the Road" is a testament to not only the legacy of Alanis Morrissette, but to her renewed sense of direction. By merging introspection, penetrating vocals and sobering sound, Morissette shows that even when in the presence of inner demons, one could address those forks in the road in manners that could be quite pretty.