Fordham Athletics Unveils Social Justice Plan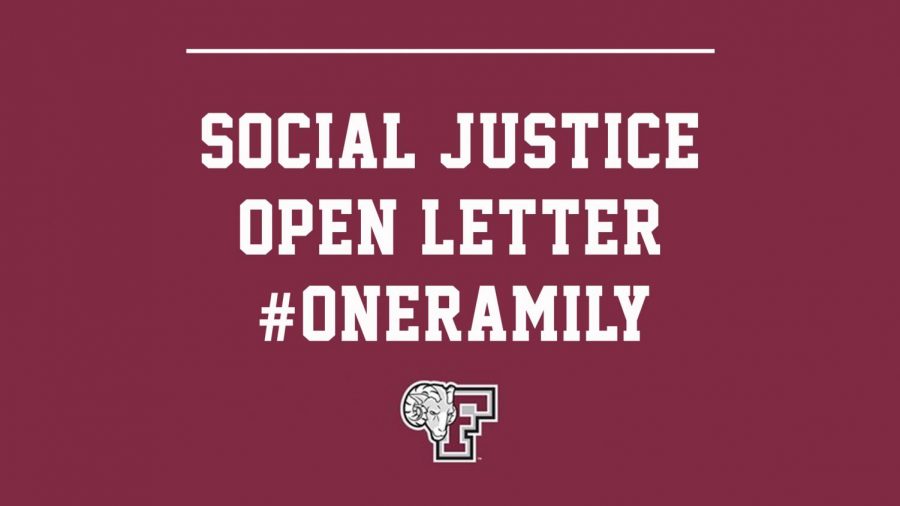 Andrew Posadas, Managing Editor
September 9, 2020
In an effort to address racism within its community, Fordham Athletics recently revealed a full action social justice plan through an open letter from Interim Director of Athletics Edward Kull.
Fordham Athletics' plan was initially set in place earlier this summer after weeks of honest dialogue with its student-athletes. Ultimately, administrators convened a task force  to establish potential actions for creating an environment ardent on eradicating racism towards its community. Now, the athletics department hopes its strategic plan to cultivate racial and social awareness generates long-lasting tangible change.
Kull lamented in the open letter that while Fordham Athletics is unable to change what has occurred previously, he remains confident in assuring that the Athletics Department "will take the proper steps to ensure a better future for our minority student-athletes, coaches, staff, and employees."
The #OneRamily Social Justice Plan provides an outline as to what can be expected of Fordham Athletics in these next three months and moving forward. One of the department's commitments to accomplish by Sept. 1 was collaborating with its Student-Athlete Advisory Council (SAAC) to create Connect, described as a "student-led space for our student-athletes to connect and engage in dynamic conversations with one another monthly." Found on Instagram and Twitter, the programs and initiatives implemented by Connect will be overseen by an executive board of student-athletes. 
That executive board consists of the following student-athletes: Fordham Women's Soccer teammates junior goalkeeper Maggie Grossman and junior midfielder Jenna Devine, Fordham Women's Track and Field jumper Jade Dyer-Kennedy, and Fordham Football junior linebacker Jaden Vasquez. Connect will also have three sub-groups, which will be led by three executive board members. The female student-athletes will be led by Devine, Dyer-Kennedy will lead the BIPOC student-athletes and the LGBTQ+ student-athletes will be led by Vasquez.
By Oct. 1, Fordham Athletics plans to release its initiative for showing support to Black Lives Matter at all home competitions when sports officially resume again. Fordham Athletics will also elect a BIPOC student-athlete to serve as the Rose Hill student representative on the Student Development and Athletics Committee of the University Board of Trustees. The athletics department also aims to become more involved in the Bronx community, with an outline scheduled for release later this month.
The social justice plan also projects that by Nov. 1, Fordham Athletics will have released a new student-athlete handbook. This new version of the handbook includes protocols for reporting race-related incidents and hate crimes through RealRecruit, a culture and risk management platform aimed at empowering student-athletes around the country to enhance their college experience.
Moving forward, Fordham Athletics are expected to report bi-yearly on Jan. 15 and July 15 regarding the plan's progress, along with any potential future action steps. Each year, following the July 15 report, Fordham Athletics will outline future action steps to be implemented for the upcoming academic year in continuing its long-term fight for racial equality.
Kull understands that while the social justice plan is a step in the right direction, there is still more work to be done to achieve a more racially inclusive and equitable environment at Fordham Athletics. Fortunately, with its current social justice task force and a plan officially put into action, student-athletes can be optimistic that substantial change will follow.