By Marcelle Meyer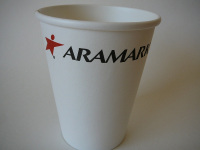 As most students know, Fordham University has recently switched food providers for on-campus dining from Sodexo to Aramark. What many students do not realize is that Aramark, which provides dining services to many prisons and universities, has a history of legal and ethical misconduct. According to the Corporate Research Project, a non-profit organization that researches various companies and organizations, the corporation has paid fines for a number of violation, including underfeeding prisoners, not providing adequate working conditions for employees and serving spoiled food. As a Jesuit university founded upon the values of service and social justice, it seems contradictory to provide funding to a company that has so egregiously violated our standards of ethics.
Fordham focuses its non-academic pursuits on service for others. The Jesuits have a long history of advocating for social justice, and the number of service opportunities and organizations on campus is just one testament to that. Additionally, the Catholic Church is the largest charitable organization in the world and strongly advocates for prisoners' rights. Religion aside, it is not just the Catholic Church and the Jesuits who believe these malpractices of Aramark are wrong; many people, regardless of religious affiliation, would say that the Aramark's actions in prisons are unethical.
Fordham has an obligation to uphold its values in all organizations that it contracts. Students are regularly held to a standard of Catholic teachings through university policies. We have housing policies that are used to enforce Catholic rules regarding premarital sex, campus policies that disallow contraception for non-medical reasons and a core program that deeply explores questions of theology and philosophy in order to align with Jesuit approaches to education. If students are expected to uphold these standards, then it is only right that institutions working with Fordham should also represent our values, or at the very least, not directly violate them.
Fordham states on its website that it "hires and recruits with the intention of preserving its Jesuit and Catholic identity and mission." Yet, by contracting with corporations like Aramark and providing profit to these institutions, Fordham is simultaneously violating its own code of ethics while helping to perpetuate abusive systems that will continue as long as they are able to make a profit.
It is true that one university refusing to work with Aramark will not force them to change their policies, but it is also true that a university's lax mindset is what allows corporations to continue their unethical actions. As a university that seeks to promote social justice, we must hold ourselves to a higher standard in our hiring practices in order to truly show our commitment to a mission of service to others.