We all lead extremely busy lives, and research has shown that how one spends their leisure time is directly related to one's health.
Having hobbies is, in fact, proven to be extremely important to ensure a balanced life. It is also said that having a hobby where one uses their hand helps fight stress and anxiety, just as meditation does.
Quilting is a beautiful art form that is relaxing and therapeutic and is quickly gaining popularity. With sustainability becoming the new buzzword, knowing how to quilt is a valuable skill. You can easily upcycle and repurpose old fabric to create something new, fashionable and useful. In addition, you can easily find local communities and classes for the craft. But with online classes, you can learn at your own pace, have access to multiple tutors/tutorials, and find one that suits your budget and time available at hand.
Not sure where to begin? Don't worry! Here are our top 11 free Online Quilting Classes to master the art form.

For the beginner level, this class seems to be an excellent place to start. With 8 lessons, this class is just under an hour, and yet it covers the basics of quilting sewing skills as well as taking the students through the process of creating their own mini Quilt.
This class is taught by Joellen Kemper, an illustrator, designer, photographer, sewer, and quilter. More than 2000 students have taken her courses on Skillshare. The 8 on-demand video lessons in this course cover a range of topics, such as what supplies you will need, how to plan and cut out the pieces, how to use the sewing machine, how to fit everything together, and more.
Great for Beginner Level
42 Minutes of On-Demand Video Broken Into 8 Easy Lessons
Taught by a Professional Illustrator in a Fun, Engaging Manner
Students Finish a Mini Quilt at The End of The Course
Class Projects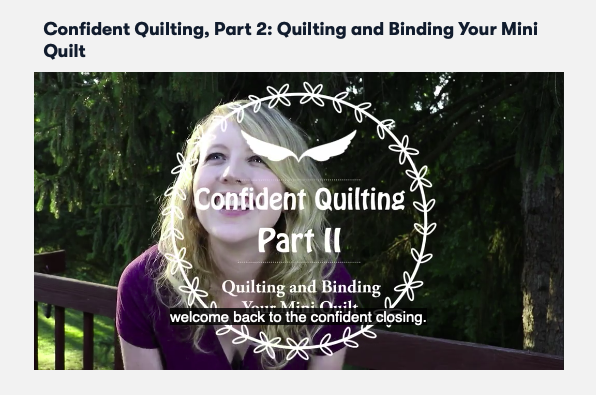 This is the second part of the course mentioned above. This class is also taught by Joellen Kemper. In this course, she guides the students with additional skills and techniques, and materials needed for finishing their pieces.
This course is also 8 on-demand video lessons. In 50 minutes, the instructor covers topics like what are the right supplies, how to make a quilt sandwich, making binding, and using that binding tape to finish the project so that it can be used, hung up as art, or even offered for sale.
Great for Beginner Level, but Part I Must Be Completed First
49 Minutes of On-Demand Video Broken Into 8 Easy Lessons
Taught by a Professional Illustrator in A Fun, Engaging Manner
Finishing the Mini Quilts from Part 1
Class Projects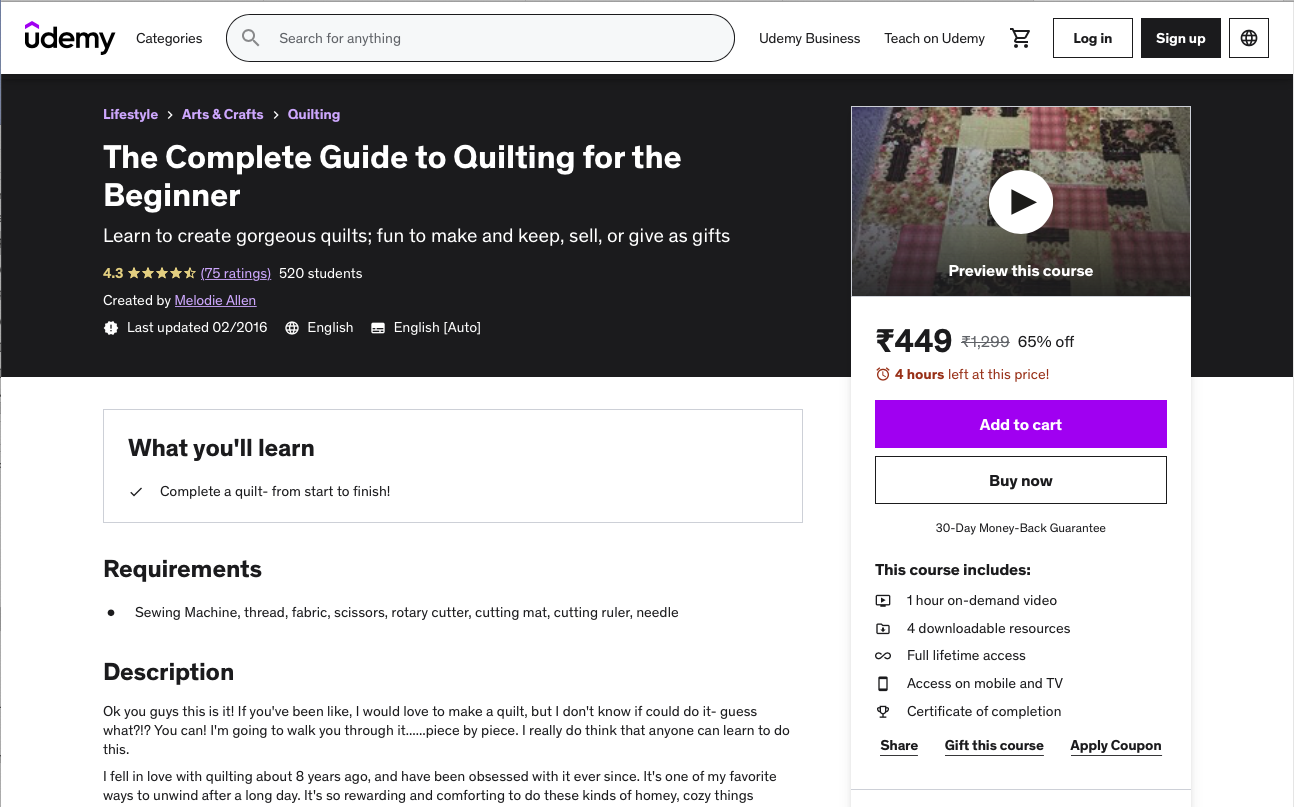 From all the free online quilting classes, this course is an excellent choice for beginners as it takes the students step-by-step or, dare I say – piece-by-piece through the entire process of making a quilt. From choosing fabrics, and patterns to cutting and laying them out, piecing them, and finally, quilting and binding. The course is taught by Melodie Allen, and has had over 500 students have taken this course. In addition, she has provided a thorough list of supplies and equipment that you will need to finish a quilt in class.
This class is made up of 16 on-demand video lectures with a total duration of 57 minutes. Udemy also offers lifetime access as well as 4 downloadable resources and a certificate of completion.
Great for Beginner Level
1-Hour Duration [ 16 On-Demand Video Lectures]
Taught by A Quilting Enthusiast
Downloadable Resources
Lifetime Access
Certificate of Completion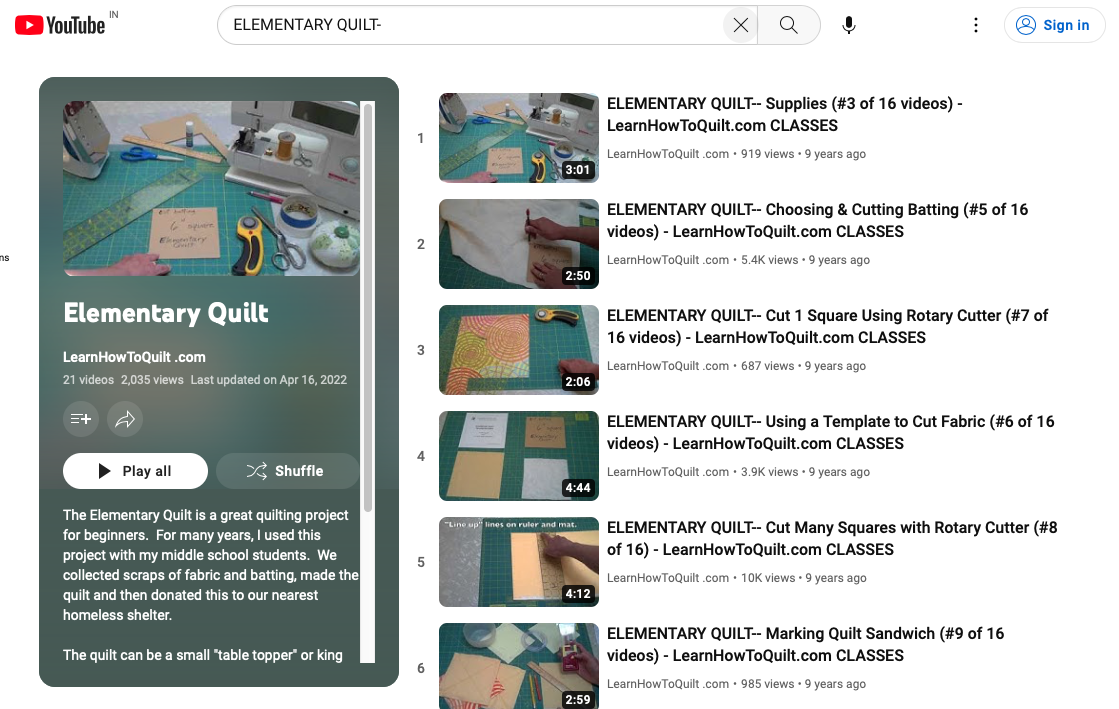 This is a series of youtube videos by the channel [& website] LearnHowToQuilt.com. LearnHowToQuilt.com is a family-run website set up as a reference for beginner quilters and sewers. They feature free videos with step-by-step instructions, text transcripts, and free patterns in PDF format.
They have videos for varying skill levels, and this "Quilt As You Go" is a course for beginners. This 16-video course covers all the necessary steps like what supplies and equipment are needed, how to choose and cut fabric, how to use patterns, marking and make a quilt sandwich, sew by hand, sew by machines, and more.
Great for Beginner Level
16 Youtube Videos, Each Averaging About 4 Minutes
Taught by a Quilting Enthusiast
Free Downloadable Resources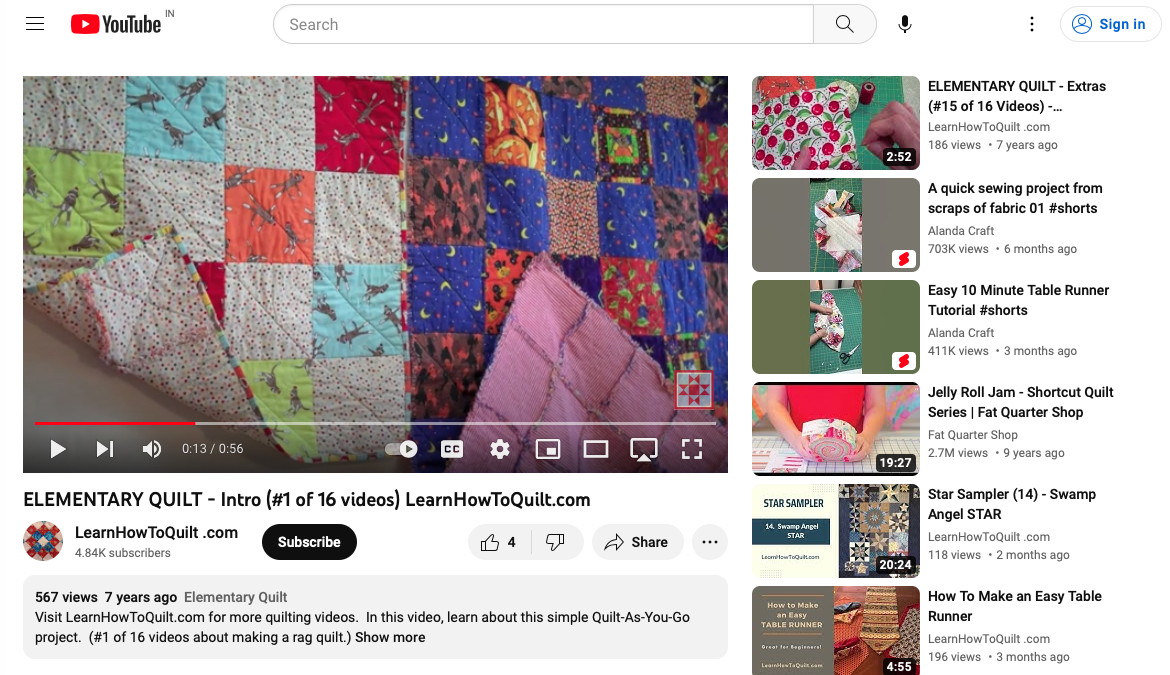 Quilt Addicts Anonymous started as a hobby page when Stephanie Soebbing wanted to help make quilting easier so more people would enjoy it. First, she shared a 10-part T-shirt quilting tutorial that has enjoyed a quarter-million views and counting. Then, in 2014 she designed a Block of the Month quilt to teach at her local quilt shop. In just one year, nearly 12,000 people had downloaded patterns. When I launched the 2015 BOM pattern, the blog grew from a nice side gig to a successful website that could potentially enable her to quit her day job. Quilt Addicts Anonymous has now turned into a tremendous resource for quilters of all skill levels, providing daily articles featuring tutorials, original patterns, and quilting news.
'Learn to Quilt! – FREE Beginner Quilting Videos and Pattern' is a free online quilting class made up of 12 Youtube Videos. The instructor shares detailed insight into the different tools, supplies, and materials and how to use them. She takes us through the process of choosing fabrics for her patterns and how to cut the pieces, make a quilt sandwich, and more.
Great for Beginner Level
14 Youtube Videos Averaging 30 Minutes Each.
Taught by a Quilting Enthusiast
Free Downloadable Patterns and Resources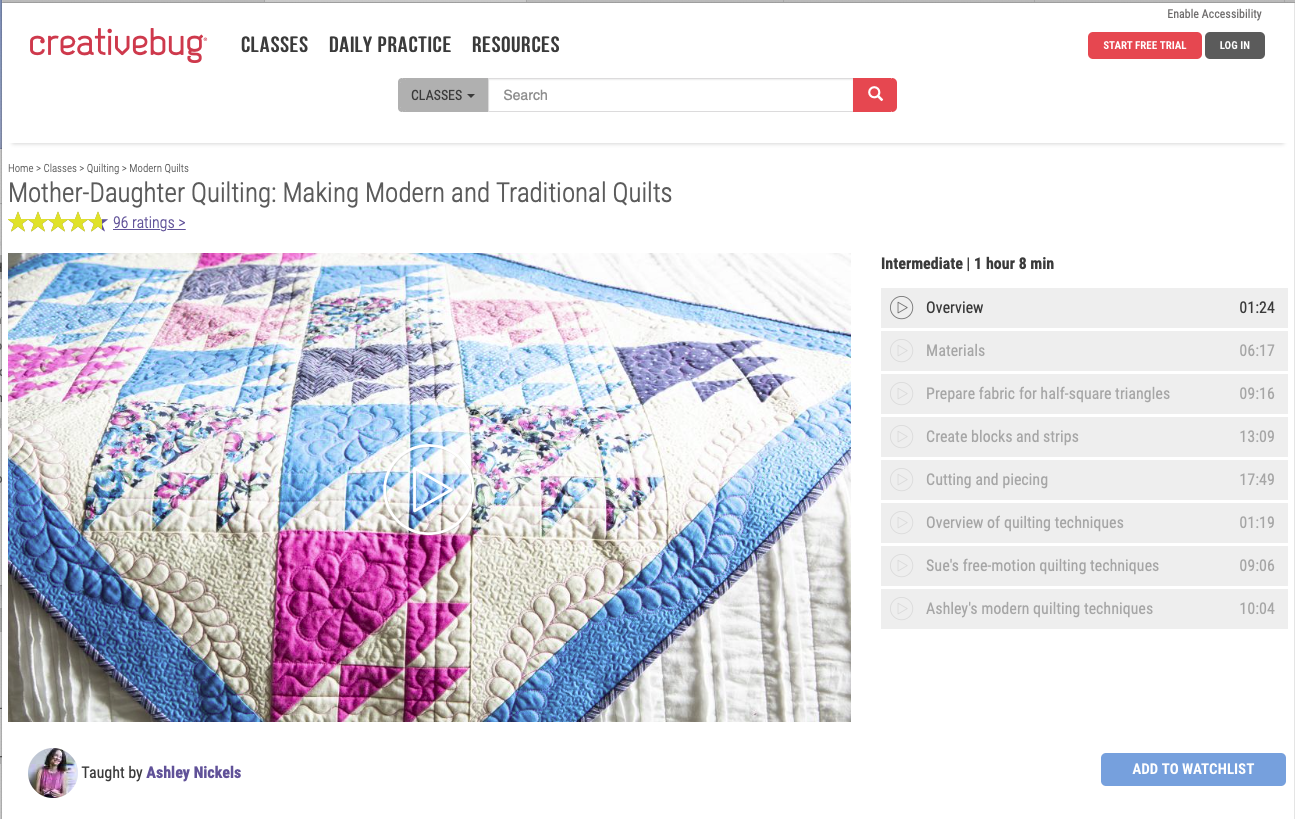 This is an intermediate-level class taught by Mother-Daughter quilting experts Sue and Ashley Nickels. While Sue is a traditional quilter, and Ashley is a modern quilter. And in this class, they not only explain the differences in their styles but also how one can combine them for unique results.
This course is 68 minutes long and is structured as 8 on-demand video lectures. The lectures cover topics like how to choose fabric, how to measure and cut pieces, how to piece them together, cut and piece half-square triangles, free-motion quilting techniques, and more. They offer a detailed list of supplies, equipment, fabrics, and downloadable resources. You can ask the instructors questions, leave comments and interact with the other students currently taking the class.
For Intermediate Level Quilters
1 Hour-Long Class [ 8 On-Demand Video Lectures]
Mother and Daughter Expert Quilters as Instructors
Step-By-Step Instructions
A Detailed List of Supplies, Equipment Material
Downloadable Pattern for Quilt
Interactive Discussion Forum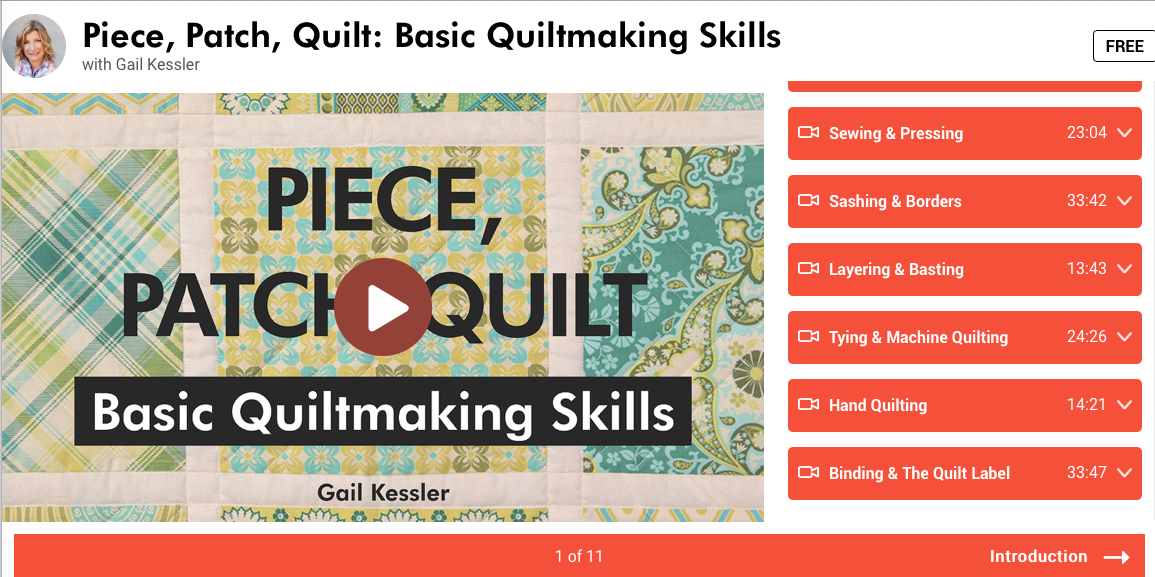 This is yet another free online quilting class on Craftsy taught by Gail Kessler, which is a great place to start for beginners. This course lasts about 3.5 hours – made up of 11 self-paced video lessons. It also offers the students a downloadable list of supplies and patterns as well as custom quilt labels. The course is free with the Craftsy membership, or you can buy the course independently. It has unlimited viewing access – as long your membership is valid and paid up.
Great for Beginner Level
14 Self Paced Videos Averaging 20 Minutes Each.
Taught by Quilting Enthusiast
Free Downloadable Patterns and Resources
Lifetime Access Within Craftsy Membership or If Purchased Separately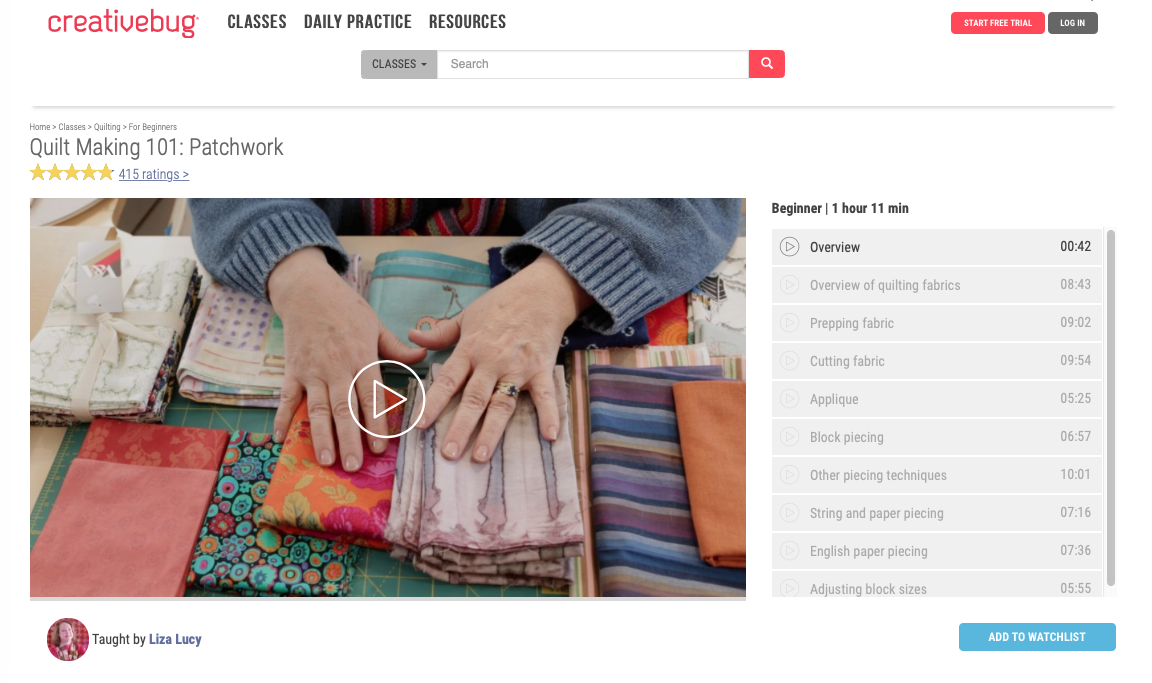 Another gem on Creativebug is the Quilt Making 101: Patchwork course. Taught by Liza Lucy, this course offers a mother lode of information about patchwork and piecing. In her 10 self-paced video lessons, she covers tips and advice from her decades of experience – starting with selecting, prepping, and cutting fabric all the way through machine piecing for blocks, triangles, diamonds, and the dreaded Y-seam. She also covers chain piecing and different kinds of foundation piecing.
The online quilting course is 1 hour and 11 minutes long, with 10 videos averaging 10 minutes each.
Great for Beginner Level
An Easy-To-Follow Self-Paced 10 Video Lessons
Access Online Anytime, Anywhere
Detailed Supply List
Step-By-Step Instruction by Expert Quilter Liza Lucy
The Ability to Leave Comments, Ask Questions and Interact with Other Students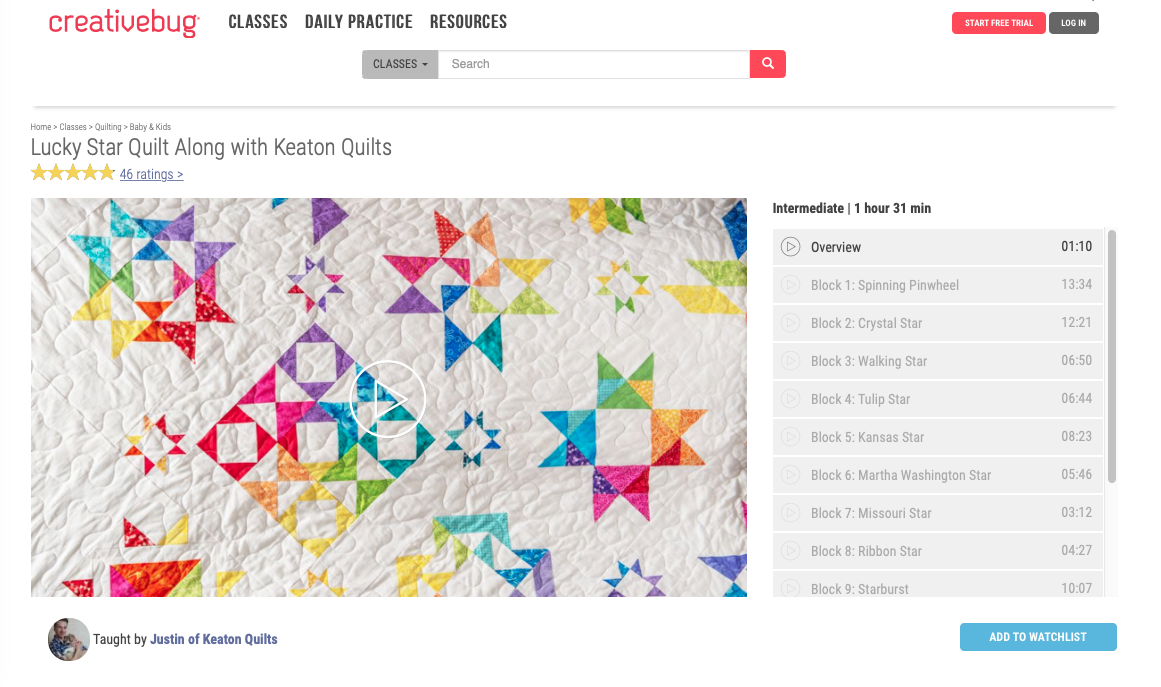 This is a course for quilters with Intermediate level skills. To fully absorb and enjoy this course, one should have mastered the half-square triangle. The course is taught by Justin of Keaton Quilts, a graduate of The Fashion Institute of Technology, New York; Justin has over 10 years of experience sewing, quilting, and crafting.
In this course, Justin shares a detailed downloadable list of supplies, equipment, and material along with a pattern to make a 12-block quilt top featuring a rainbow palette of star shapes. The 14 self-paced HD video lessons of about 1.5 hrs cover topics like how to piece and press half-square triangles, construct half-square triangles and Flying Geese units, piece together 13 different star blocks, use fork pins to ensure straight seams and sharp corners, arrange quilt blocks on the diagonal and more.
Intermediate Level Skills
14 Self-Paced Hd Video Lessons You Can Access Online Anytime, Anywhere
Detailed Supplies List and Pdf Containing Quilt Patterns and Sewing Guide
Step-By-Step Expert Instruction from Justin of Keaton Quilts
Interactive Discussion Forum with The Instructor and Other Students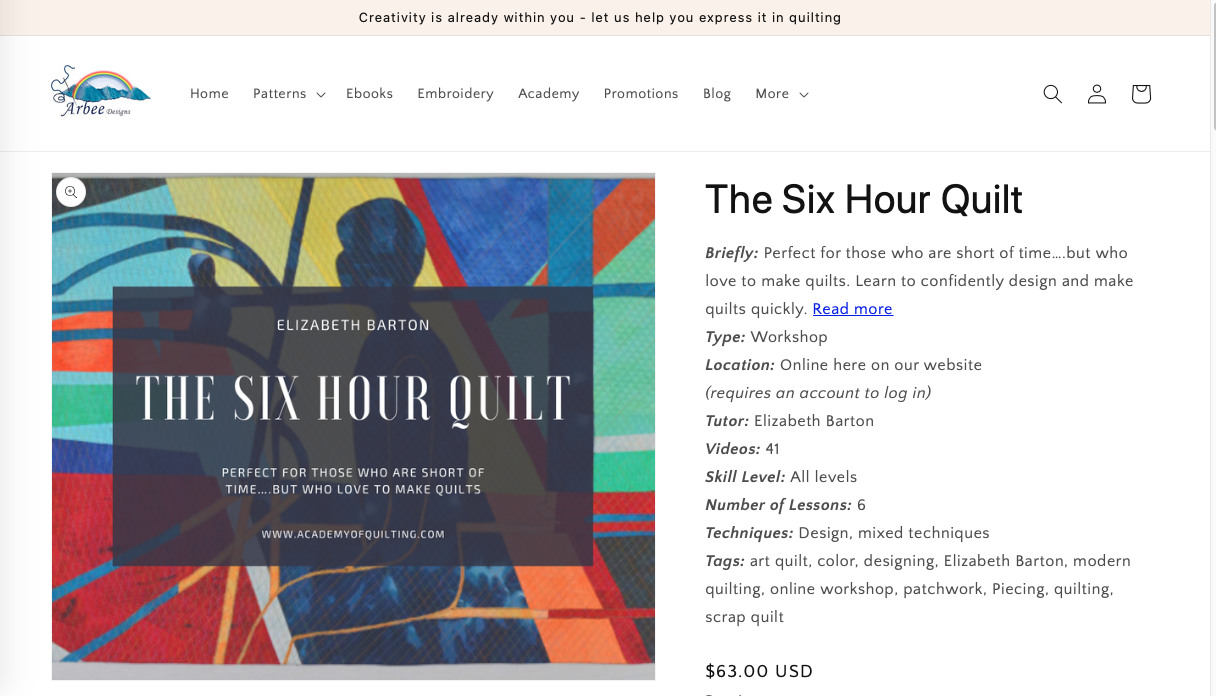 This is a slightly pricier course but for 6 hours of video lessons, seems like a steal. This is an intensive basic class but also a fun class for any student! All in six hours, you will design, select fabrics, cut and sew a quilt top…. then layer, Quilt, and finish it off. The course is taught by Elizabeth Barton and comprises 6 lessons [41 self-paced HD videos]. Once purchased, you have lifetime access to the course and a 10 weeks window to interact with the instructor. During purchase, you have the option to extend this Duration to 14 weeks.
Beginner & Intermediate Level Skills
6 Hours of 41 Self-Paced Hd Video Lessons. You Can Access it Online Anytime, Anywhere
Detailed Guidance from Expert Quilter Elizabeth Barton
10-14 Weeks Time Period to Interact with The Instructor.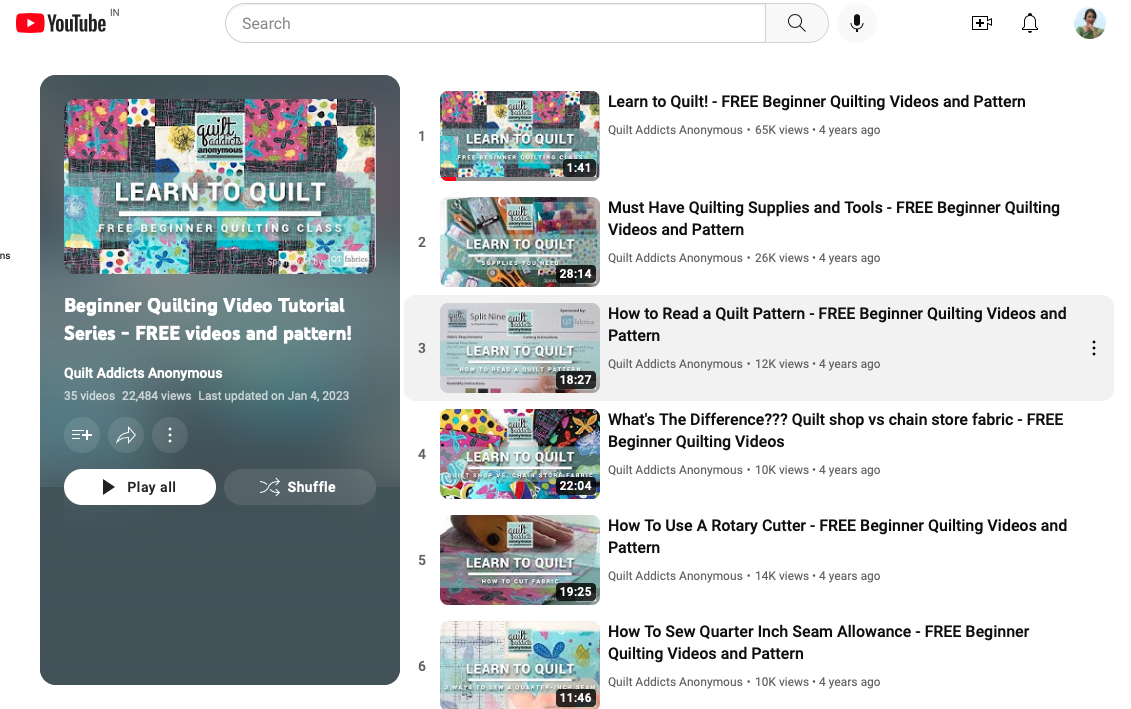 This is another intensive course for intermediate or advanced-level quilters. It is taught by Meg Jensen, a Professional Longarm Quilter. In this course, she covers topics like how to make quick and easy work of calculations in quilting, how to set up an effective sewing space, understanding of fabric anatomy, industry quality, and fabric-related jargon, and Skills to improve cutting results for both left and dominant right-hand people, how to calculate, piece, and prepare your backing fabric, explanation and demonstration of straight-line, free motion, and longarm quilting and much more. With a total of 40 video lessons, this course is 3 hours 41 in Duration.
Advanced / Intermediate Level
3 Hours 41 Minutes of On-Demand Video [41] Lessons
Taught by Professional Longarm Quilter
Class Project
Access to The Student Facebook Group for Interactive Discussions
Is It Better to Quilt by Hand or By Machine?
Hand quilting is traditional. As a hobby, hand quilting is the preferred method. But one needs patience and time to finish everything by hand. Hand-quilted pieces tend to look "softer" and more personal. Hand quilting is also relatively inexpensive. However, machine quilting offers you what hand quilting does not – speed. You can finish projects faster, and it is easy to work with heavy materials or with multiple layers. But machine quilting does require you to invest in the machine – which in turn can take up quite a bit of space and also time to learn how to use the machine.
So ultimately, it comes down to preference and budget. You may want to start off with hand quilting and then figure out if you really need to buy a quilting machine or maybe collaborate with someone who owns one.
Also, Can I Quilt Without a Sewing Machine?
Absolutely! Quilting can definitely be done without using a sewing machine. It may take a bit longer, but it is not impossible to accomplish. When you don't have or want to use a sewing machine, you can try the Rag Quilting method, or Hand sewing or the Fabric Glue Method to create your Quilt.
Conclusion
Quilting is all set to be the new go-to hobby because of its therapeutic effects and sustainable nature. So whenever you decide to give quilting a try, the internet is full of free online quilting classes and easy courses to help you figure it out.
Also, if you think we have missed out on a really awesome online quilting course that the other readers should know about – definitely let us know in the comments below!