Cybersecurity is one of the fastest-growing fields that are becoming increasingly vital in today's digital world. With the rising use of technology in all aspects of our lives, the need for proficient cybersecurity professionals is at an all-time high. As a result, numerous people are turning to online courses and certifications to gain the knowledge and expertise they need to enter the field.
Need help deciding on the best IBM cybersecurity course in 2023? Not to worry, as we've compiled a list of the 12 best online cybersecurity courses and certificates that are available in 2023.
While we cover 12 courses over the stretch of this article, here are our top 3 picks for the best cybersecurity course:
Best Cybersecurity Courses & Certificates in 2023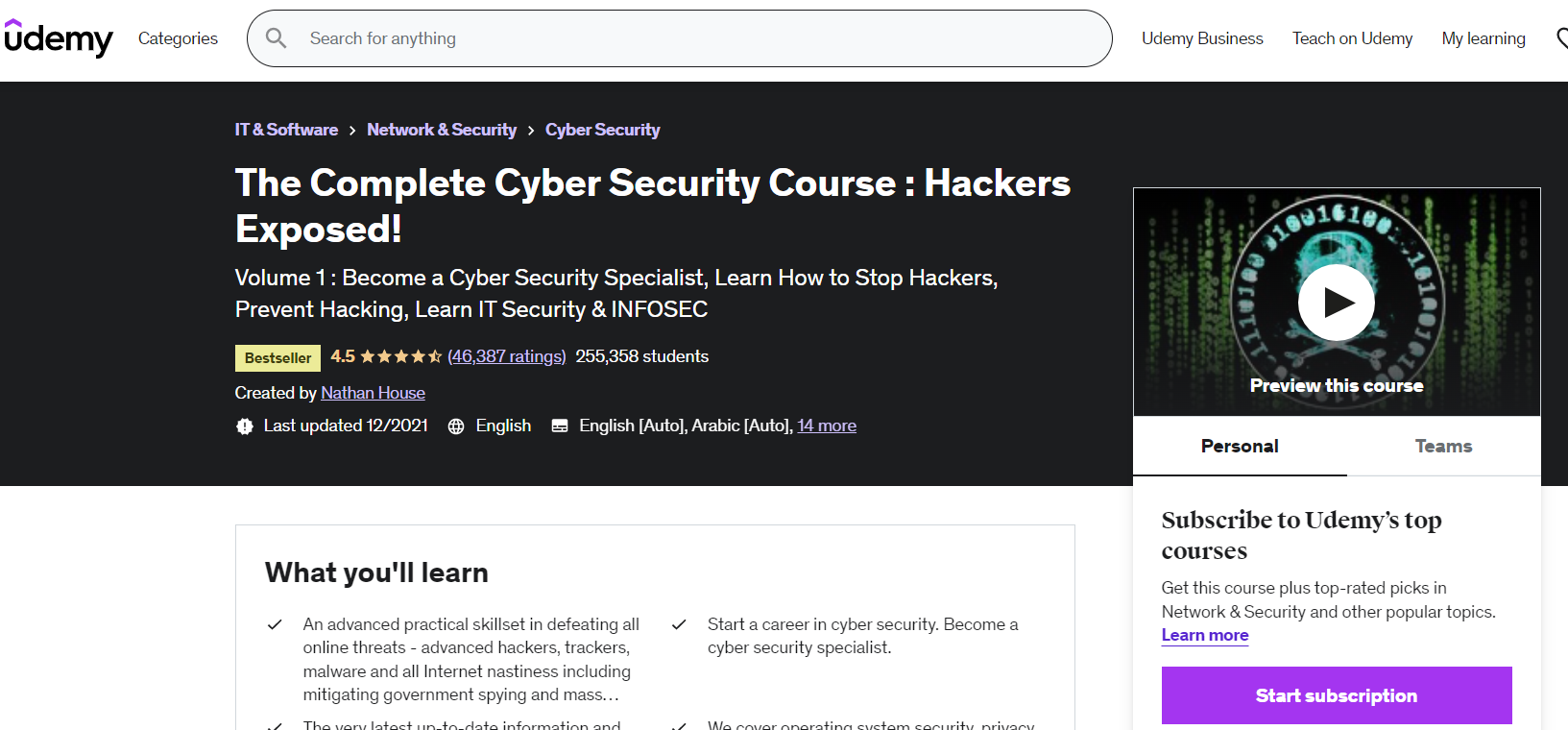 Ideal for candidates who're just starting out and aspire to become a cybersecurity analyst professional, this course from Udemy is available in four volumes. It covers everything about maintaining security, anonymity, and privacy and wraps all major platforms like Windows OS, Mac OS, and Linux. As a result, it is the highest-rated cybersecurity course on the Udemy platform. The course has a rating of 4.5 stars from over 45k reviewers. It is curated by Nathan House and comes in 16 different languages, including Arabic, Japanese, Thai, Turkish, as well as English.
The four featured volumes in this course are:
Rating – 4.5
Duration – 54 hours
Certificate – Yes
Pros – Comprehensive, ability to choose between volumes, and popular
Cons – Outdated links provided, and lectures are not very lively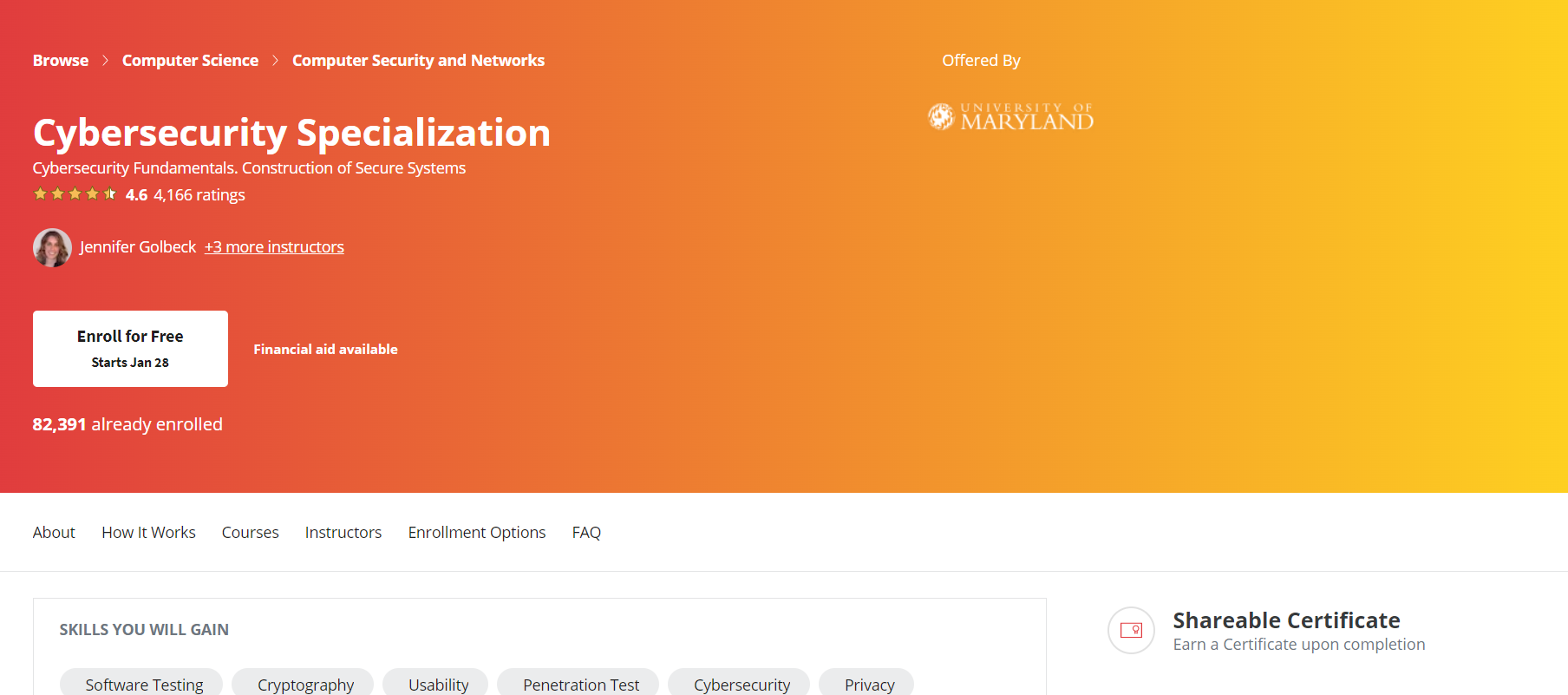 This cybersecurity course issued by the University of Maryland has been designed to help you acquire the technical skills, knowledge, and expertise needed to unlock your potential and become adept in the cybersecurity space. It covers all the fundamental topics in building secure systems and includes everything from software to hardware as well as human-computer interface and using cryptography for secure interactions. In addition, the concepts are well illustrated with examples that are curated from modern practices.
The course has been rated 4.6 stars by over 4,000 candidates and is available in over 10 languages, including Arabic, French, Portuguese, Italian, as well as English.
Rating – 4.6
Duration – 8 months; 2 hours/week
Certificate – Yes
Pros – Comprehensive course spread over the course of 8 months
Cons – Need some prior knowledge to attempt the course

Designed to launch beginners into the world of cybersecurity, this course by the University of Colorado will equip you with the knowledge to protect yourself and your organization from attackers who are looking to compromise your assets. It aims to help you understand the basics of using security analysis in the world of business. The entire syllabus is divided into 4 distinct programs that cover – 
This particular specialization is tailor-made for senior executives in various businesses, middle management, and system administrators. The course has a rating of 4.7 stars by over 1,000 candidates and is available in 11 distinct languages such as French, Chinese (simplified), Italian, as well as English.
Rating – 4.7
Duration – 5 months; 2 hours/week
Certificate – Yes
Pros – No prior experience required before joining, 100% online courses
Cons – Needs more practice exercises

This is the perfect course for you if you want to learn more about the technologies running behind cryptocurrencies (especially Bitcoin). The main focus of this course lies on Bitcoin, although there are instances where detailed nuances are provided behind the implementation of how any blockchain works. 
The best bit about this course is that Princeton University is offering this course for free on Coursera. So whether you're new to this space or knowledgeable to an extent and want to know more, this course is ideal for you to understand the potential paradigm shifts of blockchains in broader terms.
Rating – 4.6
Duration – 23 hours
Certificate – Yes
Pros – Free course and ideal for beginners
Cons – Not meant for candidates who are seeking an in-depth understanding of the different cryptocurrencies and their functioning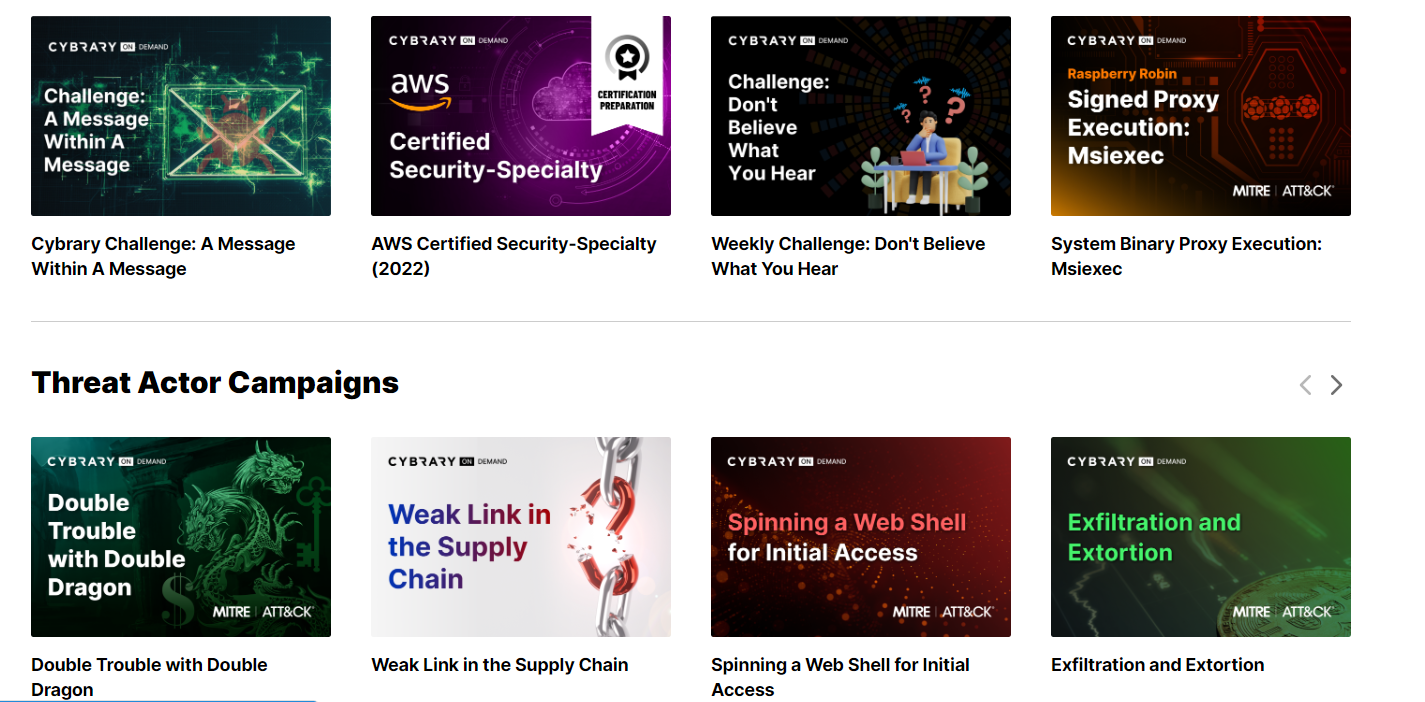 Cybrary is one of the fastest-growing and leading cybersecurity professional development centers out there. The training courses that the platform offers will help you get hands-on experience through industry-based examples. The platform has aggregated over 1000 browser-based, secured virtual labs and practice tests.
 With over 200 skill assessment tests that are available to candidates, you can be assured that you will leave with a comprehensive understanding of your strengths and weaknesses and offer clarity into what your next step should be.
Rating – 4.6
Duration – Self- Paced
Certificate – Yes
Pros – Ideal for beginners and experienced individuals
Cons – No accreditation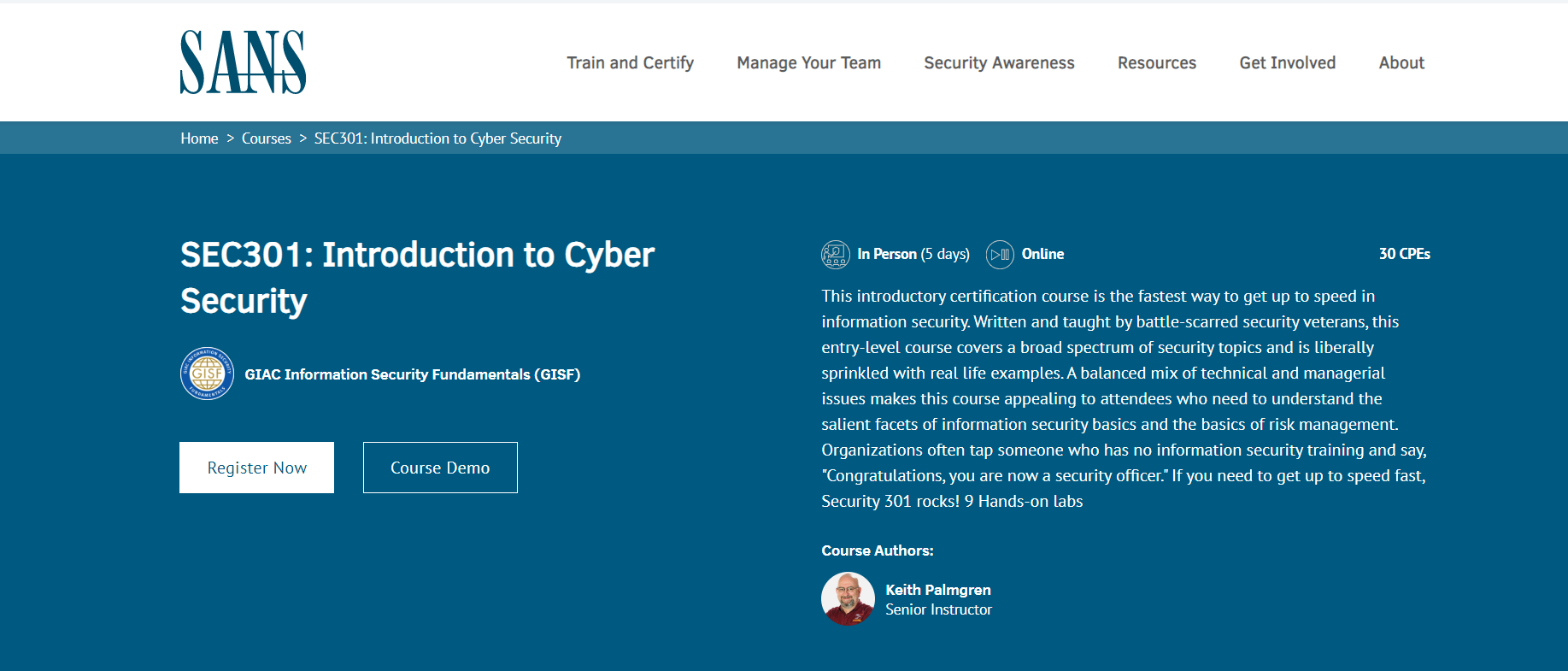 The SANS Institute is one of the most well-known and respected organizations in the cybersecurity field. Their Cybersecurity Fundamentals course is a comprehensive introduction to the field that covers a wide range of topics, including network security, security management, and incident response. The course is designed for individuals who are new to cybersecurity, as well as those who are looking to refresh their knowledge. It is self-paced, so students can complete the course at their own speed.
Rating – 4.7
Duration – Self-Paced
Certificate – Yes
Pros – A well-balanced mix of technical and managerial scenarios presented
Cons – Too expensive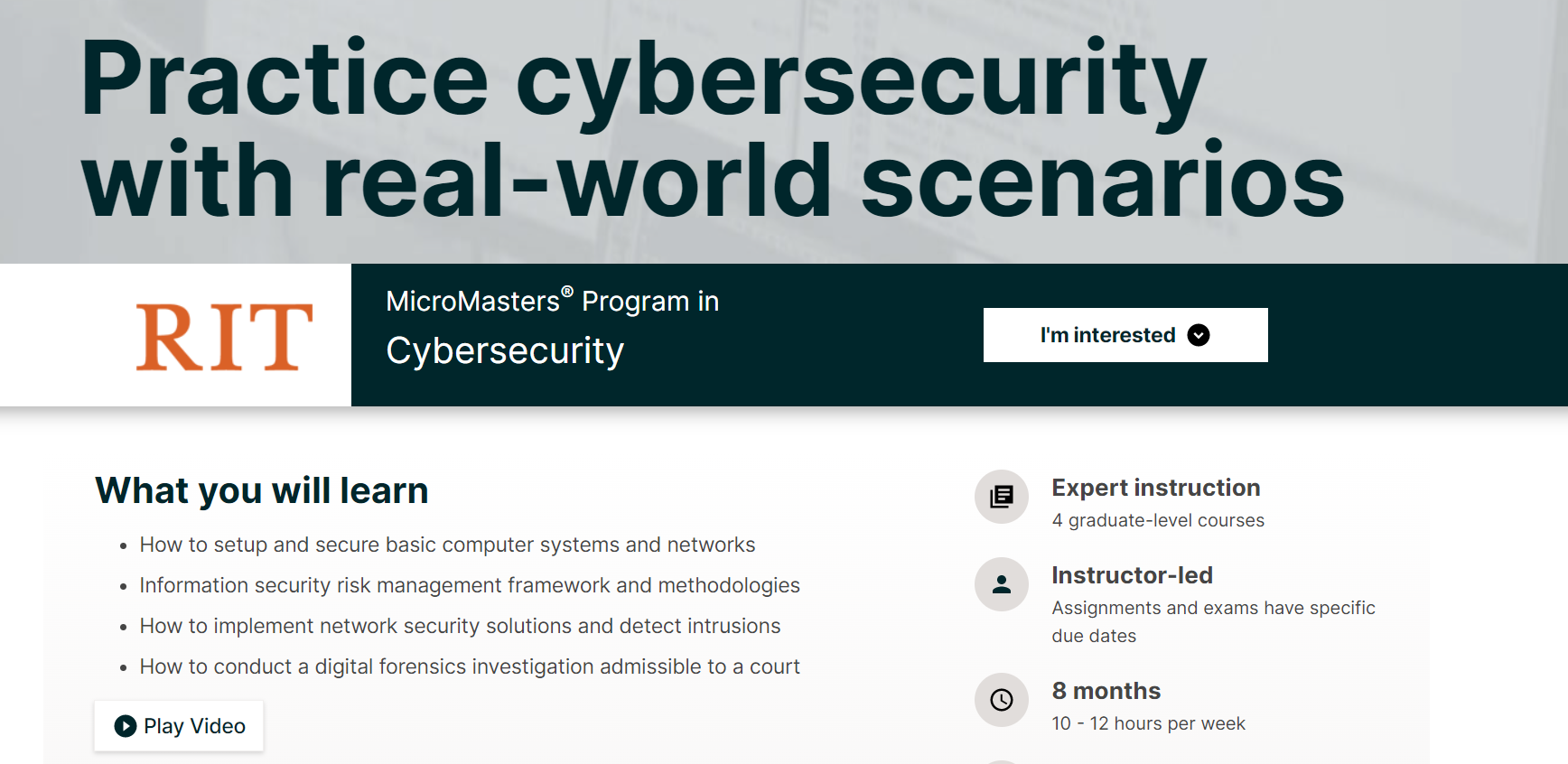 This cybersecurity course should be the go-to course for individuals pursuing relevant knowledge and expertise in forensics and network security and looking to forge their path to becoming cybersecurity experts in enterprise conditions. The program spans five distinct courses, each covering the basics of networks, systems administration, risk management, vulnerability assessment, and the various methods of risk analysis.
This course by edX is built for people who have completed their bachelor's degree in a STEM field or have notched up more than five years of experience working in a technical environment.
Rating – 4.6
Duration – 10 months, 10-12 hours/week
Certificate – Yes
Pros – Very detailed program with a specific focus on enterprise functioning.
Cons – Too expensive

This cyber security course is designed to bestow an in-depth understanding of the modern methods of system protection and the technical safety standards that need to be maintained across the board for the smooth functioning of the various systems in play in an organization. It is structured in 4 different volumes that cover the topics below – 
Each volume under this specialization can be separately taken up in the order of preference of the candidate. The entire course is available in more than 8 languages, including French, Portuguese (European), Italian, Vietnamese, as well as English. The specialization is curated by Dr. Edward. G. Amoroso has over 84k students under his belt.
Rating – 4.7
Duration – 4 months; 4 hours/week
Certificate – Yes
Pros – Ability to develop a lifelong learning plan for potential careers in cybersecurity
Cons – Require some familiarity with IT management and related concepts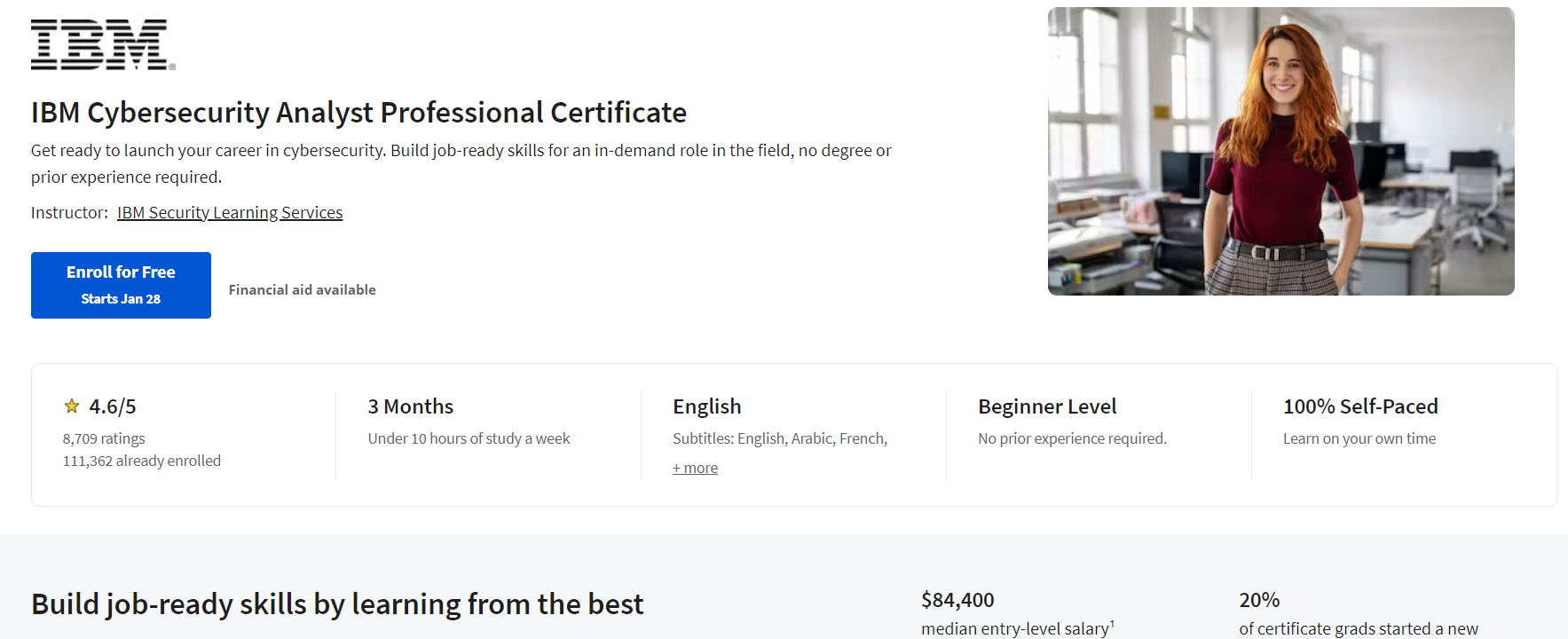 One of the industry's most sought-after courses due to its association with the industry-leading cybersecurity expert, IBM, this certification consists of eight courses that will guide you in gaining the relevant technical skills required to kickstart your career in the cybersecurity space. The courses are – 
The professional certification is ideal for individuals who have just entered the field as well as for professionals who are looking for a switch in career paths. Upon completion of the course, you will be handed a real-world security breach project that you'd need to deal with. The main tools you will be working with throughout the course are Wireskark, i2 Enterprise Insight Analysis, IBM Resilient, IBM Guardian, IBM MaaS360, and IBM QRadar.
Rating – 4.7
Duration – 8 months; 4 hours/week
Certificate – Yes
Pros – Ideal for beginners who want to venture into the world of cybersecurity
Cons – Multiple reviews suggest the content is out of date and needs updation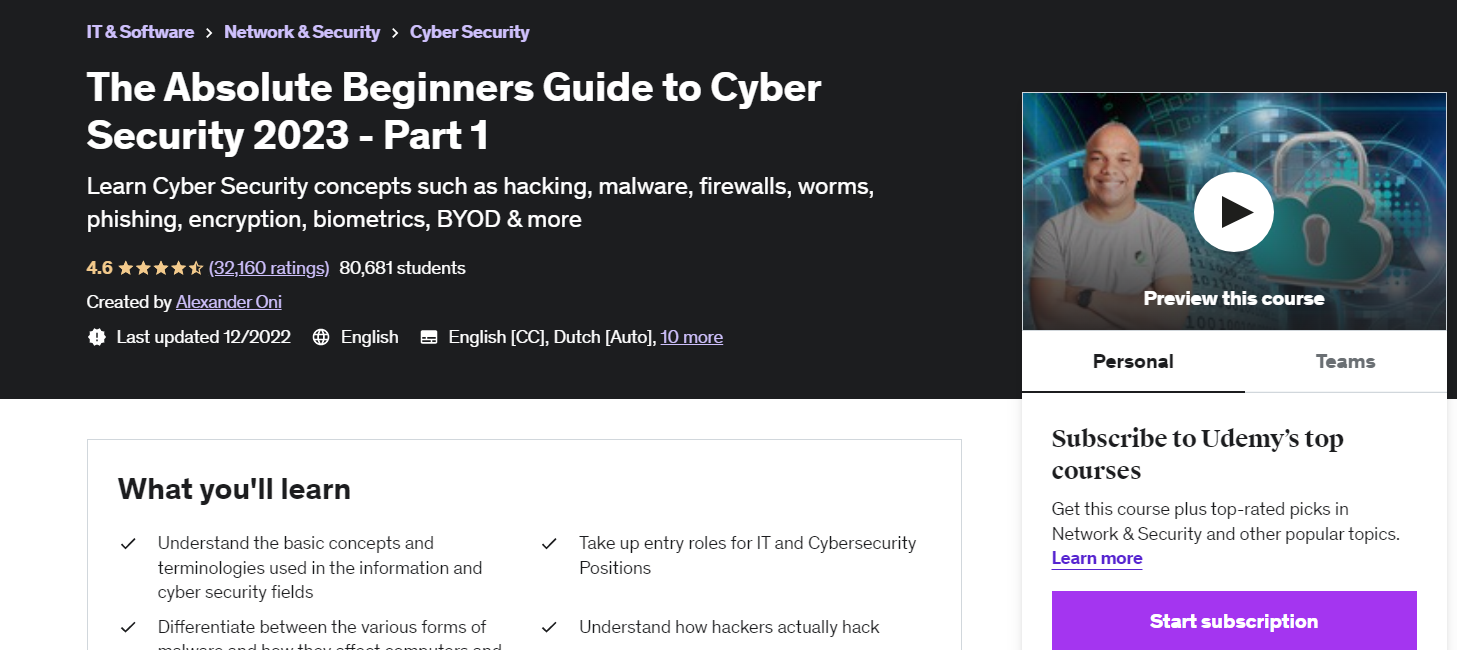 This is another great program to enlist yourself in if you want a well-rounded knowledge of the basic concepts of information and security. The whole curriculum is split into eight sections, with each section talking about topics such as introduction to cyber security, hackers, attacks, malware, defenses, and cyber-warfare. The course is roughly 4.5 hours long and is rated 4.6 stars by over 32k people.
Rating – 4.6
Duration – 4.5 hours
Certificate – Yes
Pros – Lots to learn for beginners and the potential to kickstart a career in a new field
Cons – Explanations were relatively vague, as pointed out by some users

This specialization course on cybersecurity is offered by the University System of Georgia. It will help you develop awareness regarding cyber attacks, cyber threats, and the risks that are connected with modern information usage while, at the same time, exploring the technical and managerial aspects of things. You will also be learning about how to protect your data through training, technology, education, and other best practices.
The specialization is divided into three courses, preceded by a capstone project course. The four courses in this specialization are – 
Rating – 4.6
Duration – 5 Months; 3 hours/week
Certificate – Yes
Pros – Practical with plenty of real-life examples to work with
Cons – Some reviews suggested that pacing was too quick for beginners

This cyber security course introduces its candidates to real-time cybersecurity methods in reference to TCP/IP protocol suites. Candidates will also be learning about the various methods used in configuring and designing firewall solutions like packet filters and proxy servers to keep the assets of an organization safe and sound. The course also establishes certain TCP/IP hacks that are needed for security solutions like stateless and stateful firewalls.
Rating – 4.8
Duration – 15 Hours
Certificate – Yes
Pros – Affordable and project-based
Cons – Some parts move are too rushed
Frequently Asked Questions
Why is Cybersecurity Significant?
Admit it or not, we have successfully put one foot into transitioning towards living in a digital world. Most of our personal lives, careers, and finances are operated in the digital realm, and we have steadily grown with technology as our best friend. Yet, irrespective of how convenient and easy it is to live a cyber life, our lives are more vulnerable than ever to fraud, malicious attacks, and invasion of privacy.
This is exactly where cybersecurity comes into play. It acts as the gatekeeper and aims to keep our digital life safe and secure. It is there to safeguard us from hackers, cybercriminals, and much more.
Example – As per a report from Netscout, it takes only five minutes for a hacker to breach into any of our internet-connected gadgets, including – 
Smartphones
Smart TVs
Smartwatches
Onboard automobile computers
Home control systems
What Are Some of The Biggest Cybersecurity Threats?
There are various ways in which your entire digital well-being could be affected. From widespread cyber menace such as phishing to polyglot files, here are some of the most prevalent cybersecurity threats – 
Phishing Attacks – Who would have known you could expose yourself digitally by clicking on a seemingly harmless-looking link sent by someone pretending to be a business that you recognize at first glance? That is exactly what phishing is. It is essentially a digital message with a link inside of it. Once you click on it, the link re-directs you to a different website that has fake information plastered over it. These sites are usually the victim's system resources which, to a layman, holds no meaning, but to the hackers, it is essential data.
Ransomware – Ransomware was very prevalent in 2020. What this basically does is it encrypts your computer files and will ask you for a 'ransom' before the files can be accessed again. Since the rise of cryptocurrency, ransomware attacks have been fairly common since it gives a clear pathway for these cyber criminals to remain anonymous.
Polyglot Files – These are the type of files that are usually used when targeting an advertising firm. They're all different types of files, all valid in nature. For example, for example, a file could either be launched as an image or opened as JavaScript in your browser. It is important to note that these types of attacks are not limited to the internet and can be used against us offline as well.
IoT Attacks – IoT (Internet of Things) is a network of physical objects that are rooted with sensors and other technologies for the purpose of exchanging information with other devices and systems over the internet. Connected devices make life incredibly easier for us. Take a look at how the apple device ecosystem helps us with the transfer of information and data in an effortless manner. But this also comes with its set of risks if your IoT device is secured tightly, opening the doors to cyber criminals.
Why Should An Organization Take Cybersecurity Seriously Today?
Companies often run the most risk of being attacked by cyber criminals because the rewards are ripe for criminals in terms of quantity. Even to this day, there are so many organizations that are super prone and not immune to cyber-attacks. We've listed below some of the reasons organizations should take the threat of cyber-attacks seriously – 
Rate of Increase of Cybercrimes – Cyber criminals are always on the lookout for company data to exploit, and whether you run a small or a large-scale agency, you need to protect yourself and your firm against such attacks. Unfortunately, it has been estimated that the average cost of cybercrime for a firm has increased by 23%. However, with the type of security systems and newer technologies we have at our disposal, we can easily create a wall between us and the cybercriminals to prevent an attack.
The Growth of IoT Devices – We have advanced so much as a race that we've started building smart cities using smart devices. But unfortunately, people have become so dependent on the internet and the ease of life that it brings with having a connected network of devices that it has also opened a malicious pathway for cybercriminals to exploit.
If you fail to secure your devices and your networks, it can potentially become a gateway for cybercriminals to take advantage of the abundance of data available at their fingertips.
The Cost of Cyber Risks – Cyber attacks are multiplying in quantity and quality these days, meaning the number of attacks and the damage they cause is measured to be directly proportional. This goes to prove that these attacks impose heavy losses on a company unless it takes proper steps to deter them.
As we shift more towards a comprehensively connected ecosystem, the cost of cybercrime is estimated to be at around $10.5 trillion annually by the year 2025. These type of attacks not only feast on a company's data but also has the potential to ruin its reputation in the industry.
Conclusion
The demand for cybersecurity professionals has been rapidly increasing, and individuals are constantly switching to this field in search of a new career path.
If you're really interested in exploring the cybersecurity space, you should try out some of these featured courses to get an idea of how you might adapt and fit into the industry and vice versa.