Let's admit it, during the pandemic, we all tried our hand at gardening. Safe to say, nothing is more gratifying than watching that seedling metamorphose into a beautiful plant.
While having a thriving garden may be a cakewalk for some, others struggle to keep even an innocent desk plant from wilting.
For those chunks of gardening enthusiasts who regard themselves as severely lacking the much-needed green thumb, we've rounded up the best online gardening courses trending in 2023, paid as well as free.
These courses will teach you the basics of gardening from scratch and help you master the art of almost effortlessly growing and maintaining an entire garden.
Top 10 Online Gardening Courses in 2023 (Paid + Free)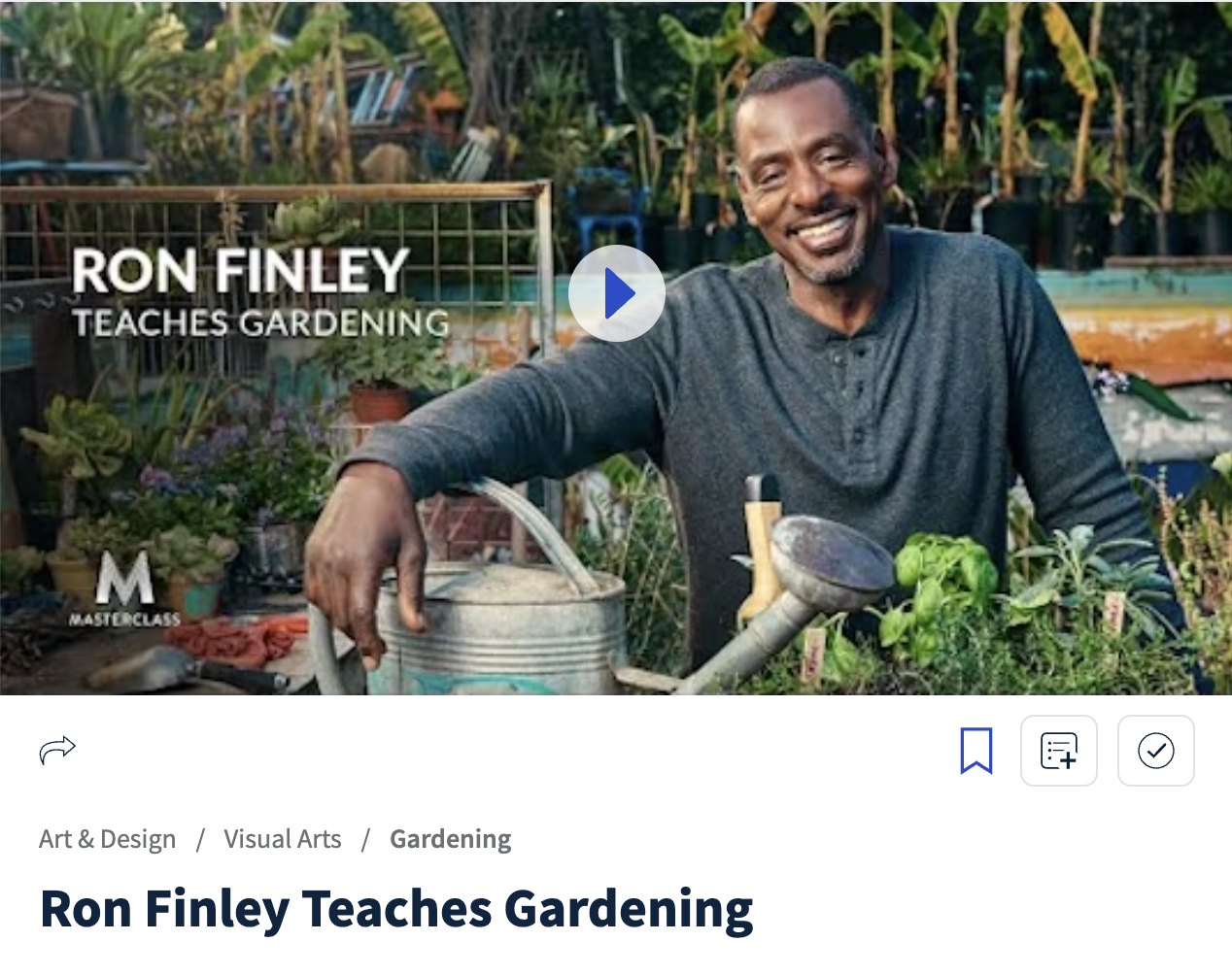 One of the finest online courses on gardening, this masterclass offers rigorous training on growing plants, herbs, greens, and legumes from square one and sets the groundwork for your success in both the art and science of gardening.
An excellent gardening program for beginners and intermediates, it breaks down many gardening areas, including fertilizing the soil, creating planters using household items, growing legumes, sweet potatoes, and herbs, and creating an urban jungle using propagation, in addition to keeping the plants alive.

Duration: 2 hours
Certificate: Available
Video: On-Demand
Level: Beginner to Intermediate
Price: Paid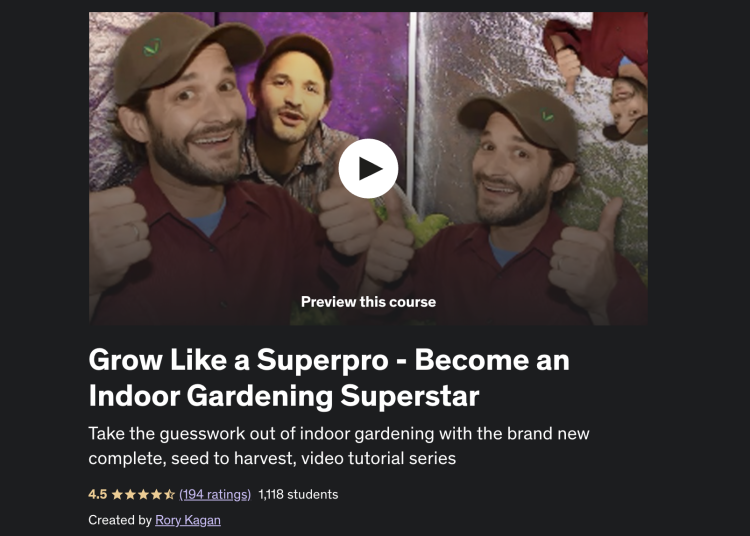 If you ever find yourself intimidated by how your indoor plants keep wilting no matter how hard you try to keep them alive, this course is perfectly suitable for you. This seed-to-harvest course by Udemy imparts the necessary skills to simplify indoor gardening for you.
In this home gardening video tutorial series with lifetime access, each episode chronologically explains the key details to keep in mind at various stages of plant development. From preparing you to choose your setup with the appropriate lighting options and hydroponic methods to helping you understand pH testing and seed selection, this course covers all you need to know about transplanting, cloning, flowering, harvesting, and keeping pests at bay.
Duration: 1.5 hours
Certificate: Available
Video: On-Demand
Level: Beginner to Expert
Price: Paid

The garden tutor course is designed to upskill beginners to learn the fundamentals of gardening from the ground up, quite literally. You will learn how to design, set up, and maintain a garden in this award-winning crash course.
Modules include detailed information about every step involved in starting a garden. Each module will chronologically throw light on garden site analysis, the elements of garden style, choosing plants that fit your site and style, installing plants, and maintaining them with suitable watering and winterizing techniques. At the end of this course, you'll find yourself equipped with the necessary knowledge to design and maintain a thriving garden.
Duration: 2-3 hours
Certificate: NA
Video: Available
Level: Beginner
Price: Free

Microgreens are hands-down the most nutritious foods available today, and surprisingly, growing them is even easier than eating them. All you need to have is basic know-how.
Taught step-by-step in this program by Skillshare, you will learn about seed types, the ways to source, soak and stack them, and the doming method. In addition, enrolling in this course will further enable you to understand the lighting, heat, and humidity needs for growing healthy microgreens, apart from harvesting, washing, and storing them. As a bonus, this online gardening course also offers easy meal ideas.
Duration: 1-2 hours
Certificate: NA
Video: Available
Level: Beginner
Price: Paid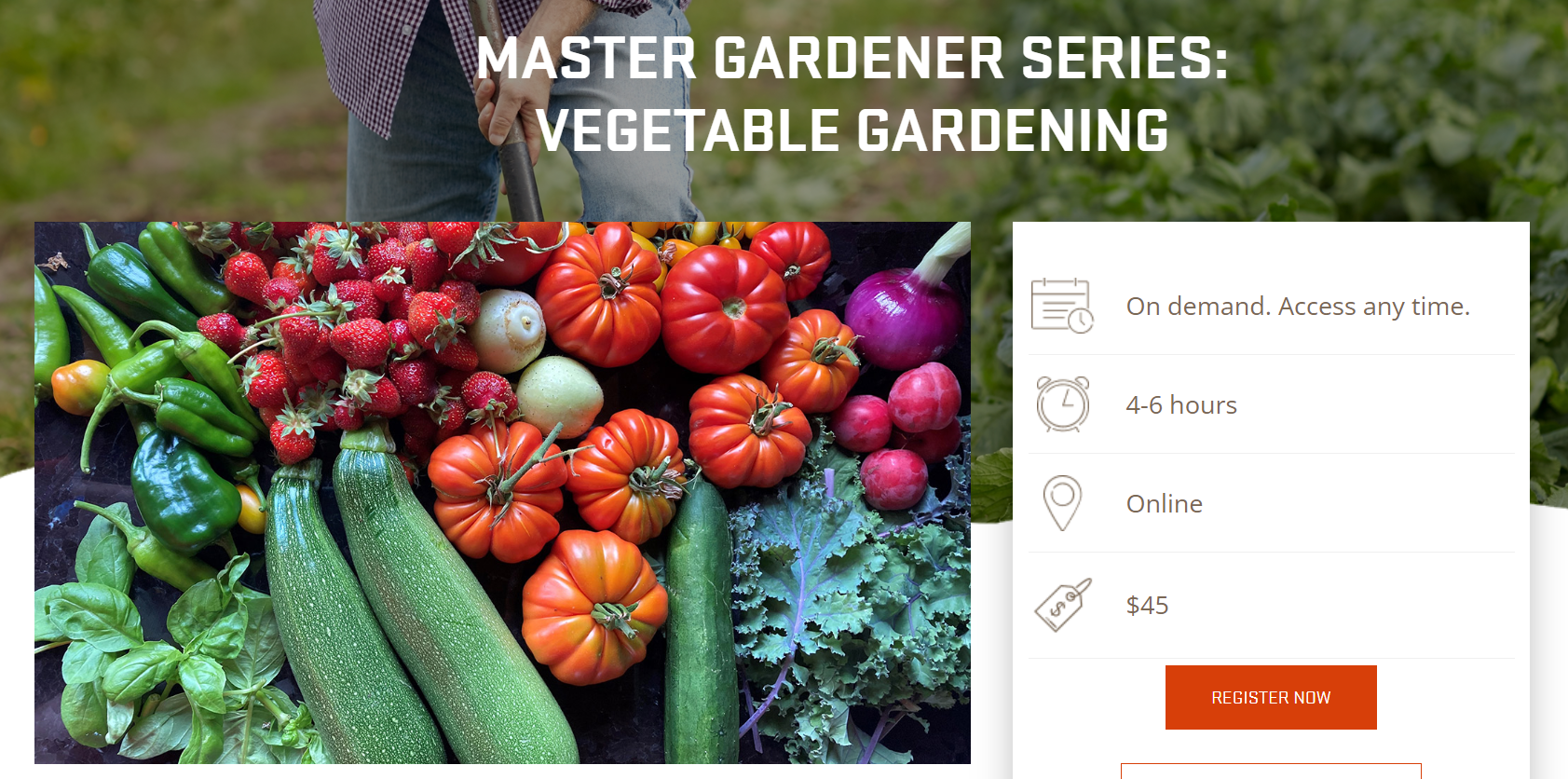 A great upskilling program for those who are passionate about vegetable gardening, the master gardener short course delves into the specifics of gardening. This course will upskill you to create a green space where you can grow vegetables proficiently.
With the help of this course, learn how to consider the best location for a vegetable garden and absorb the skills needed to prepare the soil and plant. Furthermore, learn about crop rotation, watering, and fertilization, as well as common insects and ways to avoid them.
Duration: 4-6 hours
Certificate: Available
Video: On-Demand
Level: Beginner to Expert
Price: Paid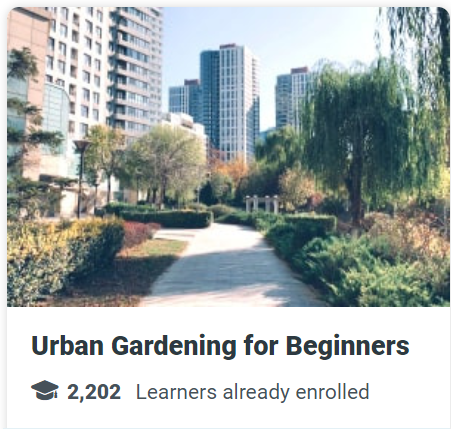 Do you ever wonder how to create a garden in an urban city? If you do, this online course on gardening by Alison is crafted just for you.
Dive into the fundamentals of urban gardening, including popular methods of growing plants and flowers with this course, and the requisites of all plants for flourishing and remaining in a healthy state. This class will enable you to identify appropriate and necessary spaces for growing plants along with the right tools and supplies needed to grow a healthy garden and will help you counteract drying flowers, pests, and more.
Duration: 1.5-3 hours
Certificate: CPD Accreditation
Video: NA
Level: Beginner
Price: Free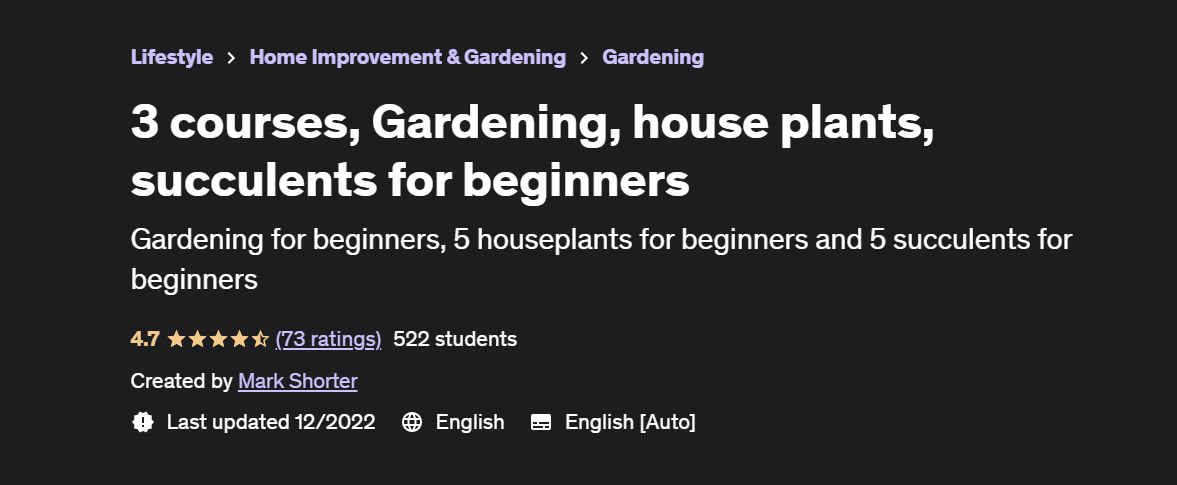 An in-depth amalgamation of three courses, this program will turn your lack of gardening skills into an adept green thumb with a bit of practice and attention.
This course will enable you to develop an eye-catching floral display in your garden, equip you with the knowledge to keep succulents healthy, thriving, and alive, and grow houseplants easily without the fear of overwatering or killing them.
Duration: 3 hours
Certificate: Available
Video: On-Demand
Level: Beginner
Price: Paid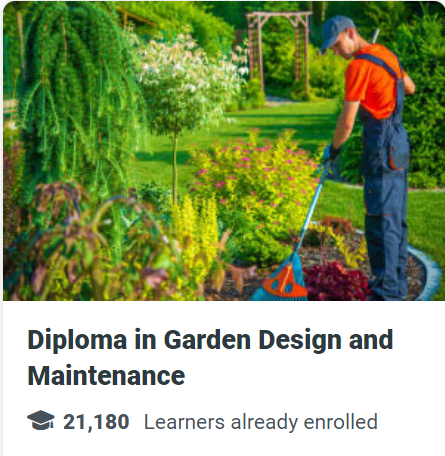 Explore all factors involved in designing, creating, and maintaining a garden from head to toe with this course, beginning with basic gardening skills and concluding with the prerequisites for running your own gardening business.
Polish your gardening skills by learning about gardening tools, soil, plant selection and care, sustainability, pest control, site surveying and measuring techniques, graphic skills, raising flower beds, decking, and turfing a garden. The course also upskills you to run your own garden by throwing light on marketing and social media tips, health and safety measures, and record keeping.
Duration: 10-15 hours
Certificate: CPD Accreditation
Video: NA
Level: Beginner
Price: Free

In these fast-paced times, the decision to grow an organic garden for yourself is the healthiest and most-conscious decision you can make. So, if you do consider growing your organic food, this is the best course.
Learn to grow nutrient-dense food and medicinal herbs organically on small pieces of land and discover the factors that affect your soil. This course will prepare you to prevent pests from ruining your plants and help you build your organic compost for a continuous supply of natural fertilizer.
Duration: 12.5 hours
Certificate: NA
Video: Available
Level: Beginner to Expert
Price: Free

Living in apartments in urban cities deprives you of one thing, and that is a beautiful garden. However, this course is designed to bring the freshness and peace of a garden right into your urban home.
Perfect for beginners, this course will allow you to cultivate succulents without needing to purchase new ones. You will learn how to set up the propagation station, prepare your leaves, propagate succulents, and care for your tiny indoor plants.
Duration: 0.5-1 hour
Certificate: NA
Video: Available
Level: Beginner
Price: Paid 
Conclusion
If the falling and wilting of your leaves have compelled you to believe that gardening is not meant for you, you need to think again. It's safe to say that gardening is for everyone. Although it might not be as simple as taking a stroll in the garden, the aforementioned online gardening courses can undoubtedly help you rekindle your green thumb.
So whether you have a vast piece of land waiting to be plowed or just a little balcony, you need to get started by choosing one of these best online gardening courses designed just for you!
Frequently Asked Questions
1. Can You Get a Degree in Gardening?
To get a gardening degree, you must enroll in a Horticulture or Agriculture course after completing your 12th grade. While these online gardening courses do not grant you a degree, some of them certainly offer well-recognized certificates and accreditations, adding a sense of credibility to your person.
2. Can You Make a Career in Gardening?
In India and across the world, gardeners and horticulturists enjoy a great demand across various industries and functions. The gardening courses will upskill you to hold a professional position in the field of gardening, such as Landscape Architecture, Florist, Vineyard Manager, Nursery Manager, Ornamental Horticulturist, and Plant Pathologist, among many others.
3. How Long Does It Take to Become a Qualified Gardener?
The courses in this blog have lessons that last anything from one hour to twelve hours. Depending on how quickly you graph the information presented in these modules, it shouldn't take you more than a month to put what you've learned into practice and become a trained, professional gardener.