Photo editing is an attractive skill to have for any photographer. With cameras being accessible to everyone these days, anyone can be a photographer.
However, if you want to refine your skills and make them of professional quality, learning Adobe Lightroom is a great start.
You will be able to edit photos like a pro and master a good workflow to manage it all. Discovering Adobe Lightroom can be a little overwhelming at first, but once you get the hang of it, it is a powerful tool to work with.
You can learn the software in an easy and fun way with these 12 Lightroom courses online, available for free and paid. Check them out.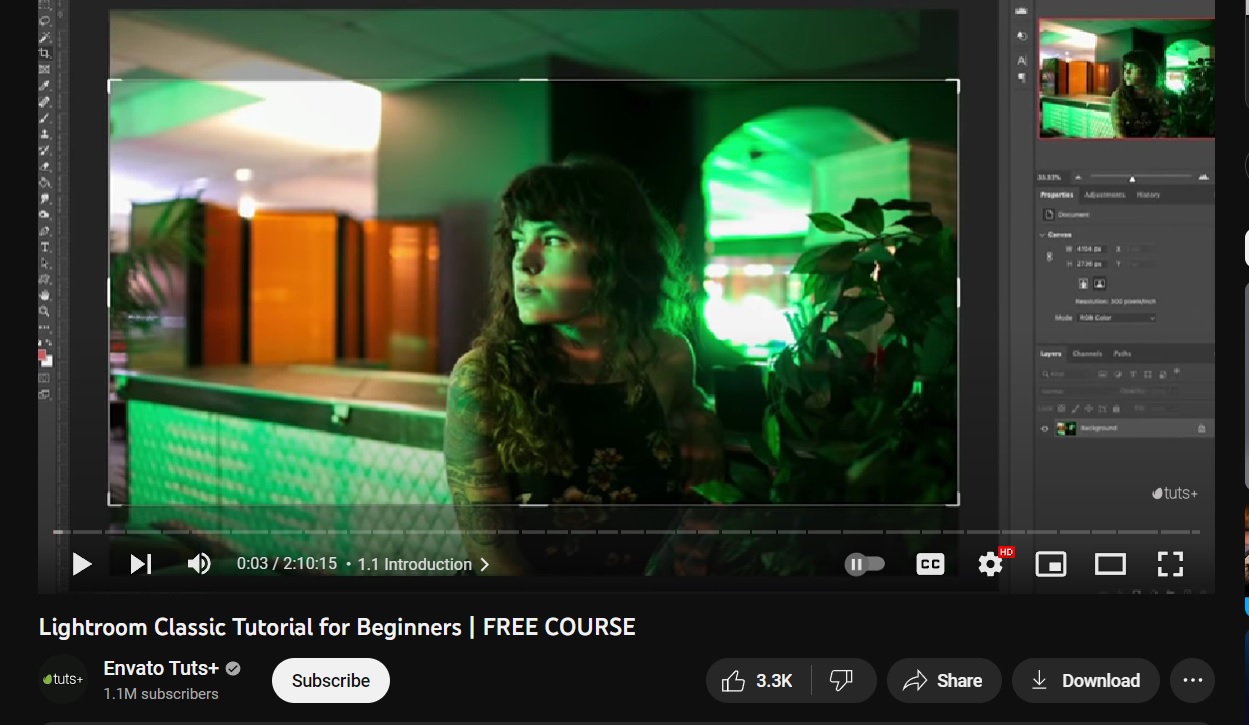 The first on the list of online lightroom courses is this classic tutorial for beginners. Available for free, this program is accessible on Youtube and is offered by Envato Tuts+. It teaches you pretty much everything you need to know about getting started with Adobe Lightroom Classic.
In this course, you will get the answers to why you should learn Lightroom, what version is best for you, where to start, and what to do. Initially, you will learn about organizing files and photos along with and using metadata for workflows. After that, you'll learn to rank your images and get organized with power filtering, and make collections.
You will also learn post-processing, like color correcting, working with saturation, cropping a photo, using color curves, reducing noise in pictures, and de-emphasize parts of a photo, along with essential photo-correction and other crucial editing elements.
Finally, by the end of the course, you will know how to apply different presents and export Jpgs for different platforms. This course is divided into 40 videos, and each video requires 1-3 minutes of work where concepts are taught through video lectures.
| | |
| --- | --- |
| Platform | YouTube |
| Instructor  | Andrew Childress  |
| Level | Beginner  |
| Workload  | 2-3 Hours |
| Type | Free |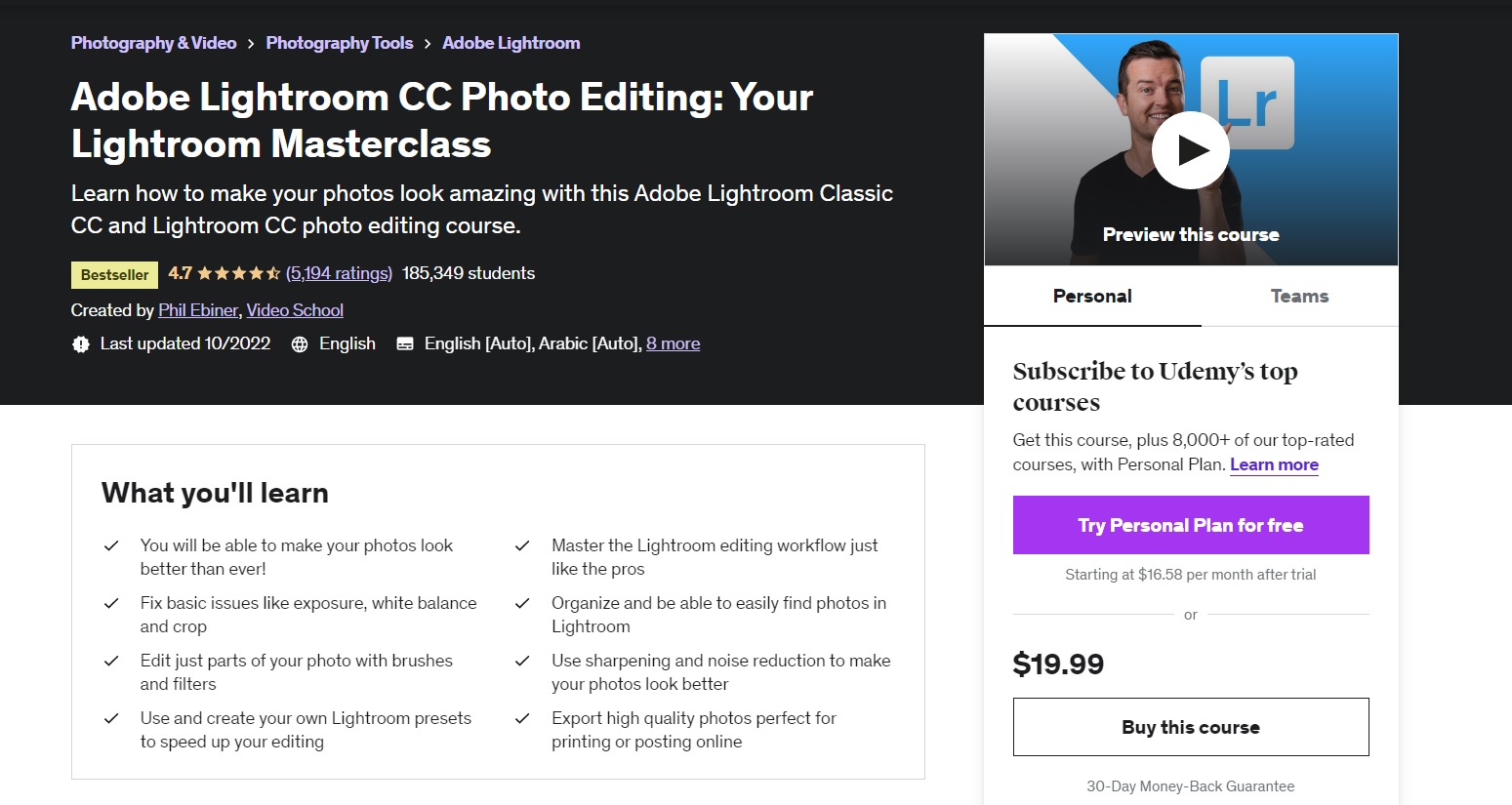 The second course in learning Lightroom online is this Adobe Lightroom CC Photo Editing: Your Lightroom Masterclasson Udemy. Anyone, be it an experienced photographer, or a beginner, this course will help you get better at editing photos from scratch. With this course, you will be able to master the art of organizing photos and managing workflow like a pro. This course teaches you the Lightroom interface of Classic CC and Lightroom CC applications, import and organize your files.
Along with that, you will learn to fix white balance, crop images, work with saturation, luminance, hue, sharpening, and work with noise reduction. Additionally, you will learn vignettes, grains, filters, creating presets, and other important editing techniques. By the end, you will learn how to export photos and add watermarks. It is easy to learn with this course because it's broken down into 14 sections, and each module involves about 30 minutes to 3 hours, where the concepts are taught through a combination of videos and readings. 
| | |
| --- | --- |
| Platform | Udemy |
| Instruction  | Phil Ebiner |
| Level | Beginner  |
| Workload | 18 Hours |
| Type | Paid Certificate |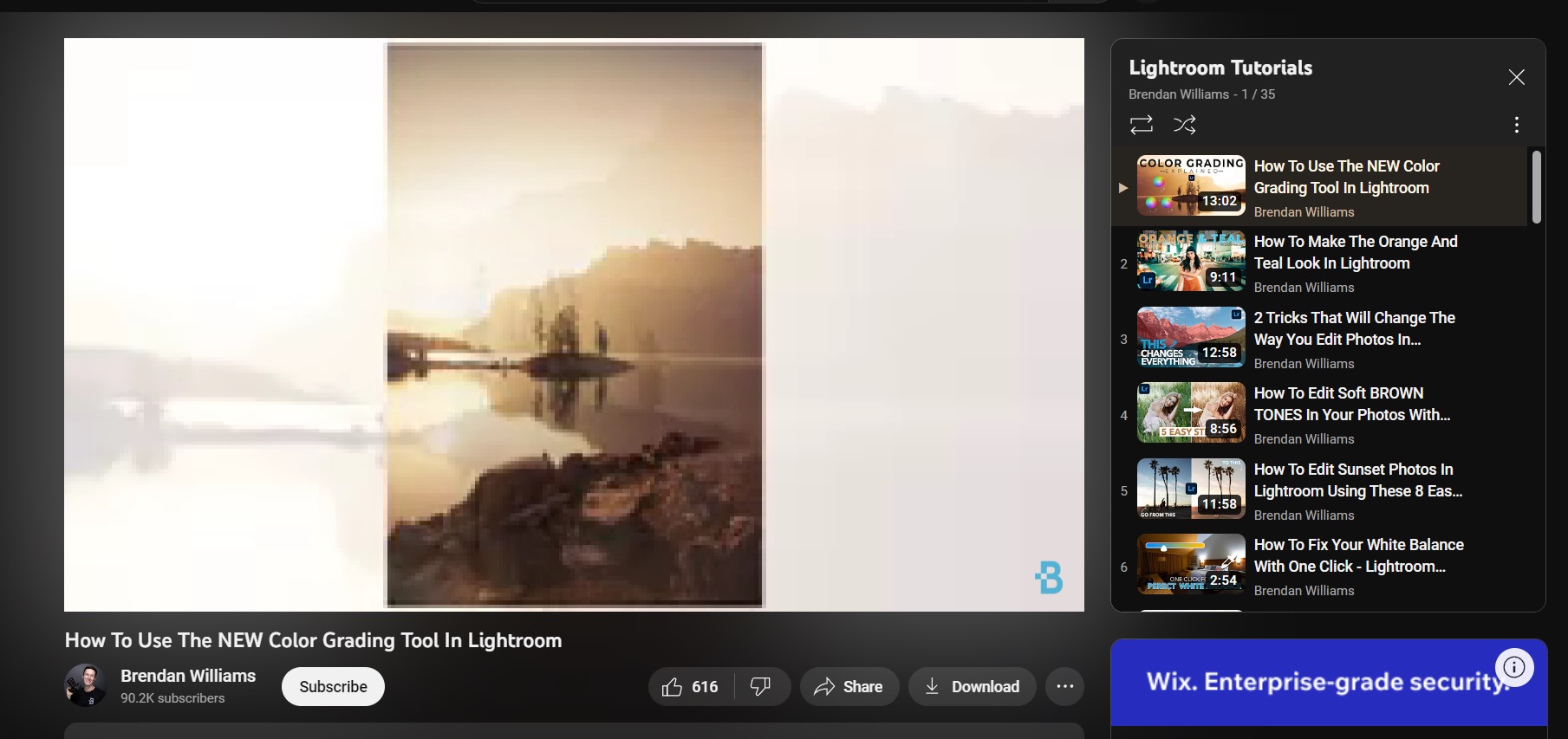 Another course to take into account is this free Lightroom Tutorials by Brendan Williams on Youtube. This is a less traditional course because instead of teaching you the basics of Lightroom, it teaches you about different techniques in Adobe Lightroom. This course is for intermediate learners and will help you take your editing skills to the next level.
You will learn color grading, fixing white balance, using the tone curve, enhancing skies, and working with other backgrounds. Finally, you will learn about different presets and work with Lightroom mobile. The course is broken down into a total of 33 videos, each video of about 10-30 minutes. Everything is taught through video lectures, making it interactive. 
| | |
| --- | --- |
| Platform | YouTube |
| Instruction  | Brendan Williams |
| Level | Intermediate |
| Workload | 5 Hours |
| Type | Free |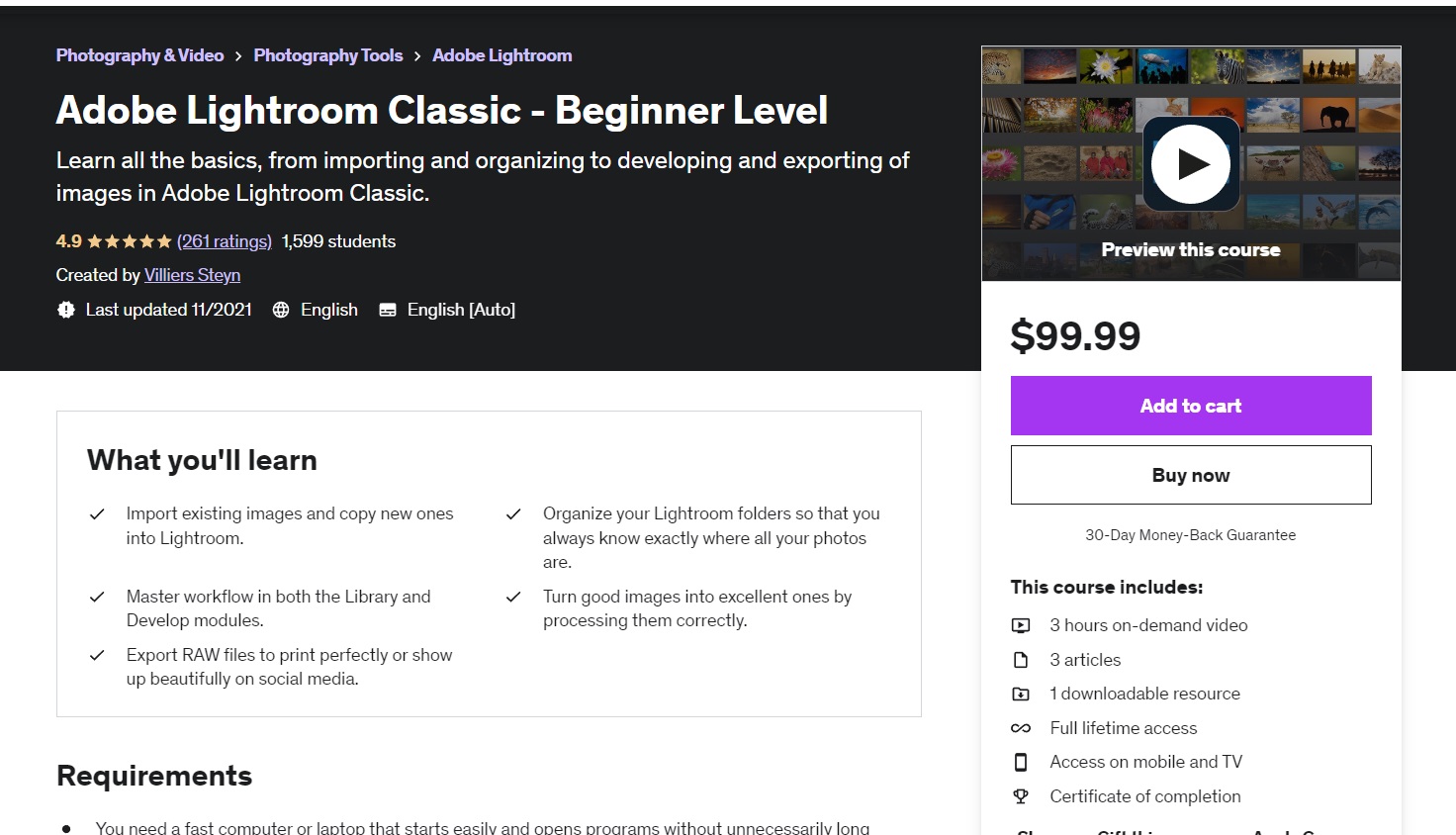 If you are using Lightroom Classic for the first time, this course is one of the best courses out there for you. The Adobe Lightroom Classic-Beginner Level On Udemy is a course that helps you get the hang of all the basic features of Lightroom and how to implement them. This course will teach you the exact difference between Lightroom and Lightroom Classic.
Not only that, but you will also learn how your computer communicates with the software and how you can save space while using heavy software like Lightroom. Next, the course will teach you how to import pictures, organize them, change the settings, and make them as per your need. This course is divided into 7 sections, each one needing 5-10 minutes of work. Everything is taught in a combination of videos, readings, and quizzes that makes learning fun and interactive. 
| | |
| --- | --- |
| Platform | Udemy |
| Instruction  | Villiers Steyn  |
| Level | Beginner |
| Workload | 2-3 Hours  |
| Type | Paid |
5. Adobe Lightroom CC+ Classic/Learn Photo Editing By Pro On Udemy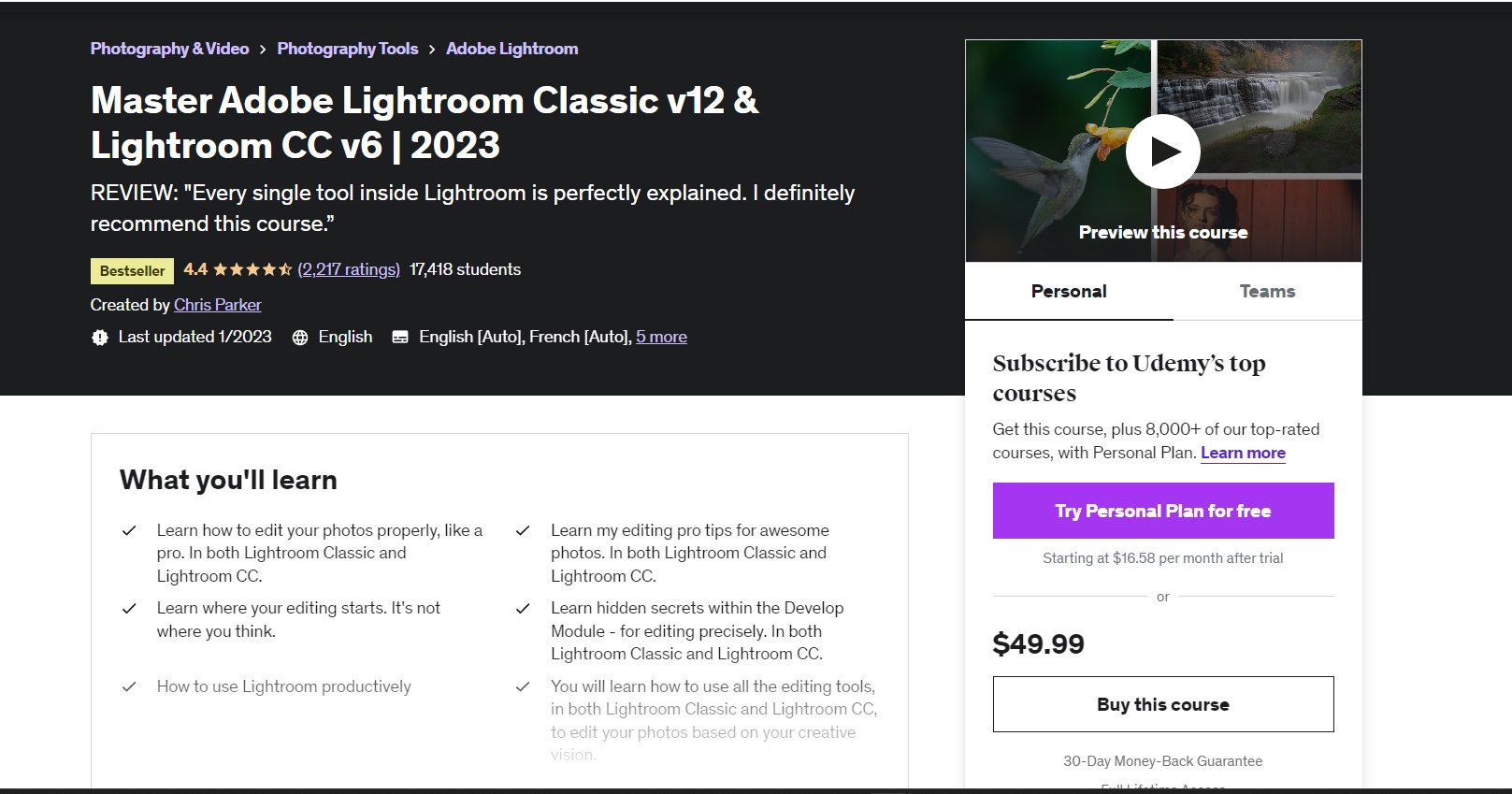 This course by Udemy is a full-on package that teaches you everything about the lightroom software. It not only tells you the basics but also new tricks & techniques to navigate through the program. You learn to organize and edit your images while manipulating and understanding everything about them.
By the end of the course, you will learn how to make great edits to your photos, edit the library, create presets, export photos with presets, add keywords, and learn every other hidden secret. Digital photographers of all levels can take this course, and it is easy to learn it. 
| | |
| --- | --- |
| Platform | Udemy |
| Instruction  | Chris Parker |
| Level | All Levels |
| Workload | 22.5 hours |
| Type | Paid |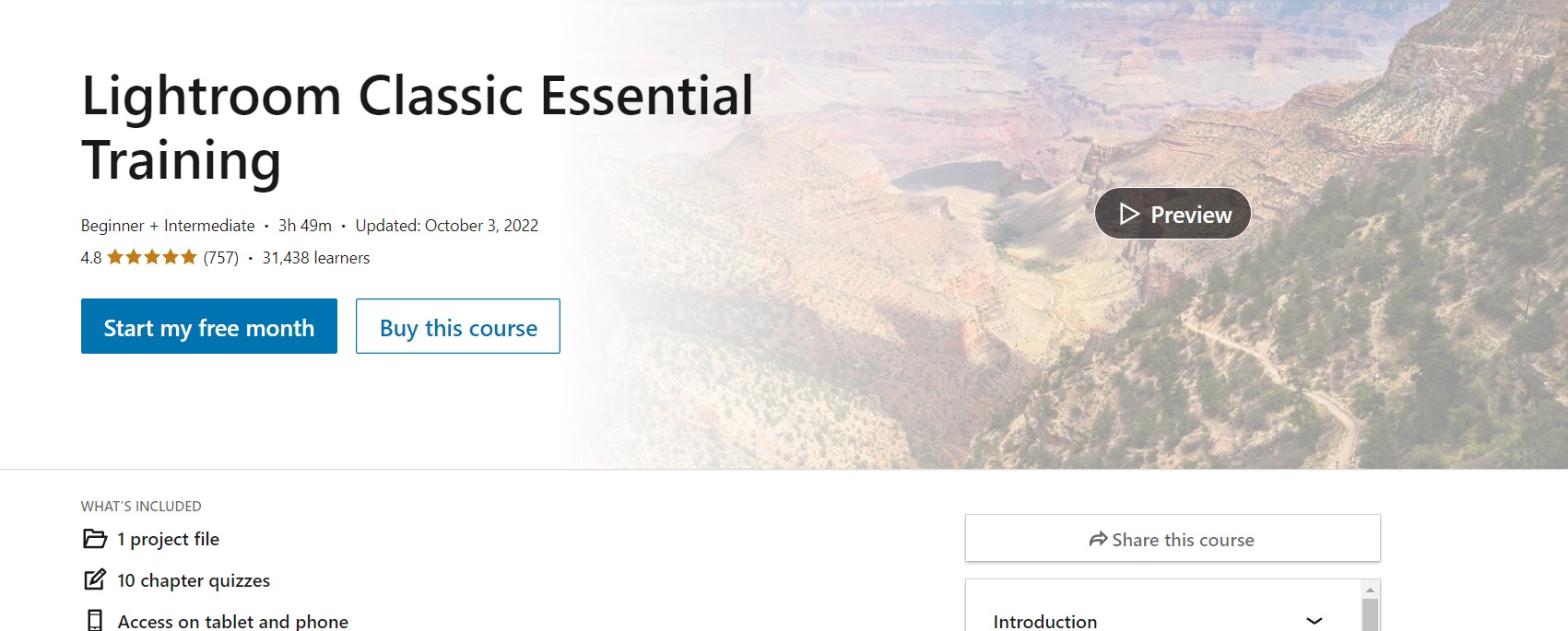 If you are looking for a course that starts from the basics of Lightroom classic, this one is for you. The Lightroom Classic Essential Training on Lynda.com is taken by a professional photographer and graphic artist. So you learn the usage of the software in very practical terms. This course will help you understand Lightroom from the ground and take you to the top in an easy manner. Moreover, it's a hands-on class, and you get to experience multiple exercises. 
The course essentially covers topics like understanding the interface, Getting photos into the software, exporting the workspace, reviewing keywords, and rating the images while organizing them. You also get to learn basic and advanced photo editing, exporting final images, connecting to the cloud, and finally, putting these images to the best use. It is a paid recorded course that needs about 14 hours to complete. 
| | |
| --- | --- |
| Platform | LinkedIn Learning |
| Instruction  | Theresa Jackson |
| Level | Beginner |
| Workload | 14 Hours |
| Type | Paid |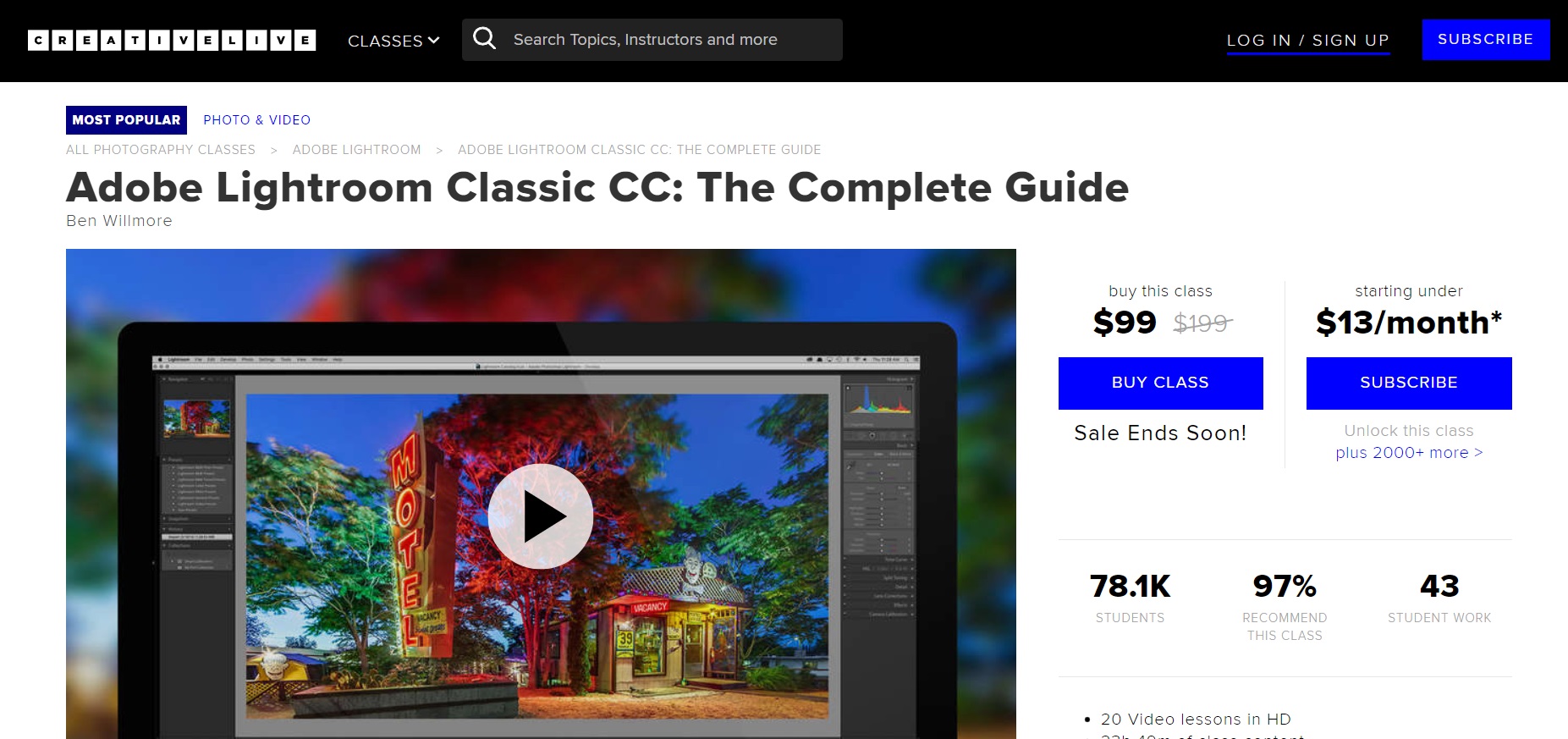 A great course to look into is this Adobe Lightroom Classic CC: The Complete Guide by CreativeLive. This is a course made for everyone, regardless if you are a newbie or a professional photographer. It helps you learn everything about editing and workflow while telling you all the tricks to make your images look the best. In addition to the lightroom training, you get workbooks that act like reference guides; Lightroom presets, and lightroom keywords. Moreover, this CreativeLive course covers all the new features of the latest software interface. 
The course starts with an introduction to Lightroom, teaching you how to import images, understand catalogs, and organize-manage projects. Further, you get to learn all the tools that help you perfect images while making image adjustment techniques and advanced tips and tricks. By the end of the course, you will be able to export the images, make books and slideshows, and troubleshoot in times of need. It is a great course that will help you become a lightroom pro in no time. 
| | |
| --- | --- |
| Platform | CreativeLive |
| Instruction  | Ben Willmore |
| Level | All Levels |
| Workload | 23.49 hours |
| Type | Paid |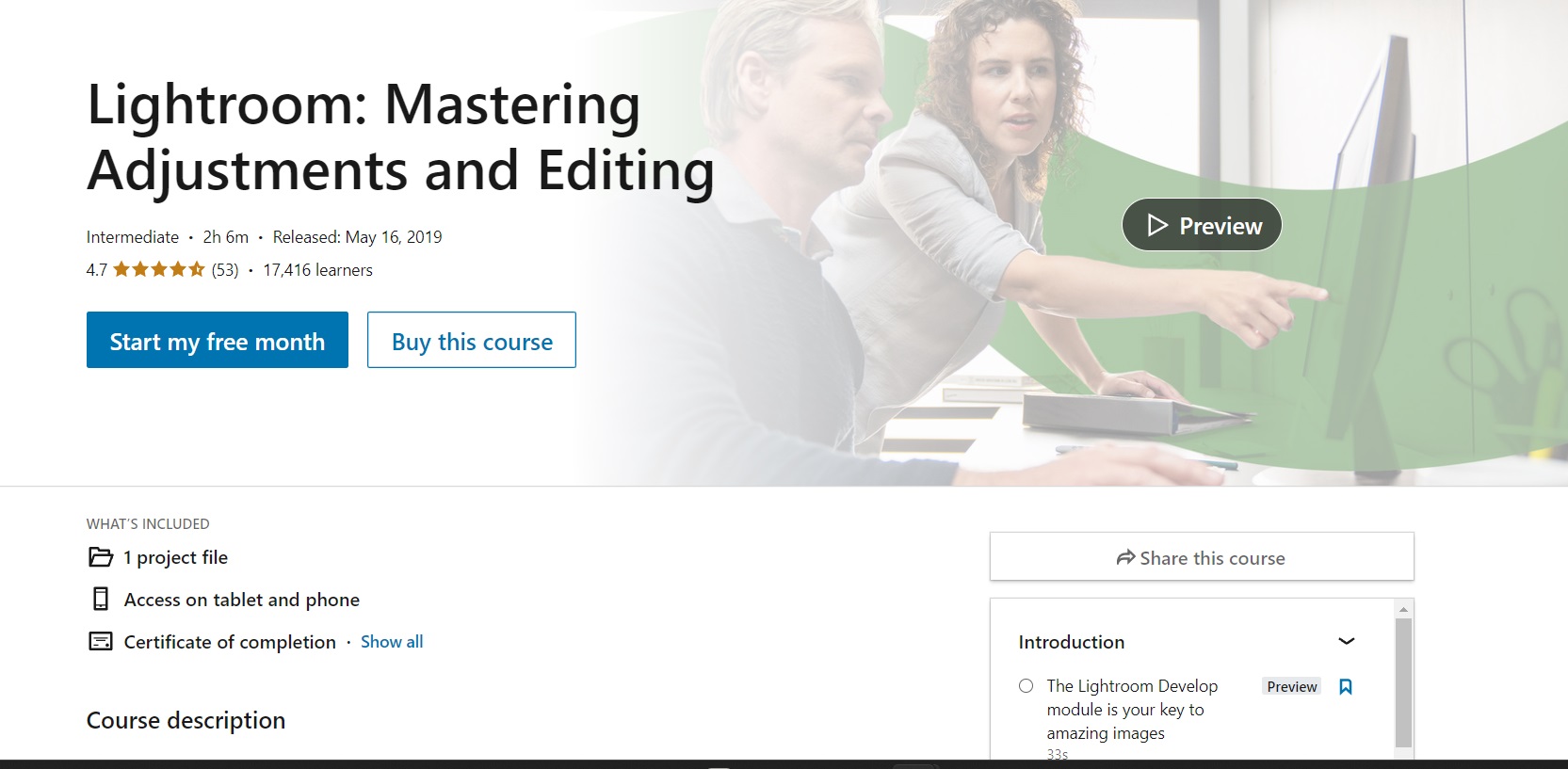 This Lynda.com Lightroom learning course comes straight to you from the Director of Product Management at Adobe. Through this course, they intend to familiarize you with making your photos look best by adjusting different editing elements like noise, perspective, exposure, etc. Moreover, you get some developed modules with this course that helps you attain in-depth insights and automatic tricks to make editing easier. 
Through this course, you will learn the basics and professional knowledge of Adobe Lightroom. You will know how to adjust tone and temperature, make lens corrections, fix distorting, make adjustment brushes, learn to use the software on mobile devices, and collaborate with other software like Photoshop. It is a paid course but is one of the best courses out there. 
| | |
| --- | --- |
| Platform | Lynda.com |
| Instruction  | Bryan O'Neil Hughes |
| Level | Intermediate |
| Workload | 2 Hours 6 Minutes |
| Type | Paid |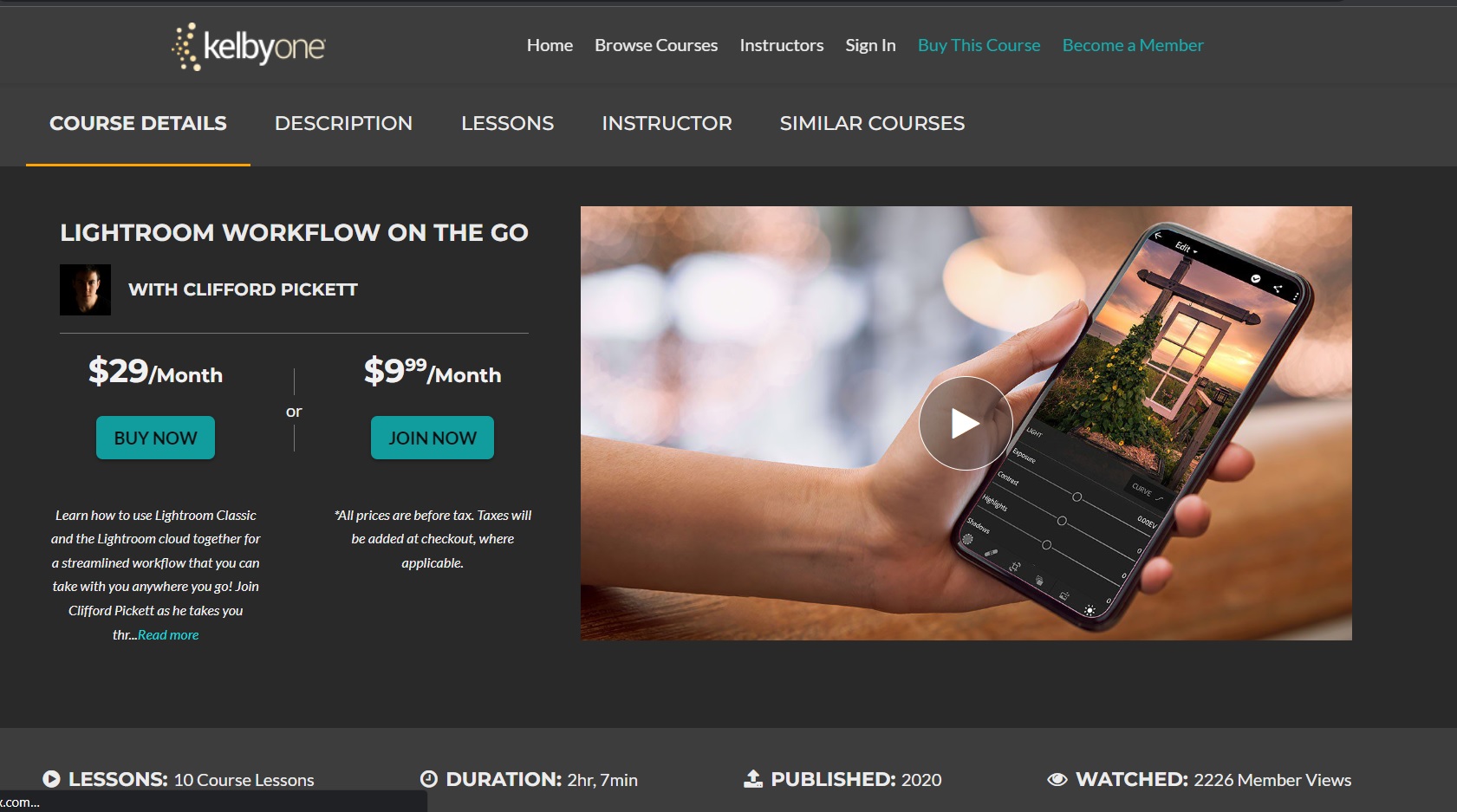 You can learn how to use Adobe Lightroom Classic and Lightroom Cloud simultaneously with this Lightroom Workflow on the go. As the name suggests, this is a course that teaches you about the streamlined workflow that you can take with you anywhere you go. The course starts with a step-by-step guide on automating your import workflow into Lightroom Classic. Then, you learn how to use keywords to find your photos, group them, and make them into collections. Additionally, you also get to learn how to sync all of this with the cloud. 
Further, in the course, you learn how to import photos into the Lightroom cloud app and use it on your phone. The best part is that this program teaches you how to use Lightroom on your mobile device so you can access it anywhere you want and work on the go. 
| | |
| --- | --- |
| Platform | Kelbyone.com  |
| Instruction  | Clifford Pickett |
| Level | All Levels |
| Workload | 2 Hours 7 Minutes |
| Type | Paid |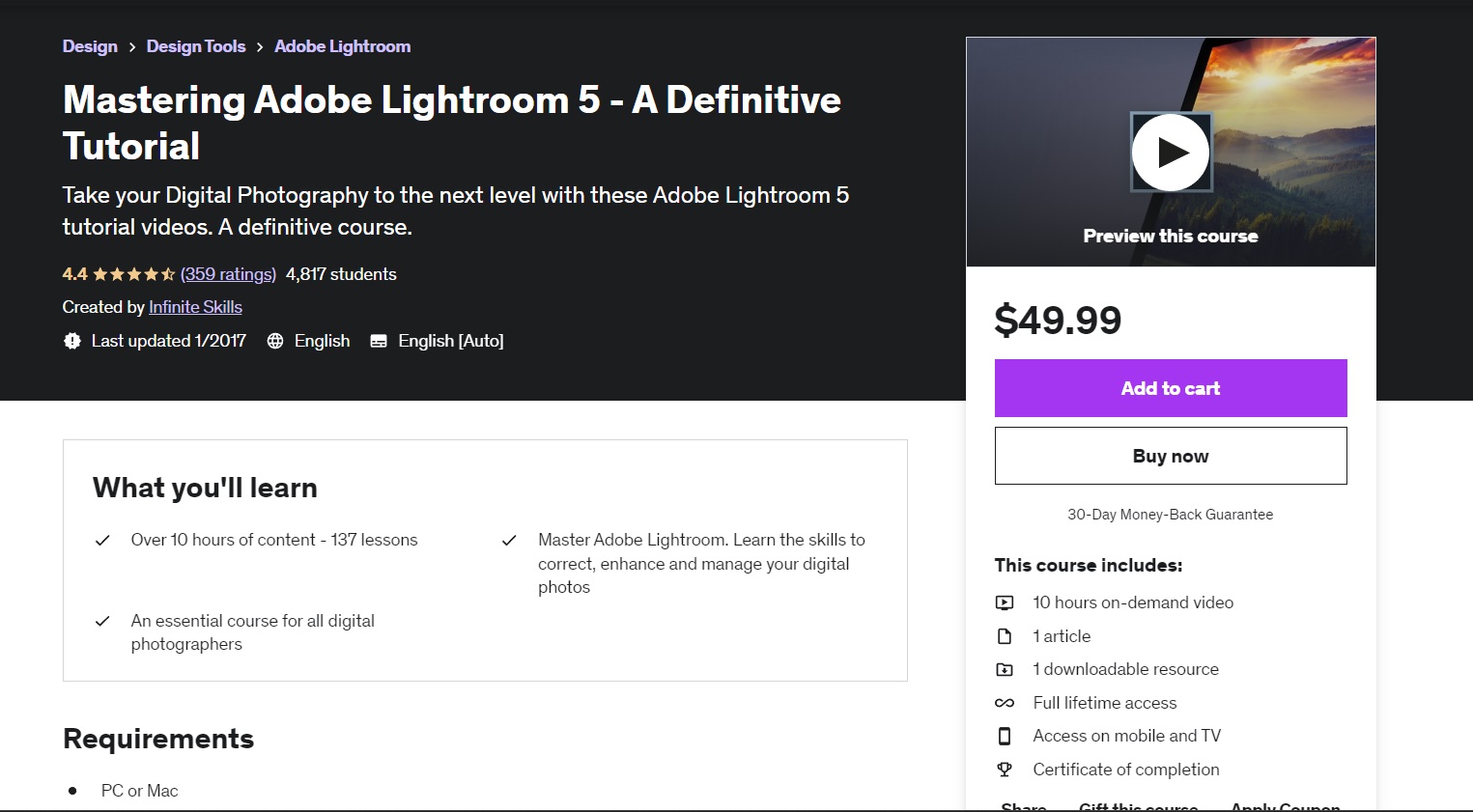 This Udemy course- Mastering Adobe Lightroom 5- A Definitive Tutorial, help you get a solid introduction to this photo-editing software. It will help you develop good learning in digital photography. Offered to you by Infinite skills, this Udemy course is designed for all kinds of photographers. It helps you enhance your ability to organize, process, import, and manage your photo library.
The course starts with an introduction to the interface. Then, you learn about creating and exporting a catalog, tethering, and customizing grids and guides. You also learn to work with different modules like a library, map, and books. By the end of the course, you will have theoretical as well as practical knowledge of how to use different tools and concepts of the software. 
| | |
| --- | --- |
| Platform | Udemy |
| Instruction  | Infinite Skills |
| Level | All Levels |
| Workload | 10 Hours 11 minutes |
| Type | Paid |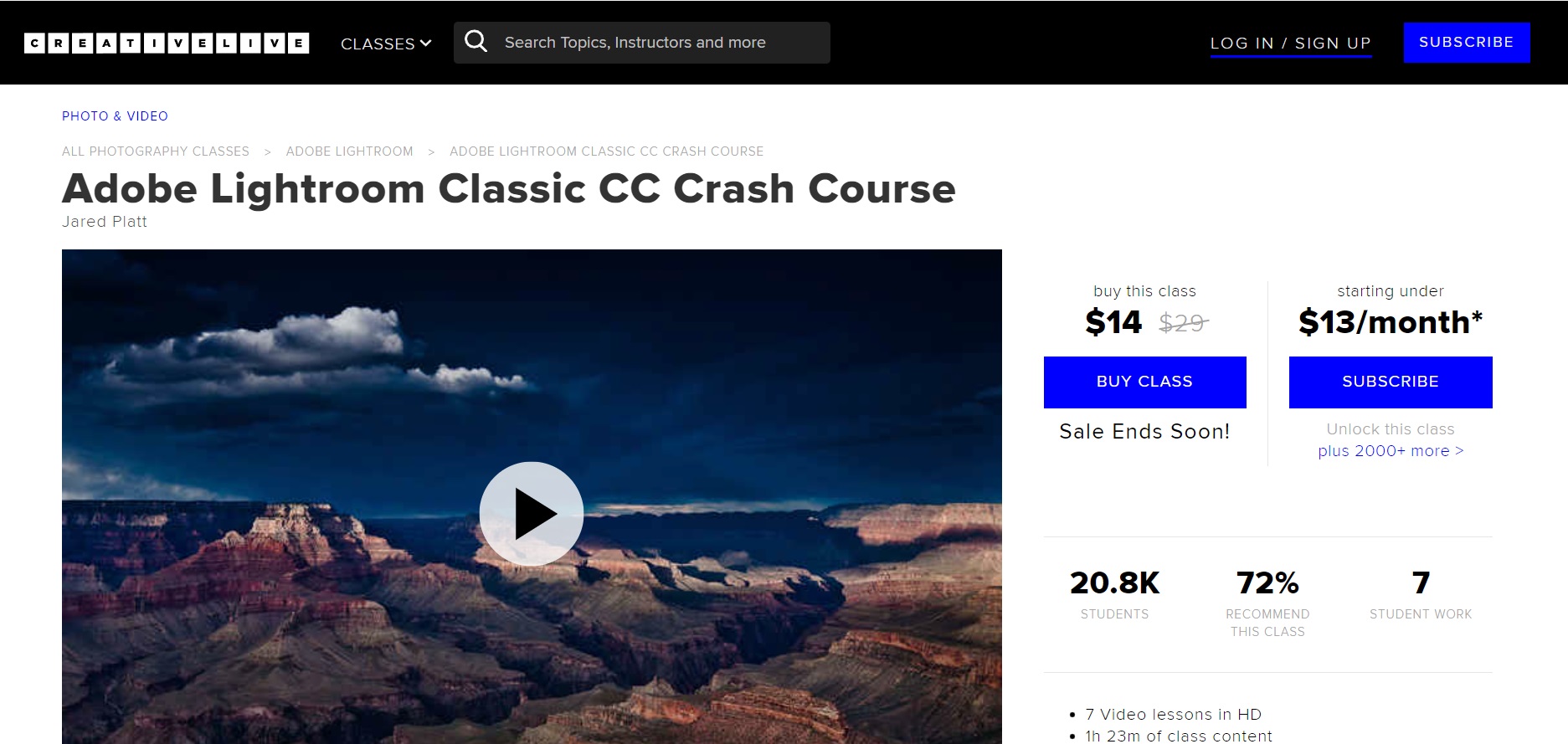 You can learn what Adobe Lightroom is and what it does with this course from Creativelive. It is a crash course that helps you learn how to retouch and organize your images, import and organize them, adjust-correct, export, share images, and share them.
This course is for everyone, regardless of the level of knowledge you have about photography. It is a 60-minute course that tells you a to z of the whole software, and you will be able to start with it in no time. 
| | |
| --- | --- |
| Platform | Creativelive |
| Instruction  | Jared Platt |
| Level | All Levels |
| Workload | 1 Hour |
| Type | Paid |
12. Adobe Lightroom Class: A Beginner's Guide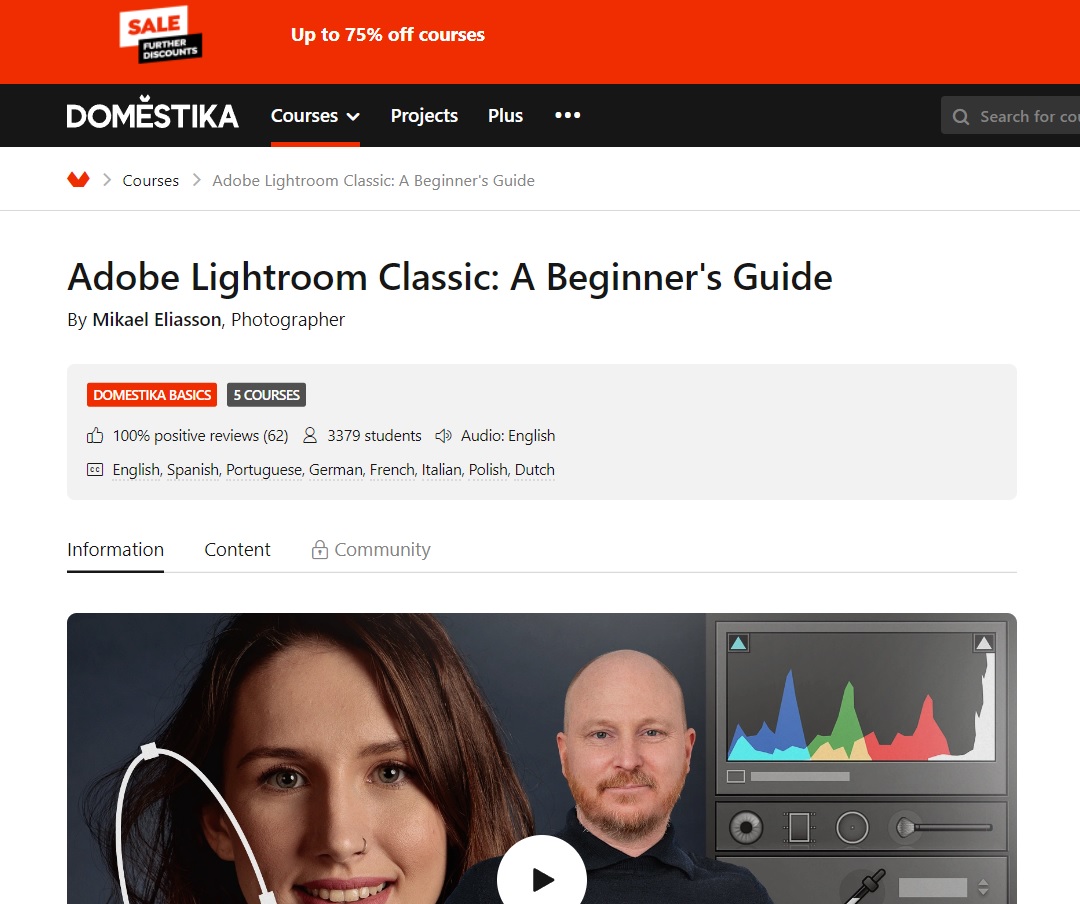 Whether you are a beginner or a professional photographer, Lightroom can help you develop a great professional workflow that helps you create and organize big collections in record time. You can learn Lightroom easily with this course by Domestika. It is a five-course program that helps you learn the basics of the software, where you get to know how to organize, rate, and manage keyword images while processing the RAW files. You get to understand how to import images from other software. By the end of this module, you will have understood all the basics and different kinds of images.
The second module teaches you all about the library module, and you learn about the rate, flag, and label images. You get to explore your options for using keywords, metadata, library filters, and syncing images. The third course tells you all about image processing. You get the overview of the development module, and it is time to explore the significant editing tricks like lens correction, transformations, sharpening, and noise reduction, along with other creative effects.
By the fourth course, you dive deeper into local adjustments. Starting with the basics of cropping an image, you learn to make virtual copies of images, how remove red eye, and apply different filters while using presets and creating your own if needed. By the end of the course, you will be able to work with the outputs in Lightroom. You would be able to create slideshows and PDF presentations. This course will help you deal with images in a refined way.  
| | |
| --- | --- |
| Platform | Domestika |
| Instruction  | Mikael Eliasson |
| Level | All Levels |
| Workload | 10h 13m |
| Type | Paid |
Frequently Asked Questions
1. What Is the Difference Between Photoshop and Lightroom?
Both Adobe Photoshop and Adobe Lightroom are very powerful editing tools. However, they are quite different from each other. For example, Lightroom helps you organize, categorize and alter the original files without manipulating the picture. As a result, you will be able to enhance your images with Lightroom, and with Photoshop, you can make expansive edits to your pictures.
2. Do Photographers Prefer Lightroom or Photoshop?
Generally speaking, Lightroom is a better choice for photographers, at least at first. Editing photos is easy on this software, and the UI is fairly simple to understand. Not only editing the photos, but Lightroom will help you build a good workflow that helps you better manage the work. However, if you need to make major edits to your pictures, Photoshop is your answer. 
3. Should I Learn Lightroom or Photoshop First?
There are a couple of reasons why we think a photographer must learn Lightroom before they start with Photoshop. 
Lightroom is easier to learn than Photoshop, and the user interface is specifically designed for Raw image development and editing. Making it easier to work with it.
Lightroom sets a solid photography workflow for you to start. 
It makes you more efficient because you can process many photos quickly without having to deal with opening and closing so many files again and again. 
You will be able to organize and make catalogs of all your images in one place, making it easier to work with a number of pictures. 
Editing images in Lightroom is non-destructive. That means your original file does not get permanently changed. On the other hand, Photoshop is a mix of destructive and non-destructive editing. 
If you are not using separate layers to manipulate, Photoshop does not save the history of the changes you are making. However, it isn't like that for Lightroom. You can go back and restore the changes. 
Overall, Lightroom is a great place to start. Photoshop can be a little more overwhelming when compared with Lightroom. So, if you are a beginner and looking to start from scratch, Lightroom is the answer. 
Conclusion 
With these online courses, you will become a Lightroom pro in no time. It is easy to learn from online courses because you can do it at your ease and pace. By the end of the courses, you will be able to work with the software while giving your photos the best look. In addition, it will help you organize your workflow and manage your projects. Learning Adobe is a great idea, and it will help you become an editing hero.