You can find a free online math course that will polish your skills regardless of your mathematical goals or educational background. The challenging part for you is choosing the correct course. Do not stress. We did in-depth research on free and paid courses on different topics that will ease your selection process.
These courses will diversify the knowledge required to comprehend basic and advanced mathematical concepts. In addition, it will build your mental discipline and boost logical reasoning. So what else can it help you with? First, you can enhance your problem-solving, analytical thinking, and reasoning skills. Plus, you learn from top-notch educators from leading institutes and universities.
Before we head to the 14 best paid and free online math courses, we must know the factors while enrolling.
What Must You Consider Before Course Enrollment?
The Correct Level
The first barrier you need to cross is searching for the correct math-level course for you. Every website has a different perspective; some will shine in teaching algebra, while others are excellent in calculus. Go through the syllabus thoroughly to ensure the suitable material suits your learning requirements.
Brief Content
Math has brief elements and can be tricky to understand, particularly if you need a good mathematical background. Find a teacher who can teach the material clearly and briefly. Examine the reviews of online math classes and read what the other students convey.
Skilled Instructor
It is not necessary to select a math instructor with a Ph.D. in calculus, but always go for the one with a strong grasp of the essential concepts of the math level you want to study. Before enrolling for an online mathematics class, assess the instructor's profile to study the experience level, qualifications, and credentials.
Best 14 Paid and Free Online Math Courses:
What will you study?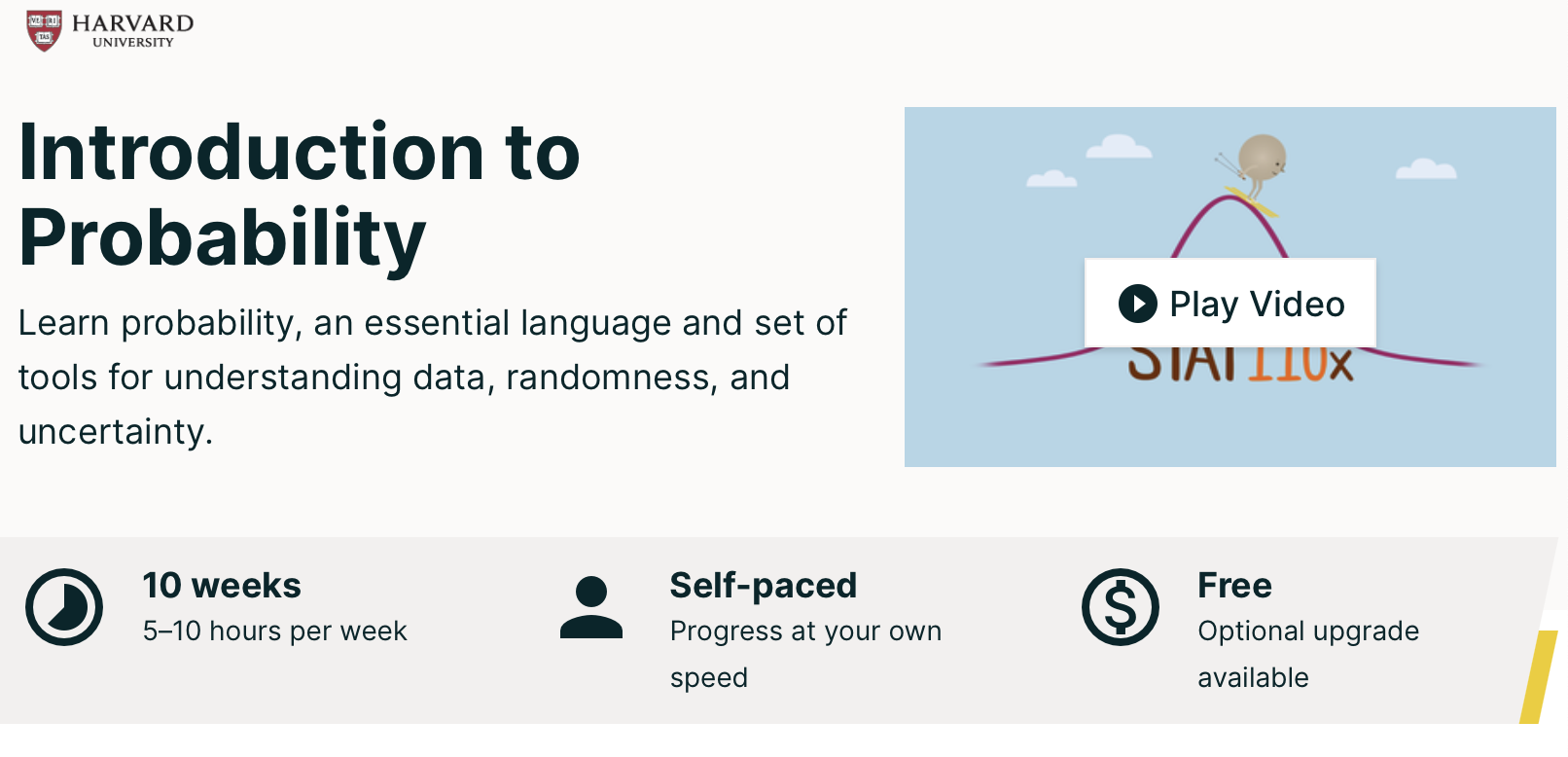 The story approach to understanding random variables
How to think about uncertainty and randomness
Common probability distributions used in statistics and data science
Methods for finding the expected value of a random quantity
How to use conditional Probability to approach complicated problems
How to make good predictions
About the Course
Statistics and Probability bring a wave of logic to a world brimming with doubt and unpredictability. This free online math course will provide the tools required to grasp engineering, philosophy, data, economics, science, and finance.
What else will you learn? To resolve challenging technical issues and how you can implement those solutions in daily life.
From examples spanning from sports prediction to medical testing, you will strengthen your foundation for stochastic procedures, statistical inference, and randomized algorithms. The course instructor is Joseph Blitzstein, a Professor of Statistics at Harvard University, and it is 10 weeks long.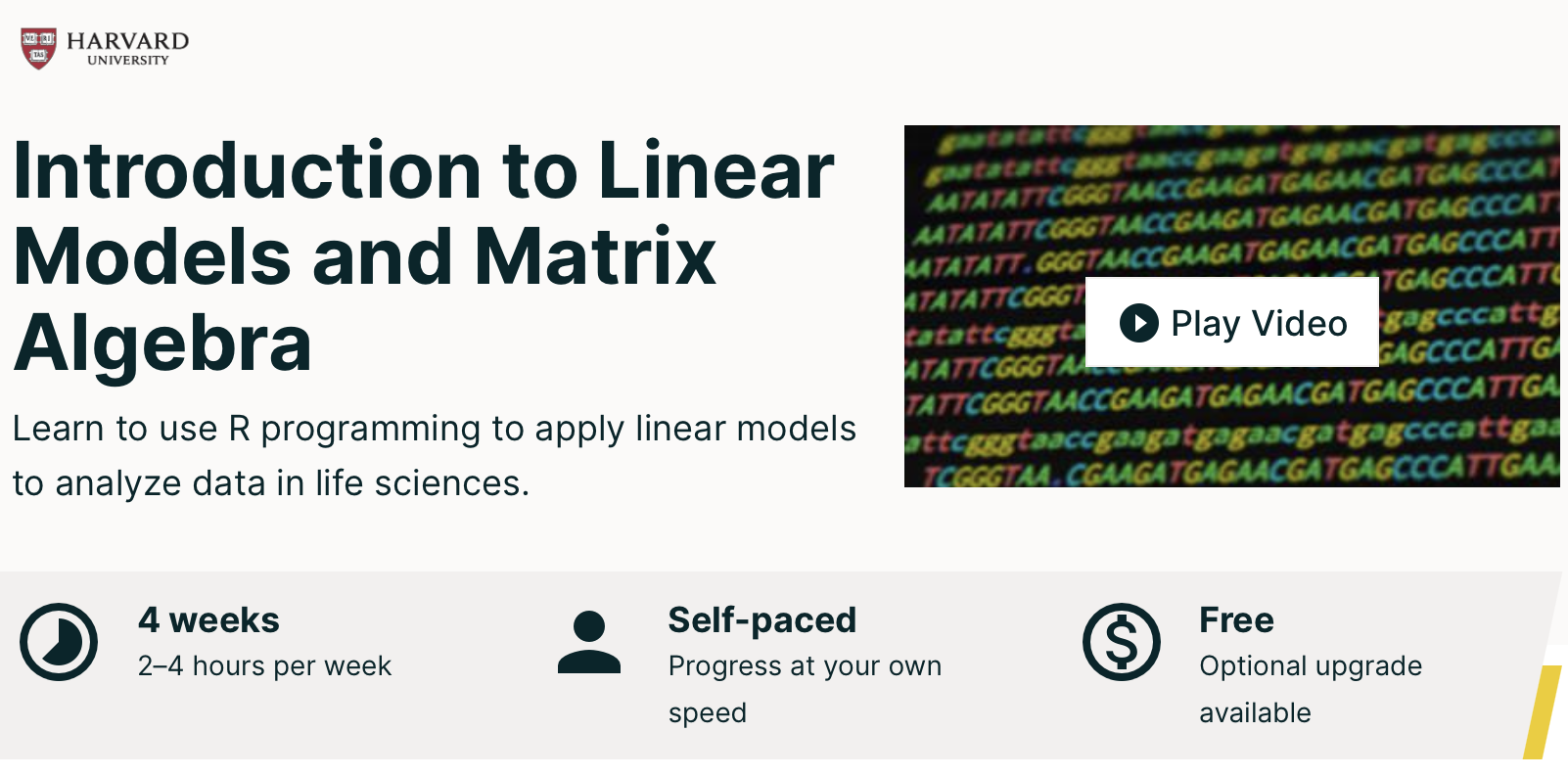 What Will You Study?
A brief introduction to the QR decomposition
Linear models
Matrix algebra notation
Matrix algebra operations
Application of matrix algebra to data analysis
About the Course
Matrix Algebra has several tools for scrutiny of high-dimensional data and experimental design. In the introductory data analysis program, you will learn how to apply matrix algebra to symbolize the linear models generally used to form differences between experimental units.
Then, you will conduct statistical inference on these differences. During the course, you will utilize the R programming language to apply linear models to examine data in life sciences. The course duration is four weeks, and the instructors are Rafael Irizarry- Professor of Biostatistics, and Michael Love- Assistant Professor, Department of Biostatistics and Genetics.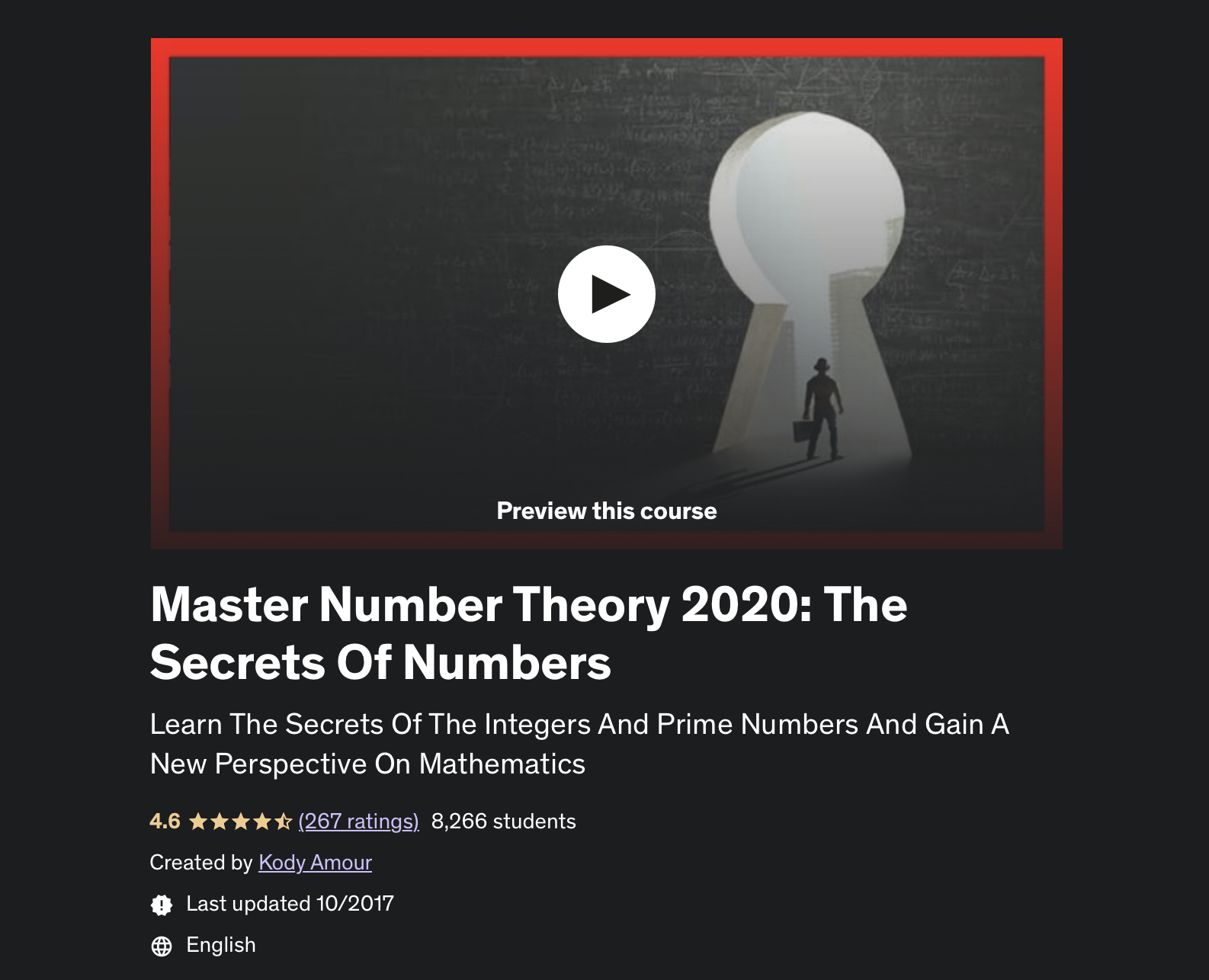 What Will You Study?
Learn about Prime Numbers
Introduce the Algebra of Congruences
Look into Diophantine Equations
Understand Primitive Roots
Understand Factorization at an Advanced Level
Understand Quadratic Reciprocity Theorem
About the Course
Mathematicians have been quite curious to know about numbers for thousands of years. Where do they arise from? What properties do they carry?
You will never know the secret of numbers unless you go for Number Theory, and you must have an engaging mind to grasp. Now, how do you factorize a number into prime factors?
See 26=13*2. What if you need to factor 1478952? It is difficult, right? What if you need to find the following prime number after 1478952? These are difficult questions that have a different kind of math – one that you do not require calculus or advanced mathematics but a curious mind.
In this online math class, you will unfold the mystery of integers and their properties. In addition, this course shows what pure mathematics is and what numerous contemporary professors research.
Till the end of the course, you will gain Factorization at an advanced level and study diophantine equations, algebra of congruences, and primitive roots. It is a 7.5-hour video online math course.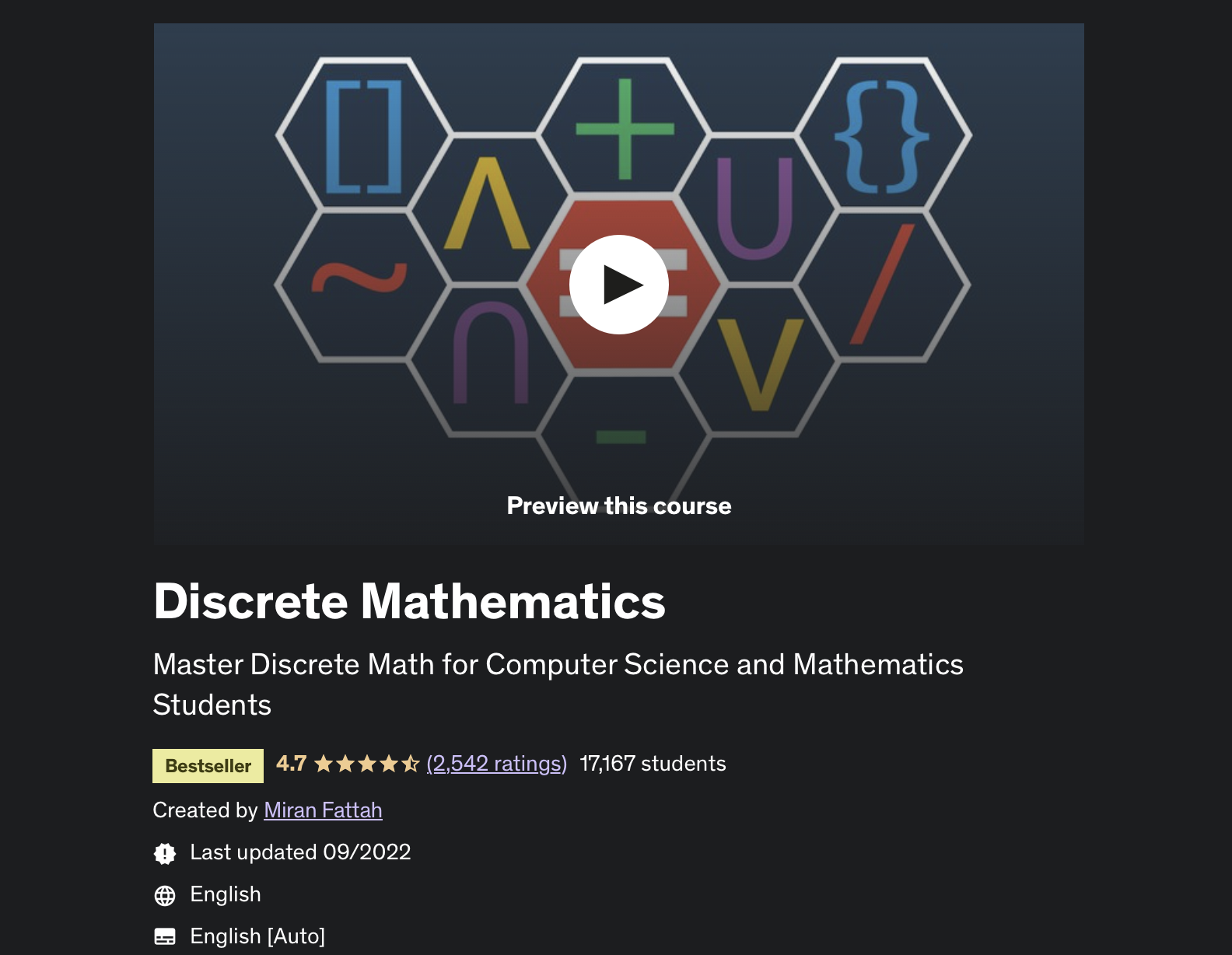 What Will You Study?
You will gain the capability to think, read, and write mathematically and conceptually.
This online mathematics class will make you skillful in the basics of set theory comprising set operations and their properties and set builder notation.
Moreover, the course will equip you with contradictions, logical equivalence, tautologies, De Morgan's Laws in Logic, and composing quantified statements.
You will generate a truth table and identify the truthfulness and falsehood of compound statements.
This online math class will teach me how to read, write, and prove mathematical statements using various methods.
You will study Boolean expressions, logical gates, black boxes, and digital circuits in the course.
Further, you will study modular arithmetic, the Fundamental Theorem of Arithmetics, and how to find LCM and GCD.
You will be competent in function composition and combination, functions, inverse and bijective functions.
The course will let you find equivalence classes and equivalence relations and master partial sums and geometric and arithmetic sequences.
You will study essential concepts in Combinatorics and Statistics.
You will study the primary concepts in Graph Theory, such as incidence and adjacency matrices, connectedness, eccentricity, walks, and Ore's Theorem.
About the Course
Discrete Mathematics (DM) is the pillar of Computer Science and Mathematics. It is the study of topics that are only discrete and not continuous and is necessary for CS or Math students.
This online mathematics class aims to strengthen the mathematical foundation for computer science courses like algorithms, data structures, databases, and relational theory and for mathematical courses like Probability, linear and abstract algebra, logic and set theory, number theory, and combinatorics. It is a paid course with 19 hours duration. Also, it proffers a completion certificate.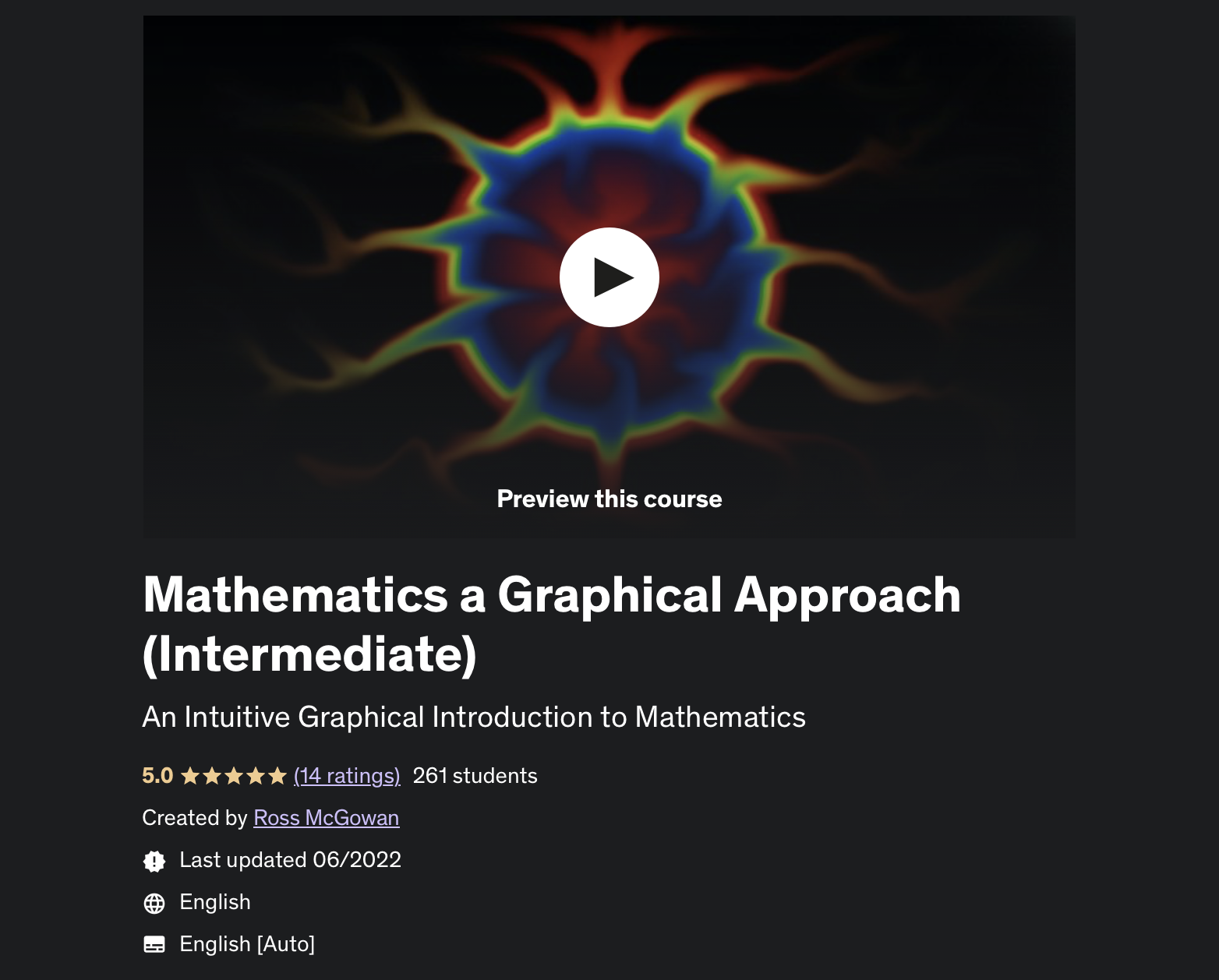 What Will You Study?
High School Mathematics
Trigonometry
Lines and Circles
Vectors
Exponential and Logarithmic Functions
Polynomials and Quadratics
Differential Equations
Learn in an Intuitive, Fun, Graphical Way
Graphs and Functions
Calculus (Differentiation Integration)
About the Course
Are you willing to learn mathematics in a fun manner? Then, why not study mathematics using graphics before stepping into the equations?
A free online graphical calculator known as DESMOS will enable you to learn in a spontaneous visual way. Every simulation is in the resource section, so you can tap into the graphical calculator and re-establish everything.
If you are having trouble in differentiation, trigonometry, and integration, then this is the correct online mathematics class to obtain a graphical understanding.
Note that this is a paid course and is 14 hours in duration with a certificate.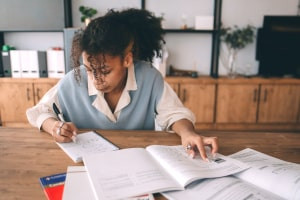 What Will You Study in This Best Free Online Math Course?
Resolve number line analysis and quadratic inequalities.
Learn how to solve the system of equations
Portray how to find if a point is on a given line
Broaden your knowledge to find the linear equation with many approaches.
Solve a Pythagorean theorem with a single variable and two variables.
Enlighten how to solve word problems with algebra.
Learn how to evaluate the interest of an investment.
Solve rectangular frame problems with a single variable and then with multiple variables.
About the Course
This best free online math course on linear equations and word problems will let you discover linear equations and inequalities in two variables or more.
You can denote linear equations in several forms, and it is easy to plot their graphs. Moreover, this course will make you skillful in solving a mathematical exercise and a word problem where you represent information on the problem.
Till the end of the course, you will be capable enough to solve systems of equations by graphing, substitution, and addition. You can also recognize inconsistent systems of equations holding two variables and state the solution of a system of dependent equations.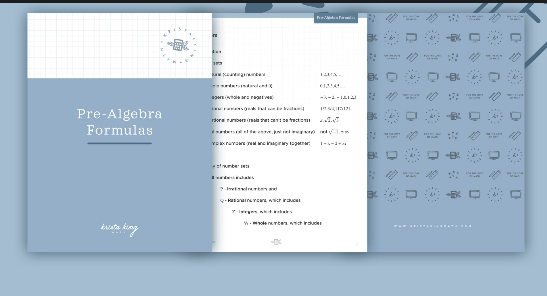 What Will You Study?
Numbers and negative numbers, comprising identity numbers and number sets.
Decimals, formulating repeating decimals, and rounding.
Multiples and factors, incorporating prime numbers, least common multiple, and divisibility.
Fractions contain ratios and proportions, and mixed numbers.
Exponents, constituting fractional and negative bases.
Radicals, holding rationalizing the denominator
Scientific notation, containing estimating, multiplication, and division.
About the Course
Before you enroll for the Master the Fundamentals of Math course, you need to have a fundamental understanding of arithmetic, i.e., addition, subtraction, division, and multiplication. It is an introductory course for middle and high school students.
This Udemy bestseller course is 5.5 hours long, with 117 downloadable resources and 68 articles taught by Krista King, the math tutor. Also, you will gain access to 500 practice questions to check your knowledge.
The course has 186 lessons with text and video explanations ranging from the Fundamentals and covers 48 quizzes and nine workbooks to enhance your skills. Once you complete the course, you will avail Certificate of Completion, which will give an edge to your resume.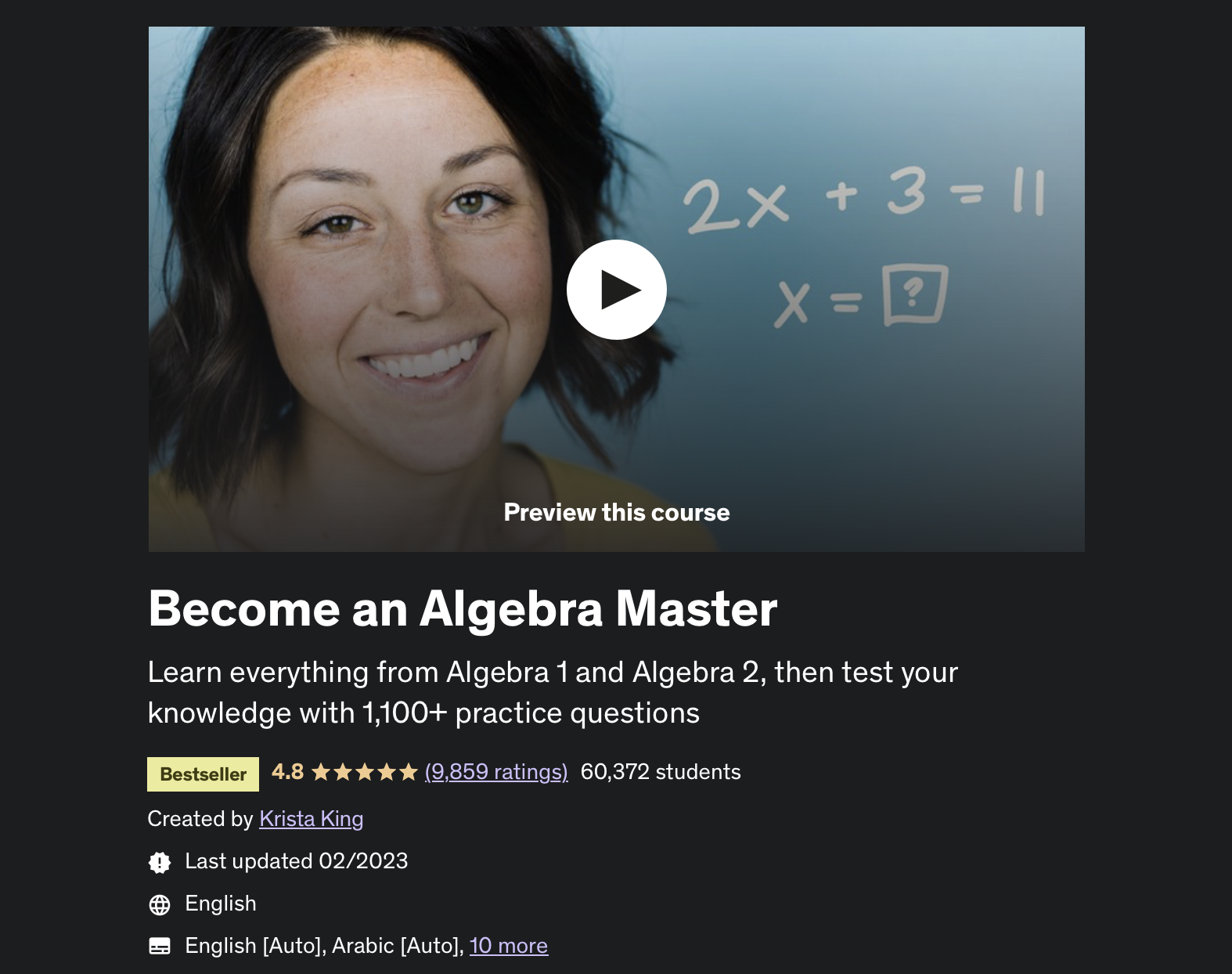 What Will You Study?
Operations, containing like-terms and order of operations (PEMDAS).
Fractions, radicals, exponents, and advanced operations.
Graphing, covering parabolas, perpendicular, and parallel lines.
Equations and systems of equations consist of direct and inverse variation, inverse operations, and distance/rate/time problems.
Inequalities, integrating graphing and trichotomy inequalities and conjunctions on a number line.
Functions that envelop products and sums of functions, and range and domain.
Polynomials and factoring enveloping the quadratic formula.
Logarithmic and exponential functions containing a change of base, laws of logs, and graphing
About the Course
Before studying this course, you must be well aware of the fundamental algebraic operations. Becoming an Algebra Master will polish your skills in order of operations, graphics, equations, polynomials, and fractions. The 14.5-hour course has many resources and articles.
You will have access to 16 workbook problems, 117 quizzes, and explanations. Besides that, 409 lessons will boost your expertise with text and video explanations. The other plus point of this course is that you will get a certificate.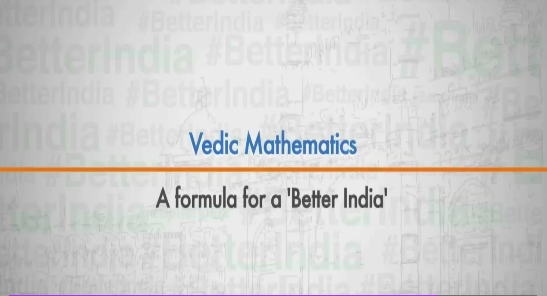 What Will You Study?
Instant Subtractions
High-Speed Multiplication
Faster Division
Cubes
Accelerated Addition
Algebra: Linear, Simultaneous, Quadratic, and Miscellaneous Equations
Digital Roots
Square Roots
Squares
Cube Roots
Pythagoras Theorem
Calendars
Divisibility
Math Meditation – Doing Math Calculations without Pens and Paper!
About the Course
Are you having a struggle with Math? Would you like to enjoy Math differently? Then, this online math class is right for you. Be an expert in High-speed Vedic Math, which will let you calculate faster than the traditional system.
You will be proficient in doing tricky calculations like 996 x 995 in a few seconds, which will upgrade your confidence. Once you are skillful in Vedic Math, you can easily do calculations in Algebra, Arithmetic, and Trigonometry and simplify them.
Moreover, your academic performance improves to a great extent, and it enhances mental agility. Besides that, it enriches the right and left sides of the brain.
This course caters to a huge section of society, such as teachers, students, parents, businessmen, and professionals. The 15 hours duration course covers the World's Fastest Mental Arithmetic System with solved exercises and examples. The best part is that it will sharpen your skills through 60 topics.
Gaurav Tekriwal is the course instructor who has explained the methods and concepts excellently. The course's three methods are described via computer presentations, whiteboard demonstrations, and animations.
Besides the course, there are three hours of interactive virtual classroom support where you can resolve your queries. The course has a Certificate of completion.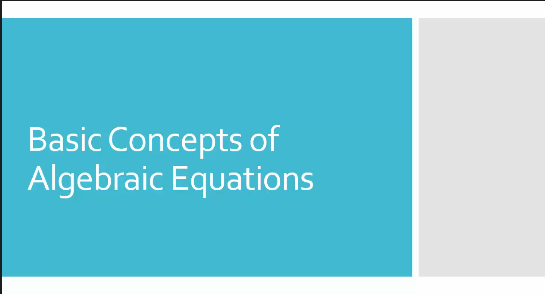 What Will You Study?
Concept of Mathematical Functions with Cost Functions, Profit Functions, Break-Even Models with Graphical Representations, and Revenue Functions.
Linear Equations and Linear Inequalities and their solution with properties and applications.
System of Linear Equations and their solution with applications.
An Introduction to Linear Programming with different techniques with graphical solutions and applications in Business Models.
Business Arithmetic with Concepts of Proportions, Ratios, and Percentages.
Mathematics of Finance comprises the concepts of Annuities, Simple and Compound Interest, and Cost-Benefit Analysis.
About the Course
In this online math class, Mathematics is crucial for students pursuing Business, Management Science, Social Sciences, and Economics. It is of 3.5 hours duration with 649 INR fees and Certificate of Completion.
This course is suitable for every business, management, and economics level student. It emphasizes the following topics:
Study System of Linear Equations along with applications in daily life with the help of different examples.
Linear Inequality, along with their solutions on the number line, with various examples.
Study the concept of Linear Equation and its applications in different business and economic models.
Solve System of Linear Equations Using Matrices techniques like Gauss Jordan Method and Gaussian Elimination Method.
Concept of Mathematical Functions along with concepts of Linear Cost Function, Linear Revenue Functions, Linear Profit Functions, and Break-Even Models.
Using MS Excel and Python to solve the System of Linear Equations with applications in different business and management models.
In the Finance Mathematics part, you will study Cost-Benefit Analysis, Annuities, Simple and Compound Interest, and compare the difference between Simple and Compound Interest with graphs in Python.
An introduction to Linear Programming with different techniques like Big-M Method, Simplex Method, and Dual Methods with some graphical techniques.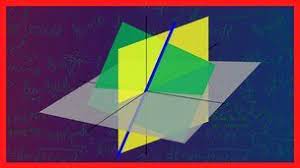 What Will You Study?
Understand linear transformations
Solve linear systems
Understand eigenvectors
Understand what a basis is and how to apply it
Understand norms
Understand inner products
Understand vector spaces and their properties
Know how to find the determinant of any matrix
Understand matrix algebra
About the Course
Do you want to comprehend the fourth dimension completely? What about the fifth dimension? What about an infinite-dimensional space?
This online mathematical class is the applicable one. You will come across everything from lines, spaces, planes, and dots.
Learn everything regarding Spaces under one course:
Inner-Product Spaces
Vector Spaces
Eigenvalues and Eigenvectors
Definition of a Right Angle
How to Measure Space
Linear Transformations
This online math class has everything that a university-level based linear algebra course comprises. It is of 5.5 hours and requires a certificate of completion.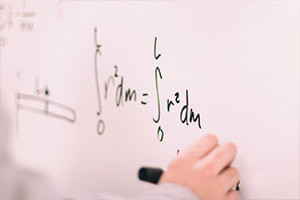 What Will You Study?
Explain the various methods of differentiation.
Discuss how to differentiate a parameterized curve in differential calculus.
Discuss the rates of change in differential calculus
Identify the slope of a curve at a point and the slope of the tangent to a curve
Explain the concepts of maxima, minima, and extrema as they relate to differentiation
Discuss the relationships between f(x), f'(x) and f"(x) in differentiation
Analyze the derivatives of inverse trigonometric functions
Discuss the definition of a derivative and notation in differential calculus
About the Course
This free online math course is an extensive guide to the diverse methods of getting the derivatives of a function. You will study how to evaluate the rates of change in calculus and comprehend the definition of a notation and derivative.
Additionally, you would study the derivatives of trigonometric functions in differential calculus. It lasts 3-4 hours, and the best benefit is CPD Accreditation.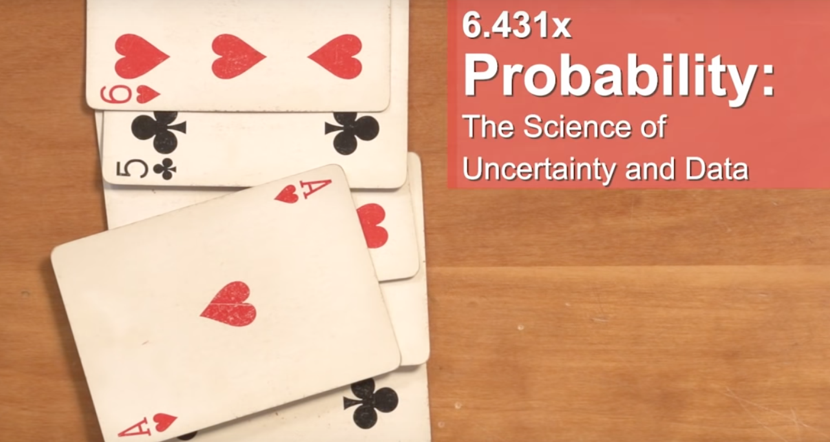 What Will You Study?
The basic structure and elements of probabilistic models
Random processes
Inference methods
Probabilistic calculations
Random variables, means, their distributions, and variances
Laws of large numbers and their applications
About the Course
The world is bound with vagueness: storms, unmanageable financial markets, and noisy communications.
Also, the world has a surplus amount of data. Therefore, probabilistic modeling and the relevant field of statistical inference are the answer to sound predictions and analyzing data methodically.
Probabilistic models incorporate the language of mathematics. Therefore, you will learn the mathematically proper material rather than the conventional theorem-proof format.
Moreover, the course focuses on the fundamental methodologies that are generally applicable.
It is of 10–14 hours per week and is free of cost, taught by instructors John Tsitsiklis, Dimitri Bertsekas, and Patrick Jaillet.
The course includes every basic probability concept containing the following:
The main tools of Bayesian inference methods
An introduction to random processes (Poisson processes and Markov chains)
Laws of large numbers
Multiple discrete or continuous random variables, expectations, and conditional distributions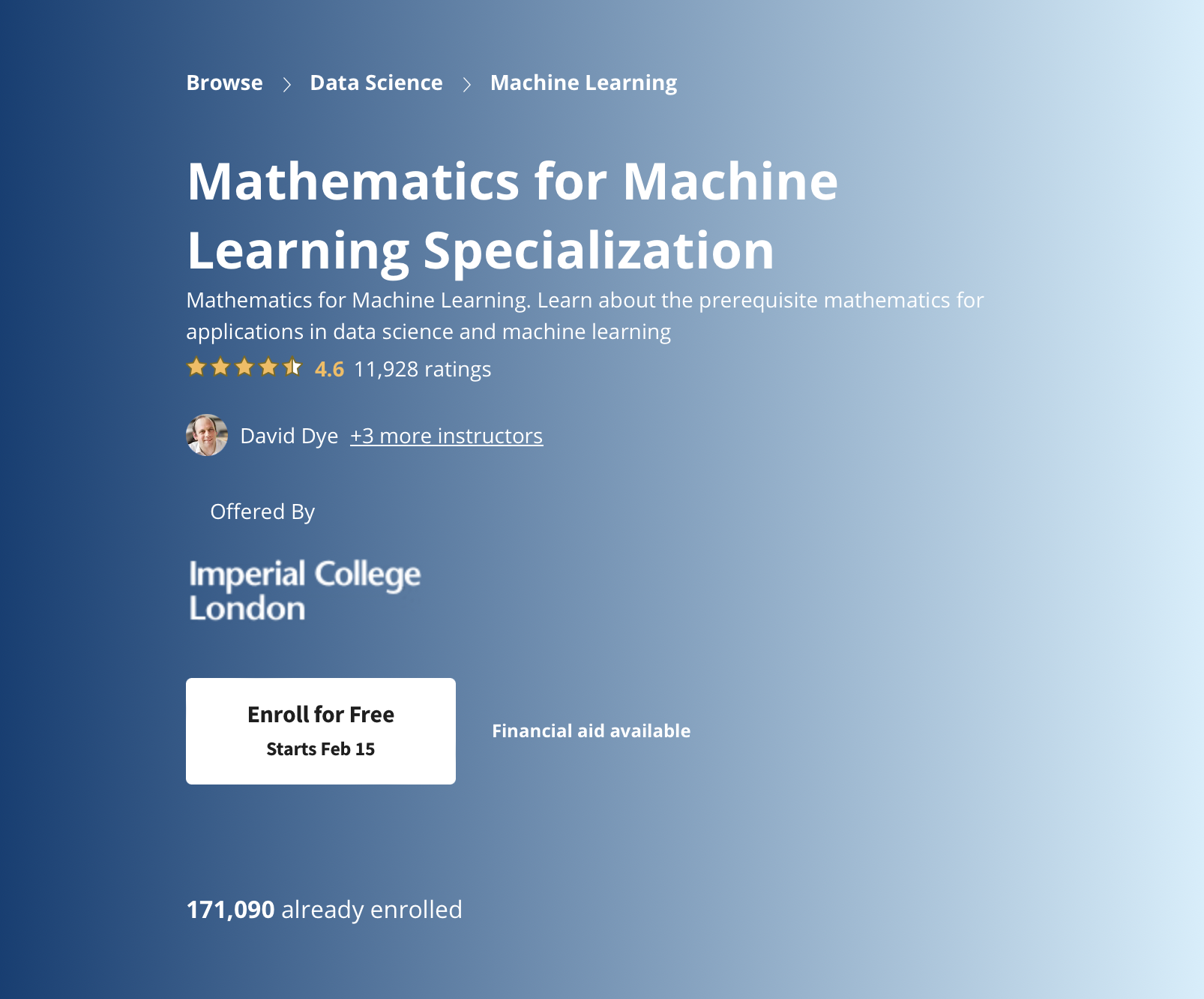 What Will You Study?
Understand how orthogonal projections work.
Derive PCA from a projection perspective.
Implement mathematical concepts using real-world data.
Master PCA
About the Course
For many high-level Data Science and Machine Learning courses, you must brush up on the basics of mathematics studied in university or school. This course will pace up your fundamental mathematics and enhance your intuitive comprehension of data science and Machine Learning.
The first course on Linear Algebra teaches what linear algebra is and how it is relevant to data. Then, you will get an idea of what matrices and vectors are and how to work with them.
The second Multivariate Calculus course will make you understand for optimization of fitting functions to obtain proper fits to data.
It begins with introductory calculus and then utilizes the vectors and matrices from the preparatory course to data fitting. The third course, Dimensionality Reduction with Principal Component Analysis, blends the mathematics from the first two courses to compact high-dimensional data.
This course is of intermediate level and demands numpy and Python knowledge. The skilled instructors of this course are David Dye, Samuel Copper, Marc Peter Deisenroth, and A. Freddie Page.
In a Nutshell
All these 14 online mathematics classes are fun to learn and have diverse lesson plans, professors, and teaching styles. Select any free or paid course as per your choice that suits your career plans. You can study at your pace and master these mathematical concepts while sitting at home.