Are you a copywriter who values what you do? Remember, when clients hire you, they buy more than just the content — they're paying for your deep understanding of their professional needs and desires.
Using the content that you deliver, they develop marketing campaigns, social media posts, whitepapers, etc., to grow their business.
Whether you're a seasoned pro or just getting started, there's always room for improvement. However, the good news is that there are many online copywriting courses that help you improve your skills.
In this blog post, we've rounded up the 11 best online copywriting courses for 2023. Whether you're looking for free or paid courses, we've got something for everyone.
So, what are you waiting for? Let's dive in and discover the right copywriting course for you!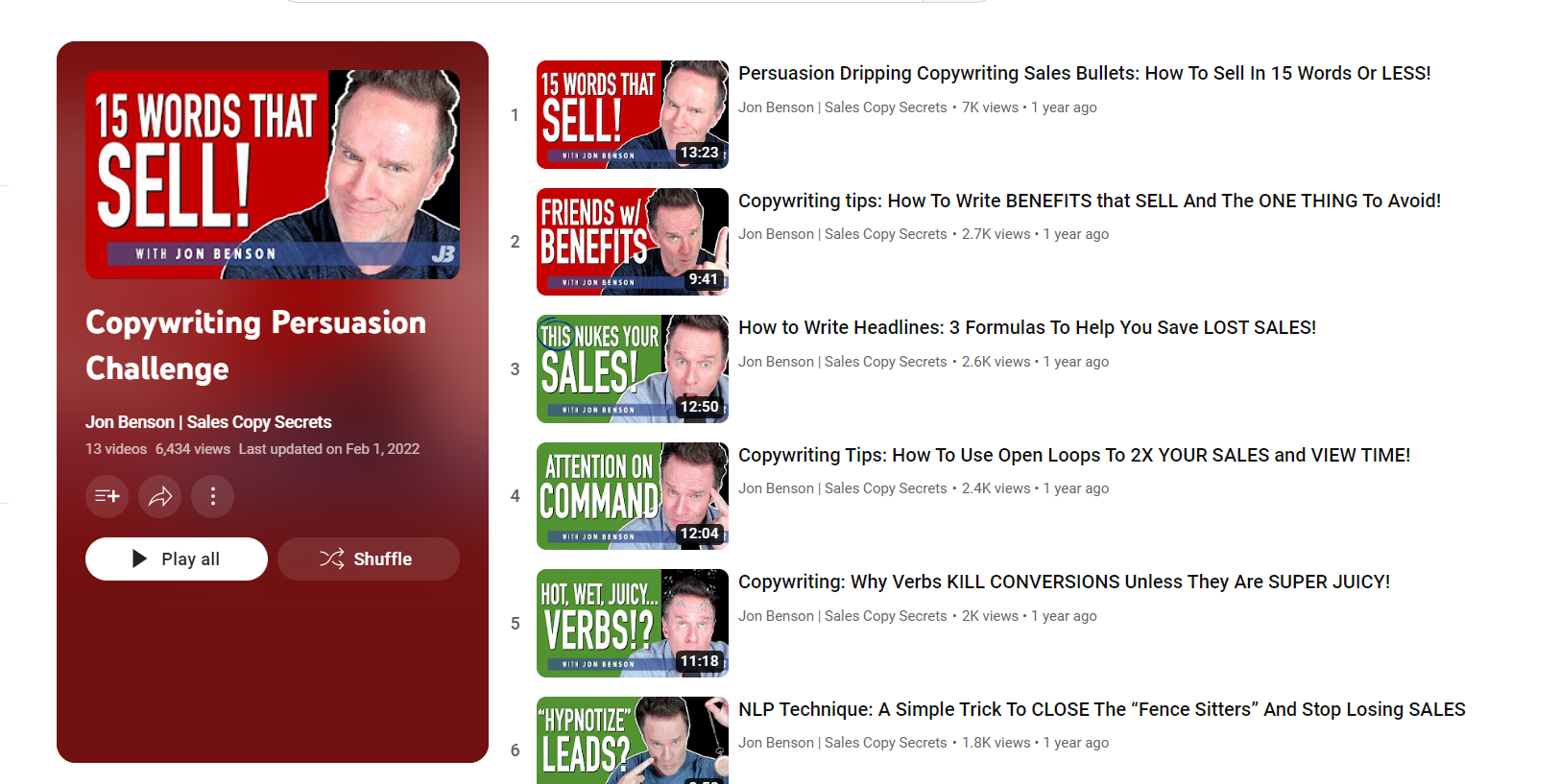 Copywriting Persuasion Challenge is more than just a YouTube playlist; it's a broad course for aspiring copywriters and entrepreneurs. Although email content is the primary focus, the concepts mentioned in this copywriting course can also be applied in other scenarios.
With a wealth of industry knowledge, instructor Jon Benson keeps things simple. In short, this is the perfect course for you if you are a novice copywriter looking for more experience and practical examples or want to improve your content marketing approach.
And in fact, there are several ways in which this course will help you become a better copywriter.
There are a total of 13 videos in this course, with an average running time of 12 minutes. You can watch the videos whenever it's convenient for you and then return to any of them to review the content before putting it into practice.
You can use this course however you like depending on your unique needs as a copywriter.
Duration: 2-3 hrs
Price: Free
Certificate of Completion: No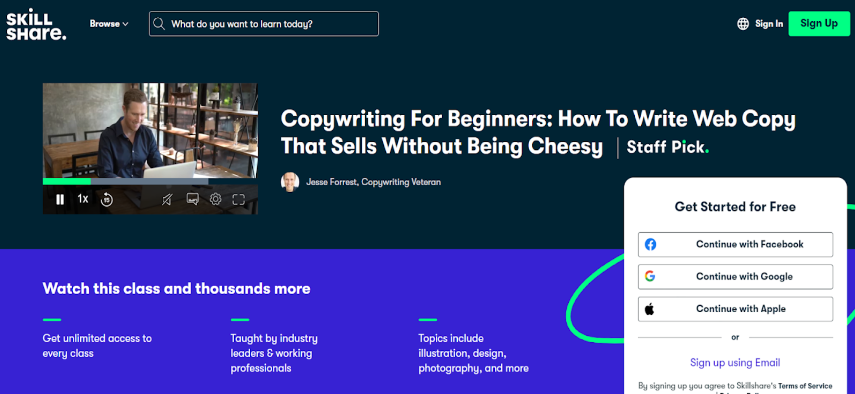 This course is yet another excellent way of honing your copywriting skills. For beginners, this is a terrific course, and the writer is an accomplished web copywriter who can provide valuable insight for novice and seasoned writers.
Throughout the course, you will gain a solid understanding of the basics of web copywriting while learning the best ways to put your words into action.
It is 60 minutes long and is broken down into 16 video lessons. Here, you'll discover how to write constructively, so that site visitors become prospective leads and buyers.
Duration: 1 hr
Price: Free
Certificate of Completion: Yes

This course offers in-depth, clearly presented content and a practical assignment for you to put your skills to proper use. Copywriting expert Ian Lurie explains how to create an engaging narrative that successfully promotes a business's offerings.
You'll find out how to write copy that will help you win clients and the basics of typography so you can collaborate with a designer or create your own designs. The primary focus of this course is on marketing-oriented copywriting.
Further, the course will teach you the basics of copywriting and the various styles of copywriting. It covers topics such as developing a strategy, effectively putting all your right thoughts on paper, and writing for several media formats.
The course also contains a quiz provided at the end of each module. With that, there is also a Q&A option inside LinkedIn Learning that could become a great resource.
Duration: 1 hr 27 mins
Price: Free Trial Available
Certificate of Completion: Yes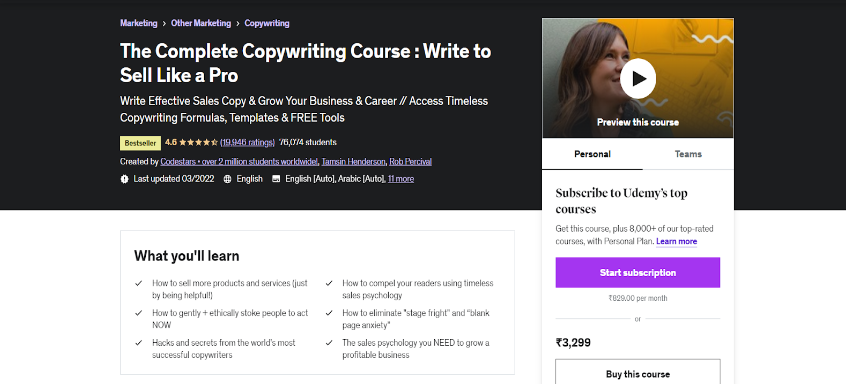 If you're striving to become a more competent and skilled writer, this course is for you. It will teach you copywriting fundamentals and help you advance your career.
Many copywriting checklists, complimentary resources, and pre-made layouts are available in this course. Discover the secrets of the world's best copywriters and use them to sell more products and services with your work.
However, the most significant takeaway from the course is how to use the principles of sales psychology to build a successful business and influence readers with clear, compelling writing without turning to manipulative tactics. In addition, it will help overcome fears of public speaking and staring at a blank paper.
The best part about this course is it gives you fast, permanent access to the methods and tools you need to increase your conversion rate. Moreover, it features three hours of exciting video tutorials, approaches that have been scientifically proven, and a ton of downloadable content like Ebooks and manuals.
Duration: 3 hrs
Price: INR 3,299
Certificate of Completion: Yes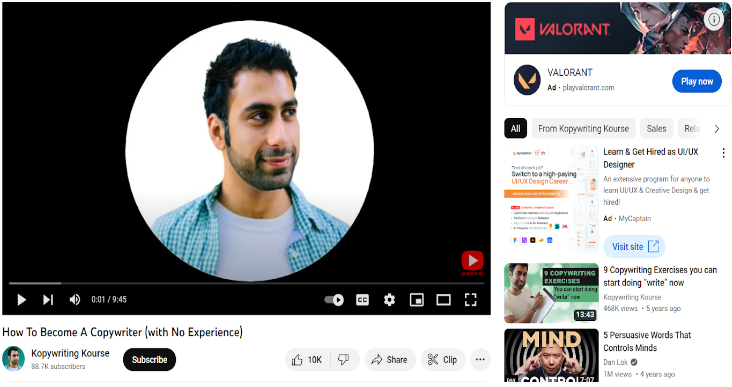 Kopywriting Kourse is one of the most well-known copywriting courses on YouTube. There are some solid, fundamental lessons in this copywriting course that could help you improve your sales copy skills.
In addition, you will learn tried-and-tested methods for creating sales-oriented content and sending concise and appealing emails to potential clients.
Productivity is one of the daily obstacles that people face when writing and working from home. The videos on this channel can also help you increase your productivity by providing real advice, DIY projects, and a wealth of other concepts and knowledge that will keep you excited about writing and growing your skills.
Duration: 9 mins 45 secs
Price: Free
Certificate of Completion: No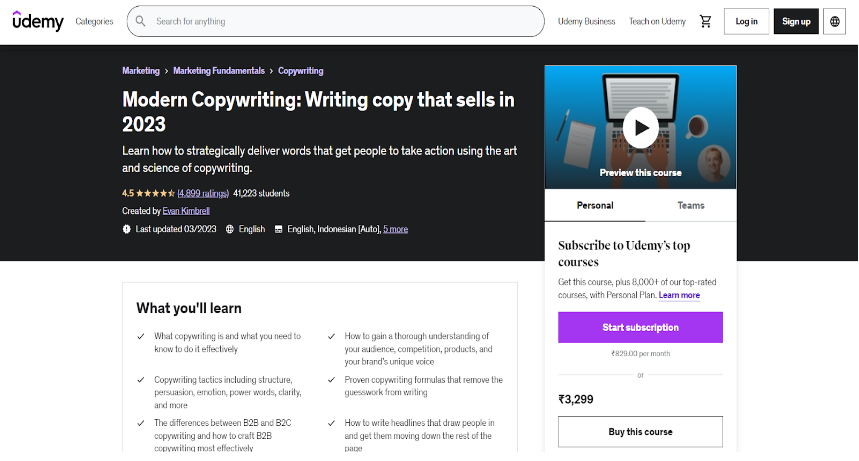 Copywriting is both an art and a science, and in this course, you'll learn how to combine the two to convey messages that compel readers to take action. You get everything you need to succeed in this course, from the theory, examples, and study cases.
This copywriting course will provide you with the basics of copywriting by covering the fundamentals of creating content for online platforms such as emails, social networking sites like Facebook and Twitter, and professional networking sites like LinkedIn. Overall, it's a fantastic guide and engaging for beginners.
The worksheets are a great addition to this course. A total of 94 downloadable materials and 7+ hours of high-quality lectures are included in this course.
Duration: 7 hrs
Price: INR 3299
Certificate of Completion: Yes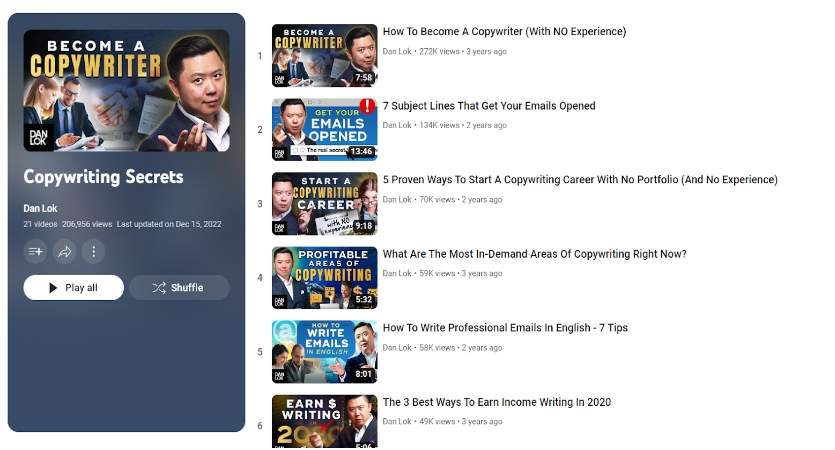 If you're a copywriter interested in freelancing or seeking ways to grow your freelance writing career, this course is for you. Topics such as niche discovery and market segmentation are deeply addressed in this course.
Dan Lok, who has worked as a freelancer and copywriter, is your trainer who is both engaging and motivating.
This course covers a wide range of topics, including what it takes to become a copywriter, how to compose business emails in English and the most sought-after areas of copywriting.
It also covers the advantages and disadvantages of copywriting over content writing. Finally, it also covers the top three reasons why people don't read your emails, how much you should charge, and three techniques to boost your revenue as a copywriter.
The series of videos by Dan Lok will keep you engaged for nearly two hours. Talking about the lessons, they are simple to understand and implement if you work in the freelance sector.
Duration: 2 hrs
Price: Free
Certificate of Completion: No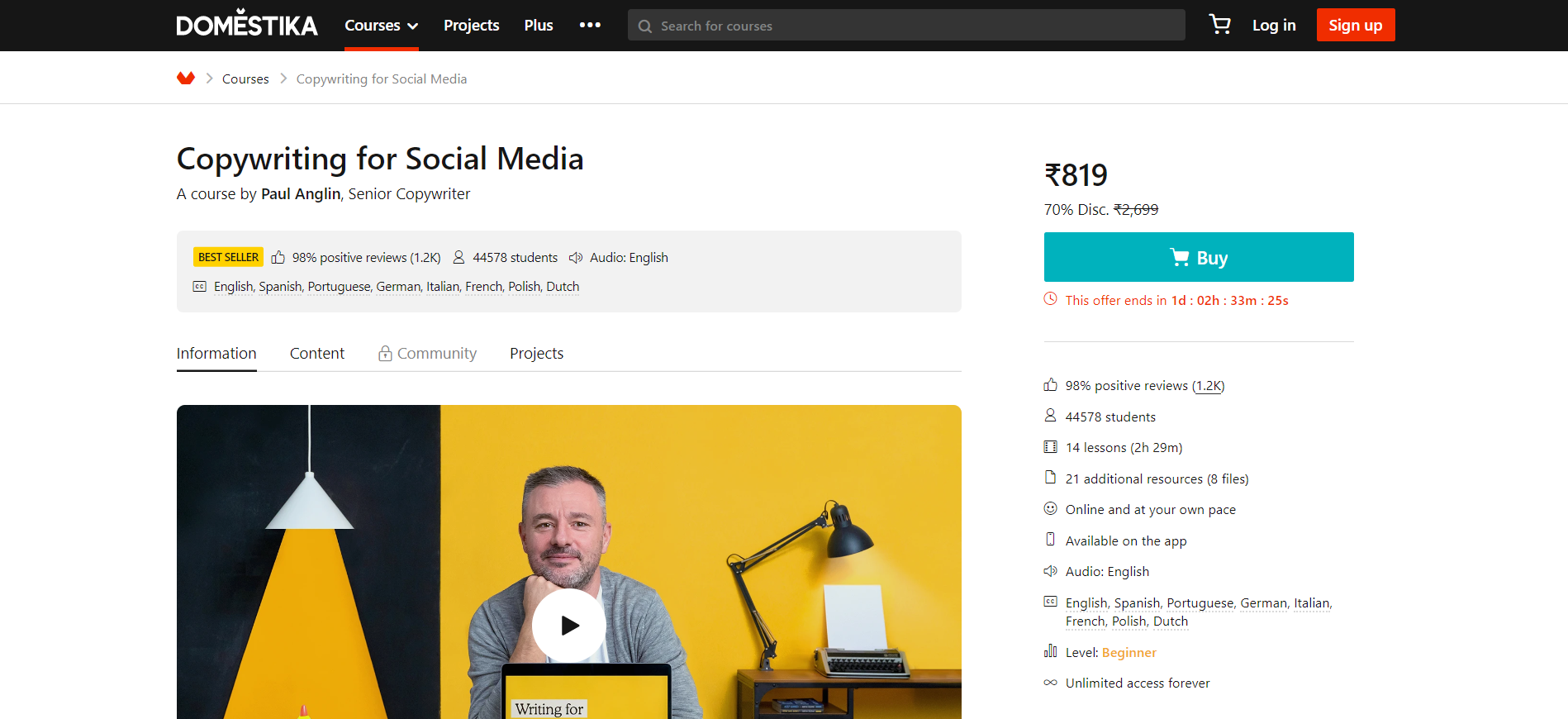 The course is one of the few high-quality, contemporary social media copywriting courses available today. If you've never written any social media copy before, this is the course for you.
For those who already have some knowledge but are looking for an expert's viewpoint, studying Paul's method could be helpful. In addition, Paul is an excellent educator and presenter who inspires his students to create unique voices.
Learn the fundamentals of writing to communicate your brand's story effectively. Learn efficient ways to develop ideas, polish them, and present them. Create enticing social media posts to promote your brand.
There are 14 modules and 21 resources available for download. The assignment in the course involves creating a copywriting plan for your business, right from the initial brief to the finalized content.
Duration: 2 hrs 29 mins
Price: INR 819
Certificate of Completion: Yes

This course explains how to tailor your content to multiple platforms, cater to different customer types, and provide valuable resources. The course's flexible structure makes it easy to go back and read through any topic as required.
In this course, Michaela Alexis guides you through the process of building a voice for your company using various copywriting tools and methods. In addition, she outlines the steps you should take to optimize your writing for social media platforms, including Twitter, Instagram, and LinkedIn.
She also offers advice on how to consistently improve your content using feedback and A/B testing. She also introduces tools that can help you keep your content readable and error-free.
The course consists of 5 modules and 17 topics that will teach you how to use tools and real-world examples to write engaging social media posts.
Duration: 53 mins
Price: Free Trial Available
Certificate of Completion: Yes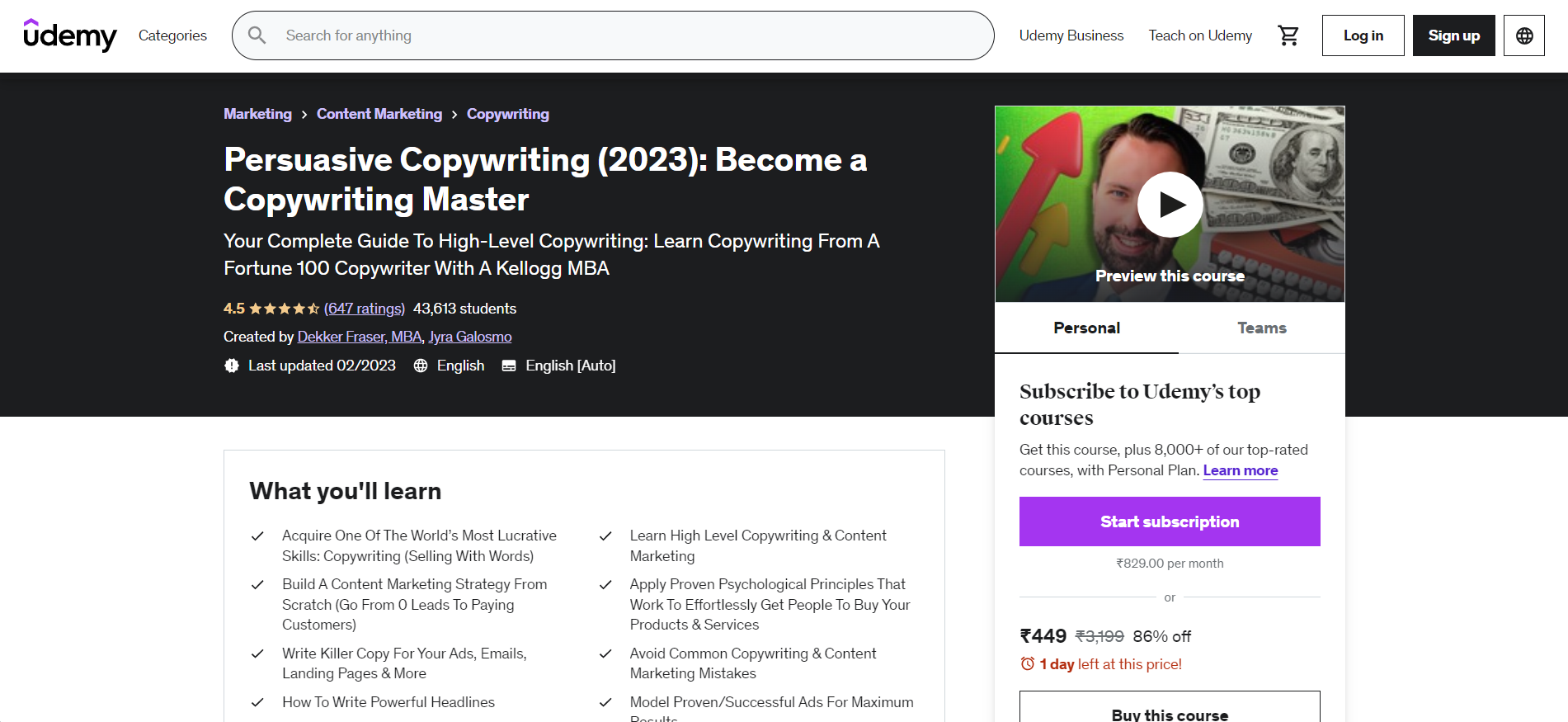 This copywriting course is meant for freelance B2B copywriters, in-house marketers, business owners, and others who create marketing content. All sizes of businesses, from startups to the Fortune 500, can benefit from this copywriting course.
Learn the ins and outs of creating and writing successful B2B content from your course instructor, Dekker, by using informative case studies and relevant resources.
In this course, you'll see examples of several types of copywriting, including those used for generating leads, nurturing leads, sending emails, generating sales meetings, and more. In addition to the lectures, you'll also have access to downloadable resources to help you create your own content marketing plan.
Duration: 13 hrs
Price: INR 3199
Certificate of Completion: Yes

In this course, you'll study the fundamentals of conversion copywriting, which will help you create more effective landing pages and emails.
Your instructor, Joanna Wiebe, will first help you understand the strategic importance of optimizing your conversion rate. Then she'll walk you through the three stages of producing compelling conversion copy.
Joanna tells you how to use customer feedback to drive your marketing strategies. First, she explains how to identify the consumer's voice and research it. She then guides you through creating a first draft for the website and newsletter copy, including how to make use of established frameworks.
There are a total of 22 lessons spread across five modules. The lessons will teach you how to plan and write your first draft for online copy and email content from start to end. Finally, after each section, you'll take a quiz to see how much you've learned.
Duration: 1hr 13 mins
Price: Free Trial Available
Certificate of Completion: Yes
On a Final Note
Copywriting is a crucial skill that every marketer, blogger, and content creator should master. Investing in the right copywriting course can help you improve your skills, gain new insights and stay up-to-date with the latest trends and techniques in the industry.
This article presents you with a list of the 11 most influential online copywriting courses. This list includes both free and paid options to suit your budget and preferences. So whether you're a beginner or an experienced copywriter, there's a course that caters to your needs.
Make the most of these resources and start honing your copywriting skills today. With practice, dedication, and the right knowledge, you can become a master copywriter and stand out in the crowded online world.
So, what are you waiting for? Take the first step towards becoming a successful copywriter by selecting from one of these courses that best fit your needs.
And feel free to drop a comment in the comment section with the course that helped you in your copywriting journey. We would love to hear from you!
Frequently Asked Questions
What Qualifications Do I Need to Become a Copywriter?
No specific qualifications are required to become a copywriter. However, having a solid command of the language, exceptional writing skills, and a creative mind are essential.
Some of the standard qualifications that can help you become a successful copywriter include the following:
A bachelor's degree in English, journalism, marketing, or a related field.
Experience in writing and editing through coursework, internships, or previous jobs.
Strong communication skills, both written and verbal.
Familiarity with digital marketing tools and platforms.
Understanding of consumer psychology and behavior.
Creativity and the ability to come up with unique and compelling ideas.
Attention to detail and the ability to work under tight deadlines.
What Exactly Does a Copywriter Do?
A copywriter creates written content to promote and advertise products, services, or ideas. He/she writes copy for various mediums, including websites, advertisements, social media, brochures, and emails. Copywriters work closely with clients or marketing teams to understand their goals and target audience. They use this information to craft interesting and persuasive copy that engages and inspires readers to take action, whether purchasing, signing up for a service, or simply learning more about a product.
Is Copywriting a Promising Career?
Yes, copywriting can be a gratifying and fulfilling career for those who enjoy writing and have creative minds.
Here are some reasons why copywriting can be a promising career:
High demand: In today's digital age, businesses of all sizes are constantly looking for skilled copywriters to help them create interesting content for their marketing efforts.
Flexibility: Copywriting can be done remotely, making it an attractive option for those who want to work from home or have a flexible schedule.
Creative freedom: Copywriting is a highly creative field, allowing you to use your imagination and writing skills to craft unique and engaging content.
Competitive pay: Skilled copywriters are in high demand and can expect competitive salaries, particularly those with specialized skills and experience.
Professional growth: Copywriting is a field where you can continue to learn and grow professionally throughout your career, whether through building new skills, developing your portfolio, or taking on more challenging projects.
Are Copywriting Courses Good for Inclusion on a Resume?
Yes, including copywriting courses on your resume can be beneficial, particularly if you are a fresher and looking for a skilled job.
Here are some tips for including copywriting courses on your resume:
Be specific: List the name of the course, the institution, and any relevant details, such as the duration, certification, or skills learned.
Highlight key skills: If the course covered specific skills or techniques relevant to the job you're applying for, highlight them on your resume.
Keep it relevant: Only include courses relevant to the job you're applying for or your overall career goals. Avoid listing courses that are unrelated or outdated.
Consider the level of the course: If the course was an introductory or beginner-level course, it might be less relevant to include it in a resume if you already have extensive copywriting experience. However, if the course covered advanced topics or specialized skills, it may be more valuable to include.
Do Online Copywriting Courses Come with a Certification?
Many online copywriting courses do come with a certification upon completion. However, it ultimately depends on the course and the institution offering it. Some courses may provide a certificate of completion, while others may offer a more formal certification that displays proficiency in specific copywriting skills or techniques.