Furniture is a significant investment, and for good reason. It sees constant use and often takes a beating from heavy adults and active children. As such, it's important that furniture is both durable and aesthetically pleasing. Most people don't want to replace their furniture multiple times throughout their lives, so investing in high-quality, durable materials is essential.
This is especially true for outdoor furniture. In addition to withstanding rough treatment from humans, outdoor furniture also needs to endure harsh weather conditions, pests, and other outdoor elements. To ensure your outdoor furniture stands the test of time, it's important to consider materials that are built to last.
If you prefer the natural look and feel of wood, consider investing in outdoor cedar furniture, which is both durable and aesthetically pleasing. Cedar is naturally resistant to pests and decay, making it a great option for outdoor use.
Here are some of the most durable materials to consider when shopping for outdoor furniture:
1. Aluminum
Aluminum is among the best materials for outdoor furniture because it is lightweight, sturdy, and versatile. Unlike other metals, aluminum does not rust, which makes it ideal for use in outdoor furniture. Moreover, aluminum can be easily molded into different shapes and styles, making it easy to find furniture that suits your taste.
However, aluminum is susceptible to corrosion, so it is important to invest in powder-coated aluminum furniture that offers extra protection against moisture and scratches that can weaken the metal and damage its appearance.
2. Wrought Iron
Wrought iron has been used in outdoor furniture for centuries, and for good reason. This material is thick, durable, and can withstand most weather conditions, making it ideal for outdoor use. With proper care, wrought iron furniture can last for decades, if not centuries.
However, wrought iron is also bulky, making it difficult to move around. Additionally, it may not be comfortable to use without cushions and covers. While the durability of wrought iron may surprise some who love its classic look, it may not be adaptable to every style.
3. Stainless Steel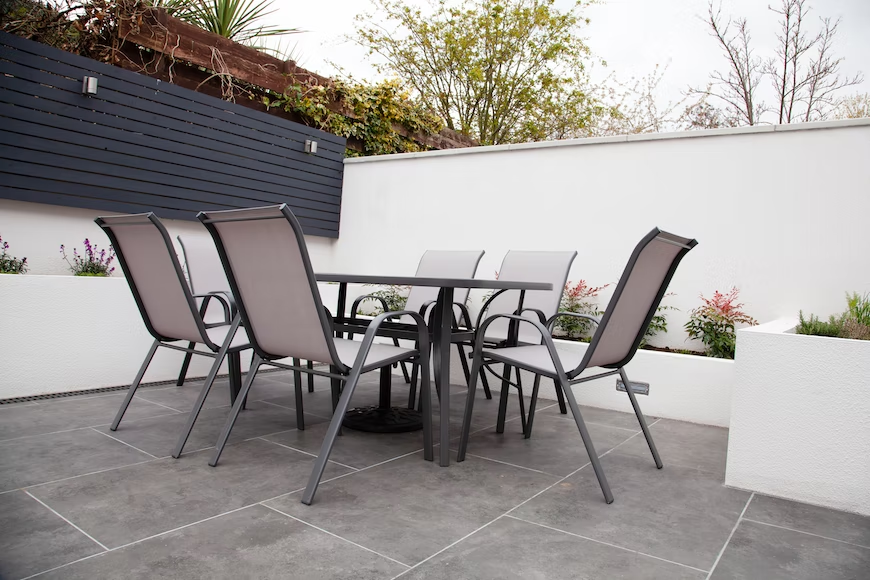 Stainless steel is an excellent alternative to aluminum and wrought iron. It is heavier than aluminum but lighter than wrought iron, making it easier to manage. Stainless steel is also more resistant to corrosion than other metals used in outdoor furniture, though it is still recommended to use a powder coating for extra protection.
Best of all, most stainless steel is produced from recycled metals, making it one of the most sustainable options for patio furniture.
4. Hardwoods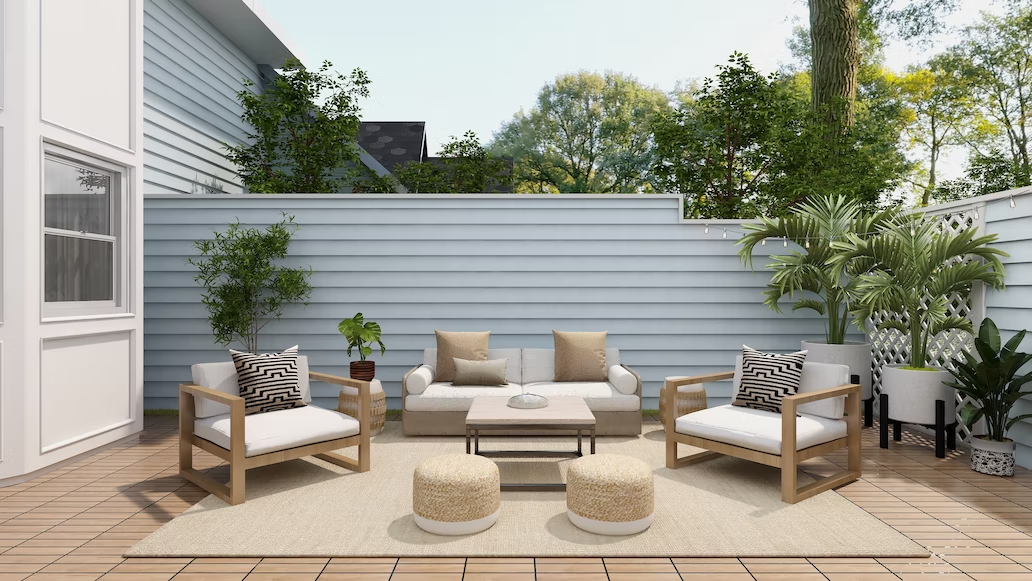 While wood may not always be the best option for outdoor furniture, it is a popular choice due to its warmth and comfort. Homeowners looking to invest in wood furniture for their outdoor spaces should opt for durable hardwoods, such as teak and shorea or tropical wood, that are more naturally resistant to pests and moisture.
While hardwood furniture may require regular maintenance to prevent cracking and warping, it can last for years, making it a worthy investment.
5. All-Weather Wicker
All-weather wicker is a synthetic alternative to natural wicker, which can be an excellent outdoor furniture material. However, all-weather wicker is even better since it's made from high-density polyethylene resin that doesn't emit chemicals and can withstand continuous exposure to moisture and UV rays.
When shopping for all-weather wicker, be sure to avoid patio furniture made from PVC, which may look similar but will become brittle over time.
6. Concrete
Solid concrete has a minimalist look that many homeowners appreciate in their outdoor spaces. It has an incredibly high compressive strength, making it resistant to cracking from stress. Large blocks of solid concrete can be used as long-lasting benches or pedestals for tables.
However, concrete has a low tensile strength, meaning it can chip and crumble when pulled. When using concrete for outdoor furniture, be sure to keep it in place to avoid damage or destruction to the furniture pieces and surrounding area.
7. Recycled Plastic
Think beyond the conventional plastic chairs that are commonly used for family dinners if you're considering recycled plastic furniture. This eco-friendly alternative is not only durable and fashionable but also created sustainably by using discarded plastic items like shampoo bottles and milk cartons. Made from plastic, these furniture pieces are robust and resilient against typical challenges like moisture, insects, mildew, salt water, or rust.
Recycled plastic furnishings are not recommended for areas with strong winds due to their lightweight structure. However, modern designs feature aluminum components to increase their weight. Unlike pricey materials, recycled plastic furniture is less likely to crack, peel, or stain easily, requiring minimal upkeep.
Conclusion
Selecting suitable patio furniture can be a challenging task that demands careful consideration. We have discussed some of the most resilient materials for outdoor decks, such as iron, steel, aluminum, and teak.
Nevertheless, the placement of your furniture can also influence your decision. Factors such as UV rays, exposure to heat, available storage, location (for example, if your place is near the ocean), and how often you use them may prompt you to choose a material that appears less durable but is better suited to your specific circumstances.