Golf can be a frustrating game to master. You've plotted and planned your shots, yet you still find yourself hitting the same errant shot time after time that cost you strokes on each hole. Despite this, there are plenty of tips and tricks available to help improve your golf score – and we have them here for you!
We've curated some useful strategies from professional golfers (from both men and women) so that women, men, mothers, fathers(and everyone in between!)can improve their overall golf scores. So whether it's tweaking your club selection or refining the technique of taking practice swings before addressing the ball—here's our guide with simple tips and tricks to upgrade your game quickly.
Try different clubs to find which works best for you
If you're new to playing golf or looking to improve your game, one of the best first steps is finding the right clubs for your game. Different golfers need different clubs that work best for them – from putters to drivers – and trying out various models can make all the difference in improving your score.
Picking up a few sizes and types during a practice range session will give you an idea of what clubs feel comfortable and responsive for you, so when it's time to make a decision in the pro shop, you can choose wisely. Experimenting with different brands will also provide insight into what shaft length and grip work best for your golf swing. Best of luck as you get started on the green!
Make sure to use the correct grip when swinging
If you're looking to improve your golf game, the best place to start is with your grip. It is essential to use the correct grip in order to ensure a better score and maintain accuracy on the course.
Not only will you hit longer and straighter shots but also more consistent ones too. When practicing your grip, try using completely different hand sizes to get familiar with a variety of clubs; this will give you an edge on different shots and situations.
Namely, the overlap golf grip, the interlock grip, and the 10-finger grip are all popular among pros and amateurs alike so give them a try to find out which works best for you. If you do, you'll be sure to see an improvement in your scores.
Keeping a good stance and posture will help you make your swing more consistent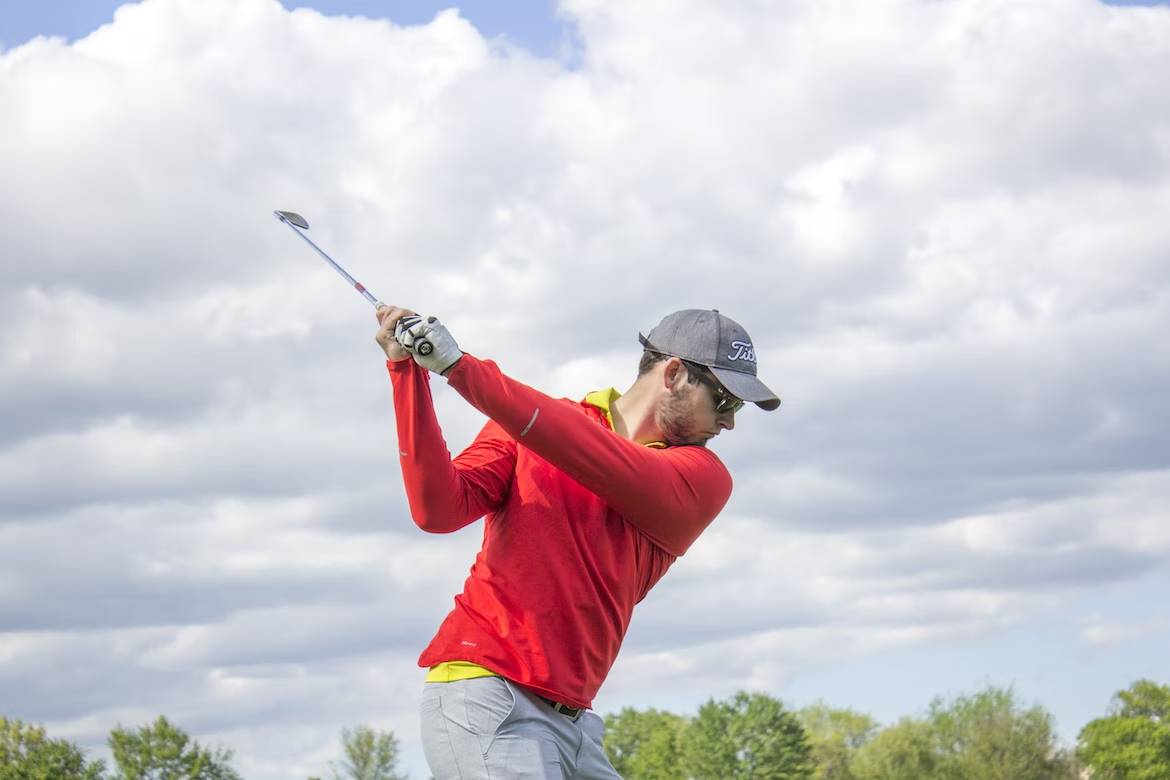 Does your golf game need a bit of an upgrade? Before you start looking into any new gear or practicing back-breaking drills on the driving range, let's first focus on one of the fundamentals of golf – proper stance and posture.
Taking the time to make sure your legs are evenly spaced and your head is in line with the top of the ball can make the world of difference in your shots. Getting into good positions makes it much easier to maintain balance throughout your swing, optimizing power and accuracy.
So if you're looking for ways to improve your handicap, don't underestimate the importance of good stance and posture — it can take you far in life…and in golf.
Improve your short game by mastering putting, chipping, and pitching technique
Improve your golf score with the smart practice of three main techniques: putting, chipping, and pitching. Mastering control over these elements of the short game can quickly improve your scores and give you more confidence on the course.
Every golfer underestimates the importance of short-game execution; when it comes to golf performance, few skills pay off better than being able to navigate these three maneuvers with accuracy and stability. Put in some time on the green and watch as your handicap dives! With a bit of extra effort, prepare for lower scores and less frustration on the links.
Utilize visualization techniques to imagine hitting the perfect shot every time
If your golf game is in need of improvement, visualization techniques can be an incredibly useful tool to help you hit the perfect shot every time. Visualizing is a powerful way of training your brain and body so that when it actually comes time to execute, you'll have the confidence to make a great shot.
Start by closing your eyes and imagining yourself on the course. Think about how it feels with each club in your hands, how it looks when you hit the ball with perfect form, and the sound and sensation of hitting it exactly where you want it to go. You can even imagine celebrating a hole-in-one or sinking that tricky putt after putting in all the hard practice.
Improving your golf game is an ongoing journey that can take years of dedication. By following these useful tips and tricks, however, you can make huge strides in helping to improve your golf score. From getting the right set of clubs and practicing your grip to mastering the short game and visualizing the perfect shot, there are a lot of aspects involved in golfing that need to be combined for you to really become successful.
Additionally, taking lessons with a professional golfer is always beneficial in keeping on track with your practice schedule. With patience and perseverance, you are sure to hit those difficult shots with accuracy as you look forward to improving your golf score.