Are you looking for the best classes to learn Inkscape in 2023? If so, you've come to the right place! Here, you'll find Best Online Inkscape Classes & Courses that are both free and paid to help you master Inkscape. So, grab your mouse and get ready to learn – it's time to become an Inkscape pro! 
In case you're wondering, Inkscape is an open-source vector graphic design editor for GNU/Linux, Windows, and macOS that allows users to create and edit complex graphics. It's an excellent program for creating illustrations, logos, and icons, with many competitive features.
If you want to learn Inkscape, these are the best courses for you.
Best Online Inkscape Classes to Become a Pro at Graphic Designing

When you want to learn about how to use a program, what's better than learning it in the program itself? Inkscape offers a range of resources for graphic design enthusiasts who wish to extend their horizons and learn using the program from scratch. 
On Inkscape's official website, you'll find written tutorials, video tutorials as well as links to books and manuals that will help you get a grasp of the graphic editor platform as a beginner. So whether you want to understand the basic commands, some tips, and tricks, or you want to get the hang of the keyboard shortcuts, Inkscape's official website has it all.
Price: Free
Video: Available 
Duration: Self-paced
Certificate: NA

Instructed by Mike Rankin, a design professional for over 20 years, this is an end-to-end course that covers everything from program installation to printing and web output. Understand the technicalities involved in working with vector paths, drawing shapes, and adding colors, patterns, and gradients to drawings. This course also takes you through the process of scaling, rotating, and skewing to transform any object, along with creating special effects with the software's nondestructive filters.
Since it doesn't require you to have any prior experience with illustrator or other similar design software, this training module is perfect for beginners who intend to get practical exposure from one of the leading design experts.
All you need to do is open Inkscape and start imitating!
Price: 1 Month Free
Video: Available
Duration: 4+ hours
Certificate: Available

Whether you're a beginner just starting out in the field of graphic design or an established professional, this program teaches everything you need to know to work with Inkscape efficiently. 
Divided into 30 lectures, this Inkscape course extensively explores all the tools you may need to understand and use the open source graphic design software on an amateur or even professional level. The course begins with the basic tools and understanding of how Inkscape works and gradually delves into the more complex tools to create elaborate designs. Moreover, the course instructor István Szép shares some interesting tips and tricks, in addition to .svg files, so you can learn, experiment and ace Inkscape!
Price: Paid
Video: On-demand 
Duration: 4 hours
Certificate: Available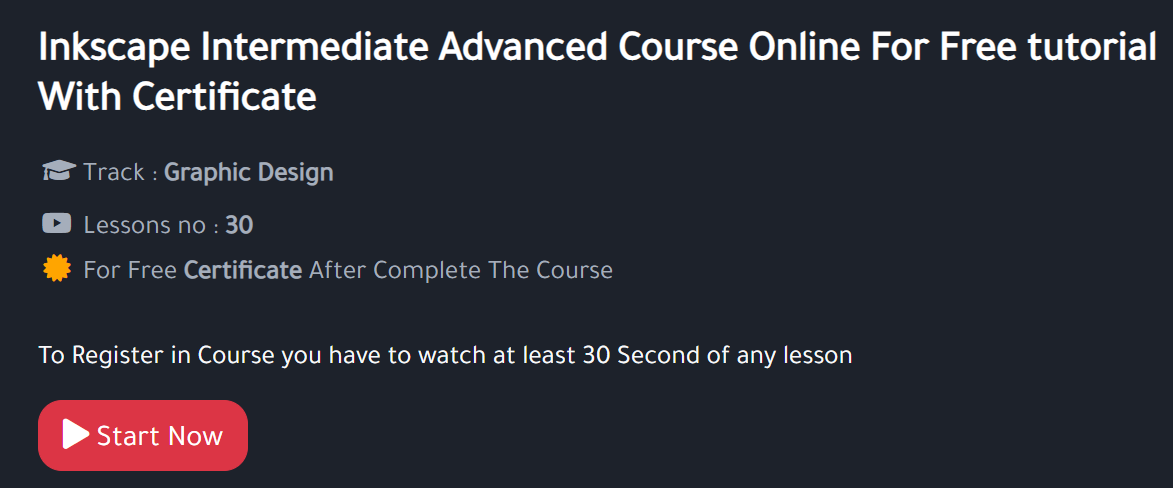 This online Inkscape course offers a collection of elaborate video tutorials that walk you through the various design tools available in open-source design software. In every video tutorial, you will draw a vector graphic design and progress toward making more challenging designs, such as 3D blocks, spheres, and logo designs.
Practical involvement in every tutorial will expose you to every aspect of Inkscape and make you a confident graphic designer, which is all you need to kick-start your career in the field of design. 
Price: Free
Video: Available
Duration: 5+ hours
Certificate: Available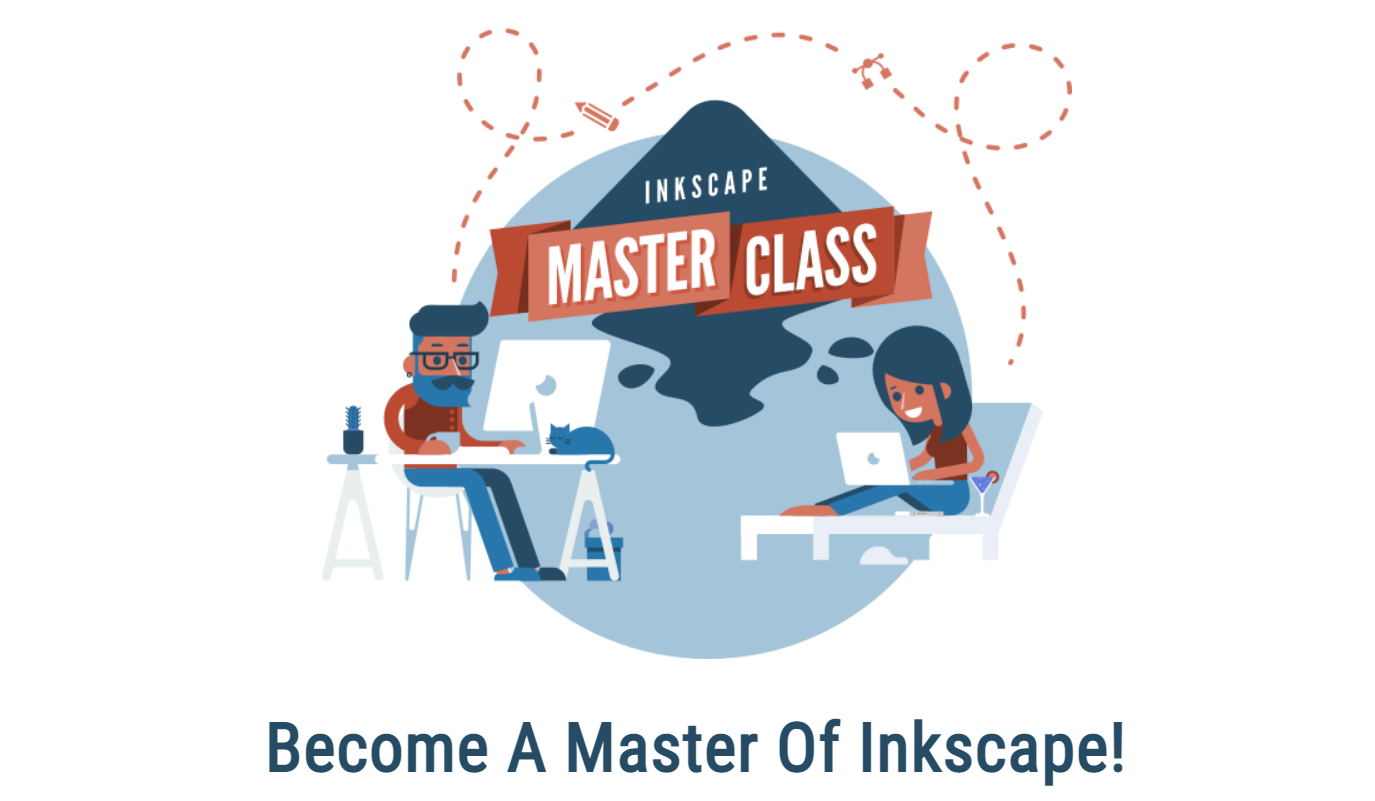 The Inkscape Master Class is like a flexible, interactive user handbook that is available to you in video format. In this comprehensive series of more than 60 videos, you will go through every tool, feature, and functionality in Inkscape and understand what it is, how it operates, and why it is helpful. 
This course is divided into 11 sections, each delving into the various functionalities, tools, objects, effects, and paths. At the end of every lesson, you will be given the opportunity to test your skills with an optional module quiz. Instructed by Nick, a graphic designer with over 10 years of experience, this course will equip you with a thorough grasp of what Inkscape has to offer, as well as how to utilize it yourself.
Price: Paid
Video: Available
Duration: 2.5 hours
Certificate: NA

By enrolling in this course, you'll be able to create drawings with crisp lines and vibrant colors and develop the ability to scale them indefinitely with ease. This Inkscape course will acquaint you with Inkscape's most common tools, including shape tools, selection and editing tools, pen tools, and text tools. You'll also learn how to pan and zoom within Inkscape.
What's more, this course includes split-screen videos in which your instructor, Jonathan Owen, will walk you through each step, ensuring that you grasp everything practically.
Price: Free
Video: Available
Duration: 2 hours
Certificate: NA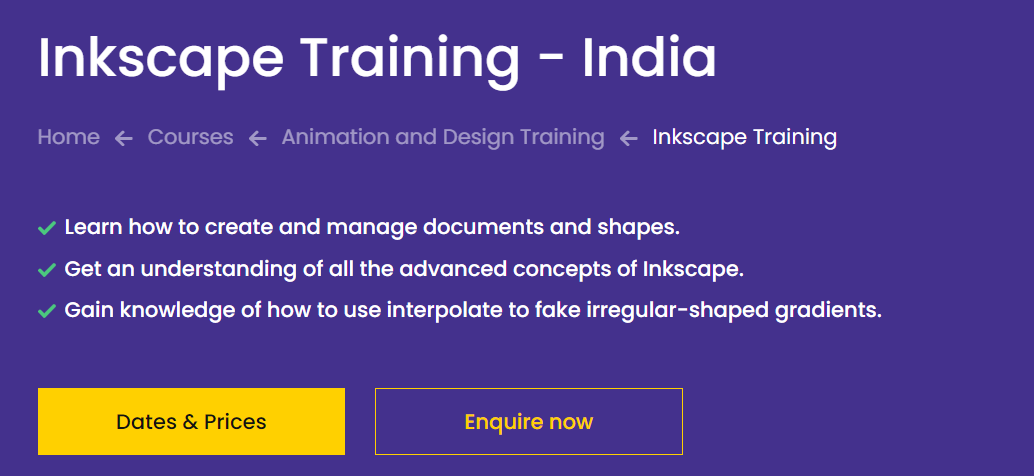 The Knowledge Academy's Inkscape Course is intended to offer a thorough understanding of how Inkscape works. Designed for anyone who is interested in learning how to create 2D scalable vector graphics, in this course, you will learn to create documents and various shapes, such as rectangles, ellipses, stars, and spirals. Furthermore, you will become acquainted with sophisticated Inkscape concepts such as pasting methods, boolean operations, and inset and outset.
You can take this course in two ways. In the online self-paced approach, you get a standard 90-day access that can be easily extended upon request. On the other hand, the online instructor-led module allows you to take the course from home with a live instructor and interact with the trainer and other delegates.
Price: Paid
Video: Available
Duration: 8 hours
Certificate: Available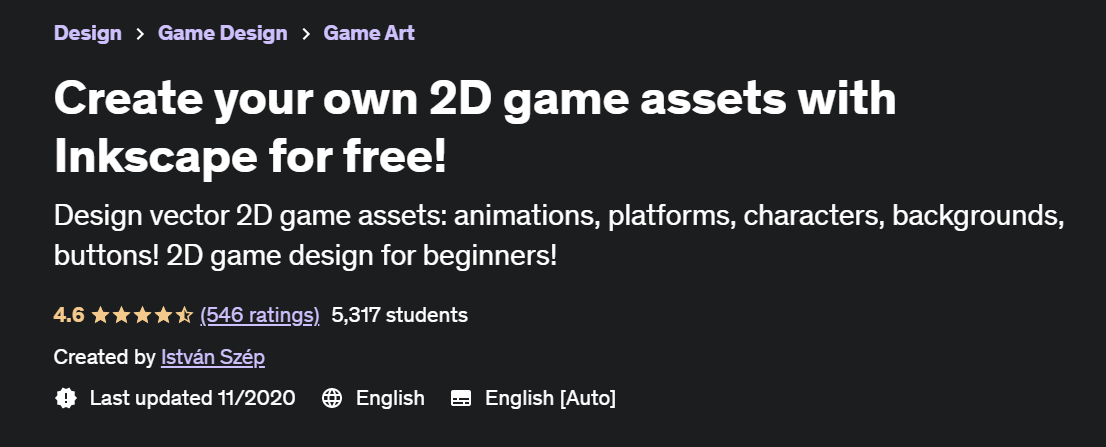 While there are many game assets accessible for download, you may have difficulty locating ones that are appropriate for the game you're creating. That's when Inkscape, a free vector graphics tool, really shines.
This online Inkscape course by Udemy dives into creating scalable, highly versatile game assets usable in 2D mobile games and crafting art for animations, platforms, and characters.
Price: Paid
Video: On-demand
Duration: 4.5 hours
Certificate: Available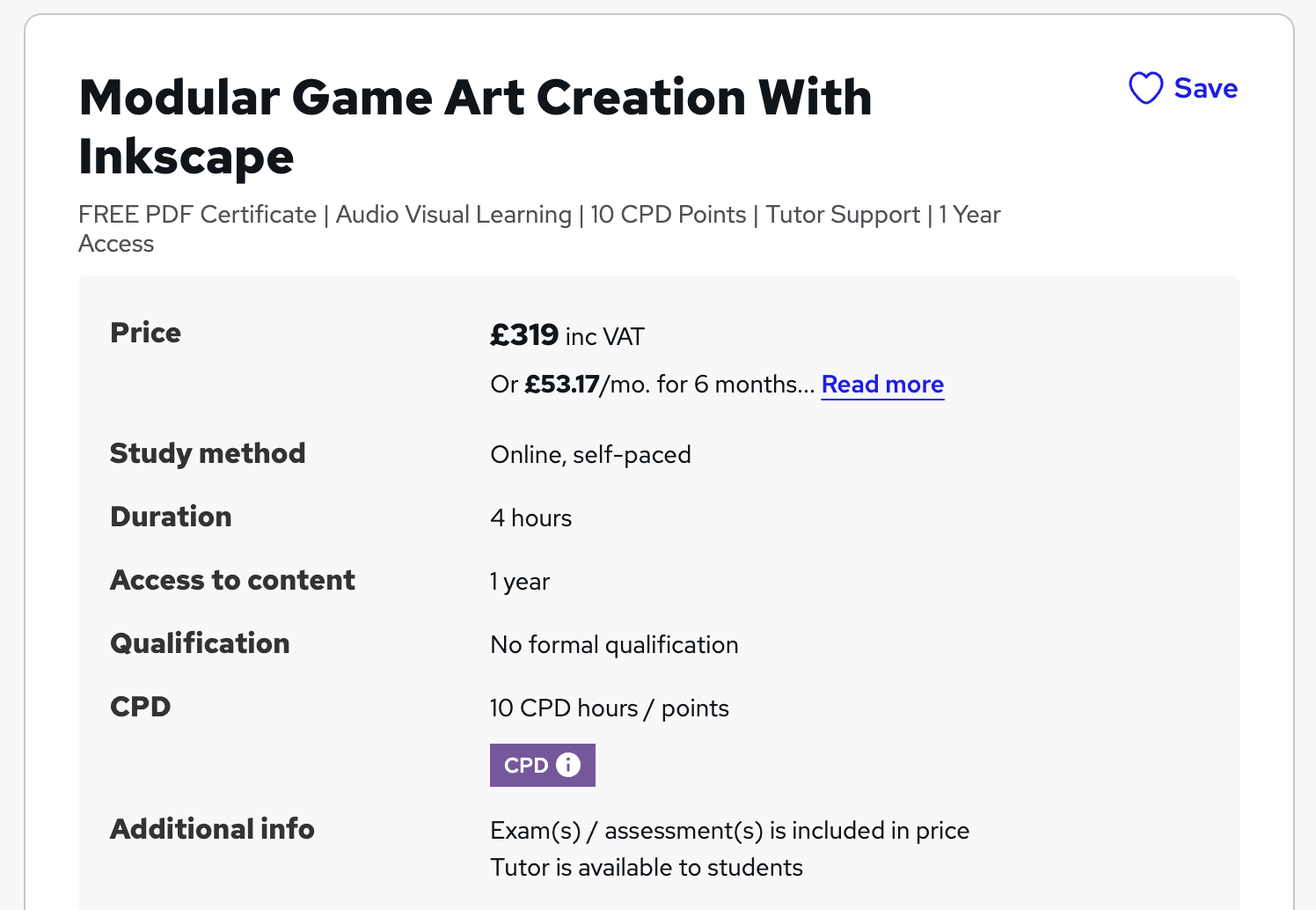 This Modular Game Art Creation with Inkscape course is composed of a number of easy-to-digest, in-depth modules that will equip you with a thorough, expert level of proficiency. 
Delivered through Janets' online learning platform,  you may access the course whenever and wherever you choose and from any internet-enabled device. With no experience or qualification prerequisites, it's a fantastic course if you already work in this field or wish to pursue a career professionally. You may also complete the course at your own pace.
Price: Paid
Video: Available
Duration: 4 hours
Certificate: Available
Conclusion
These 9 best Online Inkscape classes & courses will provide you with the knowledge and skills necessary to create designs of a high caliber after introducing you to Inkscape's features and capabilities. The mentioned online Inkscape courses are ideal for anyone who wants to learn how to use Inkscape for their own creative projects or for those who wish to pursue a profession in graphic design.
So, selecting one of these online Inkscape classes will provide the groundwork for you and guide you ahead in your journey of learning Inkscape.