Acting is a dream career for many people. But it takes commitment, hard work, and time to succeed in this field. If you want to become a professional actor, you can enroll in online acting classes that offer quality training.
Attending online acting courses can help talented actors to upskill and gain credibility in the acting industry. Whether you are an aspiring television star or a renowned film actor, anyone can enroll in these courses to learn modern on-camera acting techniques and hone the art of auditioning.
We have compiled a list of the best 10 online acting classes & Training you can pursue to launch your career in this field. We have also listed the features, pricing, and pros and cons of these courses to help you get a clear picture.
List of Best Online Acting Classes & Training
Here is a list of the Best Acting Classes you can pursue to hone your acting skills and gain expertise in this field.
Course Duration: 4 hours 45 minutes
Pricing: Paid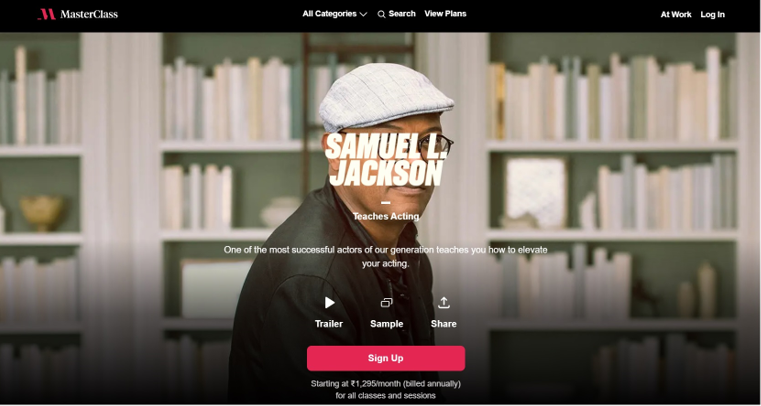 Learn the basics of acting from one of the most renowned, Oscar-nominated actors in Hollywood, Samuel L. Jackson. He has starred in films like Pulp Fiction and Die Hard.
By enrolling in this course, you get to learn the work ethics of the acting industry and gain experience in improvisation, monologues, audition technique, and voice and movement.
What You'll Learn:
How to improve core acting abilities
How to perform confidently in auditions
How to work effectively with crew members, directors, and casting agents
Pros:
Opportunity to learn from a legend
Offers practical knowledge
Helpful workbooks
Cons:
It can be a bit difficult to understand
Somewhere lacks technical aspects
Course Duration: 2 hours 30 minutes
Pricing: Paid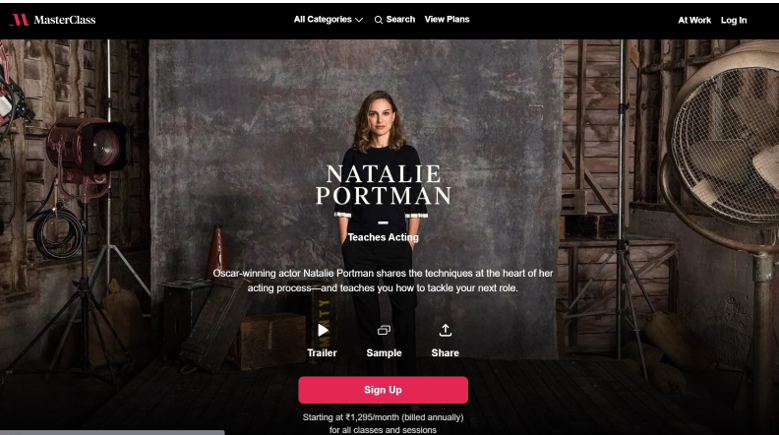 This course is one of the best acting classes conducted by Natalie Portman. She is an American actor who started her acting career at the age of 12. She is among the youngest actors to have won an Academy Award.
In this course, she teaches how to employ essential and unique skills to create memorable and realistic characters. You're also taught how to use empathy to create a connection between the character and the audience.
What You'll Learn:
The technique of getting acquainted with your character
Develop acting skills
How to change the dialect or accent as per the character's requirement
The art of improvisation and truth-telling
How to act in front of a green screen
Pros:
Perfect for beginners as well as advanced-level learners
Informative case studies
Variety of assignments, including practical application
Attention to specific techniques
Cons:
Course duration is less compared to other online courses
Limited focus on teaching in-depth acting
Course Duration: 6 hours and 25minutes
Pricing: Paid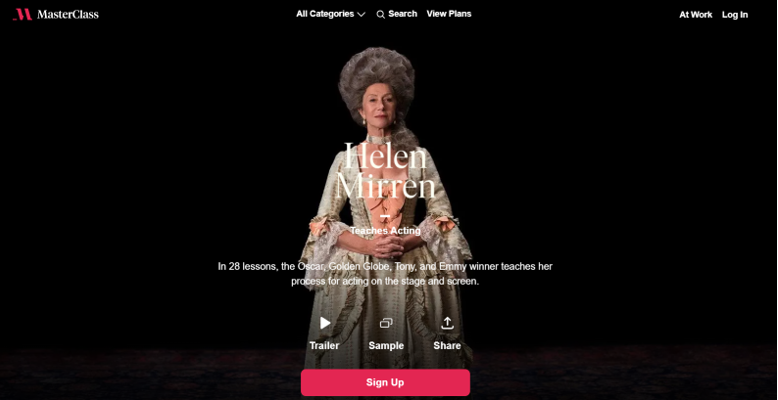 You can enroll in this course if you want to learn theatre acting. The course is conducted by Helen Mirren, who is renowned for her Shakespearean performances in the theatre. She has bagged 2 Golden Globes for her roles as Elizabeth I & II.
In this course, Mirren gives an insight into the art of perfecting characterization. She also shares her personal growth as a theatre artist and how she perfected her acting skills.
What You'll Learn:
How to connect with the audience
How to break down and interpret a script
How to develop different types of acting skills for TV or films
About "naturalism"
Pros:
Offers in-detailed teaching of various acting techniques
Join an interactive community
Offers helpful tips and tricks to improve acting
Perfect for beginners and seasoned actors
Cons:
Acting workshops aren't available for this course
It contains certain vague advice
Course Duration: 40 minutes
Pricing: Paid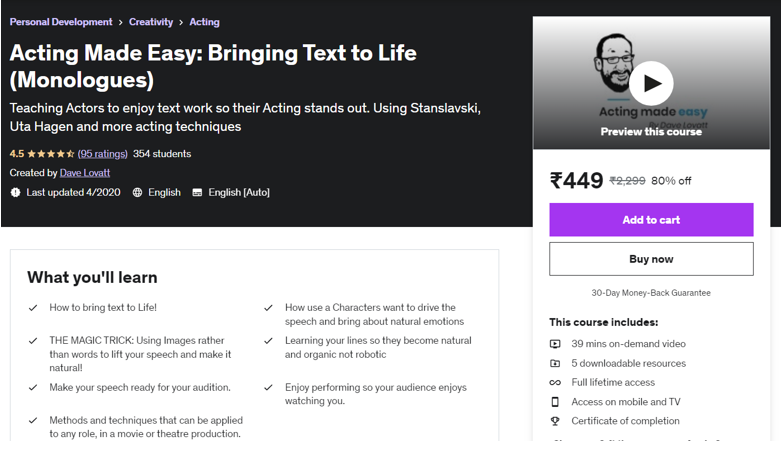 This course is one of the best acting classes on Udemy. The acting class is conducted by Dave Lovatt, who has been a professional acting instructor for the past 18 years. Dave shares his knowledge about acting and teaches acting aspirants how to bring a script to life. He also teaches fundamental acting techniques along with various practical notes about acting.
What You'll learn:
How to perform your best in an audition
Methods and techniques of acting applicable to both movies and theatre
How to use the power of imagery to improve your speech
How to present your character most naturally- to connect with the audience.
Pros:
A simple course, perfect for beginners
A short course: does not take up much time
Provides an insight into preparing powerful monologues
Teaches dialogue delivery in the best manner
Cons:
Not valid for advanced actors
It only has a few worksheets or case studies.
Duration: 2 hours
Pricing: Paid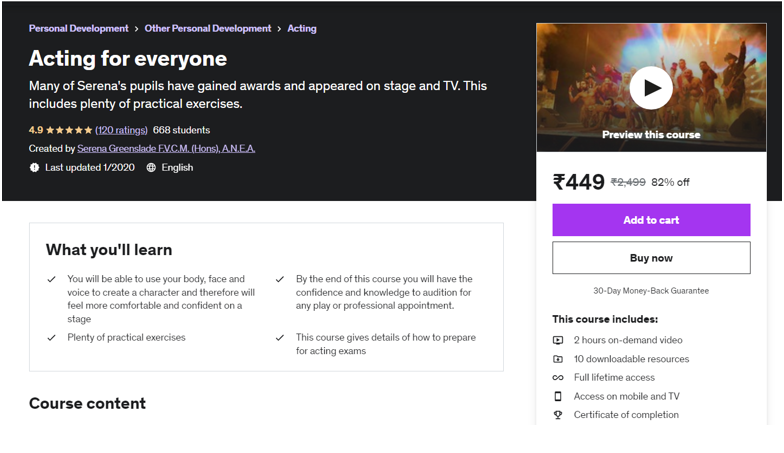 This is one of the best acting classes for those looking to take their first step into acting. The course features different acting techniques that master instructor Serena teaches. She has over 29 years of experience as a teaching and drama coach.
In this course, she teaches how various body parts can be used to express different types of emotions. In addition, this online acting class gives aspiring actors an overview of what it means to be an actor and how to build a personal foundation for acting.
What You'll Learn:
How to use different parts of your body to express different types of emotions
Gain the confidence to give any audition professionally
How to stay calm and not have stage fright during a performance
An insight into the details of acting examinations- how they work and how to prepare
Pros:
It offers an enormous amount of exercises
Offers a lot of practical teaching
Perfect for beginners
Contains short lessons
Cons:
It is not very theoretical
Course Duration: 7 hours
Pricing: Paid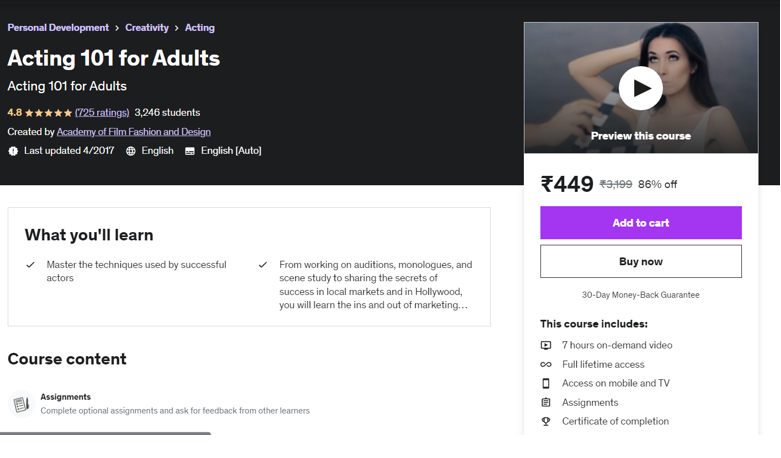 This is a popular online acting class conducted by Aaron Jackson, a renowned Hollywood actor. Aaron teaches how to integrate emotions into your role through this course.
In this acting class, you will learn how the acting industry works, tips and tricks to ace auditions, prepare your scripts, and find good agents. Many students have perfected the most famous acting techniques and improved their performance skills by enrolling in this course.
What You'll Learn:
How to pave the way through resumes to audition
Develop your core acting skills
Delve deep into understanding a character
How to prepare for your auditions
Pros:
Learn from the industry's best
The training is simple, relevant, engaging, and easy-to-understand
It is a detailed and thorough guide
Cons:
Some of the additional resources mentioned in the course are inaccessible
The course is a bit inclined towards the business aspect of acting
Duration: 44 minutes
Pricing: Paid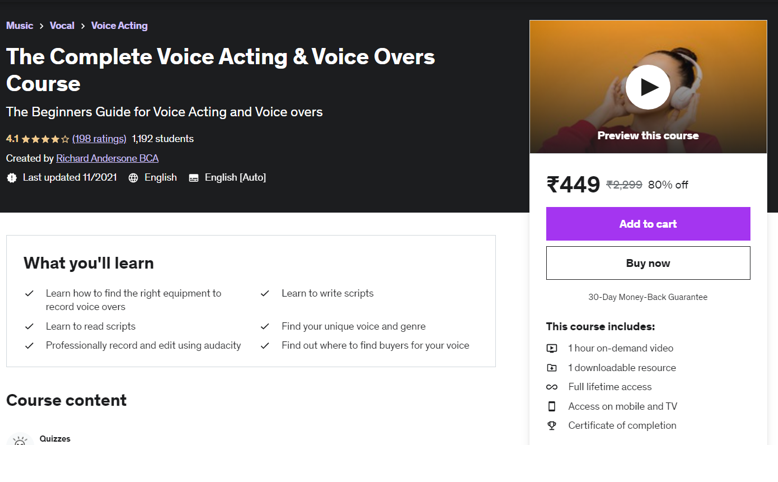 This is one of the best acting classes you'll find on the internet to learn voice acting. In this course, award-winning instructor Richard Anderson teaches you how to write excellent scripts and use your voice to express different emotions. You're also taught how to record voiceovers like professionals. The tools and techniques used in this training can be applied instantly. The instructor also answers doubts and questions promptly.
What You'll Learn:
Which equipments are the best to record the perfect voiceovers
Find your unique voice
How to sell your voice
How to record and edit your voice professionally
Pros:
The perfect class for budding voice-actors
Suitable for beginners
It contains various information, demonstrations, and examples
Cons:
Deals more with the technical side of voiceovers
Not suitable for advanced learners
Duration: 2 hours and 22 minutes
Pricing: Paid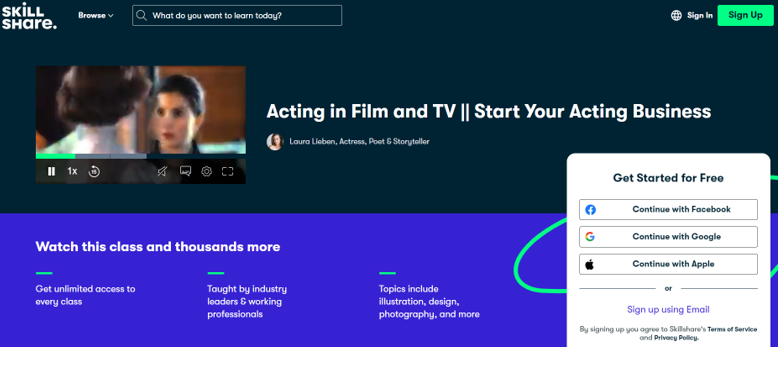 Enrol in this top-rated acting class to fulfill your dream of becoming a professional actor. This acting class is ideal for both pros and amateurs. The instructor of this course is Laura Lieben, a renowned poet, actress, and filmmaker. You can take up this course to learn fundamental acting techniques via exercises, scene study, and monologues.
What You'll Learn:
Provides good knowledge to help you get into the acting industry
How to market your business effectively
What tools you'd require to get started with your acting career
Discover your personality
Pros:
It helps you understand the working of the acting industry
It gives you an idea of how to start a career in the industry
Perfect for beginners who have no idea how to get into acting
A simple, detailed, yet comprehensive course
Cons:
This course might not provide the perfect blueprint to acing an acting career if you're outside the USA
Less theory-based than other similar courses
Course Duration: 10 hours
Pricing: Paid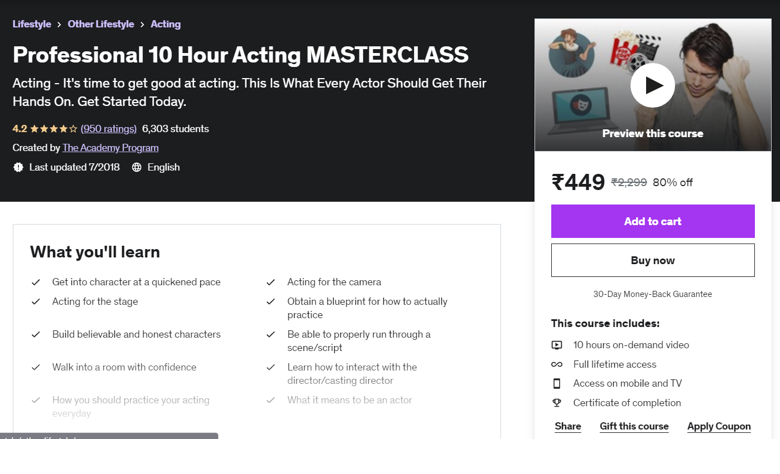 This course has been created by The Actors Academy. He is a professional actor and YouTuber with over 200k+ subscribers. His YouTube channel has some of the best acting tutorials and lessons.
The course is explained in a very simplistic manner. It covers acting on stage and screen, movement, and voice. You also get to learn how to secure auditions and market yourself.
What You'll Learn:
How to get and stay in character
The difference between acting on stage and in camera
How to show confidence and maintain professionalism
How to prepare for auditions
Pros:
Easy to follow
Has lifetime access
Offers practical advice on the acting career
Informative and helpful content
Cons:
It contains a very limited number of lessons
It can be repetitive at times
Course Duration: 40 minutes
Pricing: Paid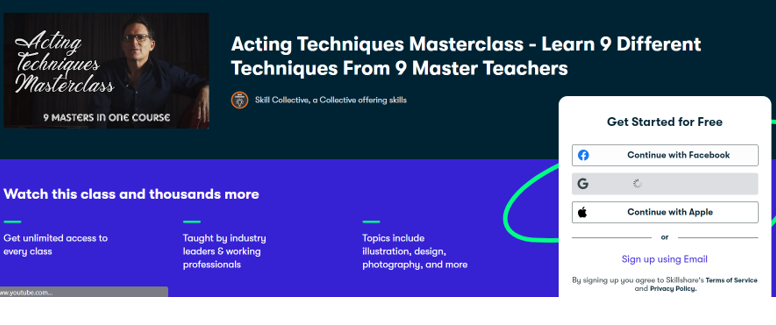 You can take up this course if you're searching for the best acting classes online. Leon Clingman, an acting coach with 28 years of experience, is the instructor of this course. Clingman is a renowned actor who has starred in movies like The Mauritian and The Vagrant Queen.
In this acting class, Clingman teaches 9 different acting techniques. All individuals must submit an assignment at the end of the course to get the certificate.
What You'll Learn:
How to use different acting techniques at different places
How to work with 9 different acting techniques, in detail
Pros:
Best acting classes for beginners
Excellent acting techniques
Uses great examples
Offers insightful, practical exercises
Cons:
More focused on older acting styles
It is a course dealing with the overview of acting methods
Conclusion
Amateurs who dream of debuting on the silver screen can take these best acting classes online. These courses are interactive and conducted by instructors having years of experience in cinematography, screenwriting, and acting.
Enrolling in these courses gives you vital advice and tips on advancing your acting career and building believable characters.
You're also taught how to become proficient with acting skills, get into characters quickly, and master auditions in these courses. So enroll in these courses now to kickstart your acting career.
Frequently Asked Questions
What Factors Should You Consider when Choosing an Online Acting Class?
When choosing an online acting class, you should consider various features such as teachers' specialties, course duration, reviews, course material, and lesson plans.
Which Online Acting Class Is the Best?
Many online acting classes are dedicated to direction, video editing, and screenplay. When choosing an online acting class, you should ensure that it aligns with your goals and the skills you want to learn.
What Are the Benefits of Taking Online Acting Classes?
Online acting classes give you the flexibility to partake in the exercises and watch the videos at your convenience. In addition, you get to learn from world-class instructors at your own pace.