Preparing your furry companion for the chilly weather is always important. Like us humans, our fur babies are not immune to the cold.
Despite having their own fur coats, pets still need a little extra insulation. Having the proper winter clothing not only makes them look more adorable, but also allows them to stay warm and comfortable indoors or outdoors.
Whether you plan to stay at home or be adventurous with your pooch this cold season, here are the best winter outfits. From jackets and sweaters to boots and caps, we have everything for your four-legged friend to stay dry, cozy, and fashionable.
6 Best Winter Outfits for Your Pooch
1. Dog Jacket or Coat
A dog jacket or coat can give your dog extra warmth and protection during a stroll in the cold winter months.
Your dog's coat should cover its entire body from the base of the collar on the neck to the base of the tail to keep its body warm. You can also get one with a little shortness or length.
There are two distinct styles of dog coats: blanket style and jacket style.
A dog jacket-style coat should cover your pet's chest area, shoulders, stomach, and thighs. Meanwhile, a blanket-style coat rests on top of the dog's back and hangs down on each side of the dog's shoulder.
Regardless, a well-fitted coat shouldn't restrict or prevent your fur baby's mobility or make them uncomfy.
2. Sweaters and Hoodies
Dog sweaters and hoodies are common winter clothing items, which provide warmth and comfort for your pet during cold months. These apparel pieces are also offered in various colors, sizes, and designs to fit different breeds and personalities.
When choosing a dog hoodie or sweater, ensure it fits your dog appropriately. A garment that is too tight or loose can make them feel uneasy. Pick a simple sweatshirt or hoodie to slip on and take off.
3. Boots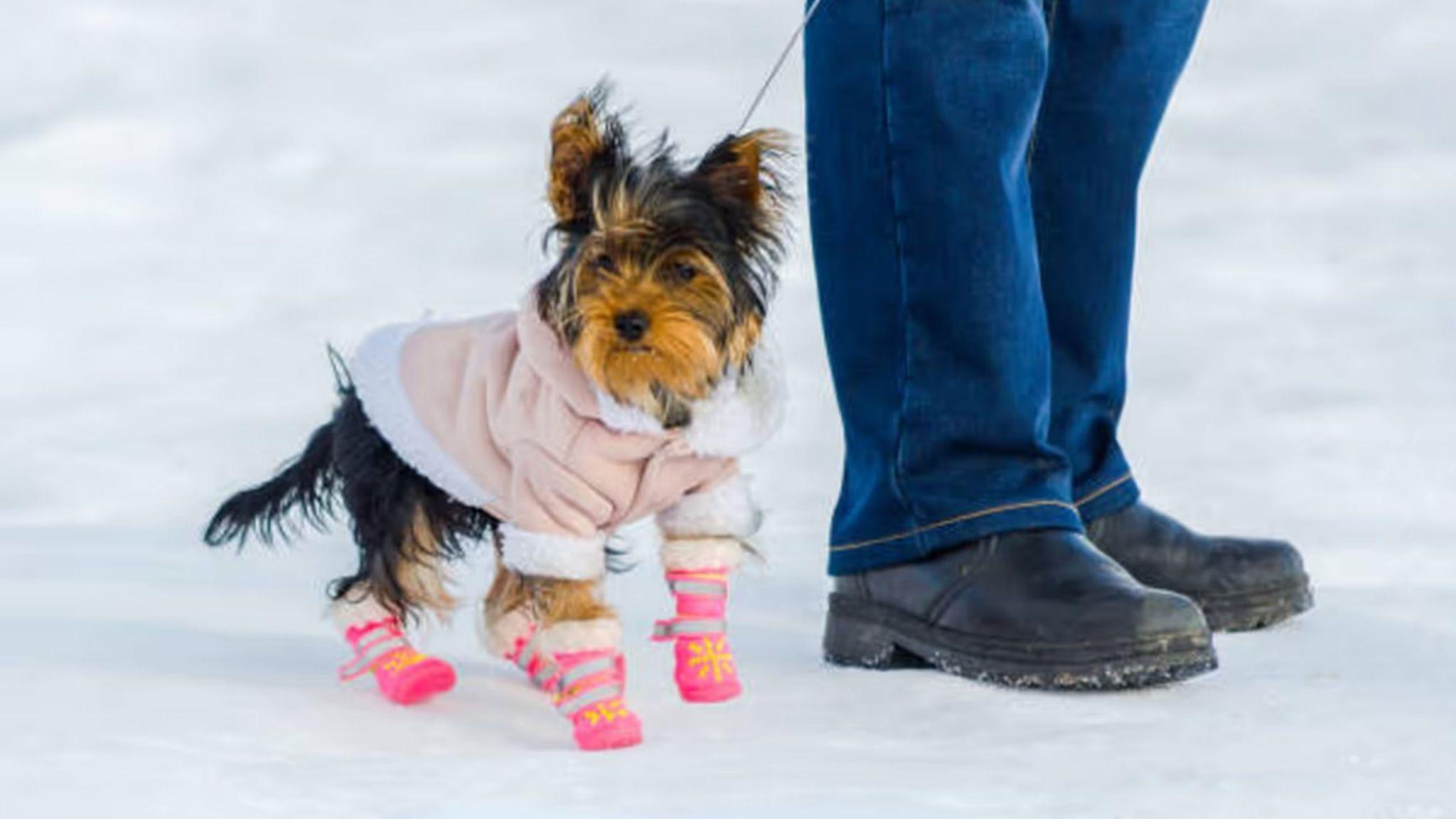 Your dog's paws can be sensitive and prone to injury, especially during extended periods of time in inclement weather. However, wearing dog boots can protect their paws from winter perils like snow, ice, and other dangers.
Grass allergies can also be a problem for some dogs. Even if the boot doesn't shield you from pollen, it can be a barrier between you and grass.
Dog boots may make them seem finicky to you. But it's essential for a very active dog and in the wintertime. If your dog engages in increased physical activity in chilly weather, there is a high risk of injury.
So, choose good pair of dog boots to keep your pet warm from the harsh cold and injuries.
4. Scarves and Snoods
Another winter adornment you should get for your furry pal is scarves and snoods. These cover and shield their neck and chest from the cold, giving them extra warmth and protection during the winter.
Initially made for thick and wet Spaniel ears, snoods quickly gained popularity with other breeds as well. Some common warm fabrics used in dog scarves are wool, fleece, or cotton. These also offer a variety of designs and textures when knit, crocheted, or weaved.
Always keep an eye on your dog when donning a scarf to avoid mishaps or injuries. Certain dog scarves could also have a second layer of insulation lining them for added warmth.
In addition, scarves and snoods give their wardrobe a little flair and personality. They wear it alone or pair it with a dog coat or hoodie for added warmth and insulation.
On the other hand, snoods are excellent for drying a dog's ears, neck, and head. Wearing a snood also calms their anxiety from fireworks noise, keeps older dogs warm, and keeps your dog's ears out of his food.
5. Dog Snowsuits
A dog snowsuit is a type of insulated pet clothing that provides more protection than a typical coat. Snowsuits are typically constructed of at least two layers: an insulating layer inside and a waterproof and windproof layer outside.
Some dog snowsuits are for moderately cold temperatures and have additional insulating layers of materials like foil or wool. Meanwhile, others are for extremely cold temperatures.
Keep in mind that not every dog breed will require a snowsuit. Breeds with thick double coats, such as Huskies and Malamutes, offer all the weatherproof protection they require.
However, if you own breeds with single coats, like a Chihuahua or a Greyhound, a snowsuit can make it more comfortable to be outside in colder weather.
6. Dog Winter Hats
Finally, a dog winter hat is another winter outfit you should get for your pooch.
Like coats and snow boots, winter hats protect your pet from freezing temperatures and keep them toasty. Wearing hats also prevents them from getting frostbite and hypothermia.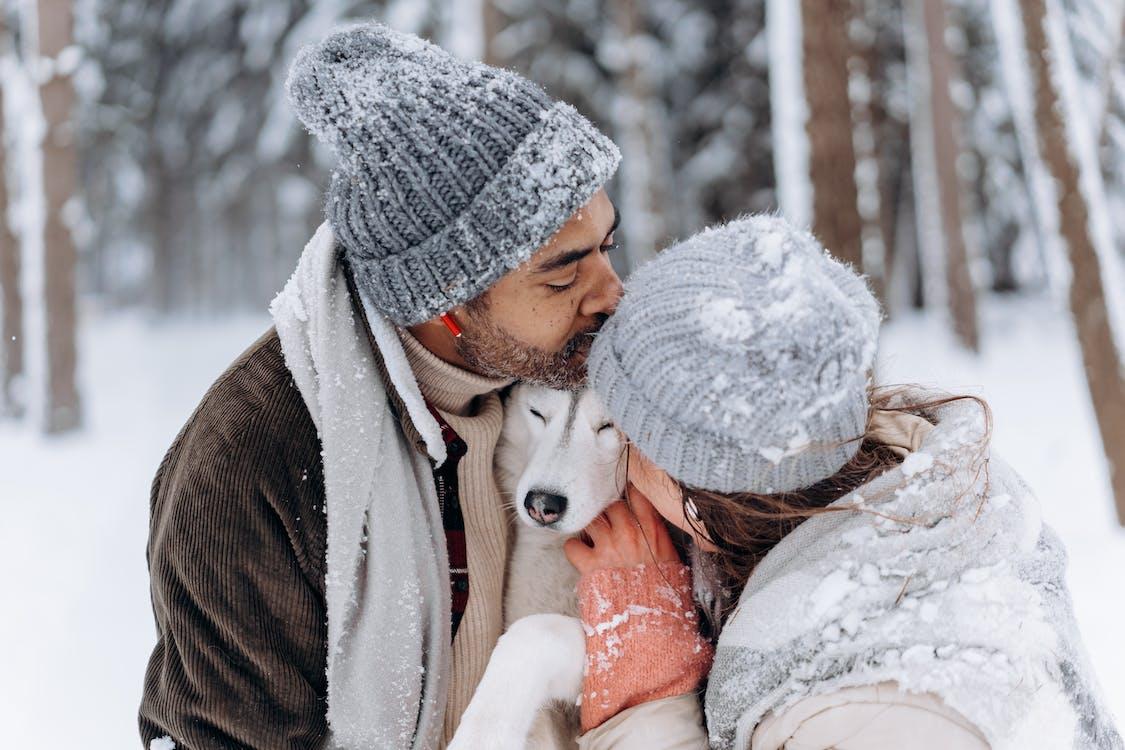 Finding a dog hat that fits your pooch appropriately is also important. A too-tight hat can prevent your dog from moving or breathing. While if it's too loose, it might not keep your dog warm enough.
Final Thoughts
Providing your furry best friend with the appropriate winter clothing is essential for their comfort, health, and general well-being throughout the chilly months. Dog hats, scarves, sweaters, and hoodies are common winter accessories that contribute to your dog's warmth and safety.
It's also important to pick clothing that is the proper size, fabric, and style for your dog's breed, size, and temperament. Always keep an eye on them to maintain your dog's comfort and safety.
With these winter outfits, your pet can now participate in outdoor activities while feeling warm and comfortable all season.