It's boring to only use the skins and items that you get while playing. When you don't get anything good-looking for a long time, it can be demotivating. Skin trading exists to eliminate the issue and bring more diversity to your gaming experience. So, what are the best skins for Rust according to the 2023 ratings, and where to get them? Read below.
How can I exchange Rust skins?
First, let's clarify the point with an exchange. You can use several options to trade Rust skins, and each of them has particular pros and cons. The most popular are:
using the Steam marketplace;
searching for an intermediary.
The first option provides safety and a wide choice, but many players are disappointed by the fact that it's impossible to withdraw money from Steam. However, it is still one of the most widespread options for many players.
The second variant gives more freedom and flexibility about the financial aspect, but involves fees for transactions and potential security issues. Intermediaries, both individuals and some platforms, can attract players to conduct trades, but scam instead of exchanging or selling. However, not all of them are like that, and you can find an appropriate option based on general reputation, specific reviews, and experience.
What are the best skins in 2023?
According to DMarket, the most popular skins are diverse, for weapons and clothing. Some of the most interesting are:
Retrowave AR — a gun that reminds you of somewhere like Miami, where everybody's chilling so hard that colors become almost acidic.
Azul Python — the revolver is fine art, both literally and metaphorically: not too colorful but still exceptionally attractive;
Atomic LR — an assault rifle that is part of the Atomic set and looks like comic book covers;
Raptor Facemask — looks both creepy and fascinating as it's decorated with greatly composed colors and elements, creating the look of some fantastic animal's skull;
Dragon Mask — reminds you of some Chinese ethnic masks, colored with great patterns that make you look eerie;
Emerald Knife — a skin that transforms a regular knife into a brutal yet elegant weapon because of its handle with large signets emblazoned with large stones.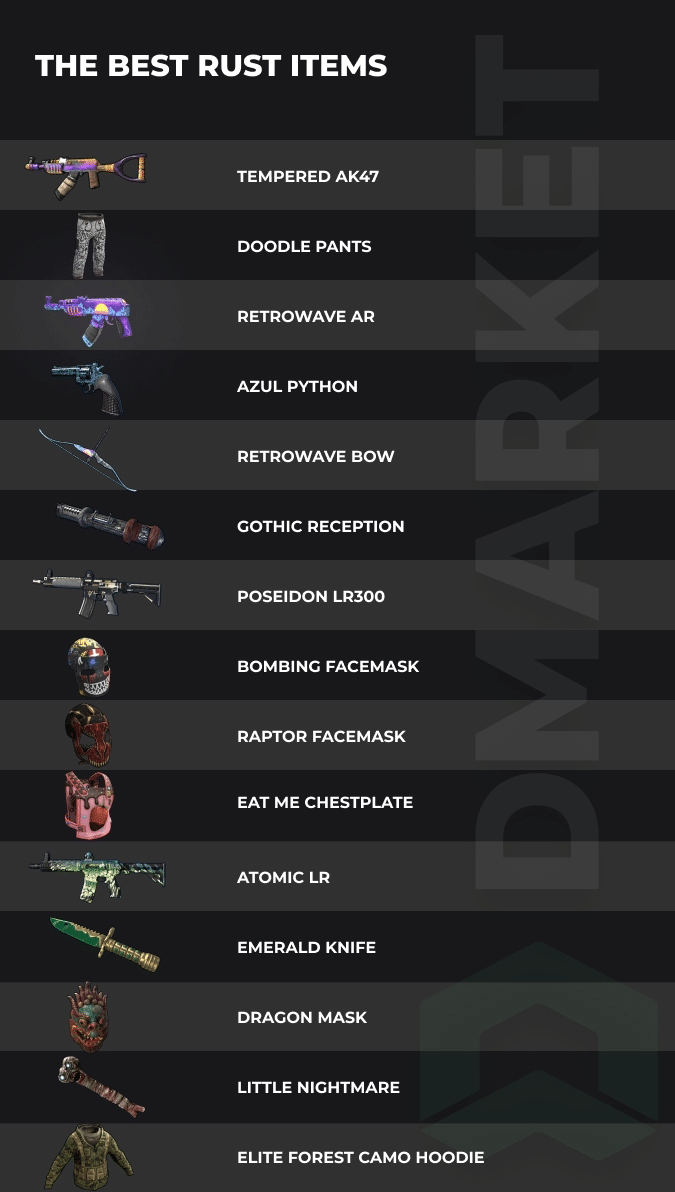 Many other skins are popular too, but they are less bright or more specific.
Benefits of DMarket
We mentioned that this rating is composed according to DMarket statistics. But what makes people trade through this platform and stay calm about all the questionable aspects?
First is the Trustpilot rate. DMarket has 4.6 stars on Trustpilot and as most users believe them, they join the community. Considering the platform has worked for more than 10 years now, and the community is quite large, you can suppose that the marketplace is trustworthy.
Second is the financial freedom and ease that the platform provides. Most risky situations are prevented, so people can use deposits and other functions easily. In addition, DMarket charges quite moderate fees for transactions, so using this intermediary is beneficial.
On top of that, the marketplace is available through various platforms and on iOS and Android. It provides great flexibility for users.
Generally, it's easy to trade Rust skins if you've found a good marketplace to work through. DMarket provides meaningful guidance in any aspect, from registration to using API or cryptocurrencies. Benefit from this flexibility and get your best skins now!