BronxArtSpace Exhibits Latin American Art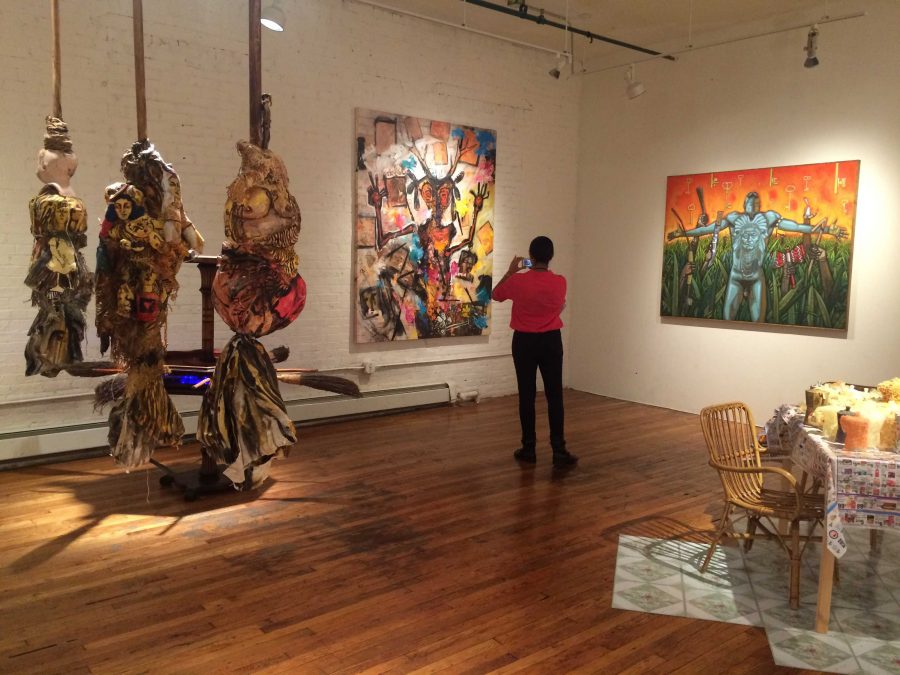 By Bailey Hosfelt 
BronxArtSpace, a thriving one-room gallery located in the Mott Haven neighborhood, kicked off the fifth Bronx Latin American Art Biennial last Friday with an opening that revealed a cohesive and culturally rich instillation of artwork. During the three hour reception, visitors walked throughout the art-filled space, mingled with friends and enjoyed an array of hors d'oeuvres.
Entitled "I am one of those people that…," the inaugural event featured 13 contemporary Latin American artists hailing from the Bronx and abroad. This exhibit is part of a larger network of locations in the New York area participating in the Biennial's theme. With a wide range of stylistic and technical approaches represented, those in attendance were able to view everything from oil on canvas paintings to repurposed hardware with mixed media elements.
Alexis Mendoza and Luis Stephenberg, the curators behind this year's events, carefully selected artists for each gallery that they believed best represented the themed exhibition. The duo sought out works of art themselves in addition to evaluating submissions received through an open call. Artists provided their own interpretations of the themes and their experiences with various social issues, including migration, women's rights, political conflicts and discrimination. In other words, each piece of artwork filled the blank based on that individual's creative process.
Located in the South Bronx, BronxArtSpace is a part of the area that real estate developers are eager to gentrify. Last October, Keith Rubenstein, founder and head of the development firm Somerset Partners, threw a highly-publicized Halloween party in Port Morris, the waterfront neighborhood adjacent to Mott Haven. While the bash's official title was "Macabre Suite," the space had trash cans engulfed in flames and rusted cars riddled with bullet holes — a direct reference to the borough's crime-ridden past — as decoration. Attended by the likes of Kendall Jenner, Gigi Hadid and other A-listers, partygoers were encouraged to hashtag photos from the night with #thebronxisburning.
Many longtime Bronx residents were frustrated and angry, as they felt the party mocked the legitimate struggles the borough has endured in the past to promote commercial development. Linda Cunningham, director and co-founder of BronxArtSpace, who has been with the gallery since its birth in 2008, commented on the changing landscape as well as the area's art scene. "People get here and act like all of a sudden we are showing art and having a cultural presence, but this is not true." said Cunningham.
Stephanie Lindquist, assistant director at BronxArtSpace, noted that the gallery's presence has steadily grown since 2008, gaining funding from the New York City Department of Cultural Affairs and the Bronx Council of the Arts. On the brink of its 10-year anniversary, the gallery has been a mainstay in the Mott Haven neighborhood.
Cunningham referenced the SPEAK OUT exhibit the BronxArtSpace held last February as an example of the engaging artistic presence found in the South Bronx. Over 200 individuals flocked to the space to view artwork that shed light on racial tensions and institutionalized injustices. Cunningham remembered the opening was so crowded that people could barely walk through the gallery. "We've been having booming openings since 2012. This has nothing to do with the real estate development in this area," said Cunningham.
According to The New York Times article "The South Bronx Beckons," construction sites along the Third Ave. Bridge are set to become as many as six 25-story luxury towers within the coming years. A 1,000-square-foot-one-bedroom could rent for upwards of $3,750, more than twice the average asking price for an apartment of that size in the area. With potential developments a short five blocks from BronxArtSpace, members of the local community are wary of what will unfold in the years ahead.
"People come in all the time asking, 'Haven't we made the neighborhood better for you?'" said Cunningham, citing the frequent misconception that the arts scene in the Bronx is only now starting to flourish. "Those people are not going to care about this community, even this kind of art that is culturally really important."
Cunningham furthered that the Biennial not only provides incredible exposure for underrepresented and emerging Bronx artists, but also those from abroad who would not otherwise have the opportunity to show their artwork here. Artists whose work is displayed at BronxArtSpace are provided with both a resume builder and an opportunity to have their creations seen by a large New York audience. Jairo Alfonso is one of these types of artists.
Alfonso, originally from Cuba, has exhibited his artwork on a local and international scale since the early 1990s. He was eager to be back in the Bronx to have his piece "174" shown here, citing Lehmann College Art Gallery's Cuban America: An Empire State of Mind exhibit as the last time his art was shown in the borough.
On a 34 x 55 inch sheet of paper, he created a cluttered, box-like area intricately filled with everyday objects drawn in incredible detail ranging from a MacBook Pro to a box of saltine crackers and a Bill Clinton bobblehead. The 174 pieces are piled up and drawn with minimal space in between. "My inspiration for this piece comes from the accumulation in present society and the consumerism," said Alfonso. "The idea is to have anything with social, political or cultural reference."
Each piece of artwork on display provides an insightful look into the life of the contemporary Latin American individual. Where larger museums such as the Metropolitan Museum of Art and the Museum of Modern Art have an expansive (perhaps overwhelming) amount of artwork, galleries like BronxArtSpace allow people to take in a smaller collection in a simplified setting. From "Come Sit at My Kitchen Table," a mixed media installation of chairs surrounding a table with various household ingredients spread on top of the surface to "Sold Out," a repurposed wooden sign turned into an American flag with a barcode in the corner, visitors can contemplate the culturally rooted meaning behind the gallery's curated content.
BronxArtSpace's installation of the 5th Bronx Latin American Art Biennial: "I am one of those people that…" is on display until Oct. 8. Located at 305 E 140th St. #1A, the gallery is open to the public 12 – 6:30 p.m. Wednesday through Friday and 12 – 5 p.m. on Saturday.